by Mentor Artists Kaitlin McGaw and Tommy Shepherd. Photos by Kristin Chalmers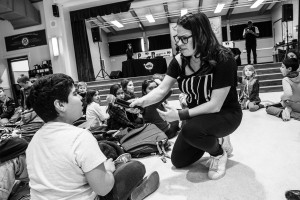 Alphabet Rockers were proud to offer hip hop arts programming in Glenwood Elementary School again this year. In a unique program design, we offered two assemblies (one in fall, one in Spring), along with accompanying dance workshops following each program.
Principal Kim Goodhope understands the importance of equity frameworks – and was eager to see how this model would deepen the experience for the young people.
We ourselves as artists were in the process of evolving our language, performance and messages to step up as allies and advocates for racial justice. Earlier in 2017, we performed "Change the World," with songs like "Gimme Some Skin" inviting young people to see and validate the diversity of skin colors in the room. We invited the audience to envision how they would change the world to make it more fair for all people.
In our return visit this past October, we were in the process of developing a new concert series for the September released album, Rise Shine #Woke. Our music had changed. We had changed as artists. As a multi-racial group of artists, we had advanced our work from "Gimme Some Skin" into songs that talked about discrimination, and took action to interrupt our biases.
In the assembly, we performed the song "Shine" in this way. We talked about how shocking it was for Tommy when someone said to his face, that "Black lives don't matter" when wearing a BLM shirt. This had happened to his 10 year old son only weeks earlier, and we took the story into our show – outlining how friends stood up for him at a time he didn't have the words. The song throws "shine not shade" on all those facing discrimination. The children joined us in dance, and sang out the words "Shine! On my beautiful skin!"
When we went into the classrooms to unpack further, we knew that as a mixed-race group, we would hold different space. A white woman talking about skin color discrimination and a black man talking about skin color discrimination would hold different language, embodiment and throughlines for these classrooms, where the children were from various backgrounds but were navigating a mostly white school and community. We found that the work needed to root in identifying and celebrating difference, before we could address discrimination and advocacy. It was clear that the work we were aiming to accomplish would need further parallel resources in the classrooms and in the school culture.
This album received a GRAMMY Nomination only a few months later; we returned with that glow to Glenwood in March. We performed our song "Walls" – about how folks who speak another language or come from another place are not always made to feel welcome. How can we be "the people" that we really want to be? How can we uphold those ideals of equality and equity at a time when we knew that even our own kids were feeling the pain of discriminating national policies and actions.
Post concert, we went back into the classrooms, charged with a similar inquiry of unpacking discrimination and bias with our young people. In one class, learning the dance moves to "Shine" empowered the children to feel their voices and bodies connected to bold claims of belonging. In another class, we reverted back to trying to describe our skin color, finding that the work around discrimination was still not quite sinking in. We went on a skin color match game, finding articles in the room that reflected our skin colors, from pages of an old book to a wooden clock. We then turned our skin color matches into unique handshakes, which celebrated the diversity and creativity of the students.
What's interesting to know in this path with arts and creativity is that it is not always linear. We do need to circle back, to revisit, to revise and listen. Just the same with adults – we cannot assume that one moment of learning around systems of oppression will lead us entirely to a path of truth and understanding. We are complex beings, seeped in our systems of bias and understanding. Our kids are as well.
In our work at Glenwood, we are reminded of this openness. The principal brought us in with full understanding of the importance of equity. We will continue to support their work – and the students individual and collective journeys – as it is about true embodiment through the years.
Alphabet Rockers' Kaitlin McGaw and Tommy Shepherd put on a fantastic performance of their show Playground Zone: Diversity for the K–2nd graders at Glenwood Elementary in San Rafael.  They performed several new songs from their recently released album, Rise Shine #Woke, which was created to to "interrupt racial bias inspire families to make change in the world."


Students were encouraged to get up and learn the Hip Hop dances with the Alphabet Rockers.  Everyone was on their feet, and the positive and powerful messages of the songs resonated with the young audience and teachers alike.
As a follow-up to the performance, Kaitlin and Tommy each taught more in-depth workshops in the 2nd grade classrooms.  The students practiced the dances they'd learned in the assembly, and then broke down the songs to get more out of the content.  Students were asked what they thought the songs with titles like Stand Up for You, and Shine meant.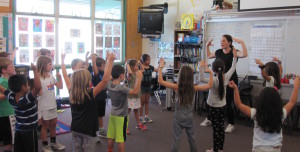 The responses were wonderful and demonstrated how clearly they got the messages.  They said things like: "the song is about being friends with people of all different skin colors," or "the song is about loving everyone no matter what."  Then the kids were asked to define some of the words in the songs, such as injustice.  One student said, "Injustice means you are fighting for love."  Finally, they were asked if they feel we are treated differently based on how we look.  Many of the students said no, but a couple raised their hands to indicate yes, not ready to share more.  One said, "No. We shouldn't be. We love all colors."
Thank you Alphabet Rockers for opening up a very important discussion at Glenwood Elementary.  We look forward to seeing what's next.
Glenwood Elementary School's K–3rd graders hosted The Alphabet Rockers for two fantastic back-to-back assemblies on Wednesday, May 24th.  Kaitlin McGaw, Tommy Sheperd and DJ Juan Amador performed their newest assembly entitled, The Playground Zone: Diversity for the two lively student audiences.  The show focused on inclusion and raising awareness about diversity in the student community.  The Alphabet Rockers used hip-hop music and dance to engage the kids, while talking to them about the importance of self-identity, and being an ally to fellow students.
One of the highlights of the performance was when the students were asked to create handshakes with a partner.  Kaitlin and Tommy demonstrated for the students by examining the back of their own hands and coming up with creative names for their skin color.  Tommy called his, "Carne Asada," and Kaitlin dubbed hers, "Peach Salsa."  They decided that sounded like a delicious taco, so they devised a "Taco Handshake."  They challenged the students to do the same, and name their own skin color after a familiar object or thing.  The resulting handshakes were fantastic, and the students' creativity really shined.
Another great moment, was when The Alphabet Rockers asked the students what they were going to do to change the world.  Tommy walked around with a microphone and got very thoughtful responses from every student in the audience.
For the finale the Alphabet Rockers had the audience form a giant circle, and invited students and teachers to take turns doing their own unique dance in the center.  What a fun and invigorating morning at Glenwood Elementary!
Check out a few of our newest program offerings–available to book for your school or community site now!
Visual Storytelling with Sophie Cooper (Artist Residency)
Twenty-first century art skills are on tap as students learn how media producers communicate through images, while also becoming creators of their own visual stories. Students de-code familiar visual media and develop a vocabulary for visual communication, and then create their own work on the theme of personal and cultural identity using found images. Looking to help students make more substantive use of your computer lab? This residency with Mentor Artist Sophie Cooper could be for you.
The Amazing Science Whiz Show (Assembly Performance)
Benny Bendini's Magic Circus explores explores laws of physics, earth science, green environmental education and color perception. Students discover curious and amazing scientific phenomena from air pressure and centrifugal force to color perception and optical illusions, plus learn about famous scientists like Archimedes, Isaac Newton and Albert Einstein. Guaranteed to be a fun-filled learning experience with plenty of enthusiastic audience participation.
The Alphabet Rockers (Assembly Performances)
In two new shows, the Alphabet Rockers engage young audiences with contemporary choreography, catchy melodies and beatboxing. Performances are age appropriate and aligned to Common Core Standards in math, literacy, and science.
This bullying prevention "hip hop theater" assembly explores how teasing and being left out makes people feel, and how friends can stand up for themselves and each other.
Alphabet Rockers mix fun with food in their hip hop music and theater show about nutrition. Students brainstorm food choices to help the Alphabet Rockers stay strong and in rockstar shape!
Looking for something else? Check out all our program offerings here and use the checkbox filters on the left of the page to find just the program you want.
by Mentor Artist Kaitlin McGaw
In my first teaching artist residency with Youth in Arts, I customized a Common Core/Hip Hop series for four kindergarten classes at Bahia Vista Elementary School in San Rafael's Canal area.
Since my songs and curriculum can cross over various topics [shapes, coins, letters, letter sounds, writing, fitness, nutrition, math, etc.], it was a joy to work with our partner educators to focus the workshops on the needs of the students as they closed their first year of school.

As many of the students were learning English as a central part of their school experience, the objectives for the artist residency were to include language proficiency in the ability to retell a story, and a performance of understanding of math terms (less/more). We also wanted to support and augment student opportunities in self-expression.
I used several of the songs from my curriculum to meet these goals, which are outlined at the bottom. In the first week, the students were perhaps a bit shy, learning many new words, formats, and dances with me. By week two, our progress was underway. Our name game "Do Your Thing" gives each student the opportunity to say their name with a dance movement, rhythm or gesture: "I'm Kaitlin… I do my thing!" and hear the class say the name and mirror the movement: "She's Kaitlin… she does her thing!"
For kindergarteners, learning he/she and do/does are elements of language acquisition. But more interestingly was watching some of the students really come out of their shell over the weeks together, saying their name louder each time. We always give students the option to "pass" – but oftentimes the "pass" I found was merely to provide the student just a few more seconds to think about the gesture or dance move they wanted to share with the class.
The Food Calculator is an original song we wrote in my group Alphabet Rockers. The song includes learning the b-boy move "the wave" along with learning less/more and healthy food choices. For the purposes of this residency, I added a story about the rockstar who brings 1 food each day to share with her friends. (Monday is 1 apple, Tuesday is 2 grapes)  The students fill in the blanks for what the foods are. At the end of the story, there is a number sense element played out as they bite 1 apple, pick 2 grapes and retell the order of the foods to the teaching artist. We then use a food calculator to decide which snacks were healthy before going into the actual song as a dance. The kids absolutely adored this song and loved performing it and singing it with me.
At the end of the residency, the students performed for one another, learning terms for "audience" and "performers" as well as expected behavior for both within the arts world. The boys performed "Dynamite" for the girls, and vice versa. They then shared compliments with one another with what they noticed in the performance. It was an opportunity to celebrate the students' strengths while also reinforcing the ability to say a complete sentence, such as "Josue – I like the way you danced."
I look forward to working with additional schools to customize curriculum for music/movement with Common Core goals, including adding in beatboxing and rhythm and making letters with our bodies as a way to reinforce early literacy.
Here are the songs I used for the residency:
Good Morning Song [Listen here: http://www.alphabetrockers.com/music]
Do Your Thing [watch teachers do it here: http://vimeo.com/85632098]
Dynamite [Watch here: https://www.youtube.com/watch?v=jepxZWR3EH0]
Food Calculator [Listen here: http://www.alphabetrockers.com/music]
Shape Rap [Watch here: https://www.youtube.com/watch?v=1zxwLSjCfaI]
Rhythm Games through "Can I Kick It" by A Tribe Called Quest