Mentor Artist Angela Baker writes about visual arts activities at Rancho school.
During a 7-week Visual Art residency, 5th graders at Rancho observed and discussed their favorite place with an emphasis on sensory perception. How does it look? Sound? Feel? Students looked at various artists who are inspired by place such as Anne Garney, Robert Minervini & Edward Hopper. Through the exploration of various art mediums–drawing, collage and painting–as well as through learning Visual Art techniques, such as one-point perspective and foreground/middle ground/background, students will create their own unique expression of place.
Spring is bouncing into summer and hundreds of young artists around the North Bay are finishing class projects and creating exhibits, performances and other artful events for family and friends with Youth in Arts.
Recent posts have highlighted Spring projects by K-Dub Williams' students at Marina Middle School and Angela Baker's students at Harding Elementary, in addition to the amazing work created by Suzanne Joyal's kindergarteners at Loma Verde as part of the Walker Rezaian Creative HeArts program. Youth in Arts also produced a special "Passport Art Event" at Harding, and Nydia Gonzalez and Shawna Alapa'i concluding performing arts residencies at Ocean View Elementary in Albany and Sonoma Mountain Elementary.
In late May, Arts Unite Us "collaborative residency" projects at Harding and at Tam High School in Mill Valley wrapped up with terrific performances by all the students. Collaborative residencies bring together special education and general education students for shared arts experiences. At Harding, students wrote, directed and performed an original play "Lydia and the Land of Gee-Jo" around themes of Pollution, Bullying, Self Acceptance, New Beauty Standards and Taking Care of Each Other.  At Tam High , the original pilot site for the collaborative residency program, students from the Special Day Class and advanced Conservatory Theatre Ensemble worked with Mentor Artists Suraya Keating and Melissa Briggs to write and perform their original play, "By my Side," which opened the school's popular One Acts Festival.
Tommy Shepherd's students at Wade Thomas put an exclamation mark on their rap and beatboxing residency with a performance of their original rap for their peers at school, and Kaitlin McGaw's kindergarteners at Bahia Vista will soon perform a vocal music and hip hop show for their fourth grade buddies.
At Laurel Dell in San Rafael, Djenane Saint-Juste has been teaching students Caribbean dance around the theme of Kanaval (Carnivale), using costume pieces the students created this Fall with visual artist Gabby Gamboa. The students will perform in a grand parade with family and friends at the school's big Fiesta del Sol event this weekend. And at Mary Silveira, Mentor Artist Julia James finished a successful year with a big art show featuring work by all her K-4 students in the program.
Youth in Arts award-winning `Til Dawn a cappella ensemble performed their annual Spring Concert at San
Domenico Hall of the Arts this past weekend–a big congratulations to all the performers for a wonderful show and a special shout out to our graduating seniors. We will miss you!
Also at San Domenico, Youth in Arts workshopped a new performance of "Goodnight Gorilla" on May 23 with music by Dee Spencer performed by a terrific band of Bay Area music educators and musicians who are working with us to develop the work into an educational performance piece for youth jazz bands.
You can see it's been a very busy Spring, full of fabulous art and fabulous young artists. Watch this blog for more detailed reports on many of these projects in the weeks ahead and get ready to celebrate summer with Youth in Arts! Come see `Til Dawn at Youth in Arts night with the Pacifics, visit our Everything Under the Sun YIA Gallery exhibit, sign up for a unique summer camp program, check out the Mountain Play and benefit Youth in Arts with your ticket purchase, or join us for our gala Summer Solstice celebration at Studio 333 on June 21. We'd love to see you in person and share our work with you. Happy summer!
Mentor Artist Angela Baker worked with Fourth Graders incorporating VAPA standards about proportion and additive and subtractive sculptural techniques to translate 2-dimensional drawings into 3-dimensional forms.
Students invented animals. First drawing them with colored pencil.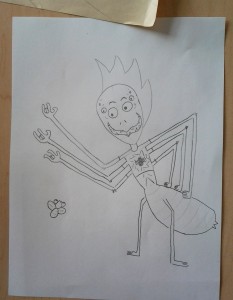 Then learning various clay techniques to create sculptures. For the culminating project students created an accordion book about their invented animals.
Students began by doing Gesture Drawing & then translated their Drawings into Wire Action Figures.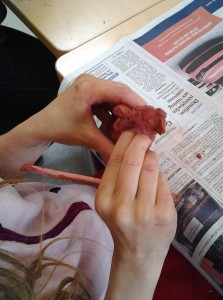 In addition to learning about line, form and color, classes explored themes such as community and being yourself to coincide with themes from of the play Lydia and the Other World, that the students wrote with Mentor Artist Thomas Arndt.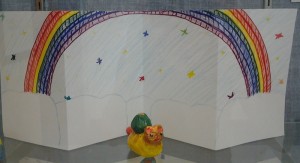 Many thanks to the Thomas J. Long Foundation for their support of "Arts Unite Us" at Harding Elementary.
Recently, families from Harding Elementary School in El Cerrito joined Youth in Arts Mentor Artists in a Passport Art Event.  Participants received a paper "passport" and traveled to various countries and exploring their art forms during this evening event.
Outside the Multipurpose room we danced to the beats of Brazilian Samba Reggae with YIA Mentor Artist Stephanie Bastos.  Stephanie has been teaching dance in the K-3 classrooms throughout the school year and during this event students, parents and siblings got the opportunity to dance together with her.
There were many moments of dance solos that were not to be missed! Inside, we swayed to the melodies and rhythms of Persian Classical Dance with YIA Mentor Artist Shahrzad Khorsandi.  Dancers got to use beautifully decorated scarves to highlight the dance movements.  We also learned about the instrumentation with live music provided by Pourya Khademi.
Utilizing special rice paper and bamboo brushes, YIA Mentor Artists Julia James and Miko Lee led participants in Chinese Brush Painting techniques to create beautiful paintings of bamboo.  Artists also learned how to make their special "chop" or, signature in the corner of their painting.
We also created tin medallions representing our Mayan Nahual or, birth sign.  Using the Mayan Calendar, each person calculates their Nahual, which indicates the "essence" of their spirit according to Mayan beliefs.  We used wooden stylus to etch in the outline of our Nahual and colored them with markers.
Youth in Arts is thankful to all of the families staff and friends who showed up
and traveled the world with us!  We look forward to continuing our day-time programs in K-6th grades which will culminate in sharing events later this month.  YIA Mentor Artist Thomas Arndt is teaching theater classes during school as well as in a special after school group dedicated to writing, producing and performing an original theater piece that addresses issues of acceptance, friendship, appreciating differences and being true to yourself.  Stay tuned for a performance date!
Thank you to the Thomas J. Long Foundation for making this program possible!  With their support, we are able to provide financial aid for year-long arts programming at Harding Elementary and celebrate our diversity and expression in many forms!
To find out how you can bring this to your community, click here.
5th and 6th graders at Harding Elementary worked with Mentor Artist Angela Baker to explore the significance of place. Students began by doing a drawing in one-point perspective.
Next students made pop up books about a place which demonstrated the concept of Foreground, Middle Ground & Background.
The culminating project was to put it all together in a painting of a place, real or imagined.
Youth in Arts is grateful to the Thomas J. Long Foundation for their support for "Arts Unite Us" at Harding Elementary.
(with Mentor Artist Angela Baker)
Fifth Graders at Rancho Elementary in Novato worked in drawing, printmaking and clay to explore Pop Art. I began the residency by showing Abstract work by Kandinsky and discussing the different types of line: straight, curved, dotted and zig zag. Students used this knowledge to create abstract wax resist paintings with oil pastels and watercolors.
In our third class, we discussed how those different types of lines can be used to draw actual objects we observe. Students then used pencil to create detailed observational drawings of everyday objects like fruit, scissors and sneakers.

In our fourth meeting, students looked at the work of Pop Artists like Andy Warhol, Roy Lichtenstein and Wayne Thiebaud.  Afterwards, they created mixed media prints. The prints from Ms. Jones' class were on display in the Main Office.
For our final project I showed the work of Claes Oldenburg and students created clay sculptures of food. 

Mentor Artist Angela Baker facilitated a clay residency with 1st graders at San Ramon Elementary in Novato. The teachers suggested a theme of animals and habitats to connect with grade level curriculum and link to a field trip to the California Academy of Sciences.
Students first explored various clay techniques such as squeezing, rolling, pinching, and smoothing with an air dry clay. Students could create anything they wanted but were encourage to pay close attention to how to make their piece strong. What happens if pieces are too thin? Some solutions for strengthening pieces were demonstrated.
After practicing with the air dry clay, students created animals in a beautiful terra cotta kiln fire clay. For these pieces students also learned how to use clay tools such as a wooden pencil and a metal scratching tool. They practiced the "scratch and attach" technique; a method for attaching two pieces of clay together.
While the clay was in the kiln for the glaze fire students were shown some paper folding techniques and made mini collages. These were great practice for creating a 3-dimensional structure and helped with the construction of the final dioramas of animal habitats.
At the end of the last class together, the animals were placed in their dioramas and the class did a gallery walk. Many students had created habitats so rich in color and detail that the animals were camouflaged.
Angela asked "What do you see?" One girl answered, "Details." She then asked if they thought details were important in art and if so, why. Here are some answers: "Details make it look more like the real world." "Details make it beautiful." "Details give you more information."
Youth in Arts gallery show Mary's Gift featuring Art from children at Bahia Vista had a wonderful, joyous opening celebration. The gallery was packed with families creating art around the words teacher Mary Donovan-Kansora felt strongly about.
School groups are invited for a free gallery exploration and hands on art making through March 29.  More information here.
This Fall, Youth in Arts Mentor Artist Angela Baker worked with 5 classes of second graders at Bahia Vista Elementary on a very special project called "Mary's Gift" to commemorate a much loved and dearly departed colleague, Mrs. Mary Donovan-Kansora.
Each class focused on one character trait that was important to Mrs. Donovan-Kansora and that she felt were important for second graders: Respect, Responsibility, Compassion, Self-Control and Perseverance. A piece of art reflecting each character trait would then be created and displayed at the school for all to see.
Over the course of six weeks each class developed content around their theme through group discussion, visualization and writing. Through a variety of media, such as marker, crayon and paint children developed skills in the areas of drawing and color mixing. These skills plus some of their writings were combined to create a series of different but connected 44″X30″ mixed media pieces reflecting each of the above character traits.
The work or the students will be featured in a gallery exhibit at 917 C Street in downtown San Rafael, from February 8-April 1. Please join us on Friday, February 8th, 5-8pm for the Opening Reception and Art Walk Downtown.
With Mentor Artist Angela Baker, Rancho's Fifth Graders explored 3 different media: painting, printmaking and clay. The essential question running through the six week residency was: "What are some sources of inspiration for making art?"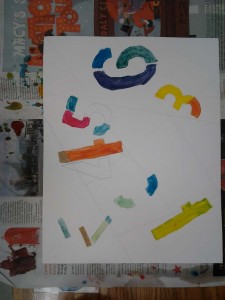 In an effort to generate ideas and inspiration Baker showed students an image at the beginning of each project and did a short Visual Thinking Strategies session. Images shown were Jasper Johns number paintings, Pop Art–especially the work of Andy Warhol–and mythological creatures for a clay sculpture of an invented animal.
During further discussions, students shared quite a few ideas they had about possible sources of inspiration such as: nature, people, colors, the environment and looking at each other's work. Some students particularly enjoyed doing "gallery walks" to share work at the end of class.
Older Entries »