For our final project at Laurel Dell Elementary School, kindergarteners and first graders played with clay. Working with Sculpey builds strong fine motor skills, since the hard clay has to be softened by warm hands. Students used a maquette, a small model made of pipe cleaners as a structure, then built their clay creatures around it. We then tested beads for size, choosing the ones that fit to slide onto arms and legs. It was a challenge to squeeze the clay tightly around the form. Many students got quite creative with their people! We baked the clay to make it hard and more permanent.
Hula made a return to Sonoma Mountain School in the Fall and we had a blast!
We began our 12 week Hawaiian Dance, Music and Storytelling with a very sweet sense of familiarity from the students.  As we began to dance, their movements and steps all came back and took on a more solidified understanding and knowing of Hula.  From grades 1-6, the kids easily slipped back into moving and connecting their motions and steps which allowed us to enjoy moving together and working on synchronizing our motions and steps.  The school Hula that I chose is from the movie Moana, entitled, We Know The Way.  The song's lyrics speak about the ancient Polynesian Wayfinding principals and practices, and embrace the cultural teaching of, "Know who you are and where you come from, in order to know where you're going on your Life Journey".  The movie's main character is a girl who finds her inner strength and courage through the teachings of her family and culture. This is a powerful message that I wanted to share with the kids via dancing Hula and with their work in learning the choreography and our sharing of cultural stories, I believe it was instilled in them.  In our Hawaiian Culture, we have a practice called, Anoano, meaning, planting of the seeds.  Basically, we plant seeds of positive thoughts and ways of being in the world that aligns to a Higher Good, as we learn our different daily cultural practices, one of them being Hula and Storytelling.
For the youngest/newest students in grades TK & K, I did storytelling that entailed a Hula as well, and used props such as costumes, Hula instruments, and easy Hawaiian language words.  Young minds are SO amazing!  The kids seemed to absorb the stories, names of characters (even with Hawaiian names and words!) and teachings so easily!  They would remember the names weeks after I told a story!
Our school assembly finale was amazing!  We ended the 12 weeks with a culminating performance of all grades, sharing what they learned with each other and many parents in attendance as well.  We began with the TK/K & 1st graders doing their Hula on the stage, which they LOVED dancing on! Then the 2nd & 3rd grades performed their Hula that they learned together, followed by the 4th graders, who danced with short Kala'au or hula sticks as they chanted along with their dance.  The 5th and 6th graders really worked hard on learning their Maori Poi Ball and Haka routine, a new combo than last year, and their hard work showed!  there were 52 girls doing the Maori Poi Balls and about 30 boys doing the Haka.  It was a powerful and beautiful performance from them.  We finished the performance with the whole school dancing to the Moana song, We Know The Way.  That was about 450 students dancing all together!  Such a fabulous sight to experience!  Many parents came up to me afterwards to thank me for teaching their child and that was such a wonderful gift for me.
Sonoma Mountain School rocks! Mahalo to the Staff and especially to Michele Gochberg for bringing me back.  It was such an honor.
Me ke aloha,
Shawna Alapa'i
Artist In Residence
Cascade Canyon School families gathered earlier this Fall to make family flags as part of a Youth in Arts visual arts residency. Working with Mentor Artist Cathy Bowman and Program Director Morgan Schauffler, families participated in a lively discussion about the meaning of symbols and what shapes best represented each family. The artists began by tracing their images on scratch paper, then transferring onto recycled canvas panels. They decided which lines and shapes to keep, and traced over those with a black pen. Artists then used black Sharpie pens, oil pastels and watercolors to complete their pieces. Artists were encouraged to think beyond familiar symbols such as a heart or peace sign and consider using shapes that had no name or familiar form. The event was a great chance for parents and their children to collaborate artistically.  Thank you Cascade Canyon!
Two Rock Union Elementary School in Petaluma, organized their inaugural art showcase on November 7th.  The event, hosted from 5:00–7:00pm, gave parents a chance to see their student's artwork from the nine week visual art residency with Youth in Arts Mentor Artist, Julia James.  Examples of projects from the seven K–6th grade classrooms we're on view, thanks to the hard work of PTA President Brandy Campbell, Julia James, and a number of helpful volunteers.  Students' work highlighted their understanding of observational drawing, patterns in nature, bookmaking, color theory, printmaking and so on.  What a great event, and what beautiful artwork.  Thank you Two Rock!
Mentor Artist Julia James and her students at TWO ROCK UNION SCHOOL in Petaluma, spent time sharing and observing the patterns and colors found in the Sunflower as part of her nine week residency.

Since Youth in Arts completed our new strategic plan this spring, we wanted to properly introduce our Mentor Artists to our more in-depth model, and to each other.  Our artists work directly in the classrooms, so they rarely have a chance to interact.  We hosted an "all artist meeting" in August, and it was wonderful to see them talk to, listen to, and learn from one another.  Our icebreaker activity was a worksheet that asked the artists to identify a problem in the world today, and how they would use their art form to solve it (using words and/or pictures).  The prompt was WITH MY ART I CAN…
Here is Mentor Artist, Katie Issel Pitre's response and accompanying artwork:
"A problem I see in the world today, is many people being uncomfortable with their own emotions – escaping/avoiding difficult feelings, reactive disempowered people lacking a deep knowledge of self.  With my art I can…create a space to explore the self, face, dimensions of human experience and emotion, and gain confidence and compassion to build community.  I model moving through emotion using all my actor's tools.  I craft experiences that ask students to step into others shoes, as actors for each other (classroom) and for communities (family)."
Katie teaches various forms of theater and creative movement for Youth in Arts, both in our Arts Unite Us and Artist in Schools programs.  She is currently teaching Devised Theater at Davidson Middle School, and at the Canal Alliance's after school program.  
BIO: Katie Issel Pitre is a Berkeley native who recently returned to the Bay Area after 11 years based in Brooklyn.  There she worked as a teaching artist in spoken word, devised theatre, mural arts and playwriting throughout the boroughs of New York and New Jersey for Urban Word, Community Word Project, New Victory Theatre, BAM, and New Jersey Performing Arts Center.  Katie expresses her artistry as a facilitator as she works to bridge the gap between personal and cultural experiences by creating community-building opportunities via the creative process.  Her background in dance, voice, theatre and poetry shape her focus as an artist and educator.
Most recently she starred in two short films written and directed by Christopher Wells of Kaleidoscope Pictures called Cynthia and My Fondest which can be found on YouTube.  She also participated in an online writing course for women facilitated by Caits Meisner where she produced several new works of poetry.  Her writing was featured in a site-specific play series Play/Date, produced by Blake McCarty. As a devising actor she worked with the Trusty Sidekick company, and on two interview theatre pieces, The Class Project, directed by Joe Salvatore, and Layer Cake(actor and writer) performed at the Looking Glass theatre.  As a singer in Shell, she wrote and produced an EP.  Katie has also performed in multidisciplinary projects featuring her dance training.  She designs jewelry for City Seed.  Katie holds a MA in Educational Theatre in Colleges and Communities from NYU Steinhardt.
YIA Mentor Artist Ernesto Olmos shares his experience with students at University Prep at the Canal Alliance–
We had a very successful visual art program at Canal Alliance.  The students learned about several different art techniques. They learned basic concepts of drawing including: point, line, and composition.  They learned how to draw comics as well.  The students also used hard pastel crayons and oil pastels, to create wonderful landscapes.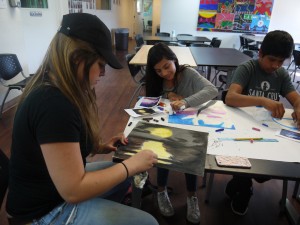 For the painting section of the residency, the students had the opportunity to experiment.  They created ancient prehistoric cave art using natural pigments made from soil, carbon, limestone and hard pastels.
For the last part of the residency, the students learned contemporary acrylic techniques. I shared how to use the acrylic medium to create different textures.  The students used pictures of animals and landscapes for reference.  They created wonderful, imaginative artwork.
I loved working with these talented youth.  It was a pleasure to share my art techniques with them.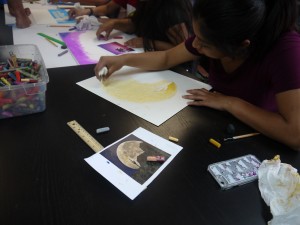 Teachers enjoy a great collaborative painting session.
Arts Specialist K-Dub works with students at Martin Luther King Jr Academy on a school beautification project.