Nearly 100 arts supporters turned out to celebrate the importance of art education and to honor Youth in Arts' wonderful Executive Director Miko Lee on Sept. 13 at the YIA Gallery in the Downtown San Rafael Arts District.
Lee has been a tenacious advocate for ensuring that all children – not just those at Marin's wealthier schools – have equal access to the arts. She is leaving Youth in Arts after 13 years at the helm.
"We know we have a big equity gap in Marin, " Lee told the enthusiastic crowd at the State of the Arts event. "We feel that as part of the ARTS NOW Marin (California Alliance for Arts Education) community, arts education makes a difference. "
In reviewing the year's accomplishments, Lee highlighted the passage of Marin's first ever Arts Education Plan a year ago, which was folded into the larger county arts plan. With that strong foundation, Marin County Office of Education and Youth in Arts were able to get $500,000 in additional funding for arts education so that more students of color and students with disabilities were reached.
Youth in Arts also partnered with other experts in the field to train nearly 100 educators at a STEAM workshop this summer.
"One hundred percent of those teachers said they could feel confident integrating arts into their curriculum," Lee said. "They saw that this is a way to reach our students who are not being listened to and not being heard."
Youth in Arts has also produced a Digital Toolkit, six videos on inclusive teaching practices for artists, classroom teachers and parents. In addition, Youth in Arts has developed a free ARTS Bank. The database, believed to be the first of its kind in the nation, allows educators, parents and students to plug in an IEP goal or grade level and get an arts activity that matches.
Youth in Arts' award-wining youth a cappella group, 'Til Dawn, also performed.  This past year, those students received 350 hours of arts learning and performing. The event also coincided with San Rafael's  2nd Friday Art Walk .
Board member Melissa Jones-Briggs served as the MC. Speakers at the event included Mary Jane Burke, Marin County superintendent of schools; Gabriella Calicchio, director of cultural services for Marin County; Pepe Gonzalez, principal of Laurel Dell and Short Elementary schools; Danielle O'Leary, economic development director for San Rafael, Naomi Tamura, Youth in Arts' board president; and Dr. Tom Peters, president and CEO of the Marin Community Foundation.
Gonzalez spoke passionately about the difference Lee has made through her vision, passion and energy. He pointed to photographs in the YIA gallery of young artists with special needs and said he wasn't surprised to see them there.
"If it wasn't for Miko and the programs she's brought in, they wouldn't be up there right now," he said.
Gonzalez also pointed to the photo of a third grader at Laurel Dell who had been through Youth in Arts programs.
The young artist has been in the U.S. only two years. Her academic grades only tell part of her story, he said, noting the joy on her face while making art.
"When you give kids access to something that finds that inner voice, that right there is exactly what we want our kids to be like," Gonzalez said. "Those smiles are real. The programs, the vision, everything that (Miko) believes in … that smile says it all."
Please consider a donation in honor of Miko Lee's incredible legacy, and to support the important work that we do.
Thanks to photographers Kathleen Gaines/MarinArts, Lynn Noyce, Kim Wilson and Youth in Arts staff.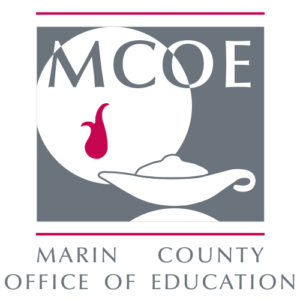 Exploring the local creek and designing their own natural playgrounds, creating songs about protecting the world, discovering the details in individual leaves and creating posters, learning vocabulary through dance games, using sculptures to explore science. These are some of the new experiences that teachers led summer school students through at the University Prep Summer School.
Teachers attended the Marin County Office of Education and Youth in Arts' recent STEAM workshop and put their learning into practice to make their own art-infused program at Lu Sutton Elementary School in Novato.
Earlier this month, Youth in Arts joined the Marin County Office of Education and a team of educators and experts to conduct a workshop on STEAM learning.  K-12 teachers were asked to rethink how they could teach the California Environmental Principles and Concepts.
Lisa Heslip, principal of the summer school program at Lu Sutton,  said students were happy, well behaved and engaged. Students made a giant "Making Learning Visible" paper wall documenting their learning that was posted in the courtyard of the school. The 1st through 5th grade students focused on the environment, looking at everything from how animals and people interact to their own carbon footprint.
Among other things, students considered the eyeball of a cow, putting the contents in a plastic bag, labeling the optic nerve, cornea and other parts, and taping the ball to the wall. "I wonder where tears come from?" pondered a student. Lower grade levels looked at creating sustainable playgrounds.
Heslip took photos and posted them on the wall, and students added their own drawings and Post It notes with questions and observations.
"They stop at it all the time," Heslip said. "It represents them. It's not teacher created at all."
Summer schools teachers also had intensive coaching by members of Agency By Design Oakland, who helped them with curriculum planning and were present during classroom teaching, Heslip said.
"When you think of English Language (Learners), it's getting them to talk and express their ideas … giving them the opportunity to use academic language," Heslip said. "What better way to do it than with a hands on activity?"
Preliminary research shows an increase in student summer school attendance (100% this year!) Teachers say they felt "inspired" and "reinvigorated" to go back into the classroom with these new tools.
Thank you to the California Department of Education's Student Support and Academic Enrichment (SSAE) grant, Marin County Office of Education and Marin Community Foundation for helping to make this work possible.

Patterns were the focus of art with a 3rd through 5th grade class at Lynwood Elementary School during a residency with Mentor Artist Cathy Bowman. We began with texture quilts, using shapes and gold foil. Then we made numbers 0 to 9 using large stencils, oil pastels and watercolor. This was a collaborative project inspired by artist Jasper Johns' number paintings.
With clay, we practiced patterns using beads. Then we explored tints (adding white to a color) and shades (adding black to a color). We made cityscapes, starting with red or blue paint and using the San Francisco skyline as our inspiration. Some of us included shapes from cities we have visited around the world.
Observational drawing is key. We practiced looking closely to record what we see, using animal toys as models. We made self portraits using metallic Sharpies. We chose five adjectives to describe ourselves, then turned each word into a different line. Our final weeks were spent practicing print making and color mixing, again exploring pattern.
Each end-of-class reflection was an opportunity to practice talking in front of the class and listening closely when our friends talked. Students came up with thoughtful observations to share and asked excellent questions.
At Youth in Arts, scaffolding is important. With each lesson, we build on previously learned skills to foster creativity, compassion and confidence in all learners.
Through the California Department of Education's Student Support and Academic Enrichment (SSAE) grant that the Marin County Office of Education received, Youth in Arts was in multiple Special Day Classes this spring.
At Olive and San Ramon elementary schools, Mentor Artist Cathy Bowman taught gesture drawing to 3rd through 5th graders.
We started by standing up and drawing in the air with our finger and discussed how it felt to work "big." Demonstrating with a student as a model, Ms. Bowman demonstrated how to capture the essence of the figure in a 30-second pose. Every student with an interest in selecting a pose got a turn, while the rest of the class worked quickly to capture their efforts. Models were able to explore what makes an interesting pose by choosing how to extend their arms and legs. As artists we learned to work fast, letting our intuition take charge. We practiced drawing the shapes, forms and lines of the body.
Gesture drawing was a great follow up to blind contour drawing and working small. It was hard at first to use the whole paper and resist the temptation to add details like eyes, ears and glasses but we did. When we finished, we had a thoughtful discussion about the process.
Through the California Department of Education's Student Support and Academic Enrichment (SSAE) Grant that Marin County Office of Education received, Youth in Arts was in multiple Special Day Classrooms this spring.
Students at Sinaloa Middle School in Novato practiced drawing each other during a recent residency with Mentor Artist Cathy Bowman.
The drawing exercise continued building skills from the previous week, where students made blind contour drawings of animal toys.  On this day, students split off in partners and practiced drawing each other without looking at their pens.
It's always tempting to look! To help, students used a paper plate with a hole in the middle to hide their pens. After drawing each other, we looked at all of the work and discussed the process. Reflecting on our work was an important part of understanding what we did. For the artists, the exercise was good practice in not judging a final drawing as good or bad but instead, appreciating the journey. It made everyone think about focusing on practice, not result.
Through the California Department of Education's Student Support and Academic Enrichment (SSAE) grant that the Marin County Office of Education received, Youth in Arts was in multiple Special Day Classes this spring.
Free field trips are one of the many programs that Youth in Arts offers! Recently, Short School students from Ms. Katie Marek's class visited us to see Architects in Schools: Designing Community, the exhibition on display at the YIA Gallery through July 26. The show features the work of Laurel Dell 4th and 5th graders and their response to climate change, housing shortages and other critical issues San Rafael faces now and in the future.
Short School students studied the towers and models that Laurel Dell students made, paying close attention to the detailed bridges they built. We then built our own towers out of foam core board scraps, starting with three words that describe us. We came up with several words, such as smart, funny, careful and goodness. We wrote each word on a circle and then used special glue and toothpicks to build our towers. It was tricky to get them to balance and stand up but we persevered. One artist made a piece inspired by the San Francisco skyline, and another built a unicorn.
Ms. Marek's class was part of Youth in Arts' Arts Unite Us program. This spring, her students explored visual art through a 10-week residency program with Mentor Artist Cathy Bowman.
Through the California Department of Education's Student Support and Academic Enrichment (SSAE) grant that the Marin County Office of Education received, Youth in Arts was in multiple Special Day Classes this spring.
Youth in Arts' award-winning a cappella group, 'Til Dawn, sang to an enthusiastic crowd on the opening day of the Marin County Fair this summer. The group is the longest running year-round teen ensemble in the Bay Area. It was the last public performance for the group's outgoing seniors (Kathryn Hasson, Angel Gregorian, Maud Utstein and Will Noyce) as well as 'Til Dawn member Lara Burgert, who is moving. The ensemble is directed by singer-songwriter Austin Willacy, who performs as a solo artist and also with his own a cappella band, The House Jacks.
Four collaborative works created during Youth in Arts' residencies this spring took home top ribbons. The mixed media work, inspired by artist Jasper Johns, was created during a 10-week Arts Unite Us program with Youth in Arts Mentor Artist Cathy Bowman.
Student projects from San Ramon Elementary School and Willow Creek Academy won blue ribbons in their age division. Novato High School and Sinaloa Middle School classes each won second place in their age divisions. The San Ramon piece also won the Anne Davis award for best of class (collage) in the 9-12 year-old group.
"Each class created richly layered works that were different from each other," Bowman said. "It was a privilege to work with such dedicated artists."
Bowman also won the Charles M. Schulz award for a pig cartoon and a blue ribbon for a second cartoon.
The prize-winning student art will be on display at Youth In Arts as part of "Outside the Lines: Collaborative Art in Special Day Classrooms." The exhibit opens July 31.
Through the California Department of Education's Student Support and Academic Enrichment (SSAE) grant that the Marin County Office of Education received, Youth in Arts was in multiple Special Day Classes this spring.
Youth in Art's year-long visual arts residency at Coleman Elementary School concluded with a successful campus-wide exhibition as part of the school's Open House event in June, 2019. Mentor Artist Julia James installed artworks from all grade levels in campus windows, doorways, classrooms, and throughout the art room in order to show the impressive breadth and depth of work that students had accomplished throughout the year. Featured projects included explorations in water and ink, fantastical treehouse landscapes, Matisse-inspired silhouettes, hand-sewn sketchbooks, still life observational drawings, and much more!
Students and their friends and families stopped by throughout the night to view the exhibition, locate their artwork, and speak with Ms. Julia to learn more about the types of projects and skills students acquired throughout the year. Over four-hundred people were in attendance, discussing art techniques that were learned and narratives behind the artworks. Students shared what they enjoyed most, what they struggled with, and their intentions behind their artistic choices. At the end of the night, many students were able to bring their artworks home for their families to enjoy.
Youth in Arts joined the Marin County Office of Education and a team of STEM educators and experts to conduct a week-long professional development workshop on STEAM learning for more than 60 teachers in Novato, CA. The program was dedicated to considering how the environment impacts people and how people impact the environment, asking K-12 teachers from across Marin County to rethink how they might teach the California Environmental Principles and Concepts to their students in innovative and interdisciplinary ways.
Utilizing a culturally responsive framework to consider the diverse ways in which our students learn, we considered how to address global issues such as climate change through a local lens using place-based inquiry and problem solving. The week-long training event began with participants experiencing STEAM as learners, taking part in a Phenomena Walk that involved finding and drawing an intersection between nature and something human-made and employing discussion-based reflection frameworks like Visual Thinking Strategies to break down the meaning of the Environmental Principles and Concepts.
We then examined sea level rise and ways to make meaningful change through a case study of the Canal in San Rafael, and used the Engineering Design Cycle to plan out how to take this case study and apply it. Building on this process, we used resources from the Davidson Middle School's Makerspace to think creatively and prototype solutions to issues such as reducing plastic consumption and designing structures for desalinization. Throughout the institute, participants learned ways to use art collaboratively in the classroom, from techniques such as theatre-based presentations to a Making Learning Visible wall that showed how to document the process of learning through photographs, words and art.
Participants were encouraged to create a cross-disciplinary framework meant to empower students to ask questions and become advocates in their communities. If teachers support students in becoming leaders, they in turn can design solutions to care for the environment. "The impact of humans on the environment is something we can't ignore, and young people are already leading the way toward finding solutions," said Executive Director Miko Lee. "This was an important collaboration to help teachers reach all learners through multiple methods."
Lee was one of the keynote speakers of day one focused on Cultural Responsive Teaching.   On the second day students from the Sunrise Movement spoke about getting the Green New Deal passed in Marin. On day three, artist and activist Favianna Rodriguez, who talked about the importance of looking for stories that allow students to create a future of possibility. She also showed a map of the Bay Area and noted how poorer areas bear the brunt of pollution. Encourage students to examine their own community, she said, and document what is represented – and what is not. On day four former Youth in Arts Director Nydia Algazzali Gonzalez spoke about the importance of interdisciplinary learning. To watch the keynote speeches, please visit the Marin County Office of Education.
The final two days included time for curriculum planning. A cohort of 18 teachers returned on Sunday to gear up for Summer School. Those summer school teachers, will receive mentoring from Agency By Design whose Executive Director is Brooke Toczylowski, former YIA staff artist.
Thank you to the California Department of Education and the Marin Community Foundation for helping to make this event happen.
Laurel Dell 5th graders spent a few days happily painting one of San Rafael's utility boxes as part of the "emPower Utility Art Box" project. If you're heading to the 101 freeway, you'll see the box at Second Street and Lincoln Avenue on the right side.
This spring, the students participated in a 12-week residency program that was a unique collaboration between Youth in Arts and UC Berkeley's Y-PLAN. The program featured local architects Shirl Buss and Janine Lovejoy Wilford and artists working with 4th and 5th grade students teaching design and build concepts. Students created bridges, towers and maps looking at important issues facing San Rafael, such as climate change, affordable housing and access to the Canal community.
"It's great that the students were so engaged in the work, " said Mentor Artist Suzanne Joyal. "They really wanted people to think seriously about San Rafael's 2040 plan and what the city needs for the future."
To paint the utility box, a small group of 5th graders worked with Joyal and Mentor Artist Cathy Bowman. In selecting the design and color, it was important to consider how different colors make us feel. Students practiced writing their important words big so they would be visible. Despite the heat, the painting was fun! We didn't blend colors completely to maintain a painterly effect. We added floating houses, trees, birds and clouds. When we were done painting, we added more detail and pattern using paint markers.  It is an important visual reminder of what we all need to be thinking about.
The grand unveiling of the six boxes that were painted will be held on June 14 in conjunction with the 2nd Fridays Art Walk  from 5 to 8 p.m. The boxes are located in the city's downtown corridor and transit center.
The 2019 San Rafael Leadership Institute started the utility box project as a way to bring more art to downtown San Rafael. The institute is a San Rafael Chamber of Commerce program made up of public and private professionals, nonprofit leaders and business officials.
Older Entries »