Nearly 50 arts lovers stopped by the Youth in Arts' gallery recently to celebrate our current show and meet new Executive Director Kristen Jacobson.
Imagine Our World: In My Neighborhood runs until Dec. 6. The show features second grade art from Laurel Dell and Short elementary schools, including two large collages in which students envisioned their ideal neighborhood. Students connected to the idea that working together builds a stronger community. The show includes work made by young artists in response to the recent power outages and fires.
The show also features collaborative artwork from Youth in Arts' booth at the West End Village Celebration on November 4. Over 100 artists of all ages contributed to two large-scale murals, and a community collage. Participants were encouraged to express their feelings about the Power Safety Shutoff through art making.
Jacobson thanked everyone for their support and said she was looking forward to getting down to work.
"I'm so moved and inspired by the work of the incredible artists and the legacy that is here in Marin," Jacobson said. "I'm excited to focus on access to arts education, and equity for all" she said.
With the continued support of the California Arts Council, Laurel Dell's PTA, UC Berkeley's Y-Plan and RileyStreet Art Supply, Youth in Arts has designed a sequential arts program for students to build their skills over time. Every student receives 12 weeks of visual arts in the Fall and 12 weeks of dance in the Spring.
Youth in Arts has provided Mentor Artists to Laurel Dell Elementary School for almost 20 years. For the past four, however, Laurel Dell has been home to our demonstration project: a sequential, scaffolded arts program focused on the core competencies of Youth in Arts: Creativity, Compassion, and Confidence through arts learning. The program was designed by our Director of Visual Arts Suzanne Joyal. During their 12 weeks of visual arts in the Fall and 12 weeks of dance in the Spring, students learn to express themselves verbally, visually and physically in multiple art forms.
Second graders at Short and Laurel Dell elementary schools in San Rafael created vibrant collages showing what a healthy neighborhood needs.
We began by looking at the work of artists like Faith Ringgold and the late Romare Bearden. Working with Youth in Arts' Mentor Artist Cathy Bowman, we used the "wax resist" method to write our names on watercolor paper and mixed blues and greens to paint a "cool" background. We talked about what a neighborhood needs to be strong and healthy, and what we need to be strong a healthy. Both classes included schools, libraries and homes of different sizes and shapes. There were some surprising additions too. At Short, one student suggested a carnival. At Laurel Dell, a student created a community art studio.
We then created collages, using only warm colors for our structures. That made them stand out when they were placed on the cool colored background. This gave us a chance to review what colors are warm, and what colors are cool. Once they were dry, we flipped them over and cut out our shapes. Details were added later with pastel and more paper. We looked at doors and windows from around the world, and noticed they are not always square or rectangle.
"This was a complex project with many layers, and students did an amazing job," Bowman said. "It was wonderful to see them make connections between their own lives and their neighborhood."
Some of the paper that students used was made by rubbing crayons and pastels across textured templates, creating brick patterns and other designs. More connections were made as the textured paper was shared between the two schools.
The projects will be on display as part of the upcoming Youth in Arts' upcoming exhibit: Kids Imagine Our World: In My Neighborhood. The show of 2nd grade work from both schools runs Oct. 28 through Dec. 6. The opening reception, which will be hosted by the Youth in Arts' Board of Directors, will be held on Nov. 8 from 5 to 8 p.m.
First graders at Laurel Dell School in San Rafael have been exploring literacy through art with Youth in Arts' Mentor Artist Cathy Bowman. Students love to look at their art. When we make art with words, we look carefully to find what we know, which means we practice reading.
Students built a colorful word mural from important words they know. Using a donated canvas splashed with graffiti, old encyclopedia pages, oil pastels and glue, they made big words and cut them into interesting shapes. The words were glued onto the canvas, which will become a living document; students will be encouraged to add to their work throughout the year.
The goal of the project was to teach the young artists that words are fun. Teacher Vanessa Nunez helped with the project by encouraging the young artists to brainstorm about words they know. She wrote the words on index cards before art class so students were ready to copy them and practice their spelling. The final step was cutting their words into interesting shapes.
"Art is a wonderful way to teach literacy since all letters are shapes," Bowman said. "Students love to engage in creative art making and show what they know."
When a large box became scrambled while students searched for their letters, Nunez created a teachable moment. Students who are English Language Learners took turns sorting the letters and then naming them before putting them in the right place.
"Working at Laurel Dell is a great experience because Principal Pepe Gonzalez and his staff are so supportive," Bowman said. "Working in partnership enables us to accomplish so much."
TK Students at Short Elementary School spent a lively morning painting their shape sculptures with Youth in Arts' Mentor Artist Cathy Bowman and teacher Maggie Dawes.
During the previous week, the young artists practiced naming their shapes and building sculptures out of circles, squares, rectangles and triangles cut from foam core. When the sculptures were dry, they chose two primary colors to investigate what would happen when they mixed them.
There were "oohs" and "ahhs" around the room as students discovered red and blue make purple and blue and yellow make green. Using flat brushes, students worked hard to get paint in all the corners to cover everything.
As the sculptures dried, we talked about how many different purples and greens we saw. The lesson provided good opportunities for reflection and for looking at art through a math problem: blue + yellow = ?
For students who did not attend preschool, it was the first time they had ever painted. Large brushes with long handles created good opportunities for fine motor skills practice. The children who were absent will use the third primary combination next week, combining red and yellow to make orange.
Reaching all students through the arts was the focus of a professional development workshop taught by Youth in Arts' mentor artists Suzanne Joyal and Cathy Bowman. San Rafael teachers who attended learned how arts can facilitate a richer experience for students and support skill building in social emotional learning.
"Social and emotional learning (SEL) is the process through which children and adults understand and manage emotions, set and achieve positive goals, feel and show empathy for others, establish and maintain positive relationships, and make responsible decisions." (CASEL, 2019).
There are five core competencies associated with SEL including self-management, social awareness, relationship skills and responsible decision making. The workshop focused on self-awareness. Self awareness is the ability to accurately recognize one's own emotions, thoughts, and values and how they influence behavior; and the ability to accurately assess one's strengths and limitations, with a well-grounded sense of confidence, optimism, and a "growth mindset." At Youth in Arts, we frame this core competency with the question: "Who Am I?"
We began with the Brain Dance, a way to warm up our bodies, fire synapses, and get students ready to learn.
Observational drawing teaches students to look closely and to record what they SEE, not what they remember or think. We start by drawing familiar objects, then move into self portraits. Observational Drawing also applies to projects in science (recording experiments), math, social studies and language arts (descriptive writing)
Self portraits can be realistic or abstract: we drew lines that represented adjectives describing us, and then experimented with mirrors and Emotions Cards: what happens to our eyebrows when we are excited? Our mouths when we are sad? What do we do when we see these expressions on our friends? What can we do to change them if needed? We used the Emotions Art Cards and Booklet to help us imagine emotions we could show.
We also introduced teachers to the Student Strengths Assessment: a tool we designed to help teachers, parents and students find their best ways of learning.
Youth in Arts has also produced a Digital Toolkit, which includes six videos on inclusive teaching practices for artists, classroom teachers and parents. We have also developed a free ARTS Bank. The database, believed to be the first of its kind in the nation, allows educators, parents and students to type in an IEP goal or grade level and find an arts activity that matches.
This workshop was made possible through the California Department of Education's Student Support and Academic Enrichment (SSAE) grant that the Marin County Office of Education received.
Youth in Arts is thrilled to announce the hiring of Kristen Jacobson as its new executive director. Jacobson, who has a wealth of experience and a background in the performing arts, is expected to start in early November.
Jacobson is an arts leader, educator, and program designer dedicated to the accessibility of arts education for diverse populations. She comes to Youth in Arts from Alonzo King LINES Ballet, where as managing director of education, she has led initiatives to expand LINES' programs that promote individuality, creativity and communication through dance and movement learning. Under her leadership, LINES education programs experienced significant expansion, growth, success and impact.
She also serves on the board of the Arts Education Alliance of the Bay Area as well as San Francisco Unified School District's Arts Education Master Plan advisory committee.
"We are excited to have Kristen join us," said Youth in Arts Board President Naomi Tamura. "Her leadership style, and dynamic personality is well-suited to build off of the great strides Youth in Arts has made in arts education and advocacy. We are eager to have her lead us to even higher levels in developing young artists of all abilities."
Prior to her time at LINES and in the Bay Area, Kristen served as the youth & community programs manager for Hubbard Street Dance Chicago, where she was responsible for developing and implementing Hubbard Street's Youth Dance Program from its inception. She was also instrumental in developing the Adaptive Dance Program, leading the Parkinson's Project, managing school partnerships and residency program, teaching artist development, family programming as well as community partnerships with the Art Institute of Chicago, Chicago Symphony Orchestra, Chicago Botanic Garden, Museum of Contemporary Art and cultural institutions across Chicago.
With a long history as an arts educator, Kristen's experience prior to Hubbard Street includes work for Metropolis Performing Arts Centre, Free Street Theater, Chicago Human Rhythm Project and LABCO Dance Company in Pittsburgh. She also worked as a dancer and choreographer for a number of companies and organizations in Chicago, Cleveland and Pittsburgh.
She holds a bachelor's degree in Musical Theater and Dance from Point Park University's Conservatory of Performing Arts and a master's degree in arts in Youth and Community Development from Columbia College Chicago.
Welcome, Kristen!
Photo credit L to R: Stephen Texeira, Quinn Wharton, LINES Ballet
Nearly 100 arts supporters turned out to celebrate the importance of art education and to honor Youth in Arts' wonderful Executive Director Miko Lee on Sept. 13 at the YIA Gallery in the Downtown San Rafael Arts District.
Lee has been a tenacious advocate for ensuring that all children – not just those at Marin's wealthier schools – have equal access to the arts. She is leaving Youth in Arts after 13 years at the helm.
"We know we have a big equity gap in Marin, " Lee told the enthusiastic crowd at the State of the Arts event. "We feel that as part of the ARTS NOW Marin (California Alliance for Arts Education) community, arts education makes a difference. "
In reviewing the year's accomplishments, Lee highlighted the passage of Marin's first ever Arts Education Plan a year ago, which was folded into the larger county arts plan. With that strong foundation, Marin County Office of Education and Youth in Arts were able to get $500,000 in additional funding for arts education so that more students of color and students with disabilities were reached.
Youth in Arts also partnered with other experts in the field to train nearly 100 educators at a STEAM workshop this summer.
"One hundred percent of those teachers said they could feel confident integrating arts into their curriculum," Lee said. "They saw that this is a way to reach our students who are not being listened to and not being heard."
Youth in Arts has also produced a Digital Toolkit, six videos on inclusive teaching practices for artists, classroom teachers and parents. In addition, Youth in Arts has developed a free ARTS Bank. The database, believed to be the first of its kind in the nation, allows educators, parents and students to plug in an IEP goal or grade level and get an arts activity that matches.
Youth in Arts' award-wining youth a cappella group, 'Til Dawn, also performed.  This past year, those students received 350 hours of arts learning and performing. The event also coincided with San Rafael's  2nd Friday Art Walk .
Board member Melissa Jones-Briggs served as the MC. Speakers at the event included Mary Jane Burke, Marin County superintendent of schools; Gabriella Calicchio, director of cultural services for Marin County; Pepe Gonzalez, principal of Laurel Dell and Short Elementary schools; Danielle O'Leary, economic development director for San Rafael, Naomi Tamura, Youth in Arts' board president; and Dr. Tom Peters, president and CEO of the Marin Community Foundation.
Gonzalez spoke passionately about the difference Lee has made through her vision, passion and energy. He pointed to photographs in the YIA gallery of young artists with special needs and said he wasn't surprised to see them there.
"If it wasn't for Miko and the programs she's brought in, they wouldn't be up there right now," he said.
Gonzalez also pointed to the photo of a third grader at Laurel Dell who had been through Youth in Arts programs.
The young artist has been in the U.S. only two years. Her academic grades only tell part of her story, he said, noting the joy on her face while making art.
"When you give kids access to something that finds that inner voice, that right there is exactly what we want our kids to be like," Gonzalez said. "Those smiles are real. The programs, the vision, everything that (Miko) believes in … that smile says it all."
Please consider a donation in honor of Miko Lee's incredible legacy, and to support the important work that we do.
Thanks to photographers Kathleen Gaines/MarinArts, Lynn Noyce, Kim Wilson and Youth in Arts staff.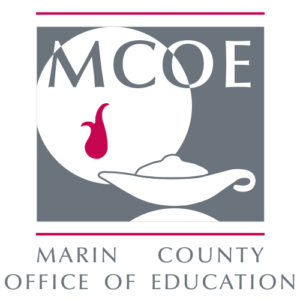 Exploring the local creek and designing their own natural playgrounds, creating songs about protecting the world, discovering the details in individual leaves and creating posters, learning vocabulary through dance games, using sculptures to explore science. These are some of the new experiences that teachers led summer school students through at the University Prep Summer School.
Teachers attended the Marin County Office of Education and Youth in Arts' recent STEAM workshop and put their learning into practice to make their own art-infused program at Lu Sutton Elementary School in Novato.
Earlier this month, Youth in Arts joined the Marin County Office of Education and a team of educators and experts to conduct a workshop on STEAM learning.  K-12 teachers were asked to rethink how they could teach the California Environmental Principles and Concepts.
Lisa Heslip, principal of the summer school program at Lu Sutton,  said students were happy, well behaved and engaged. Students made a giant "Making Learning Visible" paper wall documenting their learning that was posted in the courtyard of the school. The 1st through 5th grade students focused on the environment, looking at everything from how animals and people interact to their own carbon footprint.
Among other things, students considered the eyeball of a cow, putting the contents in a plastic bag, labeling the optic nerve, cornea and other parts, and taping the ball to the wall. "I wonder where tears come from?" pondered a student. Lower grade levels looked at creating sustainable playgrounds.
Heslip took photos and posted them on the wall, and students added their own drawings and Post It notes with questions and observations.
"They stop at it all the time," Heslip said. "It represents them. It's not teacher created at all."
Summer schools teachers also had intensive coaching by members of Agency By Design Oakland, who helped them with curriculum planning and were present during classroom teaching, Heslip said.
"When you think of English Language (Learners), it's getting them to talk and express their ideas … giving them the opportunity to use academic language," Heslip said. "What better way to do it than with a hands on activity?"
Preliminary research shows an increase in student summer school attendance (100% this year!) Teachers say they felt "inspired" and "reinvigorated" to go back into the classroom with these new tools.
Thank you to the California Department of Education's Student Support and Academic Enrichment (SSAE) grant, Marin County Office of Education and Marin Community Foundation for helping to make this work possible.

Patterns were the focus of art with a 3rd through 5th grade class at Lynwood Elementary School during a residency with Mentor Artist Cathy Bowman. We began with texture quilts, using shapes and gold foil. Then we made numbers 0 to 9 using large stencils, oil pastels and watercolor. This was a collaborative project inspired by artist Jasper Johns' number paintings.
With clay, we practiced patterns using beads. Then we explored tints (adding white to a color) and shades (adding black to a color). We made cityscapes, starting with red or blue paint and using the San Francisco skyline as our inspiration. Some of us included shapes from cities we have visited around the world.
Observational drawing is key. We practiced looking closely to record what we see, using animal toys as models. We made self portraits using metallic Sharpies. We chose five adjectives to describe ourselves, then turned each word into a different line. Our final weeks were spent practicing print making and color mixing, again exploring pattern.
Each end-of-class reflection was an opportunity to practice talking in front of the class and listening closely when our friends talked. Students came up with thoughtful observations to share and asked excellent questions.
At Youth in Arts, scaffolding is important. With each lesson, we build on previously learned skills to foster creativity, compassion and confidence in all learners.
Through the California Department of Education's Student Support and Academic Enrichment (SSAE) grant that the Marin County Office of Education received, Youth in Arts was in multiple Special Day Classes this spring.
At Olive and San Ramon elementary schools, Mentor Artist Cathy Bowman taught gesture drawing to 3rd through 5th graders.
We started by standing up and drawing in the air with our finger and discussed how it felt to work "big." Demonstrating with a student as a model, Ms. Bowman demonstrated how to capture the essence of the figure in a 30-second pose. Every student with an interest in selecting a pose got a turn, while the rest of the class worked quickly to capture their efforts. Models were able to explore what makes an interesting pose by choosing how to extend their arms and legs. As artists we learned to work fast, letting our intuition take charge. We practiced drawing the shapes, forms and lines of the body.
Gesture drawing was a great follow up to blind contour drawing and working small. It was hard at first to use the whole paper and resist the temptation to add details like eyes, ears and glasses but we did. When we finished, we had a thoughtful discussion about the process.
Through the California Department of Education's Student Support and Academic Enrichment (SSAE) Grant that Marin County Office of Education received, Youth in Arts was in multiple Special Day Classrooms this spring.
Older Entries »