By Mentor Artist Cathy Bowman
For the past year, Oak Hill students have been exploring painting and sculpture. We ended the year with a student exhibit that featured several exciting projects. The display featured masks, paintings, drawings and two collaborative works based on the number paintings of artist Jasper Johns. It was important for students to get a chance to survey their own work as well as the art made by their friends. It was hard not to touch the art!
One of the projects the students liked best was using tape to separate space on pieces of canvas. The artists applied oil pastels and paint; once dry, they removed the tape. Some students enjoyed pulling off the tape more than painting! There were surprises of color and lines everywhere, and decisions to be made about whether to leave parts of the canvas bare. We finished off the project by using letter stencils. The artists were very creative and used the stencils randomly, rather than spelling out recognizable words or names.
Another popular project was making sculptures based on the work of Alberto Giacometti. Students began by making wire forms and then covering them with foil and clay. Once the clay dried, the sculptures were painted. Some students made human forms while others created animals.
by Mentor Artist Cathy Bowman
During a 10-week residency at Rancho Elementary School, third graders wrote and illustrated their own comic books. Students started by developing two characters and drawing them from different angles. What were the characters' strengths and challenges? What did they like to eat? We talked a lot about how artists need to understand what makes their characters tick. The students used their characters to develop short stories, revising at least once (not popular, but an important step!) We explored how comic book artists have to decide what to draw as well as what not to draw, and how to show movement, emotion and action. They also learned the importance of making speech bubbles clear and legible. Students practiced drawing far away shots to set a scene, and closeups to show emotions. Along the way, there were a lot of good questions: How do you draw a donut sideways?  How do you make characters look each other in the eye when they are talking? Why do cartoon characters only have four fingers?
Once the comic books were drawn, students used Micron pens to do the final inking – deciding which lines to keep and which ones to erase. The Micron pens were fun to use because students could experiment with using heavy lines for the foreground, and lighter lines for the background. For the final event, students went on a gallery walk, offering feedback to their classmates on post-it notes.
Students at the Short School in San Rafael experimented with paint, paper and various materials as part of a grant from the Kennedy Center. Using a lesson plan titled "Motivated to Create … HARMONY," Mentor Artist Cathy Bowman helped students translate jazz into paint.
The purpose of the lesson was to give students the experience of drawing on the inspiration of sounds as a foundation for their art. Working individually and in pairs, they listened to excerpts from "West Side Story" by composer and conductor Leonard Bernstein. Key vocabulary artists reviewed included "harmony," "tone" and "abstract."  Using tempera paint, paper and canvas they listened, and painted what they heard. We considered how sound affects our feelings. Students were given an array of materials to use, including toothbrushes, corks, rollers, plastic packing material and forks. They practiced making marks, covering marks and making more marks. Working together was a good lesson in collaboration and respect … Is it ok to cover another artists' marks?
Working in pairs allowed students to create multiple layers of color.
In the final session artists were given an 18 by 24 inch canvas. They tore up their smaller works on paper and reassembled the pieces into a collage on the canvas. They applied more paint and color while listening to music. Working outside for the final painting freed the young artists to move in ways that can't happen in a carpeted classroom. 
The last artist to work on the painting added a tiny touch of black, noting that she was thinking about her favorite fruit – blackberries. Can you find her mark?
This VSA program is provided in 2017-2018 under a contract with the John F. Kennedy Center for the Performing Arts. This program is also supported by the Buck Family Foundation and Marin Charitable.
Inspired by the paintings of artist Jasper Johns, students at Oak Hill school created their own numerical works of art. Using large stencils made by Mentor Artist Cathy Bowman, they traced numbers 0 through 9. Nearly 30 students worked on the collaborative project. Some created a single number, while others made several. In the end there were 70 numbers – 7 sets of 0 through 9.
Students enjoyed working with a familiar subject matter, and the straight and curved sides of the stencils gave them a solid framework for drawing. Once the numbers were stenciled onto watercolor paper, they used oil pastels and watercolors to explore pattern, color and shape. They were encouraged to look at the entire page and decide where to apply the pastel, knowing that the pastel would "resist" the watercolor that came later. Some students worked entirely with pastels, giving their numbers bright, bold lines and shapes. Others used mostly paint, preferring to create numbers with soft edges. The project was a wonderful opportunity for young artists to experiment with unfamiliar materials, including water-soluble graphite. For some, it was a chance to practice touching and using pastels that were freed long ago from their paper sleeves. The pebbled surface of the heavy watercolor paper was a satisfying  and sturdy surface on which to create. The project was also a chance for artists to practice thoughtful watercolor techniques and gentle brush motion.
When the paintings were finished, we looked at the stencils. After being handled, touched and scribbled on by numerous students, the stencils had become works of art. With each mark and splotch of paint that remained, the numbers told a story far beyond what ended up on paper.
Thank you to the following for helping to make this program happen:
With Youth In Arts Mentor Artist Cathy Bowman, students at Cascade Canyon School in Fairfax studied comic book making, printing and painting this fall.
The 6th, 7th and 8th grade students created mini-comics for their project. The process included character studies on paper, building 3-D models of characters, then bringing them to life in comic book form. Students learned storyboarding techniques, from layout to lettering. They worked in groups before starting individual projects. For their final books, a key part of the process was revising and redrawing before inking. The mini comics were printed and shared in class. Students curated their own work, adding a few sentences describing their experience.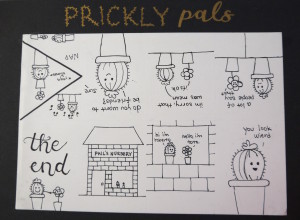 The 2nd/3rd grade class explored composition, drawing and painting through flower studies. They began by deconstructing real flowers and re-arranging them to make imaginary flowers. We studied and discussed various kinds of flowers and what they need to survive and thrive. Students created black and white compositions using graphite, then moved on to acrylic paintings. They were encouraged to approach their compositions thoughtfully, painting only part of the flower and considering the use of negative and positive space.
The 4th and 5th grade class studied printmaking. They practiced various kinds of printing, from making collographs to using ink plates in different ways. They also experimented with printing on different materials, from postcards to special printing paper. Along the way they learned about composition as well as how to curate their own work.
Youth in Arts is offering free Family Art Night activities to school communities impacted by the recent fires. Family Art Night is an integral part of our school programs—we bring artists, supplies and volunteers to a school site, usually on a weekday evening or possibly a weekend day.
Want to help with this project? Click here to volunteer or donate supplies or funds.
We would like to offer a Family Art Night for free to any impacted school that would value this, whether or not they are already participating in our programs. Schools would be free to supplement arts activities with a potluck or other community sharing activity.
We can provide examples of invitations that partner schools have used to gather families for the event. Each Art Night would include two projects:
Family Flags of Hope
Families and students work together to design and hand paint canvas flags that can be strung together to beautify an area of campus.
Ethiopian Necklace Scrolls or Accordion Books
A take-home project creating a uniquely shaped handmade "book" containing children's dreams for the future.
Please contact Morgan Schauffler at Youth in Arts to schedule. As we know you are all very busy right now, here is what the school community would need to do to participate:
Identify dates that are open for the Family Art Night activity and confirm a date
Identify a space where the activity can take place, ideally indoors with tables
Gather students and families for the event
Provide anything non art-related your families will want for the event (food, etc.)
Youth in Arts will:
Bring all artists, volunteers and supplies needed for the activities
Arrive at a mutually agreed upon time to set-up the art tables
Work with parents and children at the art tables to help them complete the projects
Stay until the art projects are cleaned up
Please let us know if this would be helpful. We wish you all the best as your community recovers.
On Friday night, teaching artists gathered together at Youth in Arts and created recycled insects. Visual Arts Director Suzanne Joyal and Executive Director Miko Lee led a hands on experience in utilizing recycled materials to teach about insects and create original works of arts.
Lesson plans were provided for teachers to replicate at their school sites. Ten different schools were represented at this evening of creation and learning.
A table of recycled materials including corks, wire, plastic bottles, candy wrappers, buttons, straws and records were arrayed for the teaching artists to sort through. Through laughter and even bug songs, each teacher made a creature to bring back as a sample to their classroom.
Teaching artists were encouraged to link science curriculum with recycled materials to create art pieces with students to enter into Spring's PaperSeed Recycled Art Competition.  YIA Teaching Artist Nao Kobayashi created an amazing lifecycle on an album with a puppet caterpillar. Check out the video here.
An Insect World PDF/Powerpoint and Insect Adapation lesson plan was provided for the teachers to share in their classrooms.  Thank you to PaperSeed Foundation and California Arts Council for making this evening possible.
Fall is almost upon us an Youth in Arts is back in the swing of things! We have returned to quite a few schools and have added some new sites as well.
Mentor Artist Julia James, began teaching visual art in K-5th grade at a new site, Two Rock Elementary in late August.  She is working with the students on an observational drawing project in their school garden, as well as various forms of printmaking and bookmaking.  She loves taking in the beautiful West Marin landscape on her drive to Two Rock, which is situated halfway between downtown Petaluma and Tomales.
Shawna Alapa'i was thrilled to return for a back-to-back year of teaching Hawaiian Hula and Storytelling to the K-6th grade students at Sonoma Mountain Elementary in Petaluma.  Her students learned the basics in their last 12 week residency, so she is looking forward to teaching them more complicated movements, while expanding their knowledge of the dance style steeped in culture and history.  As Shawna says, "I strive to teach the flow of the Aloha spirit through dance and sound."
Though Youth in Arts has worked with Cascade Canyon School for a number of years, they are exploring visual art for the first time with the help of Mentor Artist Cathy Bowman.  Cathy, an award winning cartoonist and writer, is sharing her special skills with the 3rd-8th grade students in Fairfax.  They are working together to learn how to tell their story through drawing, painting, printmaking and of course cartooning.
In addition to working in our model program at Davidson Middle School, Katie Issel Pitre began her Devised Theater residency for 8th & 10th graders at the Canal Alliance last week.  This 12 week advisory class at the Canal Alliance's University Prep program is focused on investigating self and building confidence.  Katie will help the students create, write and perform a collaborative piece that explores issues pertinent to them.
We have several more Mentor Artists beginning their residencies in the coming months.  Stay tuned!
Since Youth in Arts completed our new strategic plan this spring, we wanted to properly introduce our Mentor Artists to our more in-depth model, and to each other.  Our artists work directly in the classrooms, so they rarely have a chance to interact.  We hosted an "all artist meeting" in August, and it was wonderful to see them talk to, listen to, and learn from one another.  Our icebreaker activity was a worksheet that asked the artists to identify a problem in the world today, and how they would use their art form to solve it (using words and/or pictures).  The prompt was WITH MY ART I CAN…
Here is Mentor Artist Sophie Cooper's thoughtful response and accompanying artwork:

"A problem I see in the world today is xenophobia.  With my art I can…help people see the world through someone else's eyes.  A film can draw you into an experience of understanding that is registered through many senses simultaneously – sight, sound, emotions.  This allows people to get a sense of how another person experiences the world.  So often the fear of the unknown occurs by observing another's experience and not being able to see beyond our own subjective viewpoint."
Sophie Cooper's teaches New Media, Media Literacy, Digital Storytelling, and Visual Art.  She has been working with Youth in Arts since 2010.
BIO: Sophie's undergraduate studies were interrupted in 1999 when she joined her brother working as a volunteer for a small organization in Kosovo called Balkan Sunflowers. Arriving only 3 months after Kosovo's one million refugees returned to their destroyed homes, she began organizing cultural activities with the community's youth.  In 2001, together with a network of artists from Kosovo, she participated in the formation of the Crossing Bridges Collective to organize and annual trans-Balkan music and arts festival. Inspired to document these vibrant cultural events, Sophie began working as a video artist and then went on to refine her skills at the Film Academy of Prague, Czech Republic (FAMU). She then received a dynamic degree at the University of California at Berkeley combining both visual arts and critical social theory. Sophie's work as an artist has developed hand and hand with her work as a community organizer. She has found that her favorite form of activism is that of visually celebrating the beauty of nature and the beauty of culture.
by Mentor Artist Stephanie Bastos
My work at Harding Elementary School for this residency focused on two main ideas: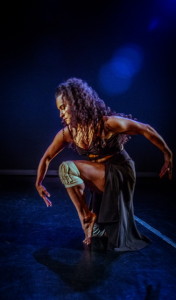 Choreography and Improvisation. I utilize Contemporary and Creative Dance techniques like the Braindance to guide learners through a process of self-discovery, movement exploration and collaboration. This creative process also includes cultural relevance by basic exposure to Samba Reggae, a liberation dance and music from Bahia, Brazil. Samba Reggae comes from a 1970′s era political movement in Brazil lead by Afro Brazilians in Bahia claiming their space in an otherwise segregated, racist and classist society. It is a dance of celebration and the choreography is made up of repetitive movements in eight or four count phrases. The constant repetition allows ample space for learners to see, practice, and execute the choreography within a rhythmic pattern while learning about cultural relevance.
Improvisation is guided by creative dance concepts like the Braindance that is used to warm up the body and breath by mapping all movement patterns like upper half and lower half of the body and cross lateral movements. Other creative dance techniques like levels, shaping and use of personal and community space expand learners' awareness of the space their bodies take up and all the possibilities for movement within and around that space.
It is always a pleasure working with Harding because they have a beautiful auditorium, a community of kind and caring staff and learners and a genuine appreciation for quality arts education. After so many years of moving and building relationships with the Harding Community, I can say that I feel a strong connection with the school and am proud of the work we have done together.
I believe all children deserve a safe space to practice quality arts education!
Thank you Harding!
Older Entries »