Art making can happen many ways. Whenever possible, Youth in Arts visual art teachers like to work in small groups to give young artists more time and attention. Sometimes the rest of the class is doing academic work, on worksheets or an iPad. Occasionally we run an informal art center, where students can freely explore materials they will be using later in class with their Youth in Arts teaching artist.
Mentor Artist Cathy Bowman worked recently with several students at Oak Hill School in San Anselmo through our Arts Unite Us program, which supports students experiencing disabilities. As she started with a few students, teacher Nicole Albert asked if the rest of the class could make some collaborative art. Nicole covered the table with white butcher paper, and Cathy set out some of the pastels she would be using for her lesson a few minutes later.
Students were encouraged to explore making all kinds of marks, and each picture told a story. Some students got to practice their fine motor skills by cutting out cats, human-like figures and other shapes they had drawn.
After a quick hand wash, students visited Cathy at a different table. They made textured quilts on mat boards, pressing different colored shapes and textures onto a sheet of sticky shelf paper. They used the pastels to trace around each shape, practicing hand-eye coordination. Finally they applied magic gold foil they left a shiny imprint on their art when they pulled it off. All the pressing, rubbing, scratching and lifting helps strengthen the hand muscles that are needed for writing, cutting and other duties. And using pastels twice made the artists more confident. Scaffolding lessons is built into our lessons so students can build on skills learned from week to week. Even an art center can be linked to a lesson so that it supports the lesson being taught that day.
You can see art created by these very talented students this summer at our annual "Outside the Lines" art exhibit at the Youth in Arts Gallery.
Circles come in all colors and sizes. We can find them everywhere.
Students in Kathleen Haulot's class at San Ramon Elementary School used Mason jar lids, tape rolls, tiny dishes and an empty yogurt container to make circles on black paper. Inspired by the work of Kandinsky, these young artists explored making circles big and small, loose and tight, thick and thin.
The students are working with Mentor Artist Cathy Bowman as part of a 10-week residency at Olive Elementary School in Novato. This is the second year she has worked with Kathleen, whose students range in age from kindergarten to second grade. She taught the same project at Olive Elementary School with Joe Smith.
The artists used thick, creamy tempera crayons that are easy to hold and use for students experiencing disabilities. Instead of working on white paper, they drew on black. The stark contrast created visual interest, and students had to think about what happens when yellow is applied to black paper (more green) than white paper (more yellow).
"I want my students to know the joy of making art with anything, and working on black paper produces exciting, dramatic art," Cathy said. "This is a great way for students to practice fine motor skills because they have to hold the lid with one hand and trace with the other."
Cathy likes Mason jar lids because they are sturdy and easy to hold. Artists had fun using different objects to make different circles. When we finished, we put them together on a table and talked about how each piece connected with the others. Reflection on art making is a key part of our Youth in Arts' programs, and it's wonderful to witness the many ways students share their voices.
Youth in Arts is the only provider of arts classes (visual, dance or music) to nearly 40 self-contained classrooms of students experiencing disabilities in Marin County. You can see art created by these very talented students this summer at our annual "Outside the Lines" art exhibit at the Youth in Arts Gallery.
By Mentor Artist Cathy Bowman
I love it when students ignore my directions.
I don't mean the important rules: be kind, share, and respect yourselves, others and materials. But following the directions for how to do a project? It's not on my list.
Making art intuitively is common among students with different learning styles. They care far more about process than result. They rarely ask if you like what they create, because frankly, they don't care – and they shouldn't. Often they use tools in new and unexpected ways, such as the handle of a brush (instead of the bristles) to scratch into wet paint.
Recently I taught at an elementary school through our Arts Unite Us program. I asked each student to come up with three words to describe themselves, and then turn each word into a line to make an abstract self portrait.
I met a young boy who slumped at the table, clearly disengaged. When asked for his words, he shrugged and said nothing. The kindly paraprofessional told him he either had to make art or go back to his desk and do school work, and he started to get up. I asked her to wait, feeling that if he was at least willing to stay at the table, some part of him might be interested. Even if all he did was sit there, I knew eventually he might make a mark … even if it took several weeks.
Suddenly, he wanted to draw Frankenstein. Great, I replied. What words would you use to describe him? His face lit up and he quickly came up with two words: creative and strong. Instead of an abstract line drawing, he created his own monster portrait. His work was different from everyone else's – and just as engaging. I saw him a few weeks later, and he is still enthralled with making art.
As teachers, we are constantly reassessing how we define success. I see my job as being a trail guide – to point out the boulders rolling down the hill and which way the trail goes. The path artists take is up to them.
Children's art created during Youth in Arts residencies has been selected as part of San Rafael's public art project to beautify the Third Street Garage.
The city's Parking Services Division selected two works created during arts residencies with Youth in Arts' Mentor Artists Julia James and Cathy Bowman. Each mixed media work will be temporarily transformed into a 3 by 6 foot sign at Fifth Avenue and C Street while the new public safety center is being built across the street.
City officials said once they started looking at the garage, they realized it was time for a facelift.
"We're really excited about this out-of-the-box project," said Sean Mooney, San Rafael's civic design manager.
City Manager Jim Schutz said he wants the city to have more public art that people happen upon and are delighted by, rather than seeing art only in a museum. San Rafael has been designated as a Downtown Cultural Arts District by the state because of its vibrant arts community.
"One of my visions … is that that happens all over downtown," Jim said.
A mixed media piece by students at Willow Creek Academy is currently on display at the garage. The art was created last spring in a self-contained class of kindergarten and first graders who worked with Cathy. The art will be up through May.
The city also selected a piece created by students who worked with Julia James at Magnolia Park School in San Rafael. Cathy's and Julia's classes were part of Youth in Arts' Arts Unite Us (AUU) Program, which serves young artists experiencing disabilities. Some of the young artists who created the Magnolia Park piece attended the city's celebration.
Each children's art piece selected, is paired with work by an adult artist that appears on the opposite side of the sign, celebrating San Rafael. Adult artists chosen include "Under the Surface" by Travis Weller, which is paired with the collaborative work by Julia's students; and "Visions of San Rafael," by Isabel Hayes, which is paired by the collaborative piece by Cathy's students.
Students at Olive Elementary School explored shapes recently in a sculpture project that involved using common geometric forms: a sphere or circle, a square, a rectangle, a diamond and a triangle.
The young artists are part of Katie Kelly's class receiving a 10-week Youth in Arts' residency with Mentor Artist Cathy Bowman. The residency is part of Youth in Arts' Arts Unite Us program, which works with young artists experiencing disabilities.
The children named the shapes made of foam core scraps and selected at least one of each for their sculptures. While the sculptures were drying, students looked at them all together on a table. We talked about the connection between the different sculptures and which ones fit together most easily.
"Working with shapes to make sculptures is one of my favorite projects to teach," Cathy said. "I love that students are making connections between their own art and the work of their classmates. It really reinforces critical thinking and observational skills."
To encourage sharing, Cathy provided one plate of glue for every two students. Building social-emotional skills through art making is a key part of what Youth in Arts teaching artists do. When students wanted more shapes, instead of saying "I need more shapes!" they were encouraged to transform that into a question, such as "May I please have more shapes?"
After making their sculptures, children will paint them and then create a painting of  their sculpture. This supports hand-eye coordination and observational drawing skills. The sculpture lesson is an important foundation for lessons to come.
How do I make brown? How many different shades of brown can I make? Second graders at Short and Laurel Dell elementary schools practiced mixing colors using only the primaries red, yellow and blue plus white.
We worked with tempera paint, waxy black markers and mat board. First we traced our own hands and the hands of our table mates, overlapping to create interesting shapes. We mixed different browns carefully and painted in each area. It was fun to see how purple and yellow make a brown that is different from the brown that blue and orange makes. We used donated mat board instead of paper to give students a velvety and durable service on which to work. Mat board is especially helpful with children with learning differences as it offers a strong sensory response, and won't crumple with lots of paint.
Working with Youth in Arts Mentor Artist Cathy Bowman, we have been exploring identity and our role in our communities and neighborhoods. The lesson followed a multi-week project in which students created richly detailed murals using collage papers, pastels and glue. In each class, we designed and envisioned our dream neighborhood after looking at artists Romare Bearden, Faith Ringgold and others.
Thank you to Lo Forti Fine Prints in San Anselmo for the generous donation of mat board.
Concluding an Arts Unite Us residency at Magnolia Park School, Youth in Arts Mentor Artist Julia James and her students used their last day together to finish a collaborative painting they had been working on for over six weeks. The project began early on in the residency as students experimented with various tools and materials. Over the ten-week program, oil pastels, tempera paint, watercolors, rollers and different tools were used to make new textures and colors.
The first few layers of the painting demonstrated some of the early skill-building that students participated in. As we learned more about what materials were available and how to use them, we built upon our initial work using adaptive mark-making tools. Each week we practiced fine a gross-motor movement and built fine arts skills in color mixing, paint application, and decision-making.
On the last day of class, we gathered together to reflect on the artwork and come up with a title based on what we saw in our painting. We discussed the colors we had chosen, and thought collectively about what our artwork made us think about, and how it made us feel. During our conversation and throughout the residency, we worked on building our social emotional core competencies by exercising our sharing, listening, decision-making and collaboration skills.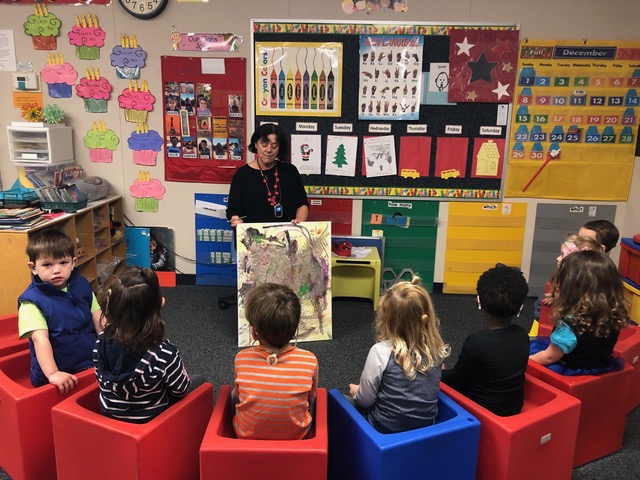 Together, we decided that our classroom painting would be called, "The Story of the Leaf". Can you see it too?
This program was made possible thanks to the generous support of our partners.
As part of this year's  Arts Unite Us residencies, mentor artist Julia James works with TK and Kindergarten students at Magnolia Park School through their early intervention program. Over the course of ten weeks, Julia explains, "we will be using a variety of adaptive art tools, materials and surfaces to explore alternative ways to make marks and actively create artworks." Key goals for the residency include personal expression, developing fine motor skills, and interpersonal communication and collaboration. Students will practice working with primary and secondary colors, using a broad assortment of materials to mix and apply paint.
As a final project for the residency, students will create an abstract collaborative painting that will be including in the Kennedy Center's national online VSA exhibition for 2019-20 representing San Rafael, CA, as well as the annual YIA Gallery exhibition, "Outside the Lines: Collaborative Art in Special Day Classrooms".
Thank you to the Kennedy Center, Marin Community Foundation, and Marin County Office of Education for making this program possible.
This summer, Youth in Arts' Director of Visual Arts Suzanne Joyal began her study toward a Master of Arts in Arts Education with a focus on special populations from Moore College of Art and Design in Philadelphia, PA. The only program of its kind in the country, the program was founded by Lynn Horoschak, a pioneer in the field of arts education for special populations. For the students of Moore, and arts educators at Youth in Arts, "special populations" means anyone who does not thrive in the linear, neurotypical classroom. This could mean students experiencing disabilities, newcomer and english language learners, students experiencing the effect of trauma, or anyone with an IEP (Individual Education Plan).
"I decided to pursue the Moore Masters program after attending several workshops led by Lauren Stichter, the graduate program director at Moore. I have been working with students with special needs for 11 years at Youth in Arts, and after listening to Lauren, I knew I could do more. I know that what we are doing at Youth in Arts is necessary and needed and the right thing for all students. We all need to be able to express ourselves with confidence, and for many people (myself included), it's through the arts that this is possible. For students experiencing disabilities, every day can be painful or scary or exhausting, and infusing the arts into learning is what can help them thrive. We want every student to want to come to school and to feel proud of their accomplishments, and I have witnessed how the arts helps many students get there."
Suzanne spent six weeks this summer participating in the intensive program, is working remotely for the school year, and will return to Philadelphia next summer to complete and present her thesis.
Nearly 100 arts supporters turned out to celebrate the importance of art education and to honor Youth in Arts' wonderful Executive Director Miko Lee on Sept. 13 at the YIA Gallery in the Downtown San Rafael Arts District.
Lee has been a tenacious advocate for ensuring that all children – not just those at Marin's wealthier schools – have equal access to the arts. She is leaving Youth in Arts after 13 years at the helm.
"We know we have a big equity gap in Marin, " Lee told the enthusiastic crowd at the State of the Arts event. "We feel that as part of the ARTS NOW Marin (California Alliance for Arts Education) community, arts education makes a difference. "
In reviewing the year's accomplishments, Lee highlighted the passage of Marin's first ever Arts Education Plan a year ago, which was folded into the larger county arts plan. With that strong foundation, Marin County Office of Education and Youth in Arts were able to get $500,000 in additional funding for arts education so that more students of color and students with disabilities were reached.
Youth in Arts also partnered with other experts in the field to train nearly 100 educators at a STEAM workshop this summer.
"One hundred percent of those teachers said they could feel confident integrating arts into their curriculum," Lee said. "They saw that this is a way to reach our students who are not being listened to and not being heard."
Youth in Arts has also produced a Digital Toolkit, six videos on inclusive teaching practices for artists, classroom teachers and parents. In addition, Youth in Arts has developed a free ARTS Bank. The database, believed to be the first of its kind in the nation, allows educators, parents and students to plug in an IEP goal or grade level and get an arts activity that matches.
Youth in Arts' award-wining youth a cappella group, 'Til Dawn, also performed.  This past year, those students received 350 hours of arts learning and performing. The event also coincided with San Rafael's  2nd Friday Art Walk .
Board member Melissa Jones-Briggs served as the MC. Speakers at the event included Mary Jane Burke, Marin County superintendent of schools; Gabriella Calicchio, director of cultural services for Marin County; Pepe Gonzalez, principal of Laurel Dell and Short Elementary schools; Danielle O'Leary, economic development director for San Rafael, Naomi Tamura, Youth in Arts' board president; and Dr. Tom Peters, president and CEO of the Marin Community Foundation.
Gonzalez spoke passionately about the difference Lee has made through her vision, passion and energy. He pointed to photographs in the YIA gallery of young artists with special needs and said he wasn't surprised to see them there.
"If it wasn't for Miko and the programs she's brought in, they wouldn't be up there right now," he said.
Gonzalez also pointed to the photo of a third grader at Laurel Dell who had been through Youth in Arts programs.
The young artist has been in the U.S. only two years. Her academic grades only tell part of her story, he said, noting the joy on her face while making art.
"When you give kids access to something that finds that inner voice, that right there is exactly what we want our kids to be like," Gonzalez said. "Those smiles are real. The programs, the vision, everything that (Miko) believes in … that smile says it all."
Please consider a donation in honor of Miko Lee's incredible legacy, and to support the important work that we do.
Thanks to photographers Kathleen Gaines/MarinArts, Lynn Noyce, Kim Wilson and Youth in Arts staff.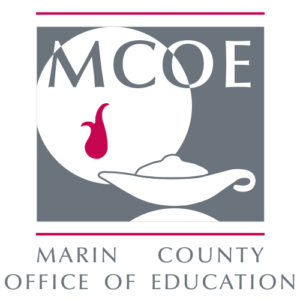 Older Entries »