Youth in arts submitted over 80 pieces of art to the Kennedy Center's VSA Arts international on-line show, which had nearly 500 entries from around the country. Only one piece (Shaylynn's artwork) was chosen to be one of the 16 framed, and exhibited in the US Department of Education this Spring! (Shaylynn was a student in Marci Ryan's special day classroom at Lynwood School last year).
Julia James uses large mirrors to help students with autism look carefully at their own faces, practice making faces of various emotions, then guides the students through a process of creating a symmetrical portrait of themselves. Shaylin created a self portrait in oil pastel and watercolors. She created cartoon images of creatures showing a variety of emotions around the border.
Marci Ryan says "Shaylynn has shown incredible aptitude in the fine arts. During free choice it is always her preferred activity. Her friends look to her work and  have learned from and been inspired by her drawings. Once, after seeing a performance of the Nutcracker on a field trip, Shaylynn came back to class and not only made a picture of what she saw on stage, but also the back of people's heads and the view from her perspective in the theatre! Incredible!"
Painting and drawing offer students of all abilities a safe way to explore all of their emotions, and also offers them a safe form of risk-taking with materials, techniques and textures.
Youth in Arts is the only arts organization providing arts opportunities to children with special needs in Marin County: nearly 300 students every year!
Thank you Kennedy Center.
Mentor Artist Stephanie Bastos worked with every student at Laurel Dell Elementary School this Spring. Here are her thoughts:
I believe every child deserves quality arts education and schools like Laurel Dell Elementary strive to make it happen. My instruction there included Movement arts focusing on Brazilian Music and Dance that provided a rich experience for a community of mostly immigrant families. As a trilingual teaching artist having spent a lot of time in Brazil and throughout South America, I related to the kids and families by simply sharing my culture. I also have a disability that I do a presentation about for the learners so that they can see that every body can move and create.
The learners experienced a traditional dance class that includes a warm- up, skill building, and performance/ improvisation in small groups or individually. They also got to play drums and sing songs in Portuguese.
Laurel Dell celebrates their community every Spring with the Fiesta Del Sol: families and friends meet for a fun and music-filled day of dance and food. For the culminating event, students presented Samba Reggae choreography, Maculelé folklore- a traditional warrior dance and the beloved Capoeira- a game of movement, acrobatics, and song.  I had the honor of entering a community full of love and simplicity that taught me a lot about the possibilities of what quality education looks like for all!
Thanks to the generosity of the Laurel Dell PTA, and the California Arts Council, Stephanie will be returning to Laurel Dell this year. 
By YIA Sachiko Moran, UCLA World Arts & Culture intern
Staff Miko Lee and Suzanne Joyal recently presented at the Kennedy Center VSA Intersections International conference in Atlanta on the upcoming IEP Arts Lesson Exchange. They introduced the concept to teachers and asked for their feedback and ideas on how to make it meaningful and useful to them and their students.
For years YIA has seen the impact that arts has on all students and particularly students with disabilities. For students with special needs, teachers must make the time to fill out Individualized Evaluation Plans (IEPs). Often times, when creating these plans, arts are left out of the picture.
YIA began working with a small group to create the beginning of an IEP Arts Lesson Exchange. This will be a free searchable database of arts activities for teachers and teaching artists to access in order to reach all types of learners. Through this exchange, YIA hopes that teachers and artists alike can contribute and benefit from one another's knowledge and skills, making arts education more accessible. YIA knows that there are countless motivated educators that are keen on sharing and learning. The IEP Arts Lesson Exchange will be a platform on which they can do so.
To add your own activities and learn more go here.
Shout out to UCLA World Arts & Culture intern Sachiko Moran who created the rainbow and tested out the online forms.
by Mentor Artists Kaitlin McGaw and Tommy Shepherd. Photos by Kristin Chalmers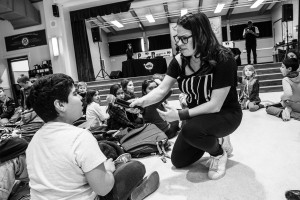 Alphabet Rockers were proud to offer hip hop arts programming in Glenwood Elementary School again this year. In a unique program design, we offered two assemblies (one in fall, one in Spring), along with accompanying dance workshops following each program.
Principal Kim Goodhope understands the importance of equity frameworks – and was eager to see how this model would deepen the experience for the young people.
We ourselves as artists were in the process of evolving our language, performance and messages to step up as allies and advocates for racial justice. Earlier in 2017, we performed "Change the World," with songs like "Gimme Some Skin" inviting young people to see and validate the diversity of skin colors in the room. We invited the audience to envision how they would change the world to make it more fair for all people.
In our return visit this past October, we were in the process of developing a new concert series for the September released album, Rise Shine #Woke. Our music had changed. We had changed as artists. As a multi-racial group of artists, we had advanced our work from "Gimme Some Skin" into songs that talked about discrimination, and took action to interrupt our biases.
In the assembly, we performed the song "Shine" in this way. We talked about how shocking it was for Tommy when someone said to his face, that "Black lives don't matter" when wearing a BLM shirt. This had happened to his 10 year old son only weeks earlier, and we took the story into our show – outlining how friends stood up for him at a time he didn't have the words. The song throws "shine not shade" on all those facing discrimination. The children joined us in dance, and sang out the words "Shine! On my beautiful skin!"
When we went into the classrooms to unpack further, we knew that as a mixed-race group, we would hold different space. A white woman talking about skin color discrimination and a black man talking about skin color discrimination would hold different language, embodiment and throughlines for these classrooms, where the children were from various backgrounds but were navigating a mostly white school and community. We found that the work needed to root in identifying and celebrating difference, before we could address discrimination and advocacy. It was clear that the work we were aiming to accomplish would need further parallel resources in the classrooms and in the school culture.
This album received a GRAMMY Nomination only a few months later; we returned with that glow to Glenwood in March. We performed our song "Walls" – about how folks who speak another language or come from another place are not always made to feel welcome. How can we be "the people" that we really want to be? How can we uphold those ideals of equality and equity at a time when we knew that even our own kids were feeling the pain of discriminating national policies and actions.
Post concert, we went back into the classrooms, charged with a similar inquiry of unpacking discrimination and bias with our young people. In one class, learning the dance moves to "Shine" empowered the children to feel their voices and bodies connected to bold claims of belonging. In another class, we reverted back to trying to describe our skin color, finding that the work around discrimination was still not quite sinking in. We went on a skin color match game, finding articles in the room that reflected our skin colors, from pages of an old book to a wooden clock. We then turned our skin color matches into unique handshakes, which celebrated the diversity and creativity of the students.
What's interesting to know in this path with arts and creativity is that it is not always linear. We do need to circle back, to revisit, to revise and listen. Just the same with adults – we cannot assume that one moment of learning around systems of oppression will lead us entirely to a path of truth and understanding. We are complex beings, seeped in our systems of bias and understanding. Our kids are as well.
In our work at Glenwood, we are reminded of this openness. The principal brought us in with full understanding of the importance of equity. We will continue to support their work – and the students individual and collective journeys – as it is about true embodiment through the years.
By Mentor Artist Cathy Bowman
For the past year, Oak Hill students have been exploring painting and sculpture. We ended the year with a student exhibit that featured several exciting projects. The display featured masks, paintings, drawings and two collaborative works based on the number paintings of artist Jasper Johns. It was important for students to get a chance to survey their own work as well as the art made by their friends. It was hard not to touch the art!
One of the projects the students liked best was using tape to separate space on pieces of canvas. The artists applied oil pastels and paint; once dry, they removed the tape. Some students enjoyed pulling off the tape more than painting! There were surprises of color and lines everywhere, and decisions to be made about whether to leave parts of the canvas bare. We finished off the project by using letter stencils. The artists were very creative and used the stencils randomly, rather than spelling out recognizable words or names.
Another popular project was making sculptures based on the work of Alberto Giacometti. Students began by making wire forms and then covering them with foil and clay. Once the clay dried, the sculptures were painted. Some students made human forms while others created animals.
Written by Mentor Artist Cathy Bowman
This spring, students in two special day classes at Venetia Valley Elementary School explored different tools and materials. Artists experimented with a variety of adaptive tools for making marks: wide handled brushes, sea sponges, rollers, balls and soft toys. These tools were easier to grip than a thin paintbrush or pencil and allowed students a lot of control in how they painted. For many projects, they also worked on heavy mat board instead of paper. We also explored texture, using sticky contact paper as a canvas on which to apply various papers and materials. Using black paper, color and white paint students practiced layering colors.
The last two weeks of the class focused on making collages inspired by the work of artist Louise Nevelson. Students spent one class choosing and gluing down various forms and shapes that included Lincoln Logs, CDs, bottle caps, slides and other materials. Next, they added paint, which posed a new set of challenges as students turned and moved their artworks to paint various surfaces and angles. Once the objects were painted, the meaning behind them changed. Slides became obscured; CDs less shiny. Lincoln log pieces became exciting sculptural elements!
We are so grateful to TOAST Restaurant in Novato for exhibiting the beautiful portraits of past participants in the Walker Rezaian Creative Hearts Fund Kindergarten Art Project.
Every year Children work so hard to create their portraits as they study line, color, form, and emotion to create these wonderful works of art.
Portraits will be on display until May 30: stop in and take a look!
TOAST for breakfast lunch or dinner, 5800 Nave Drive, Unit G, Novato, CA 94949
This was our first year working with the Special Day class at Rancho Elementary School. Working together in small groups students explored many kinds of art materials over a 10 week residency. Students developed gross and fine motor skills, practiced verbal and communication skills and discovered a variety of ways to mix colors using many different art tools.
Students practiced vocabulary including hard, cold, pointy, soft, fuzzy, cozy, warm, bumpy, smooth, silky, crunchy and crackly!
This was a great introduction to a tactile and colorful experience.
by YIA Mentor Artist Cynthia Pepper
What a wonderful day we had with the Terra Linda Special Day Classes led by Rachel and Abby. We had 9 adults assisting the 12 students on the final sharing day of my residency last week. I thought it would be nice to start our day off with a warm up to Bob Marley. The man! He cuts to the chase with his lyrics of "Is it love?". It must be love because everyone was smiling while we moved all our bodies in unison to get ready for the big dance called KUKU. It is from Guinea West Africa and it involves fishing with nets, sharing our catch, becoming fishes and having a full on party at the end. The African based cultural dance day eased in with our sharing of energy around the room both in clockwise and counter clockwise directions. We cleaned up the day with Keb Mo and Michael Jackson and my all time favorite get funky dance song "Green Onions" by Booker T. and The M.G.'s. It just takes it away. The paras and the aides all danced a solo in the middle of the room which they all accomplished with flair. Each wheelchair got a pirouette opportunity and the students crushed it with smiles. I love sharing with so many students the joy of movement and music. It seems like it keeps getting better the more we do it. Each time feels better than the next.
Thank you Abby and Rachel for always being so ready to rock. And thank you to our very generous supporters: 
Second graders at Cornell Elementary School in Albany had the opportunity to learn about Persian dance, music and culture. Each class learned a different style of dance from Iran. There were four 2nd-grade classes, 92 diverse students who participated in this residency.
These students had nine sessions of Persian dance and culture class with Shahrzad Khorsandi, director of Shahrzad Dance Academy and author of The Art of Persian Dance. The nine-week session included a group choreography, culminating in a student performance.
In addition to the choreography, the students learned about the geography of Iran, the different regional dances, cultural traditions such as the Persian New Year fire-jumping celebration, and even learned how to do the special (and loud) two-handed Persian snap! When asked what their favorite part of the experience was, many said it was when they worked in small groups to create their own movement patterns in the dance style they were learning.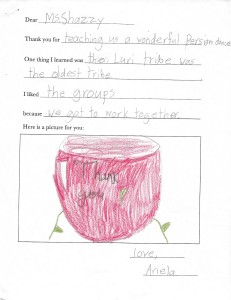 « Newer Entries
Older Entries »