This summer, Youth in Arts' Director of Visual Arts Suzanne Joyal began her study toward a Master of Arts in Arts Education with a focus on special populations from Moore College of Art and Design in Philadelphia, PA. The only program of its kind in the country, the program was founded by Lynn Horoschak, a pioneer in the field of arts education for special populations. For the students of Moore, and arts educators at Youth in Arts, "special populations" means anyone who does not thrive in the linear, neurotypical classroom. This could mean students experiencing disabilities, newcomer and english language learners, students experiencing the effect of trauma, or anyone with an IEP (Individual Education Plan).
"I decided to pursue the Moore Masters program after attending several workshops led by Lauren Stichter, the graduate program director at Moore. I have been working with students with special needs for 11 years at Youth in Arts, and after listening to Lauren, I knew I could do more. I know that what we are doing at Youth in Arts is necessary and needed and the right thing for all students. We all need to be able to express ourselves with confidence, and for many people (myself included), it's through the arts that this is possible. For students experiencing disabilities, every day can be painful or scary or exhausting, and infusing the arts into learning is what can help them thrive. We want every student to want to come to school and to feel proud of their accomplishments, and I have witnessed how the arts helps many students get there."
Suzanne spent six weeks this summer participating in the intensive program, is working remotely for the school year, and will return to Philadelphia next summer to complete and present her thesis.
Nearly 100 arts supporters turned out to celebrate the importance of art education and to honor Youth in Arts' wonderful Executive Director Miko Lee on Sept. 13 at the YIA Gallery in the Downtown San Rafael Arts District.
Lee has been a tenacious advocate for ensuring that all children – not just those at Marin's wealthier schools – have equal access to the arts. She is leaving Youth in Arts after 13 years at the helm.
"We know we have a big equity gap in Marin, " Lee told the enthusiastic crowd at the State of the Arts event. "We feel that as part of the ARTS NOW Marin (California Alliance for Arts Education) community, arts education makes a difference. "
In reviewing the year's accomplishments, Lee highlighted the passage of Marin's first ever Arts Education Plan a year ago, which was folded into the larger county arts plan. With that strong foundation, Marin County Office of Education and Youth in Arts were able to get $500,000 in additional funding for arts education so that more students of color and students with disabilities were reached.
Youth in Arts also partnered with other experts in the field to train nearly 100 educators at a STEAM workshop this summer.
"One hundred percent of those teachers said they could feel confident integrating arts into their curriculum," Lee said. "They saw that this is a way to reach our students who are not being listened to and not being heard."
Youth in Arts has also produced a Digital Toolkit, six videos on inclusive teaching practices for artists, classroom teachers and parents. In addition, Youth in Arts has developed a free ARTS Bank. The database, believed to be the first of its kind in the nation, allows educators, parents and students to plug in an IEP goal or grade level and get an arts activity that matches.
Youth in Arts' award-wining youth a cappella group, 'Til Dawn, also performed.  This past year, those students received 350 hours of arts learning and performing. The event also coincided with San Rafael's  2nd Friday Art Walk .
Board member Melissa Jones-Briggs served as the MC. Speakers at the event included Mary Jane Burke, Marin County superintendent of schools; Gabriella Calicchio, director of cultural services for Marin County; Pepe Gonzalez, principal of Laurel Dell and Short Elementary schools; Danielle O'Leary, economic development director for San Rafael, Naomi Tamura, Youth in Arts' board president; and Dr. Tom Peters, president and CEO of the Marin Community Foundation.
Gonzalez spoke passionately about the difference Lee has made through her vision, passion and energy. He pointed to photographs in the YIA gallery of young artists with special needs and said he wasn't surprised to see them there.
"If it wasn't for Miko and the programs she's brought in, they wouldn't be up there right now," he said.
Gonzalez also pointed to the photo of a third grader at Laurel Dell who had been through Youth in Arts programs.
The young artist has been in the U.S. only two years. Her academic grades only tell part of her story, he said, noting the joy on her face while making art.
"When you give kids access to something that finds that inner voice, that right there is exactly what we want our kids to be like," Gonzalez said. "Those smiles are real. The programs, the vision, everything that (Miko) believes in … that smile says it all."
Please consider a donation in honor of Miko Lee's incredible legacy, and to support the important work that we do.
Thanks to photographers Kathleen Gaines/MarinArts, Lynn Noyce, Kim Wilson and Youth in Arts staff.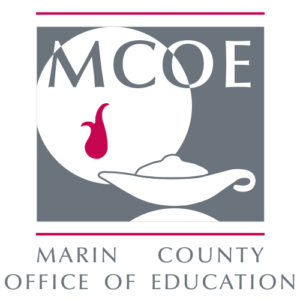 Mentor Artist Tracy Eastman worked with Olive Elementary students through Youth in Arts' Arts Unite Us residency program.  Tracy says of her time: "I absolutely enjoyed teaching these two Visual Arts classes at Olive Elementary!"
Throughout the residency program, students worked on recognizing and understanding emotions, material exploration, and collaboration. In a special project called "Empathy Portraits", Each student was given a standing mirror to look at themselves while they made various facial expressions. We would evaluate what our faces looked like discussed some of the possible emotions these expressions could signal, noticing what shapes our eyes, nose, mouth and even eyebrows make with that expression. All of the students really responded to this project, and in sharing facial expressions together, we were abel to connect with what emotion could look like on our own faces as well as those of our peers. This activity helped participants connect with their own reflections, which can be a big request for many students.

In subsequent classes, students worked with materials such as tempera paints using tempera watercolor cakes. In order to engage everyone, we used tools used of varying sized paint brushes and Q-tips. This project focused on color mixing and experimentation with lines, dots, and blending. The canvas board lent itself well to the students that tend to use a lot of pressure or rework one area of the painting many times. The Q-tips were a great adaptive tool for creating dots and small marks, and also bend and broke if the student used too much pressure, encouraging students to regulate their use of force. One of the classes had additional time for their paintings and so added colored pencil into the wet paint to see what would happen. Additional projects revolved around experimental application processes, such as the "Wandering Ink Painting" activity in which we applied ink on a water-treated paper surface and blew the ink around the canvas in order to create patterns.
We completed the residencies with a collaborative "Tape-Resist Tempera Stick Painting", and tissue-paper landscapes inspired by gardens.
How can you develop a classroom that inspires students to be confident, compassionate, and creative? Special Day Classroom teachers from across the county spent the day with Youth in Arts exploring adaptive painting tools, learning to make accordion books from recycled file folders,  practicing the Brain Dance in countless ways, looking at learning styles through the lens of strength, and Making Learning Visible and more.
Of course we moved, as we explored the brain dance, embodying vocabulary words, strategies for engaging reluctant participants, and even engaging the brain through doodling.
Making Learning Visible (from Harvard's Project Zero) is a great way to visualize learning, understanding, and next steps.
Gallery Walks (on any subject or body of work) encourage thoughtfulness, deeper thinking, reflection, and patience.
Through the California Department of Education's Student Support and Academic Enrichment (SSAE) grant that the Marin County Office of Education received, Youth in Arts was in multiple Special Day Classes this spring.
Patterns were the focus of art with a 3rd through 5th grade class at Lynwood Elementary School during a residency with Mentor Artist Cathy Bowman. We began with texture quilts, using shapes and gold foil. Then we made numbers 0 to 9 using large stencils, oil pastels and watercolor. This was a collaborative project inspired by artist Jasper Johns' number paintings.
With clay, we practiced patterns using beads. Then we explored tints (adding white to a color) and shades (adding black to a color). We made cityscapes, starting with red or blue paint and using the San Francisco skyline as our inspiration. Some of us included shapes from cities we have visited around the world.
Observational drawing is key. We practiced looking closely to record what we see, using animal toys as models. We made self portraits using metallic Sharpies. We chose five adjectives to describe ourselves, then turned each word into a different line. Our final weeks were spent practicing print making and color mixing, again exploring pattern.
Each end-of-class reflection was an opportunity to practice talking in front of the class and listening closely when our friends talked. Students came up with thoughtful observations to share and asked excellent questions.
At Youth in Arts, scaffolding is important. With each lesson, we build on previously learned skills to foster creativity, compassion and confidence in all learners.
Through the California Department of Education's Student Support and Academic Enrichment (SSAE) grant that the Marin County Office of Education received, Youth in Arts was in multiple Special Day Classes this spring.
At Olive and San Ramon elementary schools, Mentor Artist Cathy Bowman taught gesture drawing to 3rd through 5th graders.
We started by standing up and drawing in the air with our finger and discussed how it felt to work "big." Demonstrating with a student as a model, Ms. Bowman demonstrated how to capture the essence of the figure in a 30-second pose. Every student with an interest in selecting a pose got a turn, while the rest of the class worked quickly to capture their efforts. Models were able to explore what makes an interesting pose by choosing how to extend their arms and legs. As artists we learned to work fast, letting our intuition take charge. We practiced drawing the shapes, forms and lines of the body.
Gesture drawing was a great follow up to blind contour drawing and working small. It was hard at first to use the whole paper and resist the temptation to add details like eyes, ears and glasses but we did. When we finished, we had a thoughtful discussion about the process.
Through the California Department of Education's Student Support and Academic Enrichment (SSAE) Grant that Marin County Office of Education received, Youth in Arts was in multiple Special Day Classrooms this spring.
Youth in Arts Mentor Artist and vocal musician Stevie Greenwell taught multiple classes for Arts Unite Us this Spring.  She says of her experience: "As I reflect back on my time with both Vallecito and Grant Grover, I can't help but smile. Working with these students has been a balance of thoughtful preparation, on-the-spot creative solutions, writing personalized and interactive songs, instrument creation, and true presence… It taught me how to slow down my pace, speak thoughtfully, and honor and acknowledge all the small components of engagement. Each time a student made eye contact, responded with their choice, shared their voice, played their instrument; it mattered. Every time a student stood in front of the class or lead a rhythm; it mattered. Every time a student responded and reacted to the sound of their name in a song; it mattered. And all these parts came together to create a lively and joyful classroom each week." 
In order to make her lessons accessible for each of her students, Stevie found herself creating songs specifically for those classrooms. She adds, "My Favorite song that came out of these sessions, I wrote on my way to Vallecito one morning. I was asking myself questions around how I could meet students where they are and inspire the next step. I was thinking about how much hearing their own names mattered and how much the lyrics of a song can reinforce thought. It is a simple song with sweet words that now often gets stuck in my head and always makes me smile and reminds me of how strong these students are. The lyrics are:
(Name subbed for each student) "Andrew is wonderful, Andrew is kind, Andrew is strong and has a great mind, but most of all Andrew, we like you just the way you are, yes most of all Andrew we like you just the way you are." 
During her time at Grant Grover with junior college students, they worked on various skills that are needed to make music together in addition to singing. Stevie explains, "My favorite activities that came out of these sessions was having students learn conducting gestures and take turns conducting the class. They would guide the class on when to start playing their instruments, lead dynamics and volume levels, show tempo changes, and then strongly cut off sections of the class or the whole class together." At the end of the residency, Grant Grover students shared a heartfelt thank-you to Stevie for all they had learned together. 
Stevie says of her experience: :The biggest gift I continue to receive is how I feel when I leave the classroom. No matter how I entered, what was happening in the classroom for the students, or any other outside factors, I could feel the room transform. I left filled with such joy, inspiration, and delight. It is a testament and reminder of the magic that happens when we come together, connect, and create." 
Students at Sinaloa Middle School in Novato practiced drawing each other during a recent residency with Mentor Artist Cathy Bowman.
The drawing exercise continued building skills from the previous week, where students made blind contour drawings of animal toys.  On this day, students split off in partners and practiced drawing each other without looking at their pens.
It's always tempting to look! To help, students used a paper plate with a hole in the middle to hide their pens. After drawing each other, we looked at all of the work and discussed the process. Reflecting on our work was an important part of understanding what we did. For the artists, the exercise was good practice in not judging a final drawing as good or bad but instead, appreciating the journey. It made everyone think about focusing on practice, not result.
Through the California Department of Education's Student Support and Academic Enrichment (SSAE) grant that the Marin County Office of Education received, Youth in Arts was in multiple Special Day Classes this spring.
Free field trips are one of the many programs that Youth in Arts offers! Recently, Short School students from Ms. Katie Marek's class visited us to see Architects in Schools: Designing Community, the exhibition on display at the YIA Gallery through July 26. The show features the work of Laurel Dell 4th and 5th graders and their response to climate change, housing shortages and other critical issues San Rafael faces now and in the future.
Short School students studied the towers and models that Laurel Dell students made, paying close attention to the detailed bridges they built. We then built our own towers out of foam core board scraps, starting with three words that describe us. We came up with several words, such as smart, funny, careful and goodness. We wrote each word on a circle and then used special glue and toothpicks to build our towers. It was tricky to get them to balance and stand up but we persevered. One artist made a piece inspired by the San Francisco skyline, and another built a unicorn.
Ms. Marek's class was part of Youth in Arts' Arts Unite Us program. This spring, her students explored visual art through a 10-week residency program with Mentor Artist Cathy Bowman.
Through the California Department of Education's Student Support and Academic Enrichment (SSAE) grant that the Marin County Office of Education received, Youth in Arts was in multiple Special Day Classes this spring.
Lisa Summers, a teaching poet and artist, worked with two special day classes at San Marin High School through our Arts Unite Us program to create work representing "spirit animals." In Brian Khoury's class, students practiced observational drawing skills including gestural drawings, calligraphic imagery using handmade bamboo pens and inks, and learned to make patterns. After sewing lessons, students cut out spirit animals in felt, sewed and stuffed them, then displayed sketches, patterns, and sewn animals in the front office of the school.
Lisa explored the idea of a spirit animal with Steve Lamott's class while they were reading Bless Me, Ultima by Rudolfo Anaya. In the novel, the curandera Ultima arrives with her spirit animal, the owl. Students considered what their protective spirit animal might be through lessons that ranged from gestural drawing to pen and ink to a group portrait project. In the second half of the residency, students prepared sketches for a triptych that displayed their spirit animal and elements of their "interior world" including landscapes, colors, and symbols that hold meaning for each of them. Students prepared and mixed colors, used collage techniques, and learned to transfer elements of their original sketches to the panels.
Lisa says, "I learned so much from working with Brian and Steve's students about process, and the relationship between creative exploration and identity development. Brian's students especially loved sharing their work with teachers and other San Marin students." Selected works will be on display at Youth In Arts during the July exhibition.
Through the California Department of Education's Student Support and Academic Enrichment (SSAE) grant that the Marin County Office of Education received, Youth in Arts was in multiple Special Day Classes this spring.
« Newer Entries
Older Entries »