Students at Short Elementary School in San Rafael made clay sculptures inspired by the work of artist Monir Farmanfarmaian. Inspired by curriculum provided the Kennedy Center, students looked at patterns in art. Like Farmanfarmaian, they worked with geometric shapes. We continued our discussion of patterns from a previous project and how to make patterns (a shape that repeats itself). Using air dry clay, students added color by coloring the clay with markers. We formed large shapes and pressed them into mat board. Then we made patterns using shiny paper, beads and found objects in the shapes of circles, ovals, triangles, squares and other forms. It was great to watch a short film about Farmanfarmaian and learn about her work! We finished the project with a reflection in which each student presented to the entire class.
As part of Youth in Arts' Arts Unite Us program, Mentor Artist Cathy Bowman and students at Short Elementary School in San Rafael explored color, cutting, and three-dimensionality by making shape sculptures inspired by glass artist Dale Chihuly. We began by cutting a single piece of paper into three pieces, and then used oil pastels to add pattern to our cut pieces. We followed the oil pastels with watercolors, practicing and learning about the wax resist method by painting over the pastel to add more color. Once everything was dry, we completed the sculpture by cutting notches in our newly-designed paper pieces so everything fit together in a three-dimensional form. Together, we found that balancing our sculptures against gravity was the most challenging part, and it was a fun way to learn how to do it. The lesson built on previous lessons exploring pattern and shape, and continued to help develop and practice fine motor skills.
Thank you to the Kennedy Center, Marin Community Foundation, and Marin County Office of Education for making this program possible.
Mentor Artist Julia James taught second graders at Coleman Elementary School how to create Matisse-inspired insects.
She began by introducing Matisse's art, demonstrating how he often used colors and shapes to make large collages. Some of his work is as big as a wall!
Students worked together with Miss Julia to apply Matisse's collage techniques to bugs. There was a lively discussion about the different parts of an insect and how to make each one. Students practiced their cutting skills as well as learning how to use a glue stick. Using a black background, they cut out the head, thorax and abdomen along with eyes, antennae, wings and legs. This reinforces what young artists are learning in their classrooms this year. It was also great practice in how colors look different depending on what is behind them or next to them.
Marty Meade, has been a Youth in Arts Mentor Artist for well over 20 years. Through our Arts Unite Us program, Marty has worked with students at Compass Academy (formerly Braun High School), an alternative elementary/middle/high school for students who experience underlying mental health challenges. She teaches students how to create artwork in a variety of media including, but not limited to painting, drawing, printmaking, and even glass making! The stories she shares in conjunction with the caliber of work her students produce continues to astound.
Marty enters many of her students in RISING STARS each year. This year's blindly adjudicated exhibition, features 6 works by six Compass academy students, including anonymous student "M" who won the Youth in Arts award. "M was blown away with the award," Marty shared, "and the staff was too. His response with the award, was immediate doubt, 'but I'm not very good.' He received it with the middle school and high school kids present. Everyone applauded, and I reminded him that the judges were professionals, and that all they had was a number and not a name. There was a moment when I saw him sink into his chair and tears filled his eyes."
M, like many of the students at Compass, experienced trauma at an early age. His winning entry into RISING STARS is a block print on watercolor paper entitled, Self Portraits. "He has been drawing the image from day one, regardless of the assignment," Marty said. "He has used acrylics, India ink, permanent markers with marbling, etc. I just let him do it and often wonder where it comes from. He did have a beautiful fish painting…but when I asked him which to choose [for the show] he instantly picked the prints."
"My wonderful students at Compass confront challenging mental health or emotional struggles. The fact that they only get 45 minutes of art each week is unbelievable, and yet they make such wonderful art. I have been deeply moved that our students have been able to receive awards in spite of this limitation."
Thank you, Marty for all you do!
At Willow Creek Academy and Short Elementary School, Mentor Artist Cathy Bowman worked with students to make wonderful collages using textures of different shapes and colors. Many students in special day classrooms experience sensory defensiveness, so Visual Arts Director Suzanne Joyal developed this as one technique to address this issue. Joyal explains, "For kids with special needs there is so much beyond their control that can be frightening and art is a safe way to take risks. Using textures in art provides children with a safe and fun way to confront potential anxiety around new experiences."
Cathy describes the process, "Instead of glue, we used self-stick paper to hold down our shapes. We had to use at least five different shapes and colors. We felt each piece carefully before we placed it on our collage. Some shapes were rough and bumpy, while others were smooth or shiny. The soft feathers were especially fun! After pressing down our shapes we drew around them or on top of them with oil pastels. It felt unfamiliar to draw directly on the sticky paper. The final step was rubbing on the magic gold foil. It was hard to wait for the shiny foil but we did. We finished with a group discussion reflecting on the choices we made. It was a good chance to practice our speaking and listening skills"
The program was part of Youth in Arts' Arts Unite Us program, which serves students in special day and severely handicapped classes throughout Marin County. Thank you to the contract from the Kennedy Center and the funders who helped to make this happen:
Fifth graders at Laurel Dell Elementary School have written an opinion piece for the Marin IJ based on their residency with Youth in Arts. Impressed by the students' focus and hard work during a 12-week residency, architect Shirl Buss extended the learning by mentoring the students as they wrote their piece. In the end, it was the students' own words.
Youth in Arts partnered with UC Berkeley's Y- PLAN (Youth – Plan, Learn, Act, Now) to create an innovative program exploring the connection between art and architecture. We worked with fourth and fifth graders at the school.
"We wrote this newspaper column so we could get people's attention, so they can listen to our ideas," the fifth graders wrote. The piece was written by students Kim Mandujano, Gerardo Valencia, Genesis Perez and Janely Mendieta.
The artists described what they think San Rafael should look like in the future. They hope officials working on San Rafael's 2040 General Plan will take their advice seriously for dealing with issues like sea-level rise, flooding, safety, housing and other concerns.
Laurel Dell teacher Marc Belmont said working with Buss and the Youth in Arts residency was a great experience.
"Thank you for working with the students. They love you and enjoyed every second with you," Belmont wrote to Buss. "They were so happy and proud when we read the article in class. Wish you could've seen their pride and smiles on their faces."
Read more about what the students had to say here.
or check it out here:
Thank you to UC Berkeley's Y-PLAN and the California Arts Council for helping to make this possible.
Youth in arts submitted over 80 pieces of art to the Kennedy Center's VSA Arts international on-line show, which had nearly 500 entries from around the country. Only one piece (Shaylynn's artwork) was chosen to be one of the 16 framed, and exhibited in the US Department of Education this Spring! (Shaylynn was a student in Marci Ryan's special day classroom at Lynwood School last year).
Julia James uses large mirrors to help students with autism look carefully at their own faces, practice making faces of various emotions, then guides the students through a process of creating a symmetrical portrait of themselves. Shaylin created a self portrait in oil pastel and watercolors. She created cartoon images of creatures showing a variety of emotions around the border.
Marci Ryan says "Shaylynn has shown incredible aptitude in the fine arts. During free choice it is always her preferred activity. Her friends look to her work and  have learned from and been inspired by her drawings. Once, after seeing a performance of the Nutcracker on a field trip, Shaylynn came back to class and not only made a picture of what she saw on stage, but also the back of people's heads and the view from her perspective in the theatre! Incredible!"
Painting and drawing offer students of all abilities a safe way to explore all of their emotions, and also offers them a safe form of risk-taking with materials, techniques and textures.
Youth in Arts is the only arts organization providing arts opportunities to children with special needs in Marin County: nearly 300 students every year!
Thank you Kennedy Center.
Mentor Artist Stephanie Bastos worked with every student at Laurel Dell Elementary School this Spring. Here are her thoughts:
I believe every child deserves quality arts education and schools like Laurel Dell Elementary strive to make it happen. My instruction there included Movement arts focusing on Brazilian Music and Dance that provided a rich experience for a community of mostly immigrant families. As a trilingual teaching artist having spent a lot of time in Brazil and throughout South America, I related to the kids and families by simply sharing my culture. I also have a disability that I do a presentation about for the learners so that they can see that every body can move and create.
The learners experienced a traditional dance class that includes a warm- up, skill building, and performance/ improvisation in small groups or individually. They also got to play drums and sing songs in Portuguese.
Laurel Dell celebrates their community every Spring with the Fiesta Del Sol: families and friends meet for a fun and music-filled day of dance and food. For the culminating event, students presented Samba Reggae choreography, Maculelé folklore- a traditional warrior dance and the beloved Capoeira- a game of movement, acrobatics, and song.  I had the honor of entering a community full of love and simplicity that taught me a lot about the possibilities of what quality education looks like for all!
Thanks to the generosity of the Laurel Dell PTA, and the California Arts Council, Stephanie will be returning to Laurel Dell this year. 
By YIA Sachiko Moran, UCLA World Arts & Culture intern
Staff Miko Lee and Suzanne Joyal recently presented at the Kennedy Center VSA Intersections International conference in Atlanta on the upcoming IEP Arts Lesson Exchange. They introduced the concept to teachers and asked for their feedback and ideas on how to make it meaningful and useful to them and their students.
For years YIA has seen the impact that arts has on all students and particularly students with disabilities. For students with special needs, teachers must make the time to fill out Individualized Evaluation Plans (IEPs). Often times, when creating these plans, arts are left out of the picture.
YIA began working with a small group to create the beginning of an IEP Arts Lesson Exchange. This will be a free searchable database of arts activities for teachers and teaching artists to access in order to reach all types of learners. Through this exchange, YIA hopes that teachers and artists alike can contribute and benefit from one another's knowledge and skills, making arts education more accessible. YIA knows that there are countless motivated educators that are keen on sharing and learning. The IEP Arts Lesson Exchange will be a platform on which they can do so.
To add your own activities and learn more go here.
Shout out to UCLA World Arts & Culture intern Sachiko Moran who created the rainbow and tested out the online forms.
by Mentor Artists Kaitlin McGaw and Tommy Shepherd. Photos by Kristin Chalmers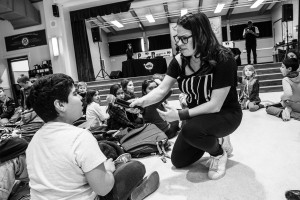 Alphabet Rockers were proud to offer hip hop arts programming in Glenwood Elementary School again this year. In a unique program design, we offered two assemblies (one in fall, one in Spring), along with accompanying dance workshops following each program.
Principal Kim Goodhope understands the importance of equity frameworks – and was eager to see how this model would deepen the experience for the young people.
We ourselves as artists were in the process of evolving our language, performance and messages to step up as allies and advocates for racial justice. Earlier in 2017, we performed "Change the World," with songs like "Gimme Some Skin" inviting young people to see and validate the diversity of skin colors in the room. We invited the audience to envision how they would change the world to make it more fair for all people.
In our return visit this past October, we were in the process of developing a new concert series for the September released album, Rise Shine #Woke. Our music had changed. We had changed as artists. As a multi-racial group of artists, we had advanced our work from "Gimme Some Skin" into songs that talked about discrimination, and took action to interrupt our biases.
In the assembly, we performed the song "Shine" in this way. We talked about how shocking it was for Tommy when someone said to his face, that "Black lives don't matter" when wearing a BLM shirt. This had happened to his 10 year old son only weeks earlier, and we took the story into our show – outlining how friends stood up for him at a time he didn't have the words. The song throws "shine not shade" on all those facing discrimination. The children joined us in dance, and sang out the words "Shine! On my beautiful skin!"
When we went into the classrooms to unpack further, we knew that as a mixed-race group, we would hold different space. A white woman talking about skin color discrimination and a black man talking about skin color discrimination would hold different language, embodiment and throughlines for these classrooms, where the children were from various backgrounds but were navigating a mostly white school and community. We found that the work needed to root in identifying and celebrating difference, before we could address discrimination and advocacy. It was clear that the work we were aiming to accomplish would need further parallel resources in the classrooms and in the school culture.
This album received a GRAMMY Nomination only a few months later; we returned with that glow to Glenwood in March. We performed our song "Walls" – about how folks who speak another language or come from another place are not always made to feel welcome. How can we be "the people" that we really want to be? How can we uphold those ideals of equality and equity at a time when we knew that even our own kids were feeling the pain of discriminating national policies and actions.
Post concert, we went back into the classrooms, charged with a similar inquiry of unpacking discrimination and bias with our young people. In one class, learning the dance moves to "Shine" empowered the children to feel their voices and bodies connected to bold claims of belonging. In another class, we reverted back to trying to describe our skin color, finding that the work around discrimination was still not quite sinking in. We went on a skin color match game, finding articles in the room that reflected our skin colors, from pages of an old book to a wooden clock. We then turned our skin color matches into unique handshakes, which celebrated the diversity and creativity of the students.
What's interesting to know in this path with arts and creativity is that it is not always linear. We do need to circle back, to revisit, to revise and listen. Just the same with adults – we cannot assume that one moment of learning around systems of oppression will lead us entirely to a path of truth and understanding. We are complex beings, seeped in our systems of bias and understanding. Our kids are as well.
In our work at Glenwood, we are reminded of this openness. The principal brought us in with full understanding of the importance of equity. We will continue to support their work – and the students individual and collective journeys – as it is about true embodiment through the years.
« Newer Entries
Older Entries »