Working with Mentor Artist Brooke Toczylowski, the Fifth Grade at Bayside Elementary spent three weeks this spring investigating painting and learning to EXPRESS themselves. Students looked at the connections between color, language, and abstraction. In our efforts to create a community of learners, we brought fifth and first grades together at the end of their residencies to share and learn from each other.
This unit was inspired by my amazing teacher colleagues, Ascha Drake and Evan Bissell.  This spring Ascha and I led a teacher Professional Development on encouraging literacy through artmaking.
"Coming together is a beginning; keeping together is progress; working together is success."
– Henry Ford
Today was the last middle school visual arts PD in SMCSD.
Building a community of learners takes time and dedication.
The visual arts program in SMCSD has built strong collaborators, reflective minds, and thoughtful educators.
Today the teachers were asked to reflect on 4 questions. Using watercolor paper and many different materials, teachers were asked to respond to the questions. The art work was then placed in an envelope that was addressed to the specific artist, and the envelope will be mailed at the beginning of the 2011-2012 school year.
Each teacher approached the reflection differently:
Some worked with paint.
Some responded with words.
Some stood to do their work.
Then everyone was asked to pull one word out from their reflection book that was then painted on paper.
These words will be added to the MLK studio word wall.
THANK YOU SMCSD teachers for all of your amazing work and support!
This past Wednesday night, May  25th, it was Open House at both Willow Creek Academy and MLK.
Art was everywhere.
Art was on the walls of classrooms, placed on students' desks, hanging from clothespins, and displayed on all surfaces throughout both schools.
Ms. Brooke, Mr. KDub, and Ms. Ascha have been working closely with all of the classes and collaborating in different ways.
In the MLK art studio KDub has been collaborating with Ms. Rivera on a mask making project. Students have been learning about Africa, and they each chose a country to research.  They then created a mask using cardboard, plaster gauze, and acrylic paint that incorporated aspects of their chosen country and elements of their own lives.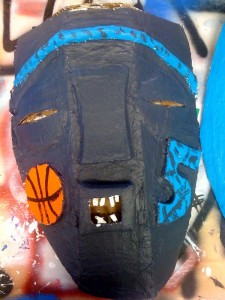 One of the projects Ms. Brooke has been working on with Ms. Siskin, a 3rd grade teacher at Willow Creek, was about self-portraiture, math, and identity.  The students looked at Chuck Close and learned how to "scale up" a photograph using a grid and graphite pencils.
The parents and visitors had a wonderful time looking and learning from the young artists.
Ms. Ascha has been collaborating with Ms. Tracee, the middle school language arts teacher.
The 8th grade class has been reading Lord of the Flies, and they developed Just Because poems that were hung with black profile silhouettes.
Their work inspired both the 6th and 7th graders to develop their own Just Because poems.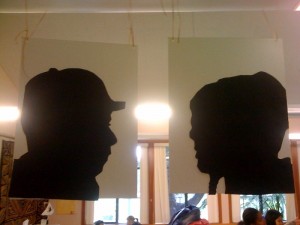 Teaching artist, Ascha Drake, and language arts teacher, Tracee Zyla have been collaborating together at Willow Creek Academy.
The 8th grade class is reading William Golding's Lord of the Flies.
The book is about a group of boys who are stuck on a deserted island. As they try to govern themselves, their personalities surface and evolve.
Tracee wanted to focus on the character of Piggy, who is the most vulnerable of all of the characters.
He looks one way, but on the inside he is strong and scientifically-minded and capable.
The collaboration was about finding voice, and working with the essential question of,
"How does art and writing help us make sense of the world?"
Large paper sillhouettes were created in Tracee's classroom.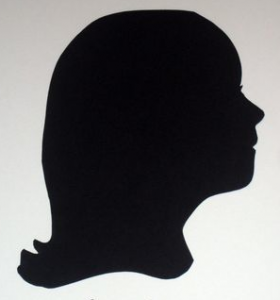 And then students wrote Just Because poems expressing who they are to the world.
Through their writing, the students worked on breaking down stereotypes and finding strength and confidence through their written words.
These poems were mounted on the backs of the sillhouette panels and hung in the classroom.
Just because I'm mixed doesn't mean I'm different.
Just because I have green eyes doesn't mean they're contacts.
Just because of where I'm from doesn't mean I won't go far.
Just because I'm a girl doesn't mean I can't rap.
Just because I have light skin doesn't mean I'm white.
Just because your grades are better doesn't mean I'm not smart.
Just because you're skinny doesn't mean I'm fat.
Just because she can sing better doesn't mean I can't sing.
Just because of what you think won't make me stop being me.
Just because I laugh in class doesn't mean I'm not learning.
Just because I'm a model doesn't mean I have to be skinny.
Just because you don't like me doesn't mean I have to feel bad.
Just because I'm pretty doesn't mean you have to hate me.
Just because I talk fast doesn't mean I have to talk slow for you.
Just because I'm on Face Book 24/7 can't mean I have a problem.
Just because I don't amuse you doesn't mean I'm not funny.
Just because I'm not like you doesn't mean I'm weird.
Just because I like to laugh hysterically doesn't mean I'm crazy.
Just because I'm done with this poem doesn't mean I'm finished.
This past Wednesday, April 6th, the Elementary teachers in the SMCSD gathered together for their monthly visual arts PD.
Daniel Barash, who is a shadow puppet master, and the Director of the Shadow Puppet Workshop, joined the teachers.
Shadow puppetry, with its bold shapes, vivid colors, and dramatic movement, is the perfect medium to explore stories found across the curriculum.
The afternoon was spent collaborating, envisioning, creating, and performing.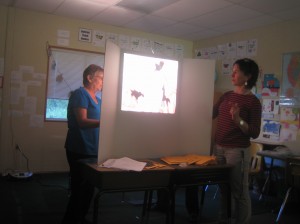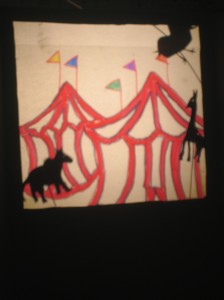 Presently all of the Middle School teachers are collaborating with arts specialists to create and implement arts integrated units.
It is exciting work!
Below are some collaborations that are happening in the classrooms right now:
In a humanities classroom 8th grade students are learning about American Imperialism in the late 1800's. They are focusing on Cuba, the Philippines, Hawaii, and Panama.
Through this exploration they are looking at propaganda and the art of persuasion.
What is propaganda?
What are the goals of propaganda?
How does propaganda affect an audience?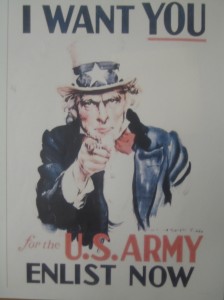 Students are beginning to create posters and political cartoons.  Through making students aware of the ways information is used and manipulated, we allow them to begin making wiser, more informed choices. Their understanding of literary text is enriched and enhanced, and they are encouraged to become more informed and conscientious citizens.
In an 8th grade science class, students are learning about the phases of the moon.
They have studied Galileo, the Italian physicist, mathematician, astronomer, and philosopher.
He is quoted saying,"You cannot teach a man anything; you can only help him find it within himself."
Students then looked at films about the moon, and looked at visual artists who have been inspired by the moon.
Robert Longo was one we looked at:
Students then experimented with different types of charcoal:
And then began making their own visual representations of all 9 phases of the moon:
Painting is just another way of keeping a diary.
~Pablo Picasso
Many of the young artists in Sausalito Marin City are exploring color mixing.
Color is powerful!
Color is exciting!
Color can affect mood and connect a person to a moment in time.
Some artists are working with mixing black and white to make grey. What in the world is grey? What artists have been inspired by grey?

Read more…
"How do the visual arts encourage both classroom teachers and students to envision solutions?"
"How do the visual arts empower students?"
"What does arts integration support in the classroom?"
"What can classroom teachers learn about their own teaching through the arts?"
These were some of the questions discussed at the SMCSD middle school visual arts PD session.
We gathered in the MLK art studio, and talked about arts integration, student learning, and project ideas.
Then teachers got to work. Using the Youth in Arts WHO AM I? curriculum, teachers honed in on one question that they wanted to consider while creating a tunnel book :
http://extremecards.blogspot.com/2008/08/how-to-make-tunnel-book.html
Read more…
Creating Artist Trading Cards was part of the arts integrated unit with Ms. Nestle, the Willow Creek Language Arts specialist,  and her 7th grade artists.
This unit was connected to the book Dragonwings, by Laurence Yep.
The essential question that the students were focused on was, "What are the many different ways people communicate?"
Each student was asked to create 4 trading cards (but they had to create 2 of each so that they could be traded).
Materials were simple: Black paper on white trading cards. Some artists chose to embellish their cards with watercolor pencils.
The symbols (that were cut out of black paper) had to represent the artist, and communicate ideas about them to others when shown or traded.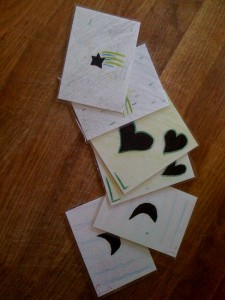 The cards were then laminated, shared, traded, and used as an artistic resource for creating their kites.
An old friend and colleague of mine, Benicia Hill, who presently works as the Middle School Arts Specialist at The Berkeley School, did an Artist Trading Card project with her students.
Here is the link:
http://msarttbs.blogspot.com/p/artist-trading-card-contest-2010.html
Visual Arts Specialist, Ascha Drake, and Bayside Elementary 5th grade teacher, Mr. Mitchell , worked together to develop a unit on leadership.
"What are the characteristics of a great leader?"
"How are you a leader?"
The students looked at African American leaders in history, and listened to, and read many of their writings and speeches.
Then the students began to think of other leaders in the world they admire. And then the students started to consider how they, themselves, are leaders.
"How can I make the world a better place?"
As artists, the 5th graders looked at different ways people portray themselves to the world.
Students then began imagining how they would present themselves to the world, using a contour line drawing technique.
They began making drafts:
And then the students incised their lines into Syrofoam, that became the plate that they then printed using gold, silver, and white ink on black paper.
Each student made an edition of 5 prints.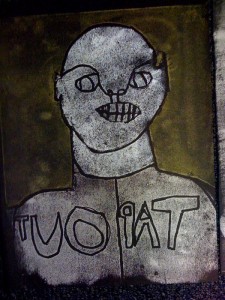 Students then wrote about what they dream about as leaders, and a bulletin board was created in the Bayside office titled,
"Leaders are Dreamers"
Older Entries »