This Spring, Youth in Arts Mentor Artist Eddie Madril brought the music, arts and culture of Native American dance to Hamilton Middle School. Part of the Pascua Yaqui tribe of Southern Arizona and Northern Sonora Mexico and active member of the Native American community, Eddie represents his culture as a dancer, singer, teacher, playwright and filmmaker and brings these skills with him to every school site he visits.
During his time at Hamilton, Eddie shared singing and dance with students as part of a special assembly to 6th through 8th grade students. Teachers were able to tie the curriculum to core Social Studies learning goals and valued the opportunity as much as their students did. Throughout the performance, Eddie explained the origins of movements in each dance, contextualized Native American History and the ongoing effects that state and national laws and regulations have on the 567 federally recognized tribes throughout the country, and offered a new perspective on the narratives we're taught in school.
Following the assembly, Eddie visited the school's two eighth grade classrooms to share more about his work. Students were given the opportunity to pose questions as a follow-up to some of the facts and experiences that Eddie shared during the performance, and participate in a hands-on workshop. During the workshop students, teachers, and school administrators were invited to learn different techniques for working with hoops. While demonstrating and guiding participants through the movements, Eddie shared important facts regarding how and why Hoop Dancing is an integral part of his Native experience, and the potential meanings that the symbol of the hoop encompasses.
Youth in Arts would like to provide a special thank you to the California Arts Council for their support of this program!
Capoeira Angola with Daniel Mattar
Youth in Arts kicked off an exciting semester of school-wide events at Olive Elementary School with two amazing days of dance and culture through our assembly and workshop program. Capoeira Mentor Artist Daniel Mattar and his International Capoeira Angola Foundation (ICAF) troupe spent a day with Olive Elementary School's 3rd, 4th, and 5th grade students in early March, and Shahrzad Khorsandi and the Shahrzad Dance Ensemble led a fun and informative day of programming in April. In sharing the art of Capoeira with the students at Olive, Daniel and two additional Capoeira artists began by playing music on their hand-made Berimbaus made of gourds and one string, and a Pandeiros (tambourine) while engaging students in call and response songs in Portuguese. After their demonstration, they brought several kids up on stage to practice Capoeira while practicing their call and response songs.
Following the performance and demonstration, each 3rd-5th grade class participated in an interactive workshop led by Daniel and ICAF. We began with mastering the key movements and control necessary to take part in capoeira safely. Some of the movements that we learned were: Ginga, Aú, Balança, Macaco, and Negativa. We then put our new knowledge to use with team exercises and some games of capoeira with a partner!
Persian Dance with Shahrzad Khorsandi
During the second assembly with the Shahrzad Dance Ensemble, director Shahrzad Khorsandi and three members of the ensemble performed a special series of dances for the Persian New Year that had been choreographed and designed by Shahrzad over the last several years. Norouz ("New Day"), the Persian New Year, represents new beginnings, rebirth, and renewal. Shahrzad Dance Company's Norouz program for 2019, Symbols of Love, brought into focus the true meaning behind this celebrated event and gave students the opportunity to learn about the music, traditions, and cultural relevance of the Iranian holiday today. Throughout the performance, dancers portrayed dynamic characteristics associated with the symbols of: Sabzeh ("Sprout") which is symbolic for rebirth, Seeb ("Apple") which is a symbol of health, Samanu ("Wheat Pudding") which is a symbol of sweetness, Sekkeh ("Coins") which is a symbol of wealth and prosperity, and Norouz ("New Day").
Following the performance, participating classrooms returned for a hands-on workshop with Shahrzad. During the workshop, Sharhzad began by showing a map of the middle east in order to find Iran and talk about the geography of Iran/Persia and how this geography has affected the music and dances of each region. We then started with movements from Luristan in West Iran, followed by movements from Azerbaijan in Northwest Iran. During a brief break we learned the Beshkan, a one-handed Persian snap that creates a sound similar to snapping your fingers but much louder! After the break, we engaged in dance from the Bandar region near the Persian Gulf in Southern Iran and a Persian urban/social dance from Tehran, the capital, using contemporary Persian pop music. The students took turns coming out in the middle of the circle, 2 or 3 at a time, and practiced what  they had learned throughout the day.
Youth in Arts is grateful for the collaboration of Principal Olynik, Olive Elementary's exemplary 3rd-5th grade teachers, and the PTA for making these programs possible!
Hula artist, Shawna Alapa'i and her troupe of dancers put on a beautiful evening performance at Sonoma Mountain Elementary in Petaluma.  This marks Shawna's second year at Sonoma Mountain, and it was wonderful to see the school community come out on a chilly Friday to support her.  Shawna sang and told Hawaiian folktales, as her dancers performed several traditional Hula dances.  She wowed the crowd with her demonstration of the Poi Ball dance, which she shared she used to do with the balls lit on fire!  The event concluded with the students doing a impromptu performance of their "Moana Dance" for their proud parents.  Thank you Shawna for a lovely evening!
Alphabet Rockers' Kaitlin McGaw and Tommy Shepherd put on a fantastic performance of their show Playground Zone: Diversity for the K–2nd graders at Glenwood Elementary in San Rafael.  They performed several new songs from their recently released album, Rise Shine #Woke, which was created to to "interrupt racial bias inspire families to make change in the world."


Students were encouraged to get up and learn the Hip Hop dances with the Alphabet Rockers.  Everyone was on their feet, and the positive and powerful messages of the songs resonated with the young audience and teachers alike.
As a follow-up to the performance, Kaitlin and Tommy each taught more in-depth workshops in the 2nd grade classrooms.  The students practiced the dances they'd learned in the assembly, and then broke down the songs to get more out of the content.  Students were asked what they thought the songs with titles like Stand Up for You, and Shine meant.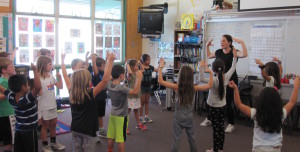 The responses were wonderful and demonstrated how clearly they got the messages.  They said things like: "the song is about being friends with people of all different skin colors," or "the song is about loving everyone no matter what."  Then the kids were asked to define some of the words in the songs, such as injustice.  One student said, "Injustice means you are fighting for love."  Finally, they were asked if they feel we are treated differently based on how we look.  Many of the students said no, but a couple raised their hands to indicate yes, not ready to share more.  One said, "No. We shouldn't be. We love all colors."
Thank you Alphabet Rockers for opening up a very important discussion at Glenwood Elementary.  We look forward to seeing what's next.
Shahrzad Dance Company performed their beautiful new piece entitled, Rainbow, in two back-to-back performances for the students at Santa Rosa Charter School for the Arts on Monday, May 22nd.
Rainbow is comprised of 6 short dances that are connected together through audio narration.  The performance is all about world peace. There is an interactive part of the program at the beginning where the audience had a chance to learn some key Persian Dance movements.

Shahrzad Khorsandi and her dancers Kim Ganassin and Marta Serra then asked for volunteers from the audience to come up and demonstrate what they'd learned.
There was wonderful participation from students and teachers alike!  Once the audience was familiarized with the basics of Persian Dance, Sharhzad, Kim and Marta performed Rainbow. At the conclusion of the show, the volunteer students returned to the stage and joined in on the dance.  A fantastic time was had by all!
Glenwood Elementary School's K–3rd graders hosted The Alphabet Rockers for two fantastic back-to-back assemblies on Wednesday, May 24th.  Kaitlin McGaw, Tommy Sheperd and DJ Juan Amador performed their newest assembly entitled, The Playground Zone: Diversity for the two lively student audiences.  The show focused on inclusion and raising awareness about diversity in the student community.  The Alphabet Rockers used hip-hop music and dance to engage the kids, while talking to them about the importance of self-identity, and being an ally to fellow students.
One of the highlights of the performance was when the students were asked to create handshakes with a partner.  Kaitlin and Tommy demonstrated for the students by examining the back of their own hands and coming up with creative names for their skin color.  Tommy called his, "Carne Asada," and Kaitlin dubbed hers, "Peach Salsa."  They decided that sounded like a delicious taco, so they devised a "Taco Handshake."  They challenged the students to do the same, and name their own skin color after a familiar object or thing.  The resulting handshakes were fantastic, and the students' creativity really shined.
Another great moment, was when The Alphabet Rockers asked the students what they were going to do to change the world.  Tommy walked around with a microphone and got very thoughtful responses from every student in the audience.
For the finale the Alphabet Rockers had the audience form a giant circle, and invited students and teachers to take turns doing their own unique dance in the center.  What a fun and invigorating morning at Glenwood Elementary!
Julia Chigamba and the Chinyakare Ensemble put on an incredibly lively performance at Marin Primary & Middle School's International Day.  They performed three traditional Zimbabwean dances for the student audience of about 200. First, was a welcome dance called Mauya in the Shona language.

The next piece celebrated the vital source of water with the artists vigorously dancing with full jugs on their heads. Students gasped and cheered as Julia Chigamba and Casey Daliyo moved quickly around the stage with the water precariously perched on their heads.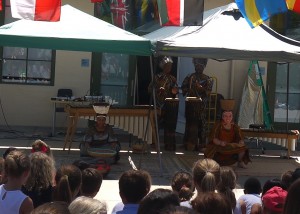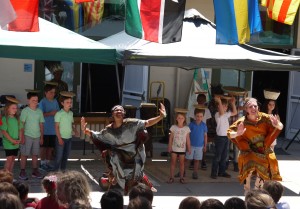 Lastly, was a dance rejoicing for the harvest performed with baskets containing various seeds and beans. Student volunteers were invited up on stage to participate in the harvest dance.  They practiced balancing the baskets on their heads, and shaking the beans and seeds around which added a wonderful sound element.
All of the Chinyakare's dances were accompanied by beautiful music expertly played by Ronnie Daliyo and Augusten Basa, on Zimbabwean instruments such as the mbira, ngoma, marimbas, and chipendani. The troupe answered a few questions from the engaged student audience, before receiving their well deserved standing ovation!
Welcome back to school one and all, and happy National Arts in Education Week!
As we look forward to another successful academic year, we are reminded of all the wonderful, multicultural artists Youth in Arts celebrates.  September 15 through October 15 marks National Hispanic Heritage month, and we would like to take this opportunity to highlight some of the incredible Latin American performance artists on our assembly roster.
Pedro Rosales' Proyecto Lando assembly is an interactive performance that presents the traditional dance and instrumentation of the Afro-Peruvian culture of the Peruvian coastal region.  They teach the basic rhythms so that students can join in dancing and playing.  The performers combine Afro-Peruvian music with elements classical, folkloric, salsa and jazz to create a vibrant sound that encourages students to get up and DANCE!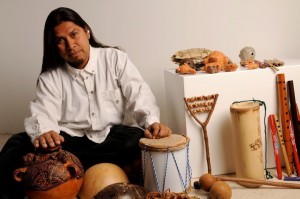 Miguel Martinez's Corazón Sur ensemble plays classic Latin Jazz songs as well as traditional genres of Mexican and Latin American music. The flute and percussions of Corazón Sur create a colorful ambiance, evoking scents and breezes of the Caribbean, the melodies of the indigenous tribes and the heartbeat of the African drums. Students have the opportunity to travel through Latin America, exploring rhythms ranging from Son Jarocho of Veracruz to the traditional Vallenato of Columbia, learning about the geography, language and instrumentation of various regional genres.
There are a multitude of companies that perform the traditional Afro-Brazilian art form of Capoeira.  Youth in Arts is lucky enough to work with two such talented performance artists.  Both Daniel Mattar and Sabiá Pinheiro's Capoeira Angola assemblies appeal to many senses with the beautiful and acrobatic movements, singing, and music, using traditional Brazilian instruments such as the Berimbau (made of a gourd and one string) and Pandeiros (tambourines). Performers demonstrate a traditional Capoeira circle called a roda and dance and sing along to the beats of the Berimbau. Students will learn about the Afro-Brazilian culture and the history of how Afro-Brazilian slaves achieved freedom through the art of Capoeira, as well as basic Capoeira rhythms and steps. The songs are call and response and students are encouraged to sing along.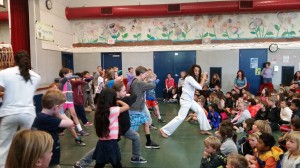 Book your assembly today!  You can fill out our online form here or contact our Programs Manager directly at morgan@youthinarts.org / (415) 457-4878 ext. 160.  We look forward to bringing our fantastic performers to your school this year!