Welcome to the`Til Dawn 2019-20 company.
The new singers attend schools throughout Marin, from Larkspur to Novato and bring a variety of expertise and interests.
"I sing when I wake up and I sing until I go to sleep," said new member Leah Nemerovski. "I don't find passion in anything else."
Current 'Til Dawn members are already practicing and putting their musical experience to use. Nemerovski plays the trombone, piano, drums, ukelele and enjoys musical theater. She became interested in 'Til Dawn when she saw them perform  at her middle school. She was surprised how easily she connected with other members of the group.
Nemerovski, and Alisa Costello, both 14, attend San Marin High School in Novato. One of the things they enjoy is the closeness of the group.
"It's like a family," Costello said.
For the newest members, music runs in the family. Costello's uncle was an opera singer who performed at Carnegie Hall; Nemerovski is learning how to play the drums from her dad. Will Ferris's mom is a singer, and Jacquie Kizer has two uncles who are musicians. Emma Orrick's father is a music producer.
Kizer, 15, goes to Redwood High School. Kizer moved to Marin from New York last year and previously sung in a similar group. Being in the group, she said, provides a safe space and an environment in which to have fun.
"It's honestly been amazing," she said.
Orrick, 14, is also at Redwood. and plays the piano and does theater. She was surprised by how quickly the group learns the songs.
"It's always my highlight of the week," she said. "It doesn't feel like a chore."
Ferris, 15, is a sophomore at Drake High School. He didn't think he'd get into the group, he said, because he couldn't figure out what to sing. He chose his winning song –"Fly Me To The Moon" – on the day of the audition.
Ferris said he enjoys performing all of the songs, although some are difficult because they are beyond his tenor range. The songs that are performed are chosen by the ensemble.
"I think it's great," he said. "I think it's really healthy for the group."
`Til Dawn is an advanced vocal music program that celebrates the value of the arts, encourages positive messages about meaningful social issues and inspires children of all ages. The 15-member ensemble is part of Youth in Arts' I AM mentorship program and the longest-running, year-round teen a cappella ensemble in the Bay Area. It's directed by Austin Willacy, who performs as a solo artist and also with his own a cappella group, The House Jacks. While Willacy is on sabbatical this fall,  the group has been taught by singer Lilan Kane. a 'Til Dawn alumnus, and others.
Youth in Arts' award-winning a cappella group, 'Til Dawn, sang to an enthusiastic crowd on the opening day of the Marin County Fair this summer. The group is the longest running year-round teen ensemble in the Bay Area. It was the last public performance for the group's outgoing seniors (Kathryn Hasson, Angel Gregorian, Maud Utstein and Will Noyce) as well as 'Til Dawn member Lara Burgert, who is moving. The ensemble is directed by singer-songwriter Austin Willacy, who performs as a solo artist and also with his own a cappella band, The House Jacks.
Four collaborative works created during Youth in Arts' residencies this spring took home top ribbons. The mixed media work, inspired by artist Jasper Johns, was created during a 10-week Arts Unite Us program with Youth in Arts Mentor Artist Cathy Bowman.
Student projects from San Ramon Elementary School and Willow Creek Academy won blue ribbons in their age division. Novato High School and Sinaloa Middle School classes each won second place in their age divisions. The San Ramon piece also won the Anne Davis award for best of class (collage) in the 9-12 year-old group.
"Each class created richly layered works that were different from each other," Bowman said. "It was a privilege to work with such dedicated artists."
Bowman also won the Charles M. Schulz award for a pig cartoon and a blue ribbon for a second cartoon.
The prize-winning student art will be on display at Youth In Arts as part of "Outside the Lines: Collaborative Art in Special Day Classrooms." The exhibit opens July 31.
Through the California Department of Education's Student Support and Academic Enrichment (SSAE) grant that the Marin County Office of Education received, Youth in Arts was in multiple Special Day Classes this spring.
College, rock bands and travel are on the minds of four 'Til Dawn seniors who are leaving the group this summer.
The four graduating seniors are Kathryn Hasson, Maud Utstein, Will Noyce and Angel Gregorian. Also departing is sophomore Lara Burgert, who is moving with her family to the East Coast – coincidentally to the same town where one of the newest 'Til Dawn members just came from. 'Til Dawn is part of Youth in Arts' I AM mentorship program and the longest-running, year-round teen a cappella ensemble in the Bay Area. It's directed by Austin Willacy, who performs as a solo artist and also with his own a cappella group, The House Jacks.
"It's been a really good experience with people I have come to love so much," Hasson said. "It's taught me obviously so much about music but also so much about collaboration as an artist. Art is about connection, and that is what Youth in Arts is doing."
Hasson served as the Youth in Arts' student board member this year and attended Marin Academy. She departs this summer for Vassar College in New York and plans to join an a cappella choir there.
Noyce, a senior at San Domenico School, is headed to Santa Monica College to study film production and work for a production company. Gregorian, who attends the Marin School of the Arts, is attending Loyola University New Orleans.
One of the things she appreciated about 'Til Dawn, she said, was a chance to deeply discuss complex events and consider multiple perspectives.
"It was always ok to be curious and talk about world issues," she said.
Utstein, who graduated from Tamalpais High School, is attending a rock band camp this summer and then attending The College of Wooster in Ohio.
She and other 'Til Dawn members stressed how important access to the arts is for all learners.
"For a lot of kids, it can be the thing that helps them get through the hard parts of life,'' Utstein said.
Noyce, who was part of 'TIl Dawn for four years, agreed.
"What 'Til Dawn fosters is the idea that you can have your own path," Noyce said. "Often times, artists don't do as well in the school system. I think 'Till Dawn shows there are other paths."
'Til Dawn, Youth in Arts' award-wining a cappella group, dazzled their audience with a wide range of songs at its annual concert at the Carol Franc Buck Hall of the Arts at San Domenico School in San Anselmo. The group is the longest, year-round teen a cappella ensemble in the Bay Area.
Each of the members, mostly from Marin County high schools, performed at least one solo. The repertoire included Big Band music, Motown hits, modern pop tunes and more. 'Til Dawn is part of Youth in Arts' Intensive Arts Mentorship program (I AM).
"One of the amazing things about a cappella music is it's universally relatable to human beings because we all have voices; because it's all coming from a human voice, any number of genres that people might not otherwise listen to are accessible," said 'Til Dawn Director Austin Willacy.
Willacy has been the director for 22 years and also records and performs with his own a cappella band, The House Jacks, and as a solo artist.
"Programs like these are vital for creating a space for young artists to thrive," said Youth in Arts' Executive Director Miko Lee. "These talented young singers practiced for months and their hard work paid off. The audience was thrilled."
If you missed the concert, you're in luck. 'Til Dawn performs at the Marin County Fair in San Rafael on July 3 from 3:30 to 4 p.m.
And check out some videos here:
'Til Dawn Annual Concert 2019.
Thank you to San Domenico School for the generous gift of the hall for the concert and to the Marin Community Foundation.
By YIA Staff
'Til Dawn member Kathryn Hasson has just wrapped up a successful performance in Marin Academy's "Our Town." Hasson played Emily Webb, one of the key characters.
"There was a wide range of emotions and ages I had to play," Hasson said, noting her character ages more than 10 years. "The play is all about slowing down and living your daily life and paying attention to it, even when things seem boring."
The 18-year-old senior said it was fun to play a different kind of character. Often typecast as the mother, this time she played the love interest.
Hassan, who serves as the student representative on the Youth in Arts board, said her three years with 'Til Dawn has been excellent training. The Marin Academy senior has applied to 16 colleges and universities and plans to pursue a career in musical theater and acting.
"Without a creative outlet, it's so hard to focus in any other aspect of life," she said. "Being able to use the arts to express myself makes me more able to focus academically."
Hassan also praised 'Til Dawn director Austin Wilacy, whom she called "an incredible teacher." Austin is a professional singer and songwriter who performs and records as a solo artist and with Tommy Boy/Warner Bros. The House Jacks.
"I can't even put into words how having him as a mentor has changed me and changed my life," she said.
A cappella music filled the Osher Marin JCC on December 27th as 17 current 'Til Dawn members and more than 40 alumni (Still Dawn) took the stage to perform for 140 guests at this year's SING OUT! Alums Matt Herrero and Lilan Kane headlined this year's concert, which raised over $6,000 for 'Til Dawn Scholarships, our biggest most successful SING OUT to date! The event started at 8pm, and 'Til Dawn & Still Dawn were still singing songs from their repertoire at 10:30. What a fun evening!
We were also excited that our generous audience helped us "make to to 2019″ by donating or pledging $2019 in honor of the new year–thank you so much to all who made this possible.
This year, 'Til Dawn alum James Barton designed a "Fillmore-style" concert poster to sell at the event. Thanks to our generous poster sponsors, The Herrero Family and Black Cat Studio for helping us raise more scholarship funds.
Drinks, dessert and raffle proceeds also went to support scholarships. Thank you to our wonderful food and beverage sponsors:
Sophie James Winery
Lagunitas Brewery
YIA Board Treasurer, Tim Distler
Montagne Russe Wines
Marin Kombucha
Trader Joe's
Johnny's Doughnuts
Arizmendi Bakery
United Market
Youth in Arts is able to offer up to 100% scholarship aid to any student who passes the audition process, thanks to generous donors like these. You can still DONATE to support the scholarship fund or text SING to 41444.
  By YIA staff
San Domenico School senior Will Noyce hasn't graduated yet – and he's already a professional filmmaker with a prestigious prize.
Noyce, 17, is one of eight finalists for the National YoungArts Cinematic Arts finalists with the National YoungArts Foundation. Noyce won with his poetic 10-minute film, "The Redwood Grove." You can watch the film here. This month he will take an all-expenses paid trip to the National YoungArts Foundation in Miami, where he will take master classes, mingle with other young filmmakers and compete for cash prizes.
"It's really important and super cool for people to see that you can be awarded for the arts as well as academics and sports," Noyce said. The film is about a man who lives alone with his dog and is seeking closure after the loss of his wife. The film was shown at the Mill Valley Film Festival this year and was a semi-finalist at the Newark IFF Youth Festival. It also won first place in the student filmmakers' showcase at the Lark Theater.
Noyce started making films as a nine-year-old after getting hooked on filmmaking at a summer camp. His current film stars his high school film/video production teacher, Jared Spires. He directed "The Redwood Grove" with August Mesarchik, who also wrote the score; the screenplay was written by Aiden Kwasneski.
When he's not making music with his band or at school, he might be found at Youth In Arts, where he is a member of the a cappella ensemble, ' Til Dawn. He also works twice a week at Where The Buffalo Roam, a production company in Oakland.
"I think it's becoming more acceptable to be an artist. It's important to know you do not have to stick to what the educational system is telling you," he said. "Arts are an amazing way to find out who you are and what you enjoy."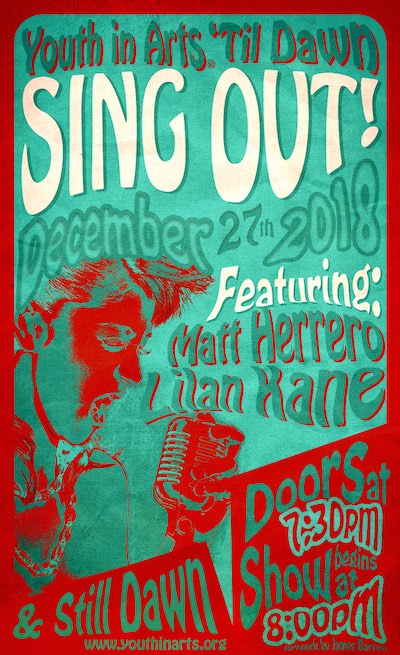 'Til Dawn alum James Barton designed this year's Sing Out! Poster, which will is still available for sale at Youth in Arts! It was unveiled at the 'Til Dawn performance Thursday at the Osher Marin JCC.
Barton, 21, is now a junior at UCLA. He said he created the poster, in shades of turquoise and reds, in the Fillmore style of art, using Photoshop.
"I sort of just went with that style," he said.
Barton was in 'Til Dawn for three years while a high school student at Marin Catholic High School. He now studies molecular biology.
Art "really provides an outlet for creative expression," he said. "Graphic design is definitely one of my passions."
Barton has fond memories of being a part of 'Til Dawn and was happy to help out. The poster was sponsored by the Herrero family and Black Cat Studio.
"I don't think I would have had the high school experience that I had without 'Til Dawn," he said. "It was such a support system."
Current and former 'Til Dawn members performed Thursday at Youth In Arts' Sing Out! at the Osher Marin JCC in San Rafael.
'Til Dawn alumni Matt Herrero is one of the featured performers at Youth In Arts' spectacular Sing Out! event on Thursday — and he's busy polishing several original songs.
Herrero, 23, a multi-instrumentalist composer, creator and performer who spent four years with Youth In Arts' wonderful 'Til Dawn a cappella troupe, now performs professionally. He credits 'Til Dawn with helping to get it all started.
"It was the most musically rigorous group I'd ever been a part of," he said. "It gave me a family outside of high school that I bonded to way more than with anyone else. They taught me how to make music with people."
Herrero, who attended Marin Academy and graduated from Stanford University last year, is a storyteller who is amazing on the acoustic guitar. He said a friend described his music "as if Justin Timberlake wrote campfire songs."
Joining Herrero on stage will be fellow alum Lilan Kane. She'll be playing with her guitarist, James Harman.
Kane, 33, is looking forward to singing jazz and R & B influenced pop tunes.  Kane, a graduate of Novato High and the Berklee College of Music in Boston, credits 'Til Dawn with helping to set her on the path to performing.
"The community that it gave me … came at a time in my life that really saved me," she said.
Being in the troupe also made her want to teach. Many of her former students, she said, are now 'Til Dawn members.
'Til Dawn made up of local high school students in Marin County. They are led by renowned director Austin Willacy. Both current `Til Dawn high school troupe members and alum called "Still Dawn" will perform Thursday.
The show starts at 8 p.m. at the Osher Marin JCC in San Rafael. Tables are $250; Adults are $35 and youth are $25. Tickets can be purchased here.
We had a lovely Spring Annual Show at Carol Franc Buck Hall of the Arts at San Domenico School.
We had a send off to our Seniors: Siena Starbird who will attend CalArts, Rose Myers who will attend Cal State San Marcos and Will Salaverry who will attend Yale.
Thank you to Curtis Myers for the beautiful photographs. See gallery below. Thank you `Til Dawn Alum Harrison Moye for tech wizardy and to Cecily Stock and San Domenico staff for their support.
Here is a playlist of some of the songs.
Announcing the new members of `Til Dawn.
Aidan Bergman, Sir Francis Drake High School
Aidan sang before he could talk and has never stopped. Over the years he has played piano and sung in community talent shows, school and camp musicals and graduation ceremonies. He was a soloist in the ROCK gospel choir at Drake and also loves to play baseball. Aidan has played and sung music as long as he can remember and hopes to continue through high school and into his adult life.
Lara Burgert, Redwood High School
Lara has been singing for as long as she can remember. She loves to sing, dance, act, and perform on stage. Before doing musicals with Performing Arts Academy of Marin, she was a part of the Marin Girls Chorus. Lara has always wanted to be in an a cappella group, and is so excited to be in `Til Dawn.
Maycie Cooper, San Domenico
Maycie has been involved with music for over 8 years, and finds way to incorporate it into her life as much as possible. She sees it as a way to express herself and also to connect with others. Since living in California, she's participated in every singing program her school has to offer, including annually acting in musicals since she started attending San Domenico. She loves the social side of singing and plans to keep music in her life forever.
Paul Makuh, Sir Francis Drake High School
Paul has been singing under the direction of Susie Martone from fifth grade through eighth grade and would love to keep it going into High School. He has made new friends through singing and feels that it would be great to keep singing in his life.
Zaria Willis, Marin School of the Arts
Bio coming soon
Isadora Zucker, Sir Francis Drake High School
Isadora Belle Zucker, a student at Sir Francis Drake High School, is a multifaceted performer active in music, theater, and dance, all of which she's been studying since early childhood. Outside of the arts, Izzy enjoys mountain biking, swimming, her cat Hollywood, and spending summers traveling with her musical family, better known as the Zucker Family Band.
Older Entries »