Students at Oak Hill students explored themselves by making different lines.
Working with Mentor Artist Cathy Bowman, they used black and white pastels on a beautiful brown paper. We looked at thick lines and thin lines, curvy lines and bumpy lines. Some artists worked precisely and methodically and made only straight lines; others used only curves and made spontaneous marks everywhere.
When we finished, we laid the work on a table and talked about connections.
At the next session, we looked at the portraits and then made different portraits using water soluble Lyra graphic crayons and white pastels. Students made more lines and shapes, then activated the pencil lines by tracing them with a paintbrush dipped in water. It was fun to look at the two portraits together.
"This is another example of how we scaffold," Cathy said. "It builds confidence in artists when they can practice a familiar subject with new materials."
Cathy is at Oak Hill as part of Youth in Arts' Arts Unite Us program, which supports students experiencing disabilities.
April is Autism Awareness Month.  Youth in Arts is the only arts education provider to special day and severely handicapped classrooms in Marin. We also provide arts programming at Oak Hill School which is focused on students with autism from 5-22 years old.
Check out this CD C'mon Everybody! which was produced with support from FirstFive Marin as part of a special workshop for families with children on the autistic spectrum.
C'mon Everybody! features original music composed by Youth in Arts Mentor Artist Miguel Martinez and featuring performances by additional YIA Mentor Artists Nydia Gonzalez and Hannah Dworkin. Songs encouraging response to direction, social behavior and language acquisition. It is fun and accessible for developmentally typical PreK children, as well as children with cognitive or developmental delays.
Come into our YIA shop on 917 C Street to buy the CD, or you can get a free download of a couple of the songs here Good Morning My Love, and  King of the Beat.
Thank you to the Buck Family Fund of the MCF for supporting our programs reaching children of all abilities.
Once again our fabulous cast of Youth in Arts Mentor Artists created art, community and opportunities for students in the Bay Area.  Students in 25 Special Day Classes, Pre-K to Post-Secondary, explored techniques in Visual Art, Music, Dance and Theater and shared their talents with the community through culminating events.
The Arts Unite Us program aims to make high quality arts opportunities accessible to students of all abilities and to build understanding and acceptance in our communities.  This year students from Redwood High School, Harding Elementary and Mount Tamalpais High School participated in collaborative residencies in which students from Special Day Classes and General Education classes worked together to create art.
Teachers in the Special Day Classes we serve value the program and what YIA Mentor Artists bring to their classroom:
"I am always so blown away and impressed with all the skills learned by our students during the YIA sessions, but am especially impressed with the leadership skills, creative thinking, self-expression and artistic expression that our students learn. The YIA artists and lessons bring out skills in my students that I don't always have the opportunity to bring out. Without the professional artists coming into our classes, we do not have the access to adults with these skills at our schools. Mainstream classes can be too impacted, and general education teachers are not always equipped to handle the needs of students with special needs in their classes. Having art activities that are tailored to meet our students needs enables all students to access curriculum and experiences that their general education peers receive." SDC Teacher Rachel Hughes, Terra Linda High School
Under the guidance of YIA Mentor Artist William Rossel, students from Katie Peter's Special Day class worked with students from the Band program and opened the music concert at Redwood High School with a percussion piece.  YIA Mentor Artist Melissa Briggs worked with Tam High's Julianna Rees to lead students from Michael Lovejoy's Special Day Class and Advanced Theater students in writing and performing an original play.  At Harding Elementary, YIA Mentor Artist Thomas Arndt lead a group of 40 students in writing, directing and performing a play that incorporated American Sign Language and featured students from Harding's HOH (Hard of Hearing) program.
ASL Translator Paul says this about the program at Harding:
"I have truly enjoyed being a part of The Arts Unite Us program and watching HOH students as well as other students in the classroom where I work grow in confidence in their class room participation. Maya, the primary HOH student I work with rarely spoke up in class. This changed dramatically after she started participating in the program and after taking on a significant speaking part in the play. It is amazing to see how her and other students confidence begin to soar so quickly!"
Each of these experiences have left a lasting impact on the students involved.  Many students from Special Day Classes and HOH programs performed in front of their peers for the first time.  Many of the General Education students had their first experience interacting with their peers who have abilities that are different than their own, gaining understanding and empathy.
This is what a few General Education students had to say about that experience:
"I loved participating in this project.  I thought it was a great way for me to learn about people who have different abilities.  I learned that they have the ability to create great things."

"It was really fun to meet and interact with the Special Ed class. They were so sweet and friendly. I learned that some things that are easy to me are difficult to other people."

"I had fun! I really enjoyed spending time with the [Special Ed] kids and would do it again.  I learned they often have interesting ways of thinking about things. It was interesting to hear their perspectives."

"I learned that everyone is unique in their own way. Not everyone does the same moves or talks frequently.  I feel like I've learned so much about interacting with other people."
As the creator and director of the Arts Unite Us program, I am so proud of the work we have done over the years and I have witnessed first hand the impacts that this program has had on students, teachers, artists and families.  This program has served as a catalyst for progress, acceptance, understanding and art making that will last a lifetime.
This year, as I step down as Program Director, I pass the torch over to my colleagues at Youth in Arts so that they may continue to promote accessible programming for everyone in our community.  I would like to thank every artist, teacher, administrator and student who has participated in this program.  And, thank you to those who have provided much needed funding for this program, including Thomas J Long Foundation, The Green Foundation, Marin Community Foundation, Green Foundation, Marin Charitable, and Italian Street Painting Marin.
Last year I wrote a blog suggesting that students' behaviors should whenever possible be seen as an attempt to communicate. I encouraged my fellow teaching artists to:
1. Find the hidden messages in "behaviors" or "breakdowns"
Those of us that work with special needs students are very familiar with behaviors or breakdowns.  Initially the crying, repetitive gestures and outbursts from these students may seem random, but they rarely are.  These students have no way of saying "I don't like this song," or "The volume is too high." Ask yourself:
What activity preceded the outburst?
Has this happened before?
What did you or the classroom staff do that calmed the student?
When does this student seem most content?
Sometimes there are even messages in the sounds and words said while in the midst of a tantrum.  One of my students "J" threw a tantrum in one of my classes, and after close listening, I realized that he was yelling, "e-i-e-i-o." He wanted to sing Old MacDonald but didn't have the vocabulary to express it.  So we sang Old MacDonald and he was immediately calmed.
 2. "Read" your audience.
A  great many skills we develop as performers are transferable to teaching special needs students.  One such skill is being able to "read" your audience.  After a while we instinctively know when to slow down, speed up or drop a section completely.  The same goes for working with students.
If you find your students engaged in a song, repeat it.  This populations thrives on repetition, and those with language processing delays will have an opportunity to learn your material.  On the other hand, if the class is losing focus or individuals are starting to show behaviors, find a quick stopping place and move on.  It takes patience and flexibility to work with special needs kids, and sometimes no matter how wonderful your lesson plan is, you may have to make a quick change.
3. Your greatest resource: The classroom teacher
The special day class teachers are an amazing group of individuals who know their students extremely well. Ask them for advice and listen to them when they make suggestions.
This year I have been considering the difficult situation when I realize what a student is trying to communicate and I have to decide to honor the request or continue with the class.  For instance, if a student breaks down in the middle of a song, is it best to stop the song or continue in the hopes that ignoring the behavior will not reinforce it.  The simplest answer I have come up with is to look to the classroom teacher for advice, but I am realizing that being a teaching artist with the same children over several years and sometimes through several classrooms can help in this situation.  We are in the unique situation of knowing students on a very deep level and can plan and react accordingly sometimes even surprising the classroom teachers. There was a specific instance where we were singing a song, and one fo the students was obviously not enjoying the experience. The classroom teacher and I looked at each other considering what to do.  I shared that in the past if I get to the next verse, this child usually calmed down.  We tried it, and it worked!
YIA Mentor Artist Hannah Dworkin
This was my sixth year teaching Music and Movement in Youth in Arts' VSA program, and I was lucky enough to be assigned to work with four amazing teachers, Rockne Beeman, Laura Becker, Meriam Grainer Cox and Jessica Leaper.  We had a wonderful time singing, dancing, playing and learning.
Rockne Beeman's class of upper elementary students were a challenging  joy to teach. He has a class of students with a variety of behaviors and levels of engagement.  Some students would fully participate and sit in the circle and others would listen from different parts of the room.  What was most facinating this year was that the students who had worked with me previously would suddenly focus and fully participate when they heard specific familiar songs.  One such song was A Rig-a-Jig, a song that requires students to dance with a teacher and/or myself.  Their favorite song by far was "Goin on a Bear Hunt," where we would practice phonemes that are difficult for the students while we marched around and dance.
Another discovery was that certain students who had previously been non-verbal are now speaking and even singing.  The photo below shows one of these students singing his favorite "penny game" song.
Laura Becker and Carla Victoria's elementary special day classes were combined for a wonderfully large group every week.  They accomplished a great deal over the course of ten weeks. The biggest challenge with these two groups was the fact that their abilities were so vastly different.  Laura's students need a great deal of assistance physically.  All were in wheel chairs or other supportive devises and were not able to move on their own.  Carla's class was very active and needed to be constantly stimulated or they would lose focus.  The best strategy I found for working with these two classes was to pair Carla's most active students with Laura's most inactive.  They became "helpers" and danced and sang to the students who did not have the ability to participate in that way.
Meriam Grainge-Cox's students were the most high functioning of my groups this year and they were able to perform quite complicated musical phrases despite the fact that they were 3 and 4 year olds.  My focus with this group was to create a class where they could learn to be autonomous and run as much of the class as possible. This was very successful, and the last day of class was almost completely run by the young students
Jessica Leaper's class was incredibly fun.  They absolutely loved singing train songs and their favorite activity was dancing to Greg and Steve's Choo Choo. There are a number of autistic students in this class, so I focused primarily on creating a clear routine over the course of the first couple weeks. As they grew more comfortable with the progression of the class. I was able to add more complex music and movement problems for them to solve.  By the end of the 10 weeks the class was at a point of running most of the activities themselves.
All in all it was a fantastic school year, and each of these classes and their teachers made it an exciting experience.
YIA Mentor Artist Hannah Dworkin
This year, I worked for 20 weeks with Linda Breakstone and Stacy Hall's class, with students ages 5-10 with a wide range of learning, cognitive and physical disabilities.  My strategy was to try to engage each and every student, focusing on routine and repetition.  I'd always begin my class with the same opening song, go through a series of activity songs, and end the class with our "goodbye" song.
Music time with the kids consisted of interactive songs,  identifying the sounds, and physical play (i.e.. Row your boat, Hokey Pokey, London Bridge).  We use icons for non-verbal students so that they could make choices in the songs and activities. For example, for "The Wheels on the Bus", we had photos of  windshield wipers, a baby, windows, etc.   When singing the song, students had the option to participate by holding up their icon.
Often, I'd bring in rhythm instruments.   The highlight of this 20-week project was that my sister, Terry, came to share her trumpet on two separate occasions.   Kids LOVED blowing the horn, pressing the valves and marching (those who could) to "The Saints Go Marching In"
The teachers seemed to really enjoy music time, noticing that it was the one time of week when all the kids, teachers and aides get together with no interruptions. It was a fun session, I look forward to having the opportunity to come back next fall!
Nina Pasquale
YIA Mentor Artist, Olive School MCOE Special Day Class 2012-13
If you walk down the halls of Terra Linda High school on a Tuesday morning, you may just hear the sounds of a Tabla, Doumbek, shakers and tamborines playing joyful beats accompanied by the gleeful cheers of students in Rachel Hughes Special Day Class.  YIA Mentor Artists William Rossel and Nydia Gonzalez have been working with students for 10 weeks, practicing a variety of basic rhythms and swaying movements which they will present for attending family and friends in a few weeks.
Every student in this class has enjoyed the activities, finding the one that brings them the most joy:
Gihea rocks out to the beat with her upbeat movements, waving her scarves and showing off her moves.
Brian loves to dance with the "friend of the day" (usually a soft stuffy that Nydia brings in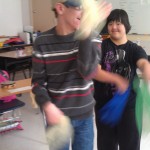 to assist with engagement and focus), and his twin brother Neil loves to play percussion instruments on the peripheral of the classroom.
Maria eagerly awaits the moment in which she can sway her hips to the rhythms in a fluid movement while waving the scarves and smiling.
Demelza always insists she is too shy to do her "solo", but ends up breaking out her special choreography that usually includes some serious hip shaking and the "genie" move, named by a classmate from last year.
Savannah loves to play along to the beat and when she does her solo dance, she smiles and giggles with contagious joy.
Graham, has limited fine motor skills, but always waves his arms in rhythm and shares the biggest smile when it is his turn to shine.
Alessandra absolutely LOVES to help us keep count of the rhythms and her signature dance move is a spin.
Needless to say, we have a blast playing music and dancing with this talented and enthusiastic group of students.  Thank you to the teacher Rachel Hughes and all of the para-educators and aides who are so loving, supportive and willing to get down with our groves at Terra Linda High School!!
[nggallery id=19]
Youth in Arts Mentor Artist Laurie Marshall invites you to participate in a virtual mural project to increase awareness of Autism!
The Oak Singing Tree for Autism
The 1st Virtual Mural
Sept 1, 2010 – Oct. 15, 2010
"What do I pay attention to in the World?" and "What do I want to change?"
Send your image: http://autismtree.zumyn.org
The Oak Singing Tree for Autism will be the 14th in a series of murals made by over 8000 people from 15 countries – the first virtual experiment. Each participant will send in an image of his or her own photo, painting, sculpture, collage, drawing in response to the two questions above. With the help of Internet technology, the various works of art will be uploaded into a photo-mosaic an oak tree on the earth in space. The tree creation will be closely followed on Facebook, Twitter and other media.
The Oak Singing Tree for Autism will be displayed in US Congress in June, 2011 and will be exhibited in high-traffic public places as well as online to bring awareness to autism.
Laurie and other highly skilled YIA Mentor Artists are available to teach arts to students of all abilities through the Youth in Arts, VSA arts program.