A must see exhibition by Bayside Elementary & Willow Creek Academy students. The exhibit features fun creative works showcasing projects created by youth under the instruction of Youth in Arts Mentor Artists Ms.Marguerite Etemad & Mr. K-Dub. Exhibit opens today at The Hannah Project Gallery, 170 Donahue Street (next to Best Buy) in Marin City. Opening reception is Tuesday, April 24th 5:30-8pm. There will be a special youth performance at 6:30pm & refreshments provided by the "Growing Great" Marin City program.
Hannah Project Gallery hours  Thurs-Sat. 12:30pm-6pm, Sunday 2:30pm-4:40pm and Mon-Wed by appointment only .
On September 9th Youth in Arts Gallery had its opening reception for
an exhibition of drawings from the teaching journal of YIA Mentor Artist,
Each drawing represents one school day during the 2010-11 school year, during which time Toczylowski worked as an arts specialist with Youth in Arts in the Sausalito Marin City School District.
Toczylowski taught grades K-5 at both the regular public school, Bayside Elementary, and the charter school, Willow Creek Academy, which reside on the same campus. The black-and-white ink drawings explore the personal and political experiences of a teacher working in a diverse community. From the small, inspiring moments of working directly with students to challenging situations that highlight the social and racial inequities prevalent in schools, Toczylowski gives us glimpses of the 21st century American classroom.
Student work is exhibited through process books that document the students' arts learning experiences. Using student quotes, photos, and tangible examples, these books make visible the student-centered curriculum YIA encourages in the classroom.
By displaying Mentor Artist and student work together YIA intends to show the influence that professional artists can have in K-12 education.
The exhibit is open through November 5th.
Closing: Saturday, Nov. 5, 4-7 pm
Visit the Youth in Arts Gallery Monday through Friday 11-2 or by appointment (415-457-4878).
Working with Mentor Artist Brooke Toczylowski, the Fifth Grade at Bayside Elementary spent three weeks this spring investigating painting and learning to EXPRESS themselves. Students looked at the connections between color, language, and abstraction. In our efforts to create a community of learners, we brought fifth and first grades together at the end of their residencies to share and learn from each other.
This unit was inspired by my amazing teacher colleagues, Ascha Drake and Evan Bissell.  This spring Ascha and I led a teacher Professional Development on encouraging literacy through artmaking.
Families are the compass that guide us.
They are the inspiration to reach great heights, and our comfort when we occasionally falter.
– Brad Henry
Last night Ms. Brooke and Tenisha Tate, opened the Parent Center to the families of the Sausalito Marin City School District.
Visitors were welcomed by family member portraits created by the young artists at Bayside School.
The artists had used watercolors, colored pencils, pastels, and Sharpies to create the works of art.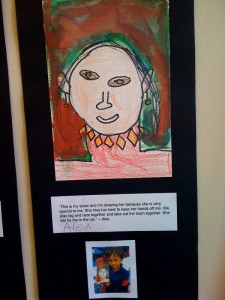 Each artist wrote a description of the loved one, and Ms. Brooke also included a photo of the artist with their art work.
People were also welcomed by an important question:
And the Studio Habits of Mind were also posted as important reminders:
There was a buzz in the Parent Center as people gathered and looked and celebrated being together.
And a photo studio was set up, where Ms. Brooke took family portraits.
Beautiful work!
Bayside School and Willow Creek Academy Elementary teachers came together for their monthly Visual Arts PD.
Vibrant paint chips were the catalyst for inspiration.
In pairs, teachers were given the challenge to create a story using all of the words listed in the paint chip color strip.
The writings were playful, collaborative, and incited ideas for further extensions in different classrooms.
Teachers were then given strips of canvas paper with three drawn circles.
The next challenge was to explore color mixing, and to create three new colors.
How can these colors represent a moment in your day? A smell you experienced, an emotion, or a vision that inspired you?
Once the colors were painted on the canvas, language was connected to the mood of the color.
As a group we reflected on what we noticed, and ways these explorations could be used in different areas of the curriculum.
Next Friday, December 10th, the K and 1st grade classes at Bayside school are heading out on an excursion.
They will ride on the Sausalito Ferry out to Alcatraz and back. While they are on the ferry, they will join many other school children to decorate the interior space with art work.
Presently, Mr. Scullion's 1st grade class is in the midst of an art cycle with Ms. Brooke.
The classroom is filling up with the presence of their artmaking.
For the ferry project, Mr. Scullion's 1st grade class worked with Ms. Ascha to create printed holiday tags.
Before Ms. Ascha came into the class, Mr. Scullion and his students created a list of words that reflect this time of year. Some examples are:
joy, peace, family, sharing, light, love, winter, happiness
The students then were introduced to the idea of making a "print" with Ms. Ascha.
Using stamps created out of foam, the artists thought about creating multiple images on the precut tags.
The tags symbolized a dreidel, a dove, a tree, a star, and an ornament (circle).
Most of the 1st graders stood as they printed using gold and while ink.
There is a physicality about the printmaking process that makes it exciting.
When the artists were finished printing, we talked about how exciting it will be to see their work displayed on the ferry along with other young artists creations.
Beautiful work!
Next Friday, December 10th, the K and 1st grade classes at Bayside school are heading out on an excursion.
They will ride on the Sausalito Ferry out to Alcatraz and back. While they are on the ferry, they will join many other school children to decorate the interior space with art work.
Kindergardeners in Ms. Banks' K class created paper snowflakes for the project with Ms. Ascha.
Before beginning the project, the students looked at snowflakes and thought about how their art could be inspired by the images that were taken under a microscope!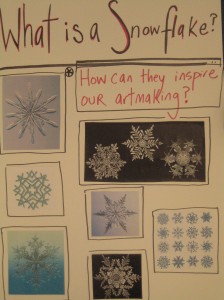 They talked about the structure of snowflakes, and how they are symmetrical and  have patterns.
Recently the students had worked with paper sculpture with Ms. Brooke, so they were familiar with cutting and folding the material.
The students appreciated that each and every snowflake looked different!
And they could imagine how the snowflakes would add to the interior of the ferry.
Beautiful work!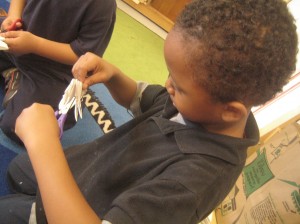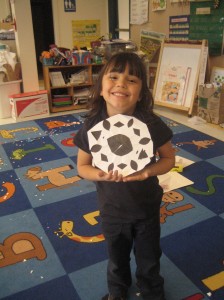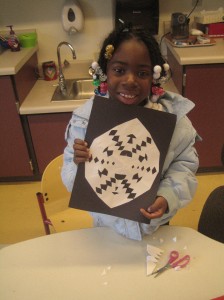 In the reflection, the students, Ms. Banks, and Ms. Ascha talked about the importance of collaboration: working together : to create artwork. Over the next week the K artists will continue to make snowflakes, and mount them on black paper.
It will be exciting for them to see their work on view in a public space for others to see!
"There are two ways of spreading light: to be the candle or the mirror that reflects it."  – Edith Wharton
On October 26, 2010 a group of Bayside School K students and a group of Bayside School 5th grade students came together as collaborative forces.
The 5th graders have been mentors for the K students, and they have been partnered up.
Today was the first day they were given the opportunity to come together as artists.
Ms. Banks, the K teacher, has introduced the word DISGUISE to her students.
What does it mean to be in disguise?
How does it make you feel to be in disguise?