In their new research workbooks students developed critical thinking skills used by both Artists and Historians. They described the visual elements they noticed in a photograph, analyzed images by making educated hypotheses with supportive evidence, compared and contrasted photographs, and made connections between an arts process and a historical concept.
EVIDENCE – What do you SEE? What do you NOTICE? In one column students were asked to create a list of observations while looking at this historical photo.
"a building"     "it's in black and white"    "the sillouette of a man"
"an ice cream shop"    "American flags"   "a horse and carriage"
"a crowd of people"
In the next column they were asked to answer the question, What do you THINK? This was their HYPOTHESIS about the photo. The students defined hypothesis from their knowledge of science class – "an educated guess," meaning they had to provide evidence for their theories.
At least someone in all 10 classes guessed the 4th of July, which is what this photo represents, from the year 1898! Next, students got to see the contemporary photo of the same location taken just a few weeks ago. They compared and contrasted the two photos, describing what has changed and what has stayed the same.
" The clothes people are wearing has changed. In the new photo there's someone wearing jeans."
"There are cars and stop-lights in modern times and in 1898 you traveled with a horse and carriage."
" I think there's something the same about the architecture of the building – the window on the edge is popping out."
Then students started to make personal connections and someone yelled out, "Wait, that's 4th Street and C Street!" "Oh yeah- That's Sabor of Spain!" "I've been there!" Ah Ha, the moment of discovery! Students begin to use clues from the knowledge they have outside of school.
Next students created a layered artwork using historical and contemporary photos of San Rafael. They traced contour lines of either the past or the present and overlapped it on the image they didn't trace.
This action created a conversation or visual relationship between the two time periods, allowing students to see what had changed and what had stayed the same, but also thinking about the layers of history. These layers of history are similar to the layers of of a painting.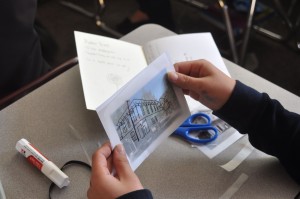 Often things are covered up and you have to look closely to see what's changed, and to see the truth.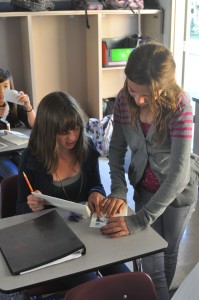 Students reflected on their arts-process and discussed how it made connections to what they were studying in history.
Historical Thinking Lesson Plan, PDF created by Brooke Toczylowski.
Youth in Arts invites seventh and eighth grade students at Davidson Middle School to participate in the creation of a public mural about the history of San Rafael. This large-scale mural will be installed in downtown San Rafael at the current Youth in Arts space, 917 C Street. Throughout the school year students will be led by a professional artist in the creation of the mural, which will be unveiled in June 2012 in a community-wide celebration.
Youth in Arts Mentor Artist Brooke Toczylowski will guide a leadership team of 15-20 students in the research and creation of the mural. In addition to this leadership team the Mentor Artist will be available to collaborate and work with the social studies teachers in designed and facilitating an integrated curriculum around the history of San Rafael. Students and teachers will ponder inquiry questions like, "How do Artists Represent History?" and "How is History Told by Different People?"
Students participating on the leadership team will gain a wide range of skills they can transfer to other disciplines. Each youth artist will be in charge of keeping an art journal they will use for research, sketches, ideas, questions, and reflections. The research segment of the project will investigate the history of San Rafael, cultural connections, Master Artists, personal experiences, interviews, and more. Students will be exposed to resources with the Mentor Artist but will also be expected to do research in their art journals outside of meeting time. The leadership group will take 1-3 field trips during the course of the project: 1) a walking field trip of San Rafael 2) a visit to the Marin History Museum 3) a visit to San Rafael artists' studios. These experiences will connect students personally to the content being studied and will provide the group with ideas and sketches for the mural itself. The art journals will be a place for students to document and record these academic and personal experiences. Segments of the journals will be on display during the 2012 unveiling in a gallery exhibit complementing the mural project.
In addition to historical and artistic research students will experiment with a variety of artistic materials during the residency. Through drawing in their art journals they will explore composition, shape, line, value, and other formal concerns. During studio time with the Mentor Artist they will learn about color, painting, and photography.
In addition to exploring the area, researching history, and investigating materials, the youth artists will develop skills for working in the public arena. They will brainstorm, plan, and collaborate as a team to design a final composition. With this final sketch they will propose their mural to the San Rafael City Council. They may need to re-adjust, make changes and re-propose it. Throughout this process they will learn that projects have take a lot of work and require patience and focus.
On September 9th Youth in Arts Gallery had its opening reception for
an exhibition of drawings from the teaching journal of YIA Mentor Artist,
Each drawing represents one school day during the 2010-11 school year, during which time Toczylowski worked as an arts specialist with Youth in Arts in the Sausalito Marin City School District.
Toczylowski taught grades K-5 at both the regular public school, Bayside Elementary, and the charter school, Willow Creek Academy, which reside on the same campus. The black-and-white ink drawings explore the personal and political experiences of a teacher working in a diverse community. From the small, inspiring moments of working directly with students to challenging situations that highlight the social and racial inequities prevalent in schools, Toczylowski gives us glimpses of the 21st century American classroom.
Student work is exhibited through process books that document the students' arts learning experiences. Using student quotes, photos, and tangible examples, these books make visible the student-centered curriculum YIA encourages in the classroom.
By displaying Mentor Artist and student work together YIA intends to show the influence that professional artists can have in K-12 education.
The exhibit is open through November 5th.
Closing: Saturday, Nov. 5, 4-7 pm
Visit the Youth in Arts Gallery Monday through Friday 11-2 or by appointment (415-457-4878).
Join us in celebrating "back-to-school" season with a taste of our visual and performing arts offerings!  See, hear, feel and explore the dance, music, theater and visual arts activities that Youth in Arts can provide for your school.  August 27th and 28th from 12-2pm at the Northgate Mall.
Assembly program feature performances include Native American Hoop Dancing by Eddie Madril, Mexican Ballet Folklorico Netzahualcoyotl, Andean Music with Chaskinakuy, Mask Theater and Commedia dell'arte with Eliot Fintushel, Hawaiian dance with Halau Na Pua O Ka La'akea and Youth in Arts' award-winning teen a cappella group 'Til Dawn.
Visual Arts Workshops with Youth in Arts Mentor Artists Suzanne Joyal and Brooke Toczylowski. Everyone is invited to Northgate! Families, teachers, parents and students will discover how these amazing performing and visual artists can come to their schools. Our staff will be on hand to answer questions and explain how you can book events for the new school year.
Many thanks to our event partner, Northgate Mall!
Celebrate at Northgate!
FREE arts performances & workshops
SATURDAY & SUNDAY: AUGUST 27 & 28
12 noon – 2pm, both days
youthinarts.org • 415.457.4878
Our June 11th Lights On! Exhibit highlighted the work of fifth graders from Willow Creek Academy. This final project combined their skills in collage, writing, and photography to communicate their internal thoughts, hopes, and dreams.
The young artists have been thinking about what might be going inside the mind of Molly, the main character in their language arts book, Indian Captive. With their classroom teacher, Nathania Jacobs, they did an Open Mind Project in which they explored Molly's interior world. Ms. Jacobs prompted them with questions like, What are her deepest thoughts about life? What does she imagine for her future? What does she wonder and hope for? What does she wish and dream about?
Working with Mentor Artist Brooke Toczylowski the students were then asked to ponder these same questions about themselves and to use their art skills to ENVISION and EXPRESS their own inner world. Explorations in photography and collage throughout the year-long residency with Brooke served as scaffolding for this final collage project displayed here in the inaugural Youth in Arts exhibition. This integration project is part of a larger Who Am I? curriculum being created by Youth in Arts, which uses art to link students' personal voice to social studies and language arts standards.
During the Light On! Opening Mentor Artist Brooke Toczylowski was available to facilitate a hands-on component. Viewers were invited to use the fifth graders work as inspiration and then to take their own photograph and create a personal collage. The walls in the art making studio below outlined the steps in the project and offered ideas and advice.
The hands-on component was extremely popular, with parents getting just as involved as their students. One of the priorities of the Youth in Arts Gallery is to provide and inspire these art making opportunities that are designed in conjunction with the gallery exhibit.
A parent and her pre-K child work together to create a piece of art during the inaugural Lights On! Exhibit in the Youth in Arts Gallery.
First Graders in Ms. Duran and Ms. Jackson's class at Willow Creek Academy studied the rainforest all year using a project-based learning approach. The culminating performance consisted of large murals, shadow puppets, and a rainforest musical!
Working with YIA Mentor Artist Brooke Toczylowski in art class the artists learned about plants and trees from the rainforest and created large murals that highlighted their discoveries about science and color mixing. See the previous blog post entitled How Can I Be a Scientist AND an Artist? to check out the process.
After an INSPIRING Teacher Professional Development with Daniel Barash,  a shadow puppet master and the Director of the Shadow Puppet Workshop, the rainforest musical took on a shadow puppet form. Kids created shadow puppets out of simple materials and got excited about practicing their performance. For a packed house they sang songs and bounced their shadow puppets across the three stages.
Working with Mentor Artist Brooke Toczylowski, the Fifth Grade at Bayside Elementary spent three weeks this spring investigating painting and learning to EXPRESS themselves. Students looked at the connections between color, language, and abstraction. In our efforts to create a community of learners, we brought fifth and first grades together at the end of their residencies to share and learn from each other.
This unit was inspired by my amazing teacher colleagues, Ascha Drake and Evan Bissell.  This spring Ascha and I led a teacher Professional Development on encouraging literacy through artmaking.
This year in the Sausalito Marin City School District the arts specialists have been thinking about their roles, and what their goals are in the classroom.
Below are some important connections the teaching artists in the District are nurturing in the classrooms:
1. Artists make spontaneous and deliberate (planned out) decisions.
2. Artists learn and develop their work by addressing challenges as they arise.
3. Artists develop works of art through meaningful experiences with materials.
4. Artists thrive in a community that accepts risks and values multiple approaches.
5. Artists work responsively, not necessarily efficiently, often working on a project over a long period of time.
6. Artists use ideas as material.
7. Artists look at art and listen to music.
Reflection is an important time to look, learn, and discuss
Crafting strong Essential Questions is important to the teaching practice
Students are given t i m e to explore & experiment with materials
Creating an environment of wonderment is key
This past Wednesday, April 6th, the Elementary teachers in the SMCSD gathered together for their monthly visual arts PD.
Daniel Barash, who is a shadow puppet master, and the Director of the Shadow Puppet Workshop, joined the teachers.
Shadow puppetry, with its bold shapes, vivid colors, and dramatic movement, is the perfect medium to explore stories found across the curriculum.
The afternoon was spent collaborating, envisioning, creating, and performing.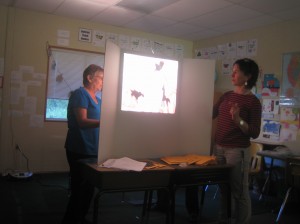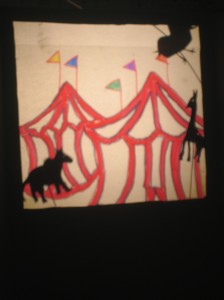 « Newer Entries
Older Entries »