The young and talented artists have been working on this project with Mentor Artist, Brooke Toczylowski, since November. For more posts about this project click HERE. 
One of the ways the students transferred images onto the panels was to project their drawings or photos and then trace the shapes.
To the left Sonia and Declan transfer a photo of Sonia painting. This part of the mural  represents the students' own history and connection to the present and future of San Rafael. It was inspired by Diego Rivera's Mural at the San Francisco Art Institute, "Making a Fresco."

Local Master Artist Kalen Meyer came to Youth in Arts to speak with the students and share her artistic process. She showed the evolution of how her painting has changed over the years, including many images from her series, "36 Views of Mt. Tamalpais," which is the local mountain included in the mural.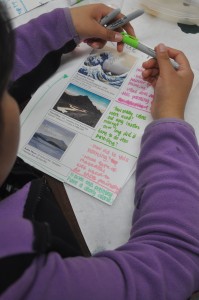 Students had prepared questions the day before after looking at images by Master Artists  Tom Killion and Katsushika Hokusai (who is an inspiration for both Killion and Meyer.)
The young artists asked,
Do you use calm colors on purpose?
Do you ever paint a view or a place from that place, or do you always work from photographs?
How could we work on the background color of our mural?
After looking at Kalen's work and going back to our mural the students found themselves inspired by her paint strokes and some of her techniques directly came out in the style of the mural.
What have you learned about yourself?
On Friday the group reflected on their experiences as a team and as professional muralists:
"I learned that working as a team is better and it's faster and when you work alone it looks all the same but when you work with lots of people it looks [different], like the [paint strokes] are different." – Rosvin 
"When I'm at home when I'm painting I'm alone in my room, but this so much more fun because you know you can be painting and then yell across the room and be like, 'hey!'" – Sonia
"Something that doing this project has brought to me is…I made lots of new friends like Stefania and Jessica, and it made me also much closer to my good friends." – Declan 
"What I learned is that we had a community here. Like when we were [painting] Charles it was Natalie and then Stefania joined in and then Joselyn and me, too. We all did it together." – Jessica 
STAY TUNED! In June the mural will be installed on the Youth in Arts building. A gallery exhibit and community celebration will illustrate the mural process and celebrate the young artists' hard work. 
THANK YOU to all parents, artists, and volunteers that made this project possible.
And THANK YOU to Whole Foods, who provided much of the snacks and lunches for the kids during the week.
In their new research workbooks students developed critical thinking skills used by both Artists and Historians. They described the visual elements they noticed in a photograph, analyzed images by making educated hypotheses with supportive evidence, compared and contrasted photographs, and made connections between an arts process and a historical concept.
EVIDENCE – What do you SEE? What do you NOTICE? In one column students were asked to create a list of observations while looking at this historical photo.
"a building"     "it's in black and white"    "the sillouette of a man"
"an ice cream shop"    "American flags"   "a horse and carriage"
"a crowd of people"
In the next column they were asked to answer the question, What do you THINK? This was their HYPOTHESIS about the photo. The students defined hypothesis from their knowledge of science class – "an educated guess," meaning they had to provide evidence for their theories.
At least someone in all 10 classes guessed the 4th of July, which is what this photo represents, from the year 1898! Next, students got to see the contemporary photo of the same location taken just a few weeks ago. They compared and contrasted the two photos, describing what has changed and what has stayed the same.
" The clothes people are wearing has changed. In the new photo there's someone wearing jeans."
"There are cars and stop-lights in modern times and in 1898 you traveled with a horse and carriage."
" I think there's something the same about the architecture of the building – the window on the edge is popping out."
Then students started to make personal connections and someone yelled out, "Wait, that's 4th Street and C Street!" "Oh yeah- That's Sabor of Spain!" "I've been there!" Ah Ha, the moment of discovery! Students begin to use clues from the knowledge they have outside of school.
Next students created a layered artwork using historical and contemporary photos of San Rafael. They traced contour lines of either the past or the present and overlapped it on the image they didn't trace.
This action created a conversation or visual relationship between the two time periods, allowing students to see what had changed and what had stayed the same, but also thinking about the layers of history. These layers of history are similar to the layers of of a painting.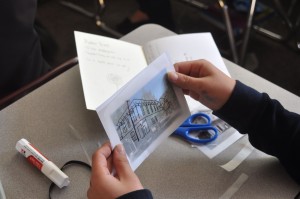 Often things are covered up and you have to look closely to see what's changed, and to see the truth.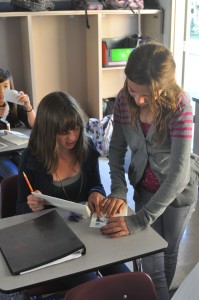 Students reflected on their arts-process and discussed how it made connections to what they were studying in history.
Historical Thinking Lesson Plan, PDF created by Brooke Toczylowski.
Please click below to read the May SMCSD Arts Newsletter