Circles come in all colors and sizes. We can find them everywhere.
Students in Kathleen Haulot's class at San Ramon Elementary School used Mason jar lids, tape rolls, tiny dishes and an empty yogurt container to make circles on black paper. Inspired by the work of Kandinsky, these young artists explored making circles big and small, loose and tight, thick and thin.
The students are working with Mentor Artist Cathy Bowman as part of a 10-week residency at Olive Elementary School in Novato. This is the second year she has worked with Kathleen, whose students range in age from kindergarten to second grade. She taught the same project at Olive Elementary School with Joe Smith.
The artists used thick, creamy tempera crayons that are easy to hold and use for students experiencing disabilities. Instead of working on white paper, they drew on black. The stark contrast created visual interest, and students had to think about what happens when yellow is applied to black paper (more green) than white paper (more yellow).
"I want my students to know the joy of making art with anything, and working on black paper produces exciting, dramatic art," Cathy said. "This is a great way for students to practice fine motor skills because they have to hold the lid with one hand and trace with the other."
Cathy likes Mason jar lids because they are sturdy and easy to hold. Artists had fun using different objects to make different circles. When we finished, we put them together on a table and talked about how each piece connected with the others. Reflection on art making is a key part of our Youth in Arts' programs, and it's wonderful to witness the many ways students share their voices.
Youth in Arts is the only provider of arts classes (visual, dance or music) to nearly 40 self-contained classrooms of students experiencing disabilities in Marin County. You can see art created by these very talented students this summer at our annual "Outside the Lines" art exhibit at the Youth in Arts Gallery.
Dozens of young artists and their families celebrated at the Artists Awards Reception for RISING STARS, the annual Youth in Arts exhibit that showcases the best of public, private and alternative high school art.
Sir Francis Drake High School student Annabelle Sulprizio won Best of Show for her pair of beautifully carved vases. Other award winners included Alessandra Sutton for Best Painting, Helen Kun for Best Photograph, Keira Engler for Best Sculpture, Lily Gates for Best Drawing, and Ina Kim for Best Mixed Media. The full list of winners can be found HERE.
Nearly 300 people turned out in the bright sunshine and rotated through the show at a private reception on Sunday. The show features painting, drawing, sculpture, mixed media, photography, printmaking and digital media.
Annabelle said Geometric/Repeat Pattern Vase Set was inspired by videos she watched showing master carvers from Japan and China. Sulprizio takes honor ceramics with teacher Beth Cederstrom. "I call her my at school mom," Annabelle said. "She make the ceramics room a space where you can feel comfortable and like you are at at home."
"What really stood out about this piece was the intricate detail. It was the only work that the judges unanimously chose as the winner of a category," said Morgan Schauffler, development associate at Youth in Arts who organized the show and manages the gallery.
The group artwork from TeamWorks program at Loma Alta School, an art education program that supports students involved in the juvenile justice system, won the new Rezaian Family Award given by Youth in Arts' board president Naomi Tamura and her family. TeamWorks director Katya McCulloch said the work, titled C.H.O.I.C.E., is a mixed media piece that features many different keys; the "O" holds the keyhole. The title stands for Creating Healthy Choices In Challenging Environments. "I loved it," Katya said. "I feel like we've touched on the soul of what TeamWorks is about. The choice is the key – making healthy choices."
Dylan, an artist at Compass Academy who studies with Youth in Arts' Mentor Artist Marty Meade, won an award from AC Graphics for her untitled digital painting of a saber-toothed cyclops lynx. "I absolutely love cyclops," Dylan shared.
College of Marin also awarded six scholarships to best of show and best in category winners, giving them a semester of tuition-free classes.
The show runs through March 27. The opening reception will be held Feb. 14 from 5 to 8 p.m., which coincides with the 2nd Friday Art Walk in San Rafael. 
The exhibition was blindly adjudicated.This year's judges included painter Kay Carlson from Marin Open Studios; sculptor and fine arts instructor Patricia Hulin from College of Marin; photographer and creative consultant Melissa McArdle; and Lynn Sondag, chair of Dominican University's Department of Art, Art History, Media and Design. Thank you to our sponsors AC Graphics, College of Marin, Il Davide, Marin Open Studios, Perry's Art Supplies & Framing, the Walker Rezaian family, RileyStreet Art Supply and the San Anselmo Arts Commission.
Artist Susan Diglioni founded Rising Stars in 1991, believing that young artists should be recognized for their talents.The exhibit travels to the Marin Center in April, where it will be on display in the Bartolini Gallery April 9 – May 31.
The YIA Gallery is one of the few in the nation devoted to showcasing children's art. Regular gallery hours are Monday to Friday, 11 a.m. to 4 p.m.
What do we need to play? How can we make it? How can we work together? Kindergarteners at Laurel Dell Elementary School in San Rafael spent a wonderful day building imaginary playgrounds.
Using large pieces of black foam core board at each table, students applied skills they had previously learned about shaping paper. Twisting long strips around pencils made spirals; making feet with folds allowed them to make swings. Folding accordion style made the stairs they needed to climb to a slide.
The young artists also explored pattern but using paper with patterns and creating their own patterns on plain paper with pastels. Working with Youth in Arts Mentor Artist Cathy Bowman, we talked about other patterns we saw in the classroom and what connections we could make. How could we work together? How could we connect our ideas to make one playground?
The project offered rich opportunities for Social Emotional Learning through collaboration and sharing. When one little boy wanted shiny paper, several of his classmates offered him some. In another class, a student happily translated the instructions for her table mate, an English Language Learner. Teacher Alejandra Vazquez helped students connect the project to their real world experience by pointing to the blacktop outside their temporary classroom. If you could design the playground of your dreams, she asked, what would it look like? If you needed shade from the hot sun, how would you find it?
At Youth in Arts, we work hard to scaffold projects, building each week on skills learned earlier in the residency. The project was the second time students created playgrounds. Two weeks earlier. they made smaller, individual playgrounds; the following week they drew their own and a friend's playground on paper,  figuring out how they could connect them.
At the end of class, students went on a gallery walk with their hands behind their back to look at each other's art. We had a rich discussion about similarities we saw in color, shape and line and all the ways we can make connections.
The program is part of the Walker Rezaian Creative HeArts Fund created by Youth in Arts and the Rezaian family and generously supported by the Rezaians. It celebrates Walker's life and love of the arts and is built around friendship and social emotional learning. How do we make and keep friends? What happens if we both want to build a slide in the same place? It gives children a chance to explore those and other questions in a safe, artistic place.
How do we build a tower? What makes us powerful? How can we build a bridge to connect our current and future selves? Fourth graders at Laurel Dell Elementary School considered these and other questions as they practiced design and build skills through Youth in Arts' Architects in Schools program.
Through a 12-week residency with Mentor Artist Cathy Bowman, students measured, designed, built, and drew. They began the residency by coming up with five words to describe themselves and building "towers of power." Each student received a four-inch square base and had to build within the constraints of that size. After building individual towers, they formed pairs and brainstormed ways to connect the towers as a single bridge.
The residency ended with the creation of tiny bridges within a wooden box, connecting their current and future selves. Students spent time brainstorming about what they wanted to be, any obstacles they needed to overcome, and what career they wish to pursue. They looked at bridges from around the world and considered how they were designed, taking into account strength and aesthetics. They developed visual images for each, such as books for a career as a librarian and a camera and globe for a future world traveler. The building materials were simple: toothpicks, buttons, Q-tips, paper scraps and other found objects.
"It was really exciting to see students improve from week to week, tackling each project with curiosity," Cathy said. "It's important to find as many ways as possible to support young people as they try to find out who they are and who they want to become."
With the pilot project now in its fourth year, Youth in Arts placed mentor artists or teaching architects in K-5th grade classes at Laurel Dell Elementary School in San Rafael. Each grade's curriculum builds on the previous year's skills. As with all our programs, we strive to foster confidence, creativity and compassion in all learners by offering innovative programs and teaching multiple ways. The Architects in Schools program was launched in 2016 with Youth in Arts in collaboration with UC Berkeley's Y-PLAN/Center for Cities + Schools .
We hope to expand this program to more sites in the future.

By Mentor Artist Cathy Bowman
This year, I decided to start all of my art classes with a Brain Dance, a series of movements developed by dance educator and author Anne Green Gilbert to wake up the brain and improve focus. Often I see students at the end or beginning of the day, when they are restless or tired.  My five-minute version of the Brain Dance helps reinvigorate them while focusing on re-mapping of brain-body connections.
Inevitably it's the wiggly students, the ones who need it the most, who are the most resistant. As an introduction activity, the Brain Dance acts as a daily assessment tool for my students. Who is having trouble calming their body or mind? Who has trouble with cross lateral movements? Who confuses left and right? Even, how is their sense of self today? Watching them move gives me valuable information about what skills they may find challenging when it comes to art making or the level of engagement I may need to address.
The dance includes eight patterns of movement, starting and ending with the breath. Deep breathing is essential for all healthy bodies. When children are stressed, it's no coincidence that they take short, shallow breaths. Starting and ending with belly breaths means more oxygen for young brains. From breath, the Brain Dance moves through the developmental patterns of movement (the movements we take in our first year after birth) to the most integrated pattern, cross-lateral connectivity. Cross-lateral is the pattern that crosses the four quadrants of the body (upper, lower, right, left) which supports higher thinking and even eye tracking used for reading and reading-readiness.
Recently I had a kindergartener who always wore a serious expression. Adrian solemnly watched his classmates do the Brain Dance, week after week, without joining in. On the seventh week, he spontaneously started participating in the warm up with a big smile on his face. Instead of saying "good job" or "well done" (vague) I looked for something specific in Adrian's movements that I could point out, and others could follow.  He found confidence in his kinesthetic learning that day; and my acknowledgement of his effort (by name) reinforced his effort and ability. He became a positive role model for the rest of the class.
When I started doing the Brain Dance it felt uncomfortable for me, since I see myself as a visual artist rather than a dancer. But as we learn more about how children learn and absorb information in multiple ways, integrating different art forms makes sense. When Laurel Dell 2nd graders visited the YIA Gallery recently, they learned an extended version of the Brain Dance from Youth in Arts' Executive Director Kristen Jacobson. I picked up some tips as well.
The Brain Dance also helps teachers stay centered and focused.  Who doesn't need a belly breath during the day? You can learn more about the Brain Dance by viewing this video, Brain Dance, which is a part of Youth in Arts Digital Tool Kit.
Thank you to our very generous donors, sponsors and partners:
We are excited to announce that architect Shirl Buss, who has helped develop Youth in Arts' Architects in Schools program for elementary school children in Marin, has won the 2019 Pamela Levine award!
The Pamela Levine Arts Education Leadership Award was presented at the opening of the Inspire art exhibit at the YIA Gallery. Now in its fifth year, the Inspire exhibit showcases the personal work of teaching artists that was inspired by their work with students. Visual Arts Director Suzanne Joyal presented the award to Shirl on behalf of the Youth in Arts board and staff. The award is given to individuals for exceptional accomplishments in arts education in memory of Youth in Arts' former Executive Director Pamela Levine.
"I have had the pleasure of working with Shirl for the past four years, when she began teaching architecture at Laurel Dell. I have learned so much from her," Suzanne said in an address to Shirl. "She clearly embodies Youth in Arts' goals for learners: Creativity, Compassion and Confidence through arts learning. It is clear to all who work with you, Shirl, that you love what you do, and you love your students." Suzanne continued. "The respect you have for creatives of all sizes is clear in every interaction you have with people."

Shirl is a designer, planner and educator whose work focuses on children, youth and the built environment. She holds a masters in Early Childhood Development and an M.Arch and Ph.D from the UCLA Graduate School of Architecture and Urban Planning. Shirl is the Y-PLAN Elementary Director at the Center for Cities + Schools at UC Berkeley. At Laurel Dell Elementary School in San Rafael, she is a key member of a team of Youth in Arts Mentor Artists teaching design and build skills to 3rd, 4th, and 5th graders.
More than 60 people turned out for the celebration, many of them friends and colleagues who work with Buss in the East Bay. Also in attendance was Youth in Arts Executive Director Kristen Jacobson and Pepe Gonzalez, principal of Laurel Dell and Short elementary schools.
"If you guys saw the artwork that these kids have created – 3 Dimensional, to scale, not to scale … it's everything that the Common Core was supposed to be," Pepe said. "These kids are living it and breathing it and doing it every day."
Suzanne also read comments from Laurel Dell students who have studied with Shirl: 
"Dear Ms. Buss, you taught me and my class how to speak in public, also how to be a creative scholar. You gave me the opportunity to think about my future chances," wrote one student. 
Another wrote: "Dear Ms. Buss, you taught me to never give up. You make me happy." 
Some students talked about how much Ms.Buss inspired them when they made model tree houses.
"Dear Ms. Buss, thank you for teaching me to be creative and bringing my imagination to another level," one student wrote. "You are like a bird in the sky teaching kids to use their imagination."
The Inspire exhibit is on display through Jan. 17 at the YIA Gallery, located at 917 C St. in the beautiful Downtown San Rafael Arts District. Regular gallery hours are Monday through Friday, 11 am. to 4 p.m. The Art Lab is always open when we are: children and grown-ups can come in and make art for free.

How do I make brown? How many different shades of brown can I make? Second graders at Short and Laurel Dell elementary schools practiced mixing colors using only the primaries red, yellow and blue plus white.
We worked with tempera paint, waxy black markers and mat board. First we traced our own hands and the hands of our table mates, overlapping to create interesting shapes. We mixed different browns carefully and painted in each area. It was fun to see how purple and yellow make a brown that is different from the brown that blue and orange makes. We used donated mat board instead of paper to give students a velvety and durable service on which to work. Mat board is especially helpful with children with learning differences as it offers a strong sensory response, and won't crumple with lots of paint.
Working with Youth in Arts Mentor Artist Cathy Bowman, we have been exploring identity and our role in our communities and neighborhoods. The lesson followed a multi-week project in which students created richly detailed murals using collage papers, pastels and glue. In each class, we designed and envisioned our dream neighborhood after looking at artists Romare Bearden, Faith Ringgold and others.
Thank you to Lo Forti Fine Prints in San Anselmo for the generous donation of mat board.
Concluding an Arts Unite Us residency at Magnolia Park School, Youth in Arts Mentor Artist Julia James and her students used their last day together to finish a collaborative painting they had been working on for over six weeks. The project began early on in the residency as students experimented with various tools and materials. Over the ten-week program, oil pastels, tempera paint, watercolors, rollers and different tools were used to make new textures and colors.
The first few layers of the painting demonstrated some of the early skill-building that students participated in. As we learned more about what materials were available and how to use them, we built upon our initial work using adaptive mark-making tools. Each week we practiced fine a gross-motor movement and built fine arts skills in color mixing, paint application, and decision-making.
On the last day of class, we gathered together to reflect on the artwork and come up with a title based on what we saw in our painting. We discussed the colors we had chosen, and thought collectively about what our artwork made us think about, and how it made us feel. During our conversation and throughout the residency, we worked on building our social emotional core competencies by exercising our sharing, listening, decision-making and collaboration skills.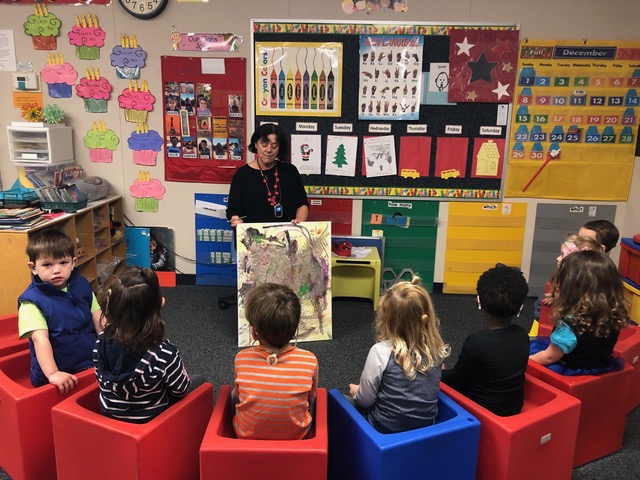 Together, we decided that our classroom painting would be called, "The Story of the Leaf". Can you see it too?
This program was made possible thanks to the generous support of our partners.
We love to connect with students in the Youth in Arts Gallery! The YIA Gallery is one of the few in the nation devoted solely to showcasing art by children.
Olive Elementary School kindergarten and first grade students visited the YIA Gallery recently for a field trip that explored shapes, systems and machines. Their teacher Emma Donovan had participated in this summer's STEAM institute with Youth in Arts, the Marin County Office of Education and other experts. She wanted her students to have an experience connected to what she learned in the STEAM Institute.
"Our free field trips are a wonderful opportunity to tie classroom curriculum to arts learning," said Youth in Arts' Development Director Kelsey Rieger. "This experience was focused on STEAM with embodied learning teaching."
Kelsey was joined by Visual Arts Director Suzanne Joyal and Mentor Artist Cathy Bowman. We took the students on a gallery walk to look at the child-created works in the gallery, followed by the Brain Dance to warm up. We talked about circles we could make sitting down, and circles we could see in the art. We made circles with our elbows and noses. In the YIA Studio, we sat in a big circle and learned about systems and machines, first by pushing a giant purple ball back and forth at different speeds. We noticed that a ball can't move by itself. While holding hands, we also sent energy around the room with a silent squeeze. It took concentration and practice to not lose the squeeze.
The final exercise was a fun way to talk about machines. Students were proud to show what they knew about different kinds of machines, and what those machines could do. Suzanne started the exercise by making a machine motion and sound.  As she continued, the next volunteer joined her to make a sound and motion that connected to hers. More students joined in, each making a different sound and motion. In the end, we had a large human-made machine with noises and motions working together.
We talked about where our machines lived and what they could do. One group made a machine that made snowflakes and lived in the ocean; another imaginary machine  handled climate change in the desert.  We concluded the field trip by creating a machine which included everyone and was made of familiar sounds and motions: a train.
Field trips are 45 minutes and always feature an age-appropriate hands-on arts activity. Children also learn techniques for looking at and talking about art. For more information, contact Youth in Arts' Program Director, Kelsey Rieger: kelsey@youthinarts.org or at (415) 457-4878 x110.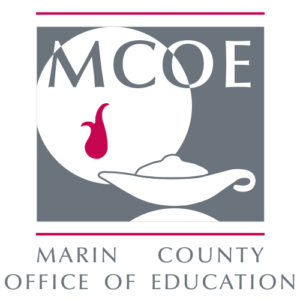 Nearly 50 arts lovers stopped by the Youth in Arts' gallery recently to celebrate our current show and meet new Executive Director Kristen Jacobson.
Imagine Our World: In My Neighborhood runs until Dec. 6. The show features second grade art from Laurel Dell and Short elementary schools, including two large collages in which students envisioned their ideal neighborhood. Students connected to the idea that working together builds a stronger community. The show includes work made by young artists in response to the recent power outages and fires.
The show also features collaborative artwork from Youth in Arts' booth at the West End Village Celebration on November 4. Over 100 artists of all ages contributed to two large-scale murals, and a community collage. Participants were encouraged to express their feelings about the Power Safety Shutoff through art making.
Jacobson thanked everyone for their support and said she was looking forward to getting down to work.
"I'm so moved and inspired by the work of the incredible artists and the legacy that is here in Marin," Jacobson said. "I'm excited to focus on access to arts education, and equity for all" she said.
With the continued support of the California Arts Council, Laurel Dell's PTA, UC Berkeley's Y-Plan and RileyStreet Art Supply, Youth in Arts has designed a sequential arts program for students to build their skills over time. Every student receives 12 weeks of visual arts in the Fall and 12 weeks of dance in the Spring.
Youth in Arts has provided Mentor Artists to Laurel Dell Elementary School for almost 20 years. For the past four, however, Laurel Dell has been home to our demonstration project: a sequential, scaffolded arts program focused on the core competencies of Youth in Arts: Creativity, Compassion, and Confidence through arts learning. The program was designed by our Director of Visual Arts Suzanne Joyal. During their 12 weeks of visual arts in the Fall and 12 weeks of dance in the Spring, students learn to express themselves verbally, visually and physically in multiple art forms.
Older Entries »