Friends come in all shapes and sizes!
"Imagining Friendship" is at the YIA Gallery in San Rafael through May 24. The show features the colorful self portraits by kindergarteners and first graders at Laurel Dell Elementary School. The work was part of a residency this Fall with Youth in Arts' mentor artists Suzanne Joyal and Cathy Bowman.
The Walker Rezaian Creative HeArts exhibition is now in its fifth year. The show celebrates the life of 5-year-old Walker Rezaian and his love of the arts. The show is part of a program funded by the Rezaian family.
"This is an exciting show that celebrates friendship in all its forms," said Youth in Arts' Executive Director Miko Lee. "The exhibition also features a wonderful cardboard for exploring. The exhibit shows families that art can be made from anything."
As a backdrop for the show, Joyal and Bowman built a kid-sized, interactive cardboard world with tunnels to crawl through and doors to open. There are windows to look in and out of and a cardboard word game to encourage visitors to read and write. The show also features a giant word tower made from cardboard boxes inspired by the work of artist Corita Kent. The cardboard was generously donated by Sunrise Home.
Youth in Arts is also excited to announce the opening of its new ART LAB, housed in the YIA store. The ART LAB is open during regular Youth in Arts' hours, Monday through Friday from 11 a.m. to 4 p.m.
Mentor Artists Suzanne Joyal and Miko Lee hosted the Butterfly group from Miss Nicky's Preschool for a gallery visit today.  Inspired by the exhibit "Without Words" students observed the colorful artwork and then were led through a series of theatre exercises around using their bodies and their imaginations to express their feelings. Students used their imaginary multicolored wings to fly from the YIA Gallery into the Studio.
Suzanne then introduced the 3-4 year old artists to the Creative San Rafael project by creating art inspired by the
quote by Writer Bret Harte
"A bird in hand is a certainty.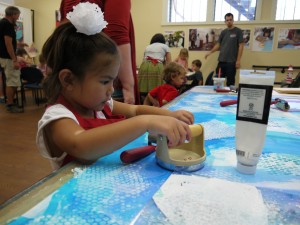 But a bird in the bush may sing."
Students learned how to mix the color brown and utilize print making skills to add to the sky blue. The team was so engaged and excited by their creations!
They learned that "Public Art" means their work will be shared with the community in a mural that they will all be a part of. A fun day for all!
UPDATE: Click here to read about our second group from Miss Nicky's who visited on Friday, August 1.
To schedule a Free Gallery Visit with hands on for your school group get more info here. Please note that summer time hours are variable and visitors must arrange an appointment.
Thanks to the California Arts Council for supporting this work.
Youth in Arts gallery show Mary's Gift featuring Art from children at Bahia Vista had a wonderful, joyous opening celebration. The gallery was packed with families creating art around the words teacher Mary Donovan-Kansora felt strongly about.
School groups are invited for a free gallery exploration and hands on art making through March 29.  More information here.