Mentor Artist June Li provides notes on her experience at Marina Middle School in San Francisco teaching traditional Chinese brush painting.
Chinese traditional brush painting has developed continuously over a period of more than 5000 years. It is the most simple and expressive visual art form. Main tools include brush, ink and rice paper. Composition and space are the most important elements for the mindset. Seal and calligraphy are the final touches that express the theme and views on art and life.
I designed this six-session program for middle school students to have a fundamental understanding of this art form.
Through domesticated native figures from China, such as bamboo trees, wild orchid flowers and panda bears, students learned brush techniques and basic strokes.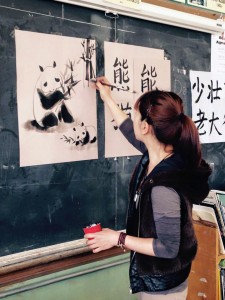 Students had great fun, played with the ink and created their conceptual expressive art.
Recently, families from Harding Elementary School in El Cerrito joined Youth in Arts Mentor Artists in a Passport Art Event.  Participants received a paper "passport" and traveled to various countries and exploring their art forms during this evening event.
Outside the Multipurpose room we danced to the beats of Brazilian Samba Reggae with YIA Mentor Artist Stephanie Bastos.  Stephanie has been teaching dance in the K-3 classrooms throughout the school year and during this event students, parents and siblings got the opportunity to dance together with her.
There were many moments of dance solos that were not to be missed! Inside, we swayed to the melodies and rhythms of Persian Classical Dance with YIA Mentor Artist Shahrzad Khorsandi.  Dancers got to use beautifully decorated scarves to highlight the dance movements.  We also learned about the instrumentation with live music provided by Pourya Khademi.
Utilizing special rice paper and bamboo brushes, YIA Mentor Artists Julia James and Miko Lee led participants in Chinese Brush Painting techniques to create beautiful paintings of bamboo.  Artists also learned how to make their special "chop" or, signature in the corner of their painting.
We also created tin medallions representing our Mayan Nahual or, birth sign.  Using the Mayan Calendar, each person calculates their Nahual, which indicates the "essence" of their spirit according to Mayan beliefs.  We used wooden stylus to etch in the outline of our Nahual and colored them with markers.
Youth in Arts is thankful to all of the families staff and friends who showed up
and traveled the world with us!  We look forward to continuing our day-time programs in K-6th grades which will culminate in sharing events later this month.  YIA Mentor Artist Thomas Arndt is teaching theater classes during school as well as in a special after school group dedicated to writing, producing and performing an original theater piece that addresses issues of acceptance, friendship, appreciating differences and being true to yourself.  Stay tuned for a performance date!
Thank you to the Thomas J. Long Foundation for making this program possible!  With their support, we are able to provide financial aid for year-long arts programming at Harding Elementary and celebrate our diversity and expression in many forms!
To find out how you can bring this to your community, click here.
On October 4, the Ross School community "Traveled the World" with Youth in Arts!
All 376 students at Ross were able to experience one of our unique "Passport Art Events," experiencing visual and performing art forms from multiple continents as they moved class by class through Africa, South America, North America and Asia.
Students sang and stepped to the beat of Africa through Ghanaian dance-drumming classes led by Mentor Artists Joti Singh and Mory Fofana.
Mentor Artists Francy Vidal and Edmund Badoux sang and played music from the Andes region of South America, and students "oohed" and "ahhed" over the array of distinctive instruments. The children were stunned by the long horn that Edmund played and amazed to see reed instruments made out of a feather.
Mentor Artist June Li taught students to paint bamboo stalks and a panda using traditional Chinese rice paper and bamboo brushes. Assistant Artist Justine Delfino was a great help in showing students the proper way to hold their brush.  June was thrilled to take a group photo to send to her family in Taiwan and show how she was passing on the traditions of her homeland.
Mentor Artists Suzanne Joyal and Sophie Cooper led Guatemalan kite making. Sophie spoke of her experiences living in Guatemala, and then students worked in pairs to create individual mosaic paper triangles, which were adhered to white silk and attached to 12-foot long bamboo poles. The final product, "A Community Kite Honoring the Ancestors," is on display at the school.
The entire school community joined together right after lunch for a massive dance party led by Joti Singh's Duniya Dance company.  "This is better then a flash mob," said Superintendent Chi Kim.  One enthusiastic student exclaimed to Superintendent Kim, "Let's do it again next week!"
"Well, we can work on it for next year!" replied the Superintendent.  Youth in Arts is proud to bring the arts of the world to the local schools through our "Passport Events" and all our "Travel the World" programs.