YIA Mentor Artist Ernesto Olmos shares his experience with students at University Prep at the Canal Alliance–
We had a very successful visual art program at Canal Alliance.  The students learned about several different art techniques. They learned basic concepts of drawing including: point, line, and composition.  They learned how to draw comics as well.  The students also used hard pastel crayons and oil pastels, to create wonderful landscapes.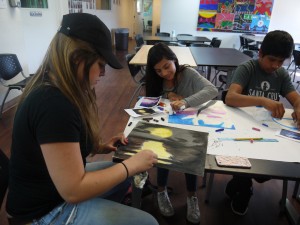 For the painting section of the residency, the students had the opportunity to experiment.  They created ancient prehistoric cave art using natural pigments made from soil, carbon, limestone and hard pastels.
For the last part of the residency, the students learned contemporary acrylic techniques. I shared how to use the acrylic medium to create different textures.  The students used pictures of animals and landscapes for reference.  They created wonderful, imaginative artwork.
I loved working with these talented youth.  It was a pleasure to share my art techniques with them.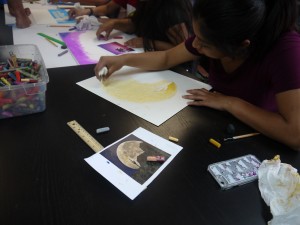 This month, Youth in Arts C Street Project artists Christopher Do, Ayame Keane-Lee, Marikit Mayeno and Joselyn De Leon have been working with Mentor Artist Cathy Bowman to create an original comic book for Litquake San Rafael, as well as a giant-sized "walkable" illustrated story in our YIA Gallery in Downtown San Rafael.
On Saturday, October 8, C Street Project artists hand-colored dozens of copies of their finished comic book Floating with purple and yellow colors that are important elements of their story. They delivered the books to Blue Moon Comics, where Litquake visitors could pick up a free copy and follow a trail of footprints to YIA Gallery. At the gallery, visitors were able to illustrate their own ending to the story and participate in a workshop with Mentor Artist Cathy Bowman on comic book drawing and design techniques.
C Street Project artists also used a press to create original printed images, both to decorate the outsides of the comic book, and as bookmarks for YIA Gallery visitors to take home with them.
On Sunday, the young artists worked with Youth in Arts Mentor Artists to hand-enlarge their book pages to panels that now fill YIA Gallery. They hand-colored each panel and drew their own "bubble worlds" (another story element) which will be strategically hung from the ceiling.
On each "bubble world," one side of the bubble shows a world the artist wants to see (i.e. a healthy natural world or engaging schooling for everyone) and the other side shows an aspect of the world they want to change (i.e. factories belching pollution or girls excluded from school).
Come visit C Street Project's "Walkable Comics" exhibit free to the public at YIA Gallery through November 18, Monday through Friday 11 am to 4 pm.
We'll also be open free to the public on Friday, October 14 and Friday, October 11 from 5-8 pm for Art Walk Downtown. If you'd like to bring your school or youth group on a private tour with a guided hands-on art activity, contact Jen Daly at jdaly@youthianrts.org (reservations required).
Or see the show when you join us on Saturday, November 5 to "Paint, Print, Cut & Create" at our art-making studio fundraiser ($30 Teens & Adults and $10 Children–info and tickets at youthinarts.ticketleap.com)
Youth in Arts Mentor Artist Cathy Bowman is an award-winning cartoonist and writer who draws for print and online publications. She is the author and illustrator of the mini-comic, "The Old Cat and the Sea." She reports below on her work at Harding Elementary School in El Cerrito.
Teens interested in learning to create their own original comics with Cathy this October should click HERE to check out our C Street Project "Walkable Comics" workshop this October!
This past Spring, Harding Elementary School students learned to write and illustrate their own comics. Comics are part of a rich tradition of storytelling, and Harding's 4th, 5th and 6th grade students were excited to learn about this time honored art form.
Some students wrote short mysteries, starring protagonists that ranged from a talking donut to a n'er-do-well pencil. Others chose familiar storylines–friends on a basketball court, at a park or at school. Some drew their families. One 4th grade girl wrote about the adventures of leukocytes in the human body. Along the way they learned about facial expressions, body positions and how to create drama and action from panel to panel.
One of the biggest challenges was deciding which parts of a story to tell visually and which parts to tell with words. Students learned about speech bubbles, thought bubbles, action words and more. It was exciting to see students learn to draw 3-D objects like couches and chairs while creating images of home or school.
At the end of the session, students learned about lettering and cover art. Using a few colors, they created eye-catching covers.
This summer Suzanne Joyal and myself have been guest visual arts specialists at the Marinwood Summer Day Camps program. My first two workshops were Funny Comics (7/11) and Sculpt Like Michaelangelo: Working With Clay (7/25).
In Funny Comics, we used professional techniques to unlock our creativity. First, our young artists responded to a selection of rapid-fire writing prompts, followed by a selection of rapid-fire drawing prompts. Next, we put together the writing with the drawings to make unusual and humorous connections. Finally, the artists either re-drew their new comic, making changes to improve the humor, or were inspired to make a new comic all-together.
For our clay workshop, I introduced and instructed in the techniques of the pinch pot, the coil, and the slab. We then constructed lidded jars out of air-dry clay. Some of the artists chose to embed beads, sequins, and glitter in their jars! Being summer, many of the artists shaped their jars like ice cream cones and sundaes, or other creative forms, like an Egyptian canopic jar! the artists used our remaining session time to sculpt whatever they like using the techniques they had practiced.
-Gabrielle Gamboa