Cascade Canyon School families gathered earlier this Fall to make family flags as part of a Youth in Arts visual arts residency. Working with Mentor Artist Cathy Bowman and Program Director Morgan Schauffler, families participated in a lively discussion about the meaning of symbols and what shapes best represented each family. The artists began by tracing their images on scratch paper, then transferring onto recycled canvas panels. They decided which lines and shapes to keep, and traced over those with a black pen. Artists then used black Sharpie pens, oil pastels and watercolors to complete their pieces. Artists were encouraged to think beyond familiar symbols such as a heart or peace sign and consider using shapes that had no name or familiar form. The event was a great chance for parents and their children to collaborate artistically.  Thank you Cascade Canyon!
Kindergarenters have spent weeks learning about lines and observational drawing, and now it's time to show what we know. Students were given mirrors and asked to make faces: what does happy look like? Sad? Angry? Surprised? We then talked about our friends faces and what we can do to keep them smiling. Children had the opportunity to experiment with mirrors.
Next, we made emotions faces: four quick sketches showing our faces with different emotions. Students added color with their colored pencils. Regular practice has made them pros with color.
In our third week of portraits, we went big on beautiful heavy watercolor paper (thank you RileyStreet for making sure we have the best supplies). Once students had practiced drawing a big oval with just their finger on the paper, they were given pencils then sharpies. Don't forget the details (hair, eyelashes, eyebrows, ears, etc).
And then comes color! In oil pastels then liquid watercolors. I'm glad to have the super strong watercolor paper.
And finally, tell me a story with your picture frame. What do you love? What have you learned? What do you want people to know about you?
You can see all of the beautiful Kindergarten Art in our Gallery at Youth in Arts April 14-May 26.
Youth in Arts thanks the Creative HeArts Fund and the Tamura and Rezaian families for their ongoing support for this program.
This activity is supported in part by the California Arts Council, a state agency.
Last night, sounds of laughter, music and stories filled the auditorium on the campus of Laurel Dell Elementary School as Youth in Arts conducted the second Family Art Night as part of the Walker Rezaian Creative HeARTS Fund.
Mentor Artist Suzanne Joyal led the intergenerational crowd in making a book entitled, "With Our Hands." Caregivers and their children outlined their hands on recycled maps and then decided what their hands could do together. The book will go on display in the "Imagining Friendship" Gallery Exhibit opening at YIA Gallery on April 8.
Meanwhile Executive Director Miko Lee led families in an old fashioned quilting bee, sewing diamond shapes onto a 12′ Guatemalan kite. The kite pieces were designed at the enthusiastic Family Art Night in February. There were so many diamond shapes designed that Youth in Arts will create an additional kite.
Suzanne will be headed back to the school to make sure as many students as possible are included in this additional finished kite. The kites were designed to celebrate community and be mobile. The finished kites will be unveiled at the YIA Gallery and then will move to the temporary school site while Laurel Dell is under construction.  The collaborative artwork will travel with the community.
Thanks to our amazing volunteers: Stephanie Daly for ironing the diamonds onto the kite and recreating the centerpiece, and to youth volunteers Lena and Haley for helping out on the Family Nights. And a great thanks to all the parents, caregivers, teachers and children that came out to make art with us. We know you have so many things to do and we are thrilled when you join us to create, collaborate, and build friendships. As Principal Pepe Gonzalez summed up, "Another great night with Youth in Arts!"
Thanks to the Walker Rezaian Creative HeArts Fund and the California Arts Council for making this possible.
(By Paris Dowd, intern. This was her first attempt at designing an art lesson for the classrooms. It was a huge success!)
"This week we introduced the TK and kindergarteners at Laurel Dell to oil pastels. The kids worked together in groups, sharing the paper and the materials (including the pastels, baby oil and sponges for blending and sticks for scratching a drawing on the surface of the color). The goal was to color the large pieces of paper covering the tables while learning to blend and experiment using the new medium. Students were given shades of green, yellow, blue and white pastels to work with and asked to create as many new colors as possible.
After working in this way with the pastels, I observed a few of the kids switching to using colored pencils to draw and scribble with overlapping lines in their personal art journals.  It seemed that the kids were excited to continue exploring blending techniques across a range of mediums."
(Paris is an intern working with the students at Laurel Dell to create process books using the Making Learning Visible (MLV) technique out of Harvard School of Education's Project Zero. Each week Paris shows students pictures of themselves at work, and asks them to reflect on their art: what they learned, how they helped others, what was challenging, and more. MLV makes reflecting, writing, speaking, and collaborating so easy for even the youngest learners.)
We created the paths for our playgrounds, we created our clients, now it's time to build! Transitional K and kindergarteners are learning to take paper from 2 dimensions to three as they imagine and create beautiful playgrounds using strips of paper, scissors and glue.
We finished the day by combining playgrounds so that students and their tiny friends could play together and share their creations. Students also continued to share their thoughts with Paris, who added them to our process books–Making Learning Visible.
Families from Harding Elementary School in El Cerrito joined Youth in Arts Mentor Artists in traveling the world last week!  Upon arrival, our travelers received a passport to carry with them as they visited Mexico, Africa, Hawaii, and created a mural.
Outside the multipurpose room, we danced, played and sang traditional songs from various regions of Mexico with YIA Mentor Artists Nydia Gonzalez and Dolores Garcia.  Travelers learned various rhythms to play on panderos (tamborines), quijadas (donkey jaws) and wooden frogs.  Dancers tapped these rhythms out with their feet on tarimas (wooden platforms) and imitated various animals including colorful guacamayas (macaws), ducks, and vultures.  We also learned about many of the traditional stringed instruments from Mexico including the vihuela, jarana huasteca, jarana jarocha, and guitarra de son.
Inspired by African Adinkra symbols and their meanings, YIA Mentor Artist Beth Krebs lea
d families in creating original prints that represent their family's beliefs and values. Travelers also designed their own original symbols. Travelers began by quickly sketching three ideas for stamp designs. Next, they chose their favorite, drew it again on sticky-backed foam. Travelers then considered positive and negative space as they cut out their shapes, and stuck it to squares of cardboard. They used brayers to roll out their ink and spread it on their plates before then stamping their shapes on to a community wall hanging.
We also sailed to the Hawaiian islands with YIA Mentor Artist Shawna Alapa'i, swaying hips to traditional hula dances, chanting and playing instruments.  Boys wore traditional kukui nut leis and everyone learned to play the ipu (gourd percussion instrument) and learn about ancient beliefs and stories of the Hawaiian people.  Travelers learned traditional chants and hand gestures while dancing to the music of the ukelele.
Young artists joined YIA Mentor Artist Julia James in creating a beautiful mural of birds from around the world flying together.  Students looked at birds from around the world and created paper birds using oil pastels, markers and water colors.  All of the birds were added to the collaborative mural to represent the beautiful diversity of Harding Elementary.
Thank you to the Thomas J Long Foundation and the Green Foundation for their continued support and making this program possible.
This week Youth in Arts celebrated art and friendship with Kindergarten students and their families at Bahia Vista Elementary School.   Optimism and friendship are two important themes in Kindergarten and YIA Mentor Artist and Program Director Suzanne Joyal lead families in an
evening creating art around these topics.
We started out talking about how we can be good friends and singing a song in Spanish and American Sign Language about friendship with YIA Mentor Artist Nydia Gonzalez.  Sharing, supporting, listening, respecting and playing were definitely important and students made it clear that they feel great when with a good friend!
Teacher Suzanne then lead everyone in creating a beautiful Tree of Hopes, adorned with drawings depicting everyone's hopes and dreams for the future.
For the past few months YIA Mentor Artist and Program Director Suzanne Joyal has been teaching all 7 Kindergarten classes a visual arts curriculum geared around the themes of friendship in honor of the life of Walker Rezaian.
Kindergarten teacher Mrs. Pauley reflected on the past few months, "This program has helped each of my students learn a new way to express themselves, build self-confidence and discover the amazing artist within them.  We feel so thankful to have gotten this experience and are happy for the next bunch of kids that get to work with you."
Youth in Arts
Executive Director Miko Lee has announced that applications are open for the 2015-16 Walker Rezaian Creative HeArts Kindergarten Arts Program. "We are thrilled to continue this program next year." said Lee. "We look forward to sharing the experience with another low income school in memory of Walker.  We have had a wonderful partnership with Walker's family in creating this program and providing life long learning tools for so many children in our area."
Interested Title I schools in Marin County should apply by May 18. Apply here.
The Walker Rezaian Creative HeArts Fund is a project of the Walker Rezaian Memorial Fund. Youth in Arts is a nonprofit established in 1970. The leading arts education nonprofit in the North Bay, Youth in Arts offers students experiences and instruction in the visual and performing arts, and enriches the community with cultural events.
By YIA Mentor Artist Sophie Cooper
by Mentor Artist Sophie Cooper
How long does it take for one to become an author, rather than a consumer, of images and stories? For 5th and 6th graders at Harding Elementary, it only took 8 weeks! Students started out learning how images communicate, and recognizing that the images surrounding us on a daily basis are telling us stories and infusing meaning into our lives. We spoke about being aware of how images communicate stories, and that we can choose to agree or disagree with the values embedded within these  stories. Brainstorming as a class, we then created a treasure chest of values: things most precious to the students that they want to protect.
It was very inspiring to observe the students actively declaring what was most important to them and arriving at the jewel that would be the themes of their personal stories! Once they had decided on a theme, students were guided through a process of story development using traditional components of storytelling.
Equipped with their new tools of media literacy (understanding how images communicate) and outlines of stories they wanted to tell, students began searching for images on the Internet and assembling their stories using a basic video editing program. Students did a phenomenal job navigating the editing software, and many students quickly found their own way, adding effects and transitions!! Even students who had not had extensive computer experience prior to the project were able to follow the simple steps and assemble found images into a short video.
As we screened the completed projects for the classes, I observed the excitement dancing in students' eyes while watching the stories their classmates had created. It is the same dancing excitement with which they watch a TV commercial or a video clip on the internet: the innocent curiosity of what is next, the enchantment of flickering light that lures us all to cinemas. The only difference now was that rather than absorbing a message put in place by a large corporation or production studio, they were attentively watching messages created by their peers. They were discovering a new way to communicate, a new way to listen to one another.
Mentor Artist Angela Baker worked with Fourth Graders incorporating VAPA standards about proportion and additive and subtractive sculptural techniques to translate 2-dimensional drawings into 3-dimensional forms.
Students invented animals. First drawing them with colored pencil.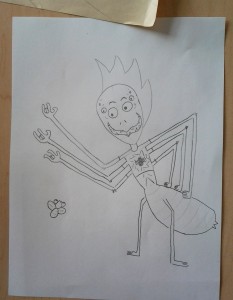 Then learning various clay techniques to create sculptures. For the culminating project students created an accordion book about their invented animals.
Students began by doing Gesture Drawing & then translated their Drawings into Wire Action Figures.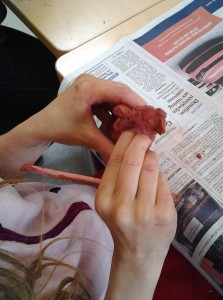 In addition to learning about line, form and color, classes explored themes such as community and being yourself to coincide with themes from of the play Lydia and the Other World, that the students wrote with Mentor Artist Thomas Arndt.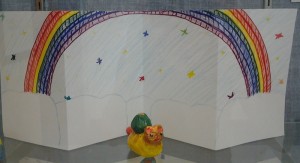 Many thanks to the Thomas J. Long Foundation for their support of "Arts Unite Us" at Harding Elementary.
Older Entries »