Her background as an elementary school literacy specialist, and museum educator at renowned institutions such as the Jewish Museum of Contemporary Art and SFMOMA, make Suzanne Reich Gibson a seamless fit for the Youth in Arts board. We were lucky enough to meet her at one of our Lights On Tours this spring, where her thoughtful questions highlighted her passion for arts education. "I had heard about the wonderful work that Youth in Arts does in Marin schools, particularly working with students with special needs," she explains, "I was inspired as well by the Walker Rezaian Creative HeArts Kindergarten Arts Program, which reaches students at the start of their elementary school years and, now, empowers them with arts skills throughout their elementary school years.  I came for a visit to YIA's C Street gallery and was awed by the students' creativity and voices on display there."
Suzanne grew up with arts as a centerpiece in her life, "I was fortunate to have all sorts arts at the core of my childhood, both in and out of school," she shares, "I also had grandparents who made art of their own and were determined to take us to museums and concerts from an early age." In her adult life she has found time for art-making as part of her museum work, where she says, "art-making is very much a way of looking at and appreciating the art on display." And she is continuing her own arts education through a recent mono-printing class, "which was very accessible and refreshing – I will definitely do more!"
Prior to settling with her family in Mill Valley, Suzanne lived in various locations in Europe and learned some valuable life lessons, "I've lived in some faraway places – the north of Norway and Warsaw, Poland. There's a lot to learn by being the 'outsider' about who makes a community and the richness of many cultures living together."
Thank you, Suzanne. We look forward to learning more from you as part of the YIA community!
Youth in Arts' award-winning a cappella group, 'Til Dawn, sang to an enthusiastic crowd on the opening day of the Marin County Fair this summer. The group is the longest running year-round teen ensemble in the Bay Area. It was the last public performance for the group's outgoing seniors (Kathryn Hasson, Angel Gregorian, Maud Utstein and Will Noyce) as well as 'Til Dawn member Lara Burgert, who is moving. The ensemble is directed by singer-songwriter Austin Willacy, who performs as a solo artist and also with his own a cappella band, The House Jacks.
Four collaborative works created during Youth in Arts' residencies this spring took home top ribbons. The mixed media work, inspired by artist Jasper Johns, was created during a 10-week Arts Unite Us program with Youth in Arts Mentor Artist Cathy Bowman.
Student projects from San Ramon Elementary School and Willow Creek Academy won blue ribbons in their age division. Novato High School and Sinaloa Middle School classes each won second place in their age divisions. The San Ramon piece also won the Anne Davis award for best of class (collage) in the 9-12 year-old group.
"Each class created richly layered works that were different from each other," Bowman said. "It was a privilege to work with such dedicated artists."
Bowman also won the Charles M. Schulz award for a pig cartoon and a blue ribbon for a second cartoon.
The prize-winning student art will be on display at Youth In Arts as part of "Outside the Lines: Collaborative Art in Special Day Classrooms." The exhibit opens July 31.
Through the California Department of Education's Student Support and Academic Enrichment (SSAE) grant that the Marin County Office of Education received, Youth in Arts was in multiple Special Day Classes this spring.
'Til Dawn, Youth in Arts' award-wining a cappella group, dazzled their audience with a wide range of songs at its annual concert at the Carol Franc Buck Hall of the Arts at San Domenico School in San Anselmo. The group is the longest, year-round teen a cappella ensemble in the Bay Area.
Each of the members, mostly from Marin County high schools, performed at least one solo. The repertoire included Big Band music, Motown hits, modern pop tunes and more. 'Til Dawn is part of Youth in Arts' Intensive Arts Mentorship program (I AM).
"One of the amazing things about a cappella music is it's universally relatable to human beings because we all have voices; because it's all coming from a human voice, any number of genres that people might not otherwise listen to are accessible," said 'Til Dawn Director Austin Willacy.
Willacy has been the director for 22 years and also records and performs with his own a cappella band, The House Jacks, and as a solo artist.
"Programs like these are vital for creating a space for young artists to thrive," said Youth in Arts' Executive Director Miko Lee. "These talented young singers practiced for months and their hard work paid off. The audience was thrilled."
If you missed the concert, you're in luck. 'Til Dawn performs at the Marin County Fair in San Rafael on July 3 from 3:30 to 4 p.m.
And check out some videos here:
'Til Dawn Annual Concert 2019.
Thank you to San Domenico School for the generous gift of the hall for the concert and to the Marin Community Foundation.
Friends come in all shapes and sizes!
"Imagining Friendship" is at the YIA Gallery in San Rafael through May 24. The show features the colorful self portraits by kindergarteners and first graders at Laurel Dell Elementary School. The work was part of a residency this Fall with Youth in Arts' mentor artists Suzanne Joyal and Cathy Bowman.
The Walker Rezaian Creative HeArts exhibition is now in its fifth year. The show celebrates the life of 5-year-old Walker Rezaian and his love of the arts. The show is part of a program funded by the Rezaian family.
"This is an exciting show that celebrates friendship in all its forms," said Youth in Arts' Executive Director Miko Lee. "The exhibition also features a wonderful cardboard for exploring. The exhibit shows families that art can be made from anything."
As a backdrop for the show, Joyal and Bowman built a kid-sized, interactive cardboard world with tunnels to crawl through and doors to open. There are windows to look in and out of and a cardboard word game to encourage visitors to read and write. The show also features a giant word tower made from cardboard boxes inspired by the work of artist Corita Kent. The cardboard was generously donated by Sunrise Home.
Youth in Arts is also excited to announce the opening of its new ART LAB, housed in the YIA store. The ART LAB is open during regular Youth in Arts' hours, Monday through Friday from 11 a.m. to 4 p.m.
As part of a year-long residency with Mentor Artist Julia James, Coleman Elementary School hosted its first Family Art Night with Youth in Arts in March! It was a full house with Ms. Julia's students and their families filling up the multipurpose room to create and share together. The fun began with Executive Director Miko Lee leading a collaborative sound-making activity in which everyone worked together to create the sounds of rain. With over 180 people in attendance, it was quite the storm! After warming up, participants engaged in an embodied exploration of shape and line with family and friends. Working together, we practiced making squares, triangles, circles, and quadrilaterals with our arms, legs, and bodies. Some chose to make their shapes big and organic with a large group of people, and others chose to make smaller shapes that could be easily recognized. After practicing and sharing what shapes and lines could look like, we were ready to start working on our visual arts project!
The project of the night was "Birds of the World", a community mural in which we created birds that represented who we are as individuals and added it to a collaborative background. In designing our birds, students and their families and friends were asked to come up with three adjectives to describe themselves. We chose words about our emotional capacities like "kind", or "brave", as well as words about our skills and interests, like "sporty"and "creative". Once we had determined what words described ourselves best, we visually transformed those three words into lines, shapes, and colors.
We then used our new lines, shapes, and colors as creative building blocks to draw a bird. Ms. Julia led families through the wax resist technique, adding watercolor over the oil pastel on our drawings to create interesting effects. Once our birds were complete, we cut them out and added them to a large community mural where they could take flight together! Throughout the night, Coleman fourth and fifth graders who had participated in a docent training activity the day before also helped to lead the activities. From helping facilitators to translate directions from English to Spanish to passing out materials and helping their peers ideate during the creation process, our upper grade-level art assistants made the night a success. Once all of the birds were cut out, the art assistants designed the layout of the mural and helped their families, friends, and fellow Coleman Tigers put it together.
Thank you to Principle Taylor and the wonderful Coleman PTO for making this event possible, and stay tuned for more awesome artwork from Coleman Elementary's talented students!
Youth in Arts is excited to announce the opening of our new ART LAB at the YIA Gallery.
Located in the gallery's store, the ART LAB is open during regular Youth in Arts hours  – Monday through Friday, 11 a.m. to 4 p.m., and until 8pm during Downtown San Rafael's 2nd Friday Art Walks. It's free and open to the public for art-making activities linked to YIA exhibitions.
"In keeping with our mission of providing arts access to all learners, Youth in Arts is opening its doors to the community to explore its creativity," said Miko Lee, executive director of Youth in Arts. "We're providing free, hands-on art projects for all ages."
Children will enjoy kid-sized tables where they can make art and explore materials. Each exhibition will also feature the artwork of one of Youth in Arts' Mentor Artists. All artwork on view in the space will be for sale, with a portion of the proceeds benefiting Youth in Arts.
Suzanne Joyal's work is currently featured and coincides with Imagining Friendship the Walker Rezaian Creative HeArts exhibition of self portraits by kindergarteners and first graders from Laurel Dell Elementary School in San Rafael. The colorful paintings were created during their Fall residency with Youth in Arts. As part of the exhibit, Youth in Arts' staff have created a kid-sized interactive cardboard world with doors, tunnels and windows for exploring.
Both children and adults are welcome, but we kindly ask that all children be accompanied and supervised by their grownups.
Please come and visit us soon. Just look for our bright red wall!
Master storyteller Diane Ferlatte, accompanied by musician Erik Pearson on the banjo, performed for hundreds of K-8 students at Dance Palace in Point Reyes this Fall. Diane believes that story telling enables us to understand each other better, and many of the stories she shared with students emphasized empathy, tolerance, respect for others, the importance of working hard, and the value of our environment. From the adventures of the clever Brer Rabbit to the history of slavery in the United States, Diane's tales engaged with social studies standards for middle school students through folk traditions, song, percussion, and American Sign Language.
Students and teachers listen to the story of Brer Rabbit's Dance. Ferlatte uses ASL, intonation, music, and body language to engage students.
Following the Assembly, Diane and Erik held a workshop with 5th grade students. Students engaged in a discussion about what makes a story successful, and how to utilize performative tools to share their stories with others.
A special thank you to the Dance Palace and the California Arts Council for their support of this program!
By Shirl Buss, Architect and Educator
We had a wonderful session with the 4th grade students in Mr. Seligman's class last week.  Suzanne, John and I teamed the students in pairs.
Their mission was to design a  bridge that was structurally sound, but that symbolically "bridged" opposites or differences. After working out their ideas in a "sloppy copy", the students were remarkably creative and astute each team created a collage representing their concepts.  The opposites/differences  included:  Cartoon/Real Life, Light/Dark, Above/Below, Fire/Ice (with water in between), Glass/Crystal, Complicated/Simple and many more.
It was a was a very productive session.  Enjoy some photos below.
Mentor Artist Stephanie Bastos worked with every student at Laurel Dell Elementary School this Spring. Here are her thoughts:
I believe every child deserves quality arts education and schools like Laurel Dell Elementary strive to make it happen. My instruction there included Movement arts focusing on Brazilian Music and Dance that provided a rich experience for a community of mostly immigrant families. As a trilingual teaching artist having spent a lot of time in Brazil and throughout South America, I related to the kids and families by simply sharing my culture. I also have a disability that I do a presentation about for the learners so that they can see that every body can move and create.
The learners experienced a traditional dance class that includes a warm- up, skill building, and performance/ improvisation in small groups or individually. They also got to play drums and sing songs in Portuguese.
Laurel Dell celebrates their community every Spring with the Fiesta Del Sol: families and friends meet for a fun and music-filled day of dance and food. For the culminating event, students presented Samba Reggae choreography, Maculelé folklore- a traditional warrior dance and the beloved Capoeira- a game of movement, acrobatics, and song.  I had the honor of entering a community full of love and simplicity that taught me a lot about the possibilities of what quality education looks like for all!
Thanks to the generosity of the Laurel Dell PTA, and the California Arts Council, Stephanie will be returning to Laurel Dell this year. 
by Mentor Artists Kaitlin McGaw and Tommy Shepherd. Photos by Kristin Chalmers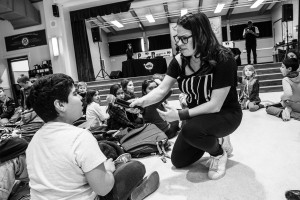 Alphabet Rockers were proud to offer hip hop arts programming in Glenwood Elementary School again this year. In a unique program design, we offered two assemblies (one in fall, one in Spring), along with accompanying dance workshops following each program.
Principal Kim Goodhope understands the importance of equity frameworks – and was eager to see how this model would deepen the experience for the young people.
We ourselves as artists were in the process of evolving our language, performance and messages to step up as allies and advocates for racial justice. Earlier in 2017, we performed "Change the World," with songs like "Gimme Some Skin" inviting young people to see and validate the diversity of skin colors in the room. We invited the audience to envision how they would change the world to make it more fair for all people.
In our return visit this past October, we were in the process of developing a new concert series for the September released album, Rise Shine #Woke. Our music had changed. We had changed as artists. As a multi-racial group of artists, we had advanced our work from "Gimme Some Skin" into songs that talked about discrimination, and took action to interrupt our biases.
In the assembly, we performed the song "Shine" in this way. We talked about how shocking it was for Tommy when someone said to his face, that "Black lives don't matter" when wearing a BLM shirt. This had happened to his 10 year old son only weeks earlier, and we took the story into our show – outlining how friends stood up for him at a time he didn't have the words. The song throws "shine not shade" on all those facing discrimination. The children joined us in dance, and sang out the words "Shine! On my beautiful skin!"
When we went into the classrooms to unpack further, we knew that as a mixed-race group, we would hold different space. A white woman talking about skin color discrimination and a black man talking about skin color discrimination would hold different language, embodiment and throughlines for these classrooms, where the children were from various backgrounds but were navigating a mostly white school and community. We found that the work needed to root in identifying and celebrating difference, before we could address discrimination and advocacy. It was clear that the work we were aiming to accomplish would need further parallel resources in the classrooms and in the school culture.
This album received a GRAMMY Nomination only a few months later; we returned with that glow to Glenwood in March. We performed our song "Walls" – about how folks who speak another language or come from another place are not always made to feel welcome. How can we be "the people" that we really want to be? How can we uphold those ideals of equality and equity at a time when we knew that even our own kids were feeling the pain of discriminating national policies and actions.
Post concert, we went back into the classrooms, charged with a similar inquiry of unpacking discrimination and bias with our young people. In one class, learning the dance moves to "Shine" empowered the children to feel their voices and bodies connected to bold claims of belonging. In another class, we reverted back to trying to describe our skin color, finding that the work around discrimination was still not quite sinking in. We went on a skin color match game, finding articles in the room that reflected our skin colors, from pages of an old book to a wooden clock. We then turned our skin color matches into unique handshakes, which celebrated the diversity and creativity of the students.
What's interesting to know in this path with arts and creativity is that it is not always linear. We do need to circle back, to revisit, to revise and listen. Just the same with adults – we cannot assume that one moment of learning around systems of oppression will lead us entirely to a path of truth and understanding. We are complex beings, seeped in our systems of bias and understanding. Our kids are as well.
In our work at Glenwood, we are reminded of this openness. The principal brought us in with full understanding of the importance of equity. We will continue to support their work – and the students individual and collective journeys – as it is about true embodiment through the years.
Older Entries »