Why do the arts matter? Look no further than Laurel Dell School.
The San Rafael elementary school recently celebrated its reopening with a joyful ribbon-cutting ceremony that drew dozens of students, staff and members of the community. Youth in Arts was there to celebrate its Architects in Schools program and to showcase the amazing work made during residencies last Fall while the school was being rebuilt.
Youth in Arts' Visual Arts Director Suzanne Joyal presented Principal Pepe Gonzalez with the this year's Pamela Levine award for his outstanding support of arts education. It was evident how much he is loved by the thick book Suzanne made that was filled with hundreds of cards and drawings from students, teachers and specialists. There were so many cards from well wishers that the book couldn't hold them all.
Although Suzanne has never seen Pepe draw a picture, dance or sing, she considers him a kindred spirit who thinks like an artist.
"He enjoys the success that comes from solving problems as much as I do," she said. "Mr. Gonzalez understand that the arts are about so much more than the pretty object we draw. The arts offer students a safe space to explore their world, to stand up to speak out and to believe in themselves."
The day included visits to a special exhibition of work made with Youth in Arts' architects Shirl Buss and Janine Lovejoy Wilford, and Mentor Artist Cathy Bowman. Visitors were encouraged to look closely at how Youth in Arts teaches a sequential program in which skills are built upon from one year to the next. The lines and curves in a kindergarteners' self portraits, for example, leads to a third graders' colorful model of what Fourth Street in San Rafael could look like. That model gives fifth graders the skills they need to design spaces for the city's future library.
Pairs of students from each class served as docents, giving tours, answering questions and explaining their work. Practicing speaking in public supports one of Youth in Arts' goals: that students reflect upon making art and can speak confidently about their work. Third graders who worked with Shirl (creative director at UC Berkeley's Y-PLAN) will present their design and policy proposals for downtown San Rafael the city's 2040 general plan steering committee on March 11.
The daylong celebration ended with a Family Art Night with Youth in Arts. Children in after school care, as well as families and friends, stopped by to make tiny bridges for crossing the canal. It required them to find a place where they thought a bridge was needed, then to measure the spot to make sure the bridge was long enough. They used buttons, embroidery hoops, clay, bumpy paper and wood scraps to bring their models to life.
Family Art Nights are a great way to involve families in the art their children are making and are usually a part of all Youth in Arts'
Artists in Schools residencies. For more information about art nights and Youth in Arts' residencies, please contact Program Director Kelsey Rieger at (415) 457-4878 ext 110.
Youth in Arts joined more than 70 other arts organizations from around the Bay Area at the 2020 Arts Education Resource Fair, held at the Asian Art Museum in San Francisco.
Arts Education Alliance of the Bay Area Executive Director Todd Berman said it was the biggest fair since the event began 16 years ago. He added, "It was wonderful to have Youth in Arts there. We're excited to be having more of a reach in the whole Bay Area," Todd said. "So many people in the field work and live in different counties."
The fair offered a chance to talk to prospective teachers, meet old and new friends, and share ideas and challenges that face all organizations. "We're here in solidarity with all the local arts organizations," said Noah Lopes, director of museum programs at the Museum of Children's Arts in Oakland. Like others at the fair, Noah wants to see arts more integrated into public education."Everything we do with our young people should be intentional," he said.
Sedey Gebreyes, education program manager for the Museum of the African Diaspora in San Francisco, said she was at the fair to let people know about museum offerings in the classroom – as well as highlighting the need for more docents. Exhibits change every few months at the museum, she said, which has no permanent collection and "for kids it's important to see themselves and their cultures represented."
Todd said the event is a great resource for everyone working in the arts community to learn about upcoming events, such as the Feb. 26 curriculum slam at Intersection for the Arts in San Francisco.The resource fair was sponsored by the Arts Education Alliance of the Bay Area, the San Francisco Unified School District, ArtCare and the Asian Art Museum.
The event included a land acknowledgement and a performance by the youth marching band from Thurgood Marshall Academic High School with teacher Damian Nunez.
By Mentor Architect Shirl Buss
Laurel Dell Elementary School third graders recently hosted Transit Practice Leader Bob Grandy in their newly renovated school in San Rafael. Bob, an engineer and principal at Fehr & Peers, introduced students to a possible career in engineering while sharing his expertise with them. He also presented a wonderful slideshow with images relating to transportation planning and design.
Architect Shirl Buss has been teaching at Laurel Dell through Youth in Arts' Architects in Schools program, which she helped develop. Shirl is also the Y-PLAN elementary director at the Center for Cities + Schools at UC Berkeley.
Bob familiarized the students with the opportunities and constraints along Fourth Street in downtown San Rafael with a special focus on mobility and access. Shirl reported that his presentation was both inspiring and instructive, and will help students as they take on the challenges of how to make Fourth Street safe, welcoming, fun and hopeful for everyone.
"These children are continuing to build upon the work from the past two years that Laurel Dell students and teachers – in collaboration with Youth in Arts and UC Berkeley's Y-PLAN – have been doing on issues related to sea level rise and the San Rafael 2040 General Plan," Shirl said. "We expect these students to generate some exciting policy and design recommendations to offer to the Downtown Precise Plan."
Thank you, Bob, for donating your time and expertise to our future civic leaders!
By Mentor Artist Cathy Bowman
This year, I decided to start all of my art classes with a Brain Dance, a series of movements developed by dance educator and author Anne Green Gilbert to wake up the brain and improve focus. Often I see students at the end or beginning of the day, when they are restless or tired.  My five-minute version of the Brain Dance helps reinvigorate them while focusing on re-mapping of brain-body connections.
Inevitably it's the wiggly students, the ones who need it the most, who are the most resistant. As an introduction activity, the Brain Dance acts as a daily assessment tool for my students. Who is having trouble calming their body or mind? Who has trouble with cross lateral movements? Who confuses left and right? Even, how is their sense of self today? Watching them move gives me valuable information about what skills they may find challenging when it comes to art making or the level of engagement I may need to address.
The dance includes eight patterns of movement, starting and ending with the breath. Deep breathing is essential for all healthy bodies. When children are stressed, it's no coincidence that they take short, shallow breaths. Starting and ending with belly breaths means more oxygen for young brains. From breath, the Brain Dance moves through the developmental patterns of movement (the movements we take in our first year after birth) to the most integrated pattern, cross-lateral connectivity. Cross-lateral is the pattern that crosses the four quadrants of the body (upper, lower, right, left) which supports higher thinking and even eye tracking used for reading and reading-readiness.
Recently I had a kindergartener who always wore a serious expression. Adrian solemnly watched his classmates do the Brain Dance, week after week, without joining in. On the seventh week, he spontaneously started participating in the warm up with a big smile on his face. Instead of saying "good job" or "well done" (vague) I looked for something specific in Adrian's movements that I could point out, and others could follow.  He found confidence in his kinesthetic learning that day; and my acknowledgement of his effort (by name) reinforced his effort and ability. He became a positive role model for the rest of the class.
When I started doing the Brain Dance it felt uncomfortable for me, since I see myself as a visual artist rather than a dancer. But as we learn more about how children learn and absorb information in multiple ways, integrating different art forms makes sense. When Laurel Dell 2nd graders visited the YIA Gallery recently, they learned an extended version of the Brain Dance from Youth in Arts' Executive Director Kristen Jacobson. I picked up some tips as well.
The Brain Dance also helps teachers stay centered and focused.  Who doesn't need a belly breath during the day? You can learn more about the Brain Dance by viewing this video, Brain Dance, which is a part of Youth in Arts Digital Tool Kit.
Thank you to our very generous donors, sponsors and partners:
We love to connect with students in the Youth in Arts Gallery! The YIA Gallery is one of the few in the nation devoted solely to showcasing art by children.
Olive Elementary School kindergarten and first grade students visited the YIA Gallery recently for a field trip that explored shapes, systems and machines. Their teacher Emma Donovan had participated in this summer's STEAM institute with Youth in Arts, the Marin County Office of Education and other experts. She wanted her students to have an experience connected to what she learned in the STEAM Institute.
"Our free field trips are a wonderful opportunity to tie classroom curriculum to arts learning," said Youth in Arts' Development Director Kelsey Rieger. "This experience was focused on STEAM with embodied learning teaching."
Kelsey was joined by Visual Arts Director Suzanne Joyal and Mentor Artist Cathy Bowman. We took the students on a gallery walk to look at the child-created works in the gallery, followed by the Brain Dance to warm up. We talked about circles we could make sitting down, and circles we could see in the art. We made circles with our elbows and noses. In the YIA Studio, we sat in a big circle and learned about systems and machines, first by pushing a giant purple ball back and forth at different speeds. We noticed that a ball can't move by itself. While holding hands, we also sent energy around the room with a silent squeeze. It took concentration and practice to not lose the squeeze.
The final exercise was a fun way to talk about machines. Students were proud to show what they knew about different kinds of machines, and what those machines could do. Suzanne started the exercise by making a machine motion and sound.  As she continued, the next volunteer joined her to make a sound and motion that connected to hers. More students joined in, each making a different sound and motion. In the end, we had a large human-made machine with noises and motions working together.
We talked about where our machines lived and what they could do. One group made a machine that made snowflakes and lived in the ocean; another imaginary machine  handled climate change in the desert.  We concluded the field trip by creating a machine which included everyone and was made of familiar sounds and motions: a train.
Field trips are 45 minutes and always feature an age-appropriate hands-on arts activity. Children also learn techniques for looking at and talking about art. For more information, contact Youth in Arts' Program Director, Kelsey Rieger: kelsey@youthinarts.org or at (415) 457-4878 x110.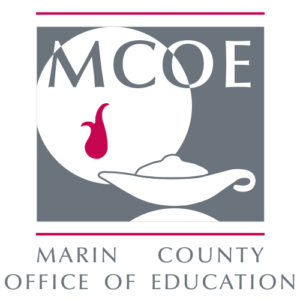 Community-minded individuals from all over the Bay Area, braved the rain to give back at the Spirited Marin Holiday Marketplace December 7th & 8th at the Marin Country Mart. Spirited Marin is a unique and festive shopping "village" showcasing the fresh voices of Marin-based businesses while raising money for Marin-based nonprofits. Youth in Arts was one of three beneficiaries chosen this year, and will be a beneficiary again next year. All marketplace sellers donated 25% of their sales to Spirited Marin's fundraising efforts! In addition, Spirited Marin Gift Boxes are finely curated gift boxes made up of donated products from conscientious Marin-based businesses. 100% of the proceeds from Spirited Marin Gift Boxes go to Spirited Marin's beneficiaries.
Spirited Marin's Community Dinner kicked off the weekend. Thursday's event, featured fantastic food from Fork Full of Earth, Hog Island Oyster Co, California Caviar Co, Navas Patisserie. Plus, amazing beverages from Batiste Rhum, Patagonia Root Ale, ROOT Wines, and Heidrun Meadery. Youth in Arts 'Til Dawn serenaded the guests with festive favorites, as they were seated for dinner. 'Til Dawn also sang at the annual Marin Country Mart Tree Lighting just a couple of hours prior.
We would like to sincerely thank Spirited Marin organizer, Leslie Iorillo for her incredibly hard work and dedication to making this year's event a success for all of the beneficiaries.
This summer, Youth in Arts' Director of Visual Arts Suzanne Joyal began her study toward a Master of Arts in Arts Education with a focus on special populations from Moore College of Art and Design in Philadelphia, PA. The only program of its kind in the country, the program was founded by Lynn Horoschak, a pioneer in the field of arts education for special populations. For the students of Moore, and arts educators at Youth in Arts, "special populations" means anyone who does not thrive in the linear, neurotypical classroom. This could mean students experiencing disabilities, newcomer and english language learners, students experiencing the effect of trauma, or anyone with an IEP (Individual Education Plan).
"I decided to pursue the Moore Masters program after attending several workshops led by Lauren Stichter, the graduate program director at Moore. I have been working with students with special needs for 11 years at Youth in Arts, and after listening to Lauren, I knew I could do more. I know that what we are doing at Youth in Arts is necessary and needed and the right thing for all students. We all need to be able to express ourselves with confidence, and for many people (myself included), it's through the arts that this is possible. For students experiencing disabilities, every day can be painful or scary or exhausting, and infusing the arts into learning is what can help them thrive. We want every student to want to come to school and to feel proud of their accomplishments, and I have witnessed how the arts helps many students get there."
Suzanne spent six weeks this summer participating in the intensive program, is working remotely for the school year, and will return to Philadelphia next summer to complete and present her thesis.
Second graders at Short and Laurel Dell elementary schools in San Rafael created vibrant collages showing what a healthy neighborhood needs.
We began by looking at the work of artists like Faith Ringgold and the late Romare Bearden. Working with Youth in Arts' Mentor Artist Cathy Bowman, we used the "wax resist" method to write our names on watercolor paper and mixed blues and greens to paint a "cool" background. We talked about what a neighborhood needs to be strong and healthy, and what we need to be strong a healthy. Both classes included schools, libraries and homes of different sizes and shapes. There were some surprising additions too. At Short, one student suggested a carnival. At Laurel Dell, a student created a community art studio.
We then created collages, using only warm colors for our structures. That made them stand out when they were placed on the cool colored background. This gave us a chance to review what colors are warm, and what colors are cool. Once they were dry, we flipped them over and cut out our shapes. Details were added later with pastel and more paper. We looked at doors and windows from around the world, and noticed they are not always square or rectangle.
"This was a complex project with many layers, and students did an amazing job," Bowman said. "It was wonderful to see them make connections between their own lives and their neighborhood."
Some of the paper that students used was made by rubbing crayons and pastels across textured templates, creating brick patterns and other designs. More connections were made as the textured paper was shared between the two schools.
The projects will be on display as part of the upcoming Youth in Arts' upcoming exhibit: Kids Imagine Our World: In My Neighborhood. The show of 2nd grade work from both schools runs Oct. 28 through Dec. 6. The opening reception, which will be hosted by the Youth in Arts' Board of Directors, will be held on Nov. 8 from 5 to 8 p.m.
Her background as an elementary school literacy specialist, and museum educator at renowned institutions such as the Jewish Museum of Contemporary Art and SFMOMA, make Suzanne Reich Gibson a seamless fit for the Youth in Arts board. We were lucky enough to meet her at one of our Lights On Tours this spring, where her thoughtful questions highlighted her passion for arts education. "I had heard about the wonderful work that Youth in Arts does in Marin schools, particularly working with students with special needs," she explains, "I was inspired as well by the Walker Rezaian Creative HeArts Kindergarten Arts Program, which reaches students at the start of their elementary school years and, now, empowers them with arts skills throughout their elementary school years.  I came for a visit to YIA's C Street gallery and was awed by the students' creativity and voices on display there."
Suzanne grew up with arts as a centerpiece in her life, "I was fortunate to have all sorts arts at the core of my childhood, both in and out of school," she shares, "I also had grandparents who made art of their own and were determined to take us to museums and concerts from an early age." In her adult life she has found time for art-making as part of her museum work, where she says, "art-making is very much a way of looking at and appreciating the art on display." And she is continuing her own arts education through a recent mono-printing class, "which was very accessible and refreshing – I will definitely do more!"
Prior to settling with her family in Mill Valley, Suzanne lived in various locations in Europe and learned some valuable life lessons, "I've lived in some faraway places – the north of Norway and Warsaw, Poland. There's a lot to learn by being the 'outsider' about who makes a community and the richness of many cultures living together."
Thank you, Suzanne. We look forward to learning more from you as part of the YIA community!
Youth in Arts' award-winning a cappella group, 'Til Dawn, sang to an enthusiastic crowd on the opening day of the Marin County Fair this summer. The group is the longest running year-round teen ensemble in the Bay Area. It was the last public performance for the group's outgoing seniors (Kathryn Hasson, Angel Gregorian, Maud Utstein and Will Noyce) as well as 'Til Dawn member Lara Burgert, who is moving. The ensemble is directed by singer-songwriter Austin Willacy, who performs as a solo artist and also with his own a cappella band, The House Jacks.
Four collaborative works created during Youth in Arts' residencies this spring took home top ribbons. The mixed media work, inspired by artist Jasper Johns, was created during a 10-week Arts Unite Us program with Youth in Arts Mentor Artist Cathy Bowman.
Student projects from San Ramon Elementary School and Willow Creek Academy won blue ribbons in their age division. Novato High School and Sinaloa Middle School classes each won second place in their age divisions. The San Ramon piece also won the Anne Davis award for best of class (collage) in the 9-12 year-old group.
"Each class created richly layered works that were different from each other," Bowman said. "It was a privilege to work with such dedicated artists."
Bowman also won the Charles M. Schulz award for a pig cartoon and a blue ribbon for a second cartoon.
The prize-winning student art will be on display at Youth In Arts as part of "Outside the Lines: Collaborative Art in Special Day Classrooms." The exhibit opens July 31.
Through the California Department of Education's Student Support and Academic Enrichment (SSAE) grant that the Marin County Office of Education received, Youth in Arts was in multiple Special Day Classes this spring.
Older Entries »