by Mentor Artists Kaitlin McGaw and Tommy Shepherd. Photos by Kristin Chalmers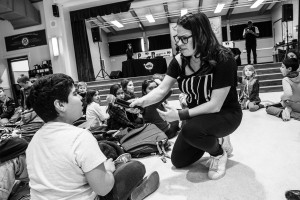 Alphabet Rockers were proud to offer hip hop arts programming in Glenwood Elementary School again this year. In a unique program design, we offered two assemblies (one in fall, one in Spring), along with accompanying dance workshops following each program.
Principal Kim Goodhope understands the importance of equity frameworks – and was eager to see how this model would deepen the experience for the young people.
We ourselves as artists were in the process of evolving our language, performance and messages to step up as allies and advocates for racial justice. Earlier in 2017, we performed "Change the World," with songs like "Gimme Some Skin" inviting young people to see and validate the diversity of skin colors in the room. We invited the audience to envision how they would change the world to make it more fair for all people.
In our return visit this past October, we were in the process of developing a new concert series for the September released album, Rise Shine #Woke. Our music had changed. We had changed as artists. As a multi-racial group of artists, we had advanced our work from "Gimme Some Skin" into songs that talked about discrimination, and took action to interrupt our biases.
In the assembly, we performed the song "Shine" in this way. We talked about how shocking it was for Tommy when someone said to his face, that "Black lives don't matter" when wearing a BLM shirt. This had happened to his 10 year old son only weeks earlier, and we took the story into our show – outlining how friends stood up for him at a time he didn't have the words. The song throws "shine not shade" on all those facing discrimination. The children joined us in dance, and sang out the words "Shine! On my beautiful skin!"
When we went into the classrooms to unpack further, we knew that as a mixed-race group, we would hold different space. A white woman talking about skin color discrimination and a black man talking about skin color discrimination would hold different language, embodiment and throughlines for these classrooms, where the children were from various backgrounds but were navigating a mostly white school and community. We found that the work needed to root in identifying and celebrating difference, before we could address discrimination and advocacy. It was clear that the work we were aiming to accomplish would need further parallel resources in the classrooms and in the school culture.
This album received a GRAMMY Nomination only a few months later; we returned with that glow to Glenwood in March. We performed our song "Walls" – about how folks who speak another language or come from another place are not always made to feel welcome. How can we be "the people" that we really want to be? How can we uphold those ideals of equality and equity at a time when we knew that even our own kids were feeling the pain of discriminating national policies and actions.
Post concert, we went back into the classrooms, charged with a similar inquiry of unpacking discrimination and bias with our young people. In one class, learning the dance moves to "Shine" empowered the children to feel their voices and bodies connected to bold claims of belonging. In another class, we reverted back to trying to describe our skin color, finding that the work around discrimination was still not quite sinking in. We went on a skin color match game, finding articles in the room that reflected our skin colors, from pages of an old book to a wooden clock. We then turned our skin color matches into unique handshakes, which celebrated the diversity and creativity of the students.
What's interesting to know in this path with arts and creativity is that it is not always linear. We do need to circle back, to revisit, to revise and listen. Just the same with adults – we cannot assume that one moment of learning around systems of oppression will lead us entirely to a path of truth and understanding. We are complex beings, seeped in our systems of bias and understanding. Our kids are as well.
In our work at Glenwood, we are reminded of this openness. The principal brought us in with full understanding of the importance of equity. We will continue to support their work – and the students individual and collective journeys – as it is about true embodiment through the years.
By Mentor Artist Tracy Eastman
Short Elementary School's 2nd and 5th grade "Green Team" were delighted to paint a large mural to brighten up their newly planted garden in the front of the school. Julie Ryan, the 2nd-grade teacher and leader of Green Team, and I decided the most fitting subject matter for the garden mural would be California native flowers, as that was what her students were currently studying. There was, however, a challenge with how and where to display a mural in their garden area. The portable building where the mural was to be painted was said to be transported to another school in the next couple years. For this reason, we opted for a portable mural that would be painted on two recycled vinyl banners. This would allow the 18-foot-long mural to be rolled up and transported to any new location.
     The students started out by looking at pictures of murals done by other artists, and by studying the names and distinctive characteristics of each native flower we were to include. They then practiced painting a flower or their own preferred subject on mini canvas sheets, allowing them to explore painting on the canvas-like texture of the banners.  First, students painted the entire primed surface with a bright blue color, serving as an underpainting. I then sketched a scene of native flowers and rolling hillsides for the students to follow painting. They began by painting the background of the sky above the hillsides and then continued to add specs of color at the tops of the hills. the specs of color grew larger and larger into the foreground to show all the details of the distinctive flowers up close. This created an illusion of depth and space, making it appear that the large flowers we see at the bottom of the image recede into the distance on the hillside toward the top of the image.
     The students did a marvelous job mixing various hues and applying the paint in layers to create a very bright and vivid mural. There were printed pictures of the specific flowers and their leaves set beside the students for them to refer to while they painted. The students greatly learned about the difference between Art that is created through free expression and Art that is focused on creating specifically recognizable subjects. Over the course of ten-45 minute student classes and many additional hours I devoted to planning and touch-ups, a beautiful and colorful mural was born. The once beige and bare wall in the garden at the front of the school now gleams with a vibrancy that is a breath of fresh air. All of the plants in the garden continue to grow large and healthy around the radiant mural of our state's flowers, beautifully brightening up the community. Walk by and take a look!
I love teaching the 3rd graders of Cornell Elementary about the stories of Civil Rights Leaders. The students build empathy by imagining what it would be like to live during that time.  It seems like such a long time ago to them. But it wasn't. And many students express that racism is a thing of the past. But it isn't.  Sometimes students think that protests and marches were things people did a long time ago to create change. But they are happening today.
The students of Cornell Elementary participated in a school-wide walk out and I was full of gratitude to be able to participate with them. When I walked into the school that morning, it was a sea of orange to honor the students of Parkland, Florida. They held signs that said "Schools Should be Safe" and "Students Stand United Against Hate."
Students ran up to me expressing how it made them feel powerful to take a stand and make their voices heard. They realized they were change makers. That their voice matters. I was moved to tears as I witnessed lessons sink in and expand their personal power.
By Youth in Arts Mentor Artist Jill Hoefgen
This semester in the Canal Alliance University Prep (UP!) advisory groups, we've been exploring media literacy and photography. In addition to learning about how to decode advertisement and identify fake news, the students have been practicing photography skills as a way to create and share media from their own perspective.
In April, I introduced the students to Brandon Stanton's Humans of New York photo project and we discussed community, photography, and human connections. Using some of Stanton's images as a jumping off point, the advisory groups of 7th and 11th graders started their final photography project last week.
As we trekked out of the classrooms and into the sunshine, the students expressed trepidations about what they "should" be photographing. I encouraged them to look for color, textures, shadows, lines, and people. Soon they were leading the way through the neighborhood, visiting shops and finding their own subjects to capture with the camera. They often stopped in pairs or individually to take a shot, and I chatted with each student about their photography as we moved along the street. Many of the students used the time to take many pictures, observe the neighborhood homes and businesses, and to explore the different angles to capture the best image.
When we returned to the classroom, they were energized and were ready to begin creating their own unique photo books, which should highlight their perspectives of the neighborhood.
~Jill Hoefgen
By YIA Mentor Artist Hannah Gavagan
The 6th-8th grade students at SRCS were amazing. They were able to discuss the issues in the world with a determination to create change. They exuded power by telling their stories. In short, they had something to say.
One group especially had something to say. And they worked harder than any group I have ever taught in my entire teaching career. That is a bold statement, I know. But these four 8th grade girls would pop their heads into the theatre at lunch, recess, and every break they had to ask me, "Is it ok if we rehearse on the stage?" OF COURSE was always my answer. The short play they devised was constantly growing and shifting. Every practice was an opportunity for them to make their message stronger. They knew they had something to say. The issue they chose to tackle was consent.
I am not writing about these girls because the play they performed was so well executed (it was), or because they were some of the most talented actors I have had the pleasure of teaching (they were), but because of their collaboration and determination to make there voices heard in the most creative, powerful ways possible.
The class before their final performance, they asked if it was alright if they wore shirts they made. OF COURSE was my answer. They showed up to their performance donning white shirts with black lettering across the front that said "You are not alone." I loved them! However, they still surprised me. During the final moment of their play, one of the girls who dealt with someone who did not respect her lack of consent spoke to the audience. She said she felt so alone and did not understand why this happened to her. She turned her back on the audience and knelt, defeated. As she turned around, I saw the back of her shirt. It read,
#MeToo
I burst into tears. That moment was emanating with power. Then the three other girls in the cast came onstage and physically helped her up. All their shirts also read #MeToo on the back. Once they all stood with locked arms, they faced the audience and reminded us that no one is alone in dealing with our traumas.
These girls used every opportunity to strengthen their message. And the hundreds in the theater heard them loud and clear.  I was one proud director. But more importantly, they were incredibly proud of themselves.
By YIA Mentor Artist Tracy Eastman
This past winter I had the privilege of working with four fun and friendly San Rafael High School students on creating signage for the Youth in Arts C Street studio and gallery.  The objective of the project was to design and create an eye-catching sign that grabs the attention of the public and invites them to come into the Youth in Arts studio to view and even create art.
The students first brainstormed how to visually portray what YIA is about (i.e. accessible art programs revolving around music, performing, and visual arts.)  They proposed various ideas and discussed the effectiveness of using certain visuals.    The students continued editing their ideas further until they had collaborated a harmonious design and composition.
Not having much experience using paints, the students spent some time familiarizing themselves with basic painting techniques before applying paint to the final surface.  We decided to paint the sign's design on a canvas using acrylic paints and then have the image digitally reproduced with the Youth in Arts logo printed directly onto a sandwich board sign to be placed outside the YIA studio.
The final design of the sign (prior to the digital reproduction) was comprised of colorful music notes dripping with wet paint, theater masks, a violin with a pencil for a bow, a paint-filled drum being played with paintbrushes, and vibrant piano keys atop a pastel rainbow background.  The bold lines and pops of color will definitely grab the attention of the viewers and draw them in to learn more.  The art students fully enjoyed learning what it was like to design and paint like artists, wearing their smocks, using traditional painting palettes and techniques, and thoughtfully orchestrating their physical working positions to allow all four artists to work on the same canvas simultaneously.
Cascade Canyon School families gathered earlier this Fall to make family flags as part of a Youth in Arts visual arts residency. Working with Mentor Artist Cathy Bowman and Program Director Morgan Schauffler, families participated in a lively discussion about the meaning of symbols and what shapes best represented each family. The artists began by tracing their images on scratch paper, then transferring onto recycled canvas panels. They decided which lines and shapes to keep, and traced over those with a black pen. Artists then used black Sharpie pens, oil pastels and watercolors to complete their pieces. Artists were encouraged to think beyond familiar symbols such as a heart or peace sign and consider using shapes that had no name or familiar form. The event was a great chance for parents and their children to collaborate artistically.  Thank you Cascade Canyon!
Kindergarenters have spent weeks learning about lines and observational drawing, and now it's time to show what we know. Students were given mirrors and asked to make faces: what does happy look like? Sad? Angry? Surprised? We then talked about our friends faces and what we can do to keep them smiling. Children had the opportunity to experiment with mirrors.
Next, we made emotions faces: four quick sketches showing our faces with different emotions. Students added color with their colored pencils. Regular practice has made them pros with color.
In our third week of portraits, we went big on beautiful heavy watercolor paper (thank you RileyStreet for making sure we have the best supplies). Once students had practiced drawing a big oval with just their finger on the paper, they were given pencils then sharpies. Don't forget the details (hair, eyelashes, eyebrows, ears, etc).
And then comes color! In oil pastels then liquid watercolors. I'm glad to have the super strong watercolor paper.
And finally, tell me a story with your picture frame. What do you love? What have you learned? What do you want people to know about you?
You can see all of the beautiful Kindergarten Art in our Gallery at Youth in Arts April 14-May 26.
Youth in Arts thanks the Creative HeArts Fund and the Tamura and Rezaian families for their ongoing support for this program.
This activity is supported in part by the California Arts Council, a state agency.
Last night, sounds of laughter, music and stories filled the auditorium on the campus of Laurel Dell Elementary School as Youth in Arts conducted the second Family Art Night as part of the Walker Rezaian Creative HeARTS Fund.
Mentor Artist Suzanne Joyal led the intergenerational crowd in making a book entitled, "With Our Hands." Caregivers and their children outlined their hands on recycled maps and then decided what their hands could do together. The book will go on display in the "Imagining Friendship" Gallery Exhibit opening at YIA Gallery on April 8.
Meanwhile Executive Director Miko Lee led families in an old fashioned quilting bee, sewing diamond shapes onto a 12′ Guatemalan kite. The kite pieces were designed at the enthusiastic Family Art Night in February. There were so many diamond shapes designed that Youth in Arts will create an additional kite.
Suzanne will be headed back to the school to make sure as many students as possible are included in this additional finished kite. The kites were designed to celebrate community and be mobile. The finished kites will be unveiled at the YIA Gallery and then will move to the temporary school site while Laurel Dell is under construction.  The collaborative artwork will travel with the community.
Thanks to our amazing volunteers: Stephanie Daly for ironing the diamonds onto the kite and recreating the centerpiece, and to youth volunteers Lena and Haley for helping out on the Family Nights. And a great thanks to all the parents, caregivers, teachers and children that came out to make art with us. We know you have so many things to do and we are thrilled when you join us to create, collaborate, and build friendships. As Principal Pepe Gonzalez summed up, "Another great night with Youth in Arts!"
Thanks to the Walker Rezaian Creative HeArts Fund and the California Arts Council for making this possible.
(By Paris Dowd, intern. This was her first attempt at designing an art lesson for the classrooms. It was a huge success!)
"This week we introduced the TK and kindergarteners at Laurel Dell to oil pastels. The kids worked together in groups, sharing the paper and the materials (including the pastels, baby oil and sponges for blending and sticks for scratching a drawing on the surface of the color). The goal was to color the large pieces of paper covering the tables while learning to blend and experiment using the new medium. Students were given shades of green, yellow, blue and white pastels to work with and asked to create as many new colors as possible.
After working in this way with the pastels, I observed a few of the kids switching to using colored pencils to draw and scribble with overlapping lines in their personal art journals.  It seemed that the kids were excited to continue exploring blending techniques across a range of mediums."
(Paris is an intern working with the students at Laurel Dell to create process books using the Making Learning Visible (MLV) technique out of Harvard School of Education's Project Zero. Each week Paris shows students pictures of themselves at work, and asks them to reflect on their art: what they learned, how they helped others, what was challenging, and more. MLV makes reflecting, writing, speaking, and collaborating so easy for even the youngest learners.)
« Newer Entries
Older Entries »