Catherine Layton is a Marketing Manager by day, but her true passion is dance, specifically Tango. She has spent years honing her skill and performing in New York and throughout the Bay Area. Her deep appreciation for the arts, culled with her marketing superpower, and being the mother of two school-aged children, make her an ideal fit for the board.
Catherine is a recent graduate of the San Rafael Leadership Institute. Executive Director Miko Lee spoke at their Diversity, the Arts & Media session and Catherine was inspired, "Miko's general energy, personal story, passion for the transformative nature of the arts in general, and for the work of YIA in particular, really struck a chord with me and inspired me to become involved. Plus, I've always been pro-arts and a supporter of arts in schools, and have two school-aged children, so I already had a passion for the cause –  it felt like a natural fit."
Born in England and raised by two classical musicians, Catherine was exposed to the performing arts at an early age. Her arts
education growing up in England and then Ohio was rather limited. "I spent half of my K-12 education in England, and only remember music class in school there. I only vaguely remember music and art in K-12 in Ohio," she explains. "Most of my arts education occurred outside the classroom, and exposure to the arts in general came from my parents. It really wasn't until I was in college that I had good access to arts education in all forms, and was able to choose from many classes in the arts." She wishes educational leaders would have had a better understanding of the importance of arts education, "as a critical part of a "well-rounded" curriculum, and really understood the profound benefits of arts in schools. That artistic expression and talent were nurtured in all schools (not just creative and performing arts schools), and that there were options for dance!"
Catherine looks forward to utilizing her skills in, "problem solving, collaboration, strategic thinking, marketing, project management and operational experience" to further the mission of Youth in Arts. We are so thankful to have her passion and expertise on our board. Thank you Catherine!
Youth in Arts was excited to offer two assemblies supported by funding from the California Arts Council to Davidson Middle School this Spring, tying into core learning goals for 6th – 8th grade Social Studies with arts integration techniques. For this program the Shahrzad Dance Ensemble, Director Shahrzad Khorsandi and four members of the ensemble, performed a special series of dances for the Persian New Year that had been choreographed and designed by Shahrzad over the last several years. Norouz ("New Day"), the Persian New Year, represents new beginnings, rebirth, and renewal. Shahrzad Dance Company's Norouz program for 2019, Symbols of Love, brought into focus the true meaning behind this celebrated event and gave students the opportunity to learn about the music, traditions, and cultural relevance of the Iranian holiday today. The performance began with students learning several Persian Dance movements, such as Shokufeh (Blossom), where the dancer starts out with their arms at their sides, and then brings them up over head and back out to side palms up (like a blossom).
Students were also invited to participate in a modified rendition of the fire jumping tradition which is part of the Norouz celebration. Shahrzad explained that traditionally we will jump over fires, saying in Persian " I give my yellow to you, you give your red to me". This indicates a throwing away of sorrow, pain , suffering, anger and illnesses into the fire (yellow), in order to burn it and receive positive energy (red) from the fire.
Throughout the performance, dancers portrayed dynamic characteristics associated with the symbols of: Sabzeh ("Sprout") which is symbolic for rebirth, Seeb ("Apple") which is a symbol of health, Samanu ("Wheat Pudding") which is a symbol of sweetness, Sekkeh ("Coins") which is a symbol of wealth and prosperity, and Norouz ("New Day").
These assemblies followed a three day cultural immersion series led by Shahrzad with participating classrooms in Fall 2018. During these workshops, Sharhzad sharing the geographical significance of the many regions in Iran/Persia, and how where each region is located within the country and what they are bordered by has affected the music and dance which can be found there. Students also learned about other types of Persian culture, such as the food, holidays, and traditions that are important to people across the country.
Youth in Arts would like to provide a special thank you to the California Arts Council for their support of this program!
Youth in Arts Mentor Artist Shahrzad Khorsandi worked with 2nd grade students at Cornell Elementary School in Albany for the 3rd year in a row through Youth in Arts' Artists in Schools program, introducing students to Persian culture through the music and dance of regions across Iran.
We began with a discussion on the geography of the Middle East and Iran, introducing students to each area with a sample of different folk dances from the various regions of the country.  The first class ended with everyone learning how to do the two-handed Persian snap (always a favorite and a challenge both for the students and teachers), which we could use throughout the residency to cheer for our peers.
Throughout the eight-week residency, each of the 4 classes learned a dance specific to a region of Iran. In the process, we learned about rhythm and patterns of movement, linking our sessions to and shape-making and understanding lines through our bodies. We then turned these shapes and lines into spatial patterns on the dance floor. Each class also worked in small groups to create their own movement patterns that they would do in a section of the choreography. This process gave the kids the opportunity to do problem solving and work on social skills, and allowed for the development of their own creative expression.
The residency ended in a culminating student performance with costumes/accessories. The parents were invited and all four classes got a chance to see each other perform, with almost 200 family members and supporters of all ages participating as audience members. During the culminating student performance, Shahrzad shares: "We worked for weeks on traditional dance moves from across Persia. Today you will see mix of some of those traditional moves and also some contemporary moves that the students created all on their own. This mix of old and new is part of the show today. In traditional Persian dance all the females would be in long skirts, in today's show everybody dresses in any way they want and everyone is celebrated. They learned to dance in groups and to collaborate."
Shahrzad describes working with kids as a job that is rewarding and fulfilling. She remembers one particularly special moment at the end of this residency when a student who had been crying and frustrated the day before the performance because he thought the performance was going to be a "failure", ran to her after the show and hugged her, smiling, saying, "We did a great job!" Later, as Shahrzad was reading the colorful Thank-you notes/drawings from the kids, she saw the drawing from that same student and cried. Below is the drawing.
Youth in Arts' Mentor Artist Eddie Madril taught counter narratives to a group of Marin County teachers by sharing his experience as a member of the Native American community.
Madril is part of the Pascua Yaqui tribe of southern Arizona and northern Sonora Mexico and represents his culture as a dancer, singer, teacher, playwright and filmmaker. During his presentation, teachers experienced history differently and learned how to make a corn husk figure (not a doll). Madrid talked about how important it is to understand multiple perspectives, including how tribes historically cared for and respected the land where they lived and did not consider it something that could be bought and sold. He also explained that if there is only one student in a class who is Native, for example, that student should not be singled out or made to represent all Native American people. Teachers ended the day with a hoop dance.
"It's critical for teachers to be able to hear counter-narratives to expand their teaching to reach all learners," said Youth in Arts' Executive Director Miko Lee. "It's through these culturally responsive teaching practices that our students can learn about the world that we live in with a more balanced perspective."
Madril has taught American Indian music at San Francisco State University and was a three-year recipient of the California Arts Council Artist-In-Residence grant. As a dancer and educator, he has performed throughout the western United States, including the San Francisco Ethnic Dance Festival and World Arts West's arts education program People Like Me. He works with students to encourage the appreciation of and respect for American Indian dance, music, culture, history, art and sign language.
To review the hands-outs and suggested readings, go here.
Youth in Arts worked with the Marin County Office of Education to provide professional development courses like these. We are proud to announce a generous grant from the California Arts Council to provide for Eddie Madrill's Assembly Performance and Workshops for Title 1 schools whose teachers attended the counter narrative training. Thanks also to Marin Community Foundation for supporting our work.
Mentor Artist and Kumu Hula Shawna Alapa'i recently concluded a successful residency at Ross School K-8, sharing: "Hula found its way to Ross School and it was a smooth, flowing journey. Chanting, percussion and melodic tunes could be heard down the halls every Monday, Tuesday and Wednesday mornings and it brought smiles to many faces.  It was the first time for Hula to be taught in Ross School and the students grew right into it!" Through dance and music, Shawna and her students journeyed to ancient sites throughout the island of Hawai'i, retraced the navigational routes from Tahiti, Hawaii, and New Zealand, where they learned the cultural protocols of a Maori Haka and gained a cultural perspective and understanding of the stories of Maui, one of Hawaii's legendary icons.
When the Student Performance day came, Shawna says, "I could feel the energy of Aloha buzzing all around us! The kids were excited as their parents and guests took their seats.  The kids all looked fabulous with their silk flower lei on. Kindergarten classes went first with their Hula,  A Hilo Au.  They chanted their hearts out and enjoyed being up on the stage (a star is born) … a very hard act to follow!"
She continues, "However, the rest of the classes stepped up to the lu'au plate and all did fantastic! We chanted, danced and delved into the sacred realm of Hula and reached our destination with awareness, grace, power and joy." Shawna and Youth in Arts had a wonderful time working with Ross School and are looking forward to sharing and learning with these talented students again.
"Hulo to Ross School for such a wonderful opportunity!"
Shahrzad Khorsandi, a seasoned teacher and performer in Persian Dance, stepped out of her comfort zone into a new area this semester! She worked with two special day classes at Terra Linda High School through our Arts Unite Us program, teaching Persian dance and music. Though a bit nervous on the first day, she soon fit right in. With the help of the wonderful teachers at Terra Linda she engaged students, encouraging them to take part in playing percussive instruments and dancing and cheering each other on during the performances.
Shahrzad says of her experience, "Throughout the residency, we researched Persian culture, learning about various Persian instruments by watching videos of professional musicians playing the instruments". Shahrzad was even able to bring in several instruments for the kids to see, touch, and play with. She adds, "We looked at the map of Iran and talked about the various regions of the country, and learned a sampling of various dance styles from each region. In the following weeks each of the two classes focused on one particular region, learning the choreography. While learning the movement patterns, we were exposed to concepts like making floor patterns with circles and line, and directional cues like facing our partner, or facing back or forward, etc."
The residency culminated in a student performance. Parents were invited and both classes got to see each other perform. Shahrzad shares, "We had a great time and everyone did a wonderful job. It was interesting to see that some kids who seemed shy at first really hammed it up when faced with an audience. After the performance the audience was asked to join the performers in an improvisational social dance with Persian music. All in all, it was a hit!"
Thank you to VSA Kennedy Center, Marin County Office of Education, and the Marin Community Foundation for making these programs possible for our youth and community!
Kumu Hula Shawna Alapa'i and Halau Hula Na Pua O Ka La'akea performed for students from the Bolinas-Stinson Union School District at the Dance Palace Community & Cultural Center in Point Reyes. Spanning traditional Kahiko (ancient) hula to modern ('auana) hula, students experienced Hawai'ian story-telling through melody, hand-crafted instruments, dress, and dance traditions.
The assembly concluded with a fun hands-on workshop where students learned parts of a Haka, a traditional warrior's dance originating with the Maori people and adopted into Hawai'ian culture. Kumu Hula Shawna incorporated aspects of the Haka into a hula danced to the music from Moana as a way to engage students and connect culturally based on common knowledges.
A special thank you to the Dance Palace Community & Cultural Center and the California Arts Council for their support of this program!
Afro-Peruvian music and dance is a unique blend of African, Spanish, and Indigenous elements. During this special assembly organized by mentor artist Carmen Román at Sonoma Mountain Elementary School, master performers Pierre Padilla Vasquez, Pedro Rosales, Amelia Uzategui Bonilla, David Pinto, and Juan Medrano Cotito shared their expertise in Afro-Peruvian song and dance with students of all ages. Continuing with workshops throughout the day, students got hands-on experience learning about traditional Afro-Peruvian history and culture with dances such as the Festejo, Zamacueca, and Son De Los Diablos. Through movement and music led by the artists, students were exposed to the rich traditions of another culture. 
Mentor Artist Stephanie Bastos worked with every student at Laurel Dell Elementary School this Spring. Here are her thoughts:
I believe every child deserves quality arts education and schools like Laurel Dell Elementary strive to make it happen. My instruction there included Movement arts focusing on Brazilian Music and Dance that provided a rich experience for a community of mostly immigrant families. As a trilingual teaching artist having spent a lot of time in Brazil and throughout South America, I related to the kids and families by simply sharing my culture. I also have a disability that I do a presentation about for the learners so that they can see that every body can move and create.
The learners experienced a traditional dance class that includes a warm- up, skill building, and performance/ improvisation in small groups or individually. They also got to play drums and sing songs in Portuguese.
Laurel Dell celebrates their community every Spring with the Fiesta Del Sol: families and friends meet for a fun and music-filled day of dance and food. For the culminating event, students presented Samba Reggae choreography, Maculelé folklore- a traditional warrior dance and the beloved Capoeira- a game of movement, acrobatics, and song.  I had the honor of entering a community full of love and simplicity that taught me a lot about the possibilities of what quality education looks like for all!
Thanks to the generosity of the Laurel Dell PTA, and the California Arts Council, Stephanie will be returning to Laurel Dell this year. 
by Mentor Artists Kaitlin McGaw and Tommy Shepherd. Photos by Kristin Chalmers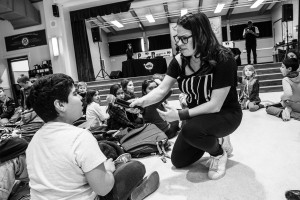 Alphabet Rockers were proud to offer hip hop arts programming in Glenwood Elementary School again this year. In a unique program design, we offered two assemblies (one in fall, one in Spring), along with accompanying dance workshops following each program.
Principal Kim Goodhope understands the importance of equity frameworks – and was eager to see how this model would deepen the experience for the young people.
We ourselves as artists were in the process of evolving our language, performance and messages to step up as allies and advocates for racial justice. Earlier in 2017, we performed "Change the World," with songs like "Gimme Some Skin" inviting young people to see and validate the diversity of skin colors in the room. We invited the audience to envision how they would change the world to make it more fair for all people.
In our return visit this past October, we were in the process of developing a new concert series for the September released album, Rise Shine #Woke. Our music had changed. We had changed as artists. As a multi-racial group of artists, we had advanced our work from "Gimme Some Skin" into songs that talked about discrimination, and took action to interrupt our biases.
In the assembly, we performed the song "Shine" in this way. We talked about how shocking it was for Tommy when someone said to his face, that "Black lives don't matter" when wearing a BLM shirt. This had happened to his 10 year old son only weeks earlier, and we took the story into our show – outlining how friends stood up for him at a time he didn't have the words. The song throws "shine not shade" on all those facing discrimination. The children joined us in dance, and sang out the words "Shine! On my beautiful skin!"
When we went into the classrooms to unpack further, we knew that as a mixed-race group, we would hold different space. A white woman talking about skin color discrimination and a black man talking about skin color discrimination would hold different language, embodiment and throughlines for these classrooms, where the children were from various backgrounds but were navigating a mostly white school and community. We found that the work needed to root in identifying and celebrating difference, before we could address discrimination and advocacy. It was clear that the work we were aiming to accomplish would need further parallel resources in the classrooms and in the school culture.
This album received a GRAMMY Nomination only a few months later; we returned with that glow to Glenwood in March. We performed our song "Walls" – about how folks who speak another language or come from another place are not always made to feel welcome. How can we be "the people" that we really want to be? How can we uphold those ideals of equality and equity at a time when we knew that even our own kids were feeling the pain of discriminating national policies and actions.
Post concert, we went back into the classrooms, charged with a similar inquiry of unpacking discrimination and bias with our young people. In one class, learning the dance moves to "Shine" empowered the children to feel their voices and bodies connected to bold claims of belonging. In another class, we reverted back to trying to describe our skin color, finding that the work around discrimination was still not quite sinking in. We went on a skin color match game, finding articles in the room that reflected our skin colors, from pages of an old book to a wooden clock. We then turned our skin color matches into unique handshakes, which celebrated the diversity and creativity of the students.
What's interesting to know in this path with arts and creativity is that it is not always linear. We do need to circle back, to revisit, to revise and listen. Just the same with adults – we cannot assume that one moment of learning around systems of oppression will lead us entirely to a path of truth and understanding. We are complex beings, seeped in our systems of bias and understanding. Our kids are as well.
In our work at Glenwood, we are reminded of this openness. The principal brought us in with full understanding of the importance of equity. We will continue to support their work – and the students individual and collective journeys – as it is about true embodiment through the years.
Older Entries »