In response to recent events, we at Youth in Arts recommit to lifting up the voices of the unheard and underrepresented. Access to creativity empowers youth to share their voices and ask difficult questions of themselves and of the world.
Equity is at the center of our work. Starting this week, we are launching YIACr8tes Conversation, looking at race, identity and racism. Teaching artists presenting these free digital lessons include Jessica Recinos of Rising Rhythm SF, Youth in Arts' Program Director Kelsey Rieger and other Mentor Artists from the YIA roster. Each lesson will end with guiding questions for parents and educators to ask children. The lessons will air on Facebook, Instagram and YouTube at 1 p.m. PDT today (June 8), Wednesday, June 10, and Friday, June 12.
"We will continue to facilitate art and put creativity in the hands of those often left out of critical dialogue," said Youth in Arts Executive Director Kristen Jacobson. "We will drive discussion of implicit bias, policies that support equity and unobstructed access with educators, administrators and parents. We will not shy away from pushing the conversation surround privilege and power, especially in our community. We will continue to build a network of advocates that look to arts education as a vehicle for social change."
As many schools look at slashing the arts because of budget shortfalls in light of the pandemic, we urge them to look for free and affordable resources and partners. Along with shifting to online learning, many students are trying to find their paths amid trauma, economic uncertainty, isolation and the chaos of world events. Access to art and creativty is more important than ever for offering ways to support mental and emotional health. Creativity can be also be used as a catalyst for discussions about anti-racist parenting and classrooms.
"Covid-19 pushed educators and parents to find innovative ways to engage creative exploration through digital/virtual means – Youth in Arts was ready and present with online learning.  Now, as the trauma of Covid-19 is compounded by intensity of racial justice protests, Youth in Arts is again ready to join parents, educators and schools to inspire conversation and dialgoue on critical issues," Kristen said. "Youth in Arts' work has long centered on equity and we feel empowered to step forward as a leader and resource for our community."
We urge you to join Create CA's statewide effort to promote the Declaration of the Rights of All Students to Equity in Arts Learning. This resolution outlines students' rights to a high-quality public arts education, regardless of background, culture, language or where they live.  Youth in Arts has already signed on. In the coming weeks, we will be looking at more ways to create digital programs to address racial and social justice.
In the meantime, here are some resources:
From the New York Times, books that help explain racism to kids
From National Public Radio, Raising White Kids: How White Parents Can Talk About Race
Also from The Times: 26 short films for exploring race, bias and identity
For book recommendations: The Conscious Kid and The Brown Bookshelf.
We are grateful to be able to do the work that we do at this important time. Please join us and please reach out with any suggestions or resources for continuing racial justice work through the lens of arts programming.
We just got some great news!  The California Arts Council has announced multiple grant awards totalling more than $50,000 to Youth in Arts to support various initiatives to reach students, teachers and families with arts education. 
The largest grant award was $20,000 for Youth in Arts' Artists in Schools program in partnership with San Rafael City Schools bringing visual arts, architecture and dance directly into classrooms.  Youth in Arts also received a $12,540 Arts Exposure grant supporting assemblies with professional artists during the school day; $12,350 for Youth Arts Action grant in support of `Til Dawn, Youth in Arts' award-winning teen a cappella group; $4,750 for Arts Integration Training for professional mentor artists; and $1,250 for staff professional development regarding the development and training of STEAM programs (Science, Technology, Arts, Math). 
"We are honored and thrilled to receive such recognition by the California Arts Council," said Youth in Arts Executive Director Kristen Jacobson. "It enables us to provide vital programs in the schools, including direct service to students and ongoing support for teachers at the forefront of developing new STEAM curriculum in Marin. During these unprecedented times, we are thankful for the innovation and flexibility encouraged by the CAC to continue this work even through the lens of social distance learning. Our communities need access to creativity now more than ever, and Youth in Arts is working hard to answer that call."
Youth in Arts was featured as part of a larger announcement from the California Arts Council of more than 1,500 grants awarded to nonprofit organizations and units of government throughout the state for their work in support of the agency's mission to strengthen arts, culture, and creative expression as the tools to cultivate a better California for all. The investment of nearly $30 million marks a more than $5 million increase over the previous fiscal year, and the largest in California Arts Council history.
Organizations were awarded grants across 15 different program areas addressing access, equity, and inclusion; community vibrancy; and arts learning and engagement; and directly benefiting our state's communities, with youth, veterans, returned citizens, and California's historically marginalized communities key among them. Successful projects aligned closely with the agency's vision of a California where all people flourish with universal access to and participation in the arts.
Amid the COVID-19 pandemic, the California Arts Council recognizes that some grantees may need to postpone, modify, or cancel their planned activities supported by CAC funds, due to state and local public health guidelines. The state arts agency is prioritizing flexibility in addressing these changes and supporting appropriate solutions for grantees.
"Creativity sits at the very heart of our identity as Californians and as a people. In this unprecedented moment, the need to understand, endure, and transcend our lived experiences through arts and culture is all the more relevant for each of us," said Nashormeh Lindo, Chair of the California Arts Council. "The California Arts Council is proud to be able to offer more support through our grant programs than ever before, at a time when our communities' need is perhaps greater than ever before. These grants will support immediate and lasting community impact by investing in arts businesses and cultural workers across the state."
The California Arts Council is committed to increasing the accessibility of its online content. For language and accessibility assistance, visit http://arts.ca.gov/aboutus/language.php.
Want to learn more about #YIACre8tes? Read about these free online arts activities and Executive Director Kristen Jacobson on Partnership Resources Group's website.
The San Rafael-based consulting firm provides fundraising services to organizations in Northern California. During the coronavirus quarantine, it has been highlighting nonprofits doing good work by featuring them on its heroes page.
This week, Youth in Arts was named as one of those heroes.
Kristen explained that as a mom of two boys, she knew immediately that Youth in Arts needed to step up to the challenge facing parents who found themselves suddenly homeschooling while trying to work.
"I understand how important arts education is to my children and to this community," Kristen told Partnership Resources Group. "STEM really needs the A for STEAM (science, technology, engineering, arts and math)."
Youth in Arts has been providing free arts activities live streamed weekdays at 11:08 a.m. on Facebook and Instagram. Activities have included a shape chain dance, making paper playgrounds, painting with flowers and building towers with cardboard scraps.
Vanessa Coleman, a teacher at Rancho Elementary School in Novato and the mother of two boys, appreciates the Youth in Arts lessons.
"We have been using Youth in Arts as fun brain breaks and just some different types of instruction," she said. "The live stream is videoed so they an be accessed live, or later at a time convenient for us. They are short and sweet ­– just perfect."
Kristen said Youth in Arts is reaching as many schools as it can through distance learning. The arts education nonprofit currently has partnerships with about eight school districts, using teaching artists to provide programs designed to reach all learners and build creativity, confidence and compassion.
Kristen said the silver lining of live stream videos is that Youth in Arts is connecting with more families in a new way.
"Whether they join us live or later, we are getting 800 to 1,100 views on our videos every day," Kristen told Partnership Resources Group. "We need things like this now more than ever."
To read the full interview with Partnership Resources Group, click here.
How should a dancer teach online? How does clown perform without a live audience? How can a metal artist heat up materials without her studio?
More than 50 teaching artists from around the Bay Area joined a Zoom call recently to explore how to continue working with their students, now that schools and businesses are closed due to the coronavirus pandemic. Youth in Arts held a similar call the same day with its own teaching artists.
The Bay Area wide event was supported by Arts Education Alliance of the Bay Area and Oakland Unified Arts Partners. It was facilitated by Mika Lemoine, a mentor artist who teaches hip hop and street dance with Destiny Arts Center in Oakland, and Rachel-Anne Palacios, a multicultural artist and activist who works in the Oakland schools.
Participants began by coming up with a word to describe how they were feeling. The answers were telling: Hopeful. Weary. Isolated. Groovy. Challenged. Excited. Unwashed.
With work inside schools halted, teaching artists discussed ways to engage with their students online. Several expressed their concern about how to reach kids who don't have access to a computer, and how hard it is to be creative when you feel anxious.
"I realize how much social connection feeds me and motivates me," said one dance teacher. "Not being able to fully move is hindering my well being."
Teaching artists also talked about the strain of trying to figure out how to survive financially. Can they file for unemployment? Which is the best online platform to use to reach the widest audience? When will they be able to earn a living working in classrooms again?
Youth in Arts Executive Director Kristen Jacobson held a similar Zoom call with Youth in Arts' teaching artists and staff. Kristen shared that Youth in Arts is talking to funders, donors and school partners to find ways to continue programming and support teaching artists.
"Reaching all kids with meaningful arts activities and supporting teaching artists is crucial during these challenging times," Kristen said. "We are working as hard as we can to make this work."
Julia Chigamba and the Chinyakare Ensemble, a family of musicians, dancers and teachers committed to preserving and sharing traditional Zimbabwean culture and promoting community building and education through art, put on an incredible performance at Dance Palace Community & Cultural Center. Sharing an electrifying display of the traditional dance, music, and culture of Zimbabwe and Southern Africa, ensemble members Kanukai Chigamba, Julia Chigamba, and Augusten Basa performed three traditional dances for students from across West Marin. The first dance was a welcome dance called Mauya in the Shona language.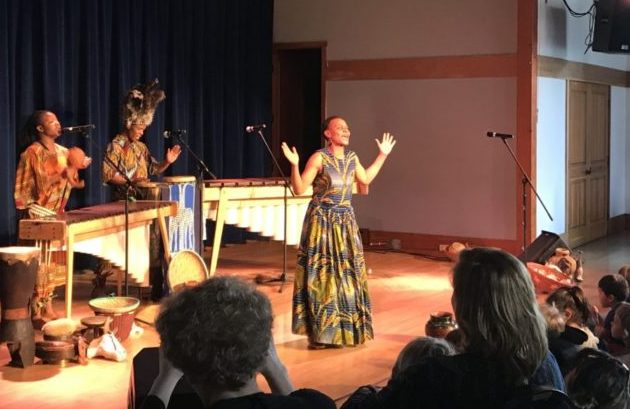 Next, Julia wowed audience members with a dance that is a celebration of the vital source of water. Students gasped and cheered as Julia danced with a full ceramic jug of water balanced on her head. Occasionally, the water would jump over the edges of the container – "the water is excited and wants to dance too!" Julia shares with students after the conclusion fo the song.
In a performance meant to rejoice in harvest, Julia and Kanukai performed with baskets containing various seeds and beans. As many of the dances are about weaving a colorful story of everyday life while teaching important life lessons such as goal-setting, perseverance, and thankfulness, students were encouraged to think about the celebratory and community aspects of music and dance for cultures around the world.
The Chinyakare Ensemble then encouraged everyone in the room to stand up and learn the narrative movements of a warrior's dance while Augusten and Kanukai played marimbas and sang. When asked what the dance was about, one young students raised her hand and shared "I think it's a dance about planting and growing things, and telling the story of our every day lives". Together, we celebrated while Julia encouraged students to engage with items that the ensemble had brought with them from Zimbabwe, including mbiras and other instruments, as well as sculptures and wearable accessories. Students handled everything with care and respect, and we left the shared space of the performance feeling the joy of new connections being made!
Youth in Arts extends a special thank you to the California Arts Council, who's support makes this program possible. 
Youth in Arts is thrilled to announce the hiring of Kristen Jacobson as its new executive director. Jacobson, who has a wealth of experience and a background in the performing arts, is expected to start in early November.
Jacobson is an arts leader, educator, and program designer dedicated to the accessibility of arts education for diverse populations. She comes to Youth in Arts from Alonzo King LINES Ballet, where as managing director of education, she has led initiatives to expand LINES' programs that promote individuality, creativity and communication through dance and movement learning. Under her leadership, LINES education programs experienced significant expansion, growth, success and impact.
She also serves on the board of the Arts Education Alliance of the Bay Area as well as San Francisco Unified School District's Arts Education Master Plan advisory committee.
"We are excited to have Kristen join us," said Youth in Arts Board President Naomi Tamura. "Her leadership style, and dynamic personality is well-suited to build off of the great strides Youth in Arts has made in arts education and advocacy. We are eager to have her lead us to even higher levels in developing young artists of all abilities."
Prior to her time at LINES and in the Bay Area, Kristen served as the youth & community programs manager for Hubbard Street Dance Chicago, where she was responsible for developing and implementing Hubbard Street's Youth Dance Program from its inception. She was also instrumental in developing the Adaptive Dance Program, leading the Parkinson's Project, managing school partnerships and residency program, teaching artist development, family programming as well as community partnerships with the Art Institute of Chicago, Chicago Symphony Orchestra, Chicago Botanic Garden, Museum of Contemporary Art and cultural institutions across Chicago.
With a long history as an arts educator, Kristen's experience prior to Hubbard Street includes work for Metropolis Performing Arts Centre, Free Street Theater, Chicago Human Rhythm Project and LABCO Dance Company in Pittsburgh. She also worked as a dancer and choreographer for a number of companies and organizations in Chicago, Cleveland and Pittsburgh.
She holds a bachelor's degree in Musical Theater and Dance from Point Park University's Conservatory of Performing Arts and a master's degree in arts in Youth and Community Development from Columbia College Chicago.
Welcome, Kristen!
Photo credit L to R: Stephen Texeira, Quinn Wharton, LINES Ballet
Catherine Layton is a Marketing Manager by day, but her true passion is dance, specifically Tango. She has spent years honing her skill and performing in New York and throughout the Bay Area. Her deep appreciation for the arts, culled with her marketing superpower, and being the mother of two school-aged children, make her an ideal fit for the board.
Catherine is a recent graduate of the San Rafael Leadership Institute. Executive Director Miko Lee spoke at their Diversity, the Arts & Media session and Catherine was inspired, "Miko's general energy, personal story, passion for the transformative nature of the arts in general, and for the work of YIA in particular, really struck a chord with me and inspired me to become involved. Plus, I've always been pro-arts and a supporter of arts in schools, and have two school-aged children, so I already had a passion for the cause –  it felt like a natural fit."
Born in England and raised by two classical musicians, Catherine was exposed to the performing arts at an early age. Her arts
education growing up in England and then Ohio was rather limited. "I spent half of my K-12 education in England, and only remember music class in school there. I only vaguely remember music and art in K-12 in Ohio," she explains. "Most of my arts education occurred outside the classroom, and exposure to the arts in general came from my parents. It really wasn't until I was in college that I had good access to arts education in all forms, and was able to choose from many classes in the arts." She wishes educational leaders would have had a better understanding of the importance of arts education, "as a critical part of a "well-rounded" curriculum, and really understood the profound benefits of arts in schools. That artistic expression and talent were nurtured in all schools (not just creative and performing arts schools), and that there were options for dance!"
Catherine looks forward to utilizing her skills in, "problem solving, collaboration, strategic thinking, marketing, project management and operational experience" to further the mission of Youth in Arts. We are so thankful to have her passion and expertise on our board. Thank you Catherine!
Youth in Arts was excited to offer two assemblies supported by funding from the California Arts Council to Davidson Middle School this Spring, tying into core learning goals for 6th – 8th grade Social Studies with arts integration techniques. For this program the Shahrzad Dance Ensemble, Director Shahrzad Khorsandi and four members of the ensemble, performed a special series of dances for the Persian New Year that had been choreographed and designed by Shahrzad over the last several years. Norouz ("New Day"), the Persian New Year, represents new beginnings, rebirth, and renewal. Shahrzad Dance Company's Norouz program for 2019, Symbols of Love, brought into focus the true meaning behind this celebrated event and gave students the opportunity to learn about the music, traditions, and cultural relevance of the Iranian holiday today. The performance began with students learning several Persian Dance movements, such as Shokufeh (Blossom), where the dancer starts out with their arms at their sides, and then brings them up over head and back out to side palms up (like a blossom).
Students were also invited to participate in a modified rendition of the fire jumping tradition which is part of the Norouz celebration. Shahrzad explained that traditionally we will jump over fires, saying in Persian " I give my yellow to you, you give your red to me". This indicates a throwing away of sorrow, pain , suffering, anger and illnesses into the fire (yellow), in order to burn it and receive positive energy (red) from the fire.
Throughout the performance, dancers portrayed dynamic characteristics associated with the symbols of: Sabzeh ("Sprout") which is symbolic for rebirth, Seeb ("Apple") which is a symbol of health, Samanu ("Wheat Pudding") which is a symbol of sweetness, Sekkeh ("Coins") which is a symbol of wealth and prosperity, and Norouz ("New Day").
These assemblies followed a three day cultural immersion series led by Shahrzad with participating classrooms in Fall 2018. During these workshops, Sharhzad sharing the geographical significance of the many regions in Iran/Persia, and how where each region is located within the country and what they are bordered by has affected the music and dance which can be found there. Students also learned about other types of Persian culture, such as the food, holidays, and traditions that are important to people across the country.
Youth in Arts would like to provide a special thank you to the California Arts Council for their support of this program!
Youth in Arts Mentor Artist Shahrzad Khorsandi worked with 2nd grade students at Cornell Elementary School in Albany for the 3rd year in a row through Youth in Arts' Artists in Schools program, introducing students to Persian culture through the music and dance of regions across Iran.
We began with a discussion on the geography of the Middle East and Iran, introducing students to each area with a sample of different folk dances from the various regions of the country.  The first class ended with everyone learning how to do the two-handed Persian snap (always a favorite and a challenge both for the students and teachers), which we could use throughout the residency to cheer for our peers.
Throughout the eight-week residency, each of the 4 classes learned a dance specific to a region of Iran. In the process, we learned about rhythm and patterns of movement, linking our sessions to and shape-making and understanding lines through our bodies. We then turned these shapes and lines into spatial patterns on the dance floor. Each class also worked in small groups to create their own movement patterns that they would do in a section of the choreography. This process gave the kids the opportunity to do problem solving and work on social skills, and allowed for the development of their own creative expression.
The residency ended in a culminating student performance with costumes/accessories. The parents were invited and all four classes got a chance to see each other perform, with almost 200 family members and supporters of all ages participating as audience members. During the culminating student performance, Shahrzad shares: "We worked for weeks on traditional dance moves from across Persia. Today you will see mix of some of those traditional moves and also some contemporary moves that the students created all on their own. This mix of old and new is part of the show today. In traditional Persian dance all the females would be in long skirts, in today's show everybody dresses in any way they want and everyone is celebrated. They learned to dance in groups and to collaborate."
Shahrzad describes working with kids as a job that is rewarding and fulfilling. She remembers one particularly special moment at the end of this residency when a student who had been crying and frustrated the day before the performance because he thought the performance was going to be a "failure", ran to her after the show and hugged her, smiling, saying, "We did a great job!" Later, as Shahrzad was reading the colorful Thank-you notes/drawings from the kids, she saw the drawing from that same student and cried. Below is the drawing.
Youth in Arts' Mentor Artist Eddie Madril taught counter narratives to a group of Marin County teachers by sharing his experience as a member of the Native American community.
Madril is part of the Pascua Yaqui tribe of southern Arizona and northern Sonora Mexico and represents his culture as a dancer, singer, teacher, playwright and filmmaker. During his presentation, teachers experienced history differently and learned how to make a corn husk figure (not a doll). Madrid talked about how important it is to understand multiple perspectives, including how tribes historically cared for and respected the land where they lived and did not consider it something that could be bought and sold. He also explained that if there is only one student in a class who is Native, for example, that student should not be singled out or made to represent all Native American people. Teachers ended the day with a hoop dance.
"It's critical for teachers to be able to hear counter-narratives to expand their teaching to reach all learners," said Youth in Arts' Executive Director Miko Lee. "It's through these culturally responsive teaching practices that our students can learn about the world that we live in with a more balanced perspective."
Madril has taught American Indian music at San Francisco State University and was a three-year recipient of the California Arts Council Artist-In-Residence grant. As a dancer and educator, he has performed throughout the western United States, including the San Francisco Ethnic Dance Festival and World Arts West's arts education program People Like Me. He works with students to encourage the appreciation of and respect for American Indian dance, music, culture, history, art and sign language.
To review the hands-outs and suggested readings, go here.
Youth in Arts worked with the Marin County Office of Education to provide professional development courses like these. We are proud to announce a generous grant from the California Arts Council to provide for Eddie Madrill's Assembly Performance and Workshops for Title 1 schools whose teachers attended the counter narrative training. Thanks also to Marin Community Foundation for supporting our work.
Older Entries »