Afro-Peruvian music and dance is a unique blend of African, Spanish, and Indigenous elements. During this special assembly organized by mentor artist Carmen Román at Sonoma Mountain Elementary School, master performers Pierre Padilla Vasquez, Pedro Rosales, Amelia Uzategui Bonilla, David Pinto, and Juan Medrano Cotito shared their expertise in Afro-Peruvian song and dance with students of all ages. Continuing with workshops throughout the day, students got hands-on experience learning about traditional Afro-Peruvian history and culture with dances such as the Festejo, Zamacueca, and Son De Los Diablos. Through movement and music led by the artists, students were exposed to the rich traditions of another culture. 
Mentor Artist Stephanie Bastos worked with every student at Laurel Dell Elementary School this Spring. Here are her thoughts:
I believe every child deserves quality arts education and schools like Laurel Dell Elementary strive to make it happen. My instruction there included Movement arts focusing on Brazilian Music and Dance that provided a rich experience for a community of mostly immigrant families. As a trilingual teaching artist having spent a lot of time in Brazil and throughout South America, I related to the kids and families by simply sharing my culture. I also have a disability that I do a presentation about for the learners so that they can see that every body can move and create.
The learners experienced a traditional dance class that includes a warm- up, skill building, and performance/ improvisation in small groups or individually. They also got to play drums and sing songs in Portuguese.
Laurel Dell celebrates their community every Spring with the Fiesta Del Sol: families and friends meet for a fun and music-filled day of dance and food. For the culminating event, students presented Samba Reggae choreography, Maculelé folklore- a traditional warrior dance and the beloved Capoeira- a game of movement, acrobatics, and song.  I had the honor of entering a community full of love and simplicity that taught me a lot about the possibilities of what quality education looks like for all!
Thanks to the generosity of the Laurel Dell PTA, and the California Arts Council, Stephanie will be returning to Laurel Dell this year. 
by Mentor Artists Kaitlin McGaw and Tommy Shepherd. Photos by Kristin Chalmers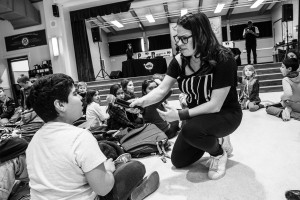 Alphabet Rockers were proud to offer hip hop arts programming in Glenwood Elementary School again this year. In a unique program design, we offered two assemblies (one in fall, one in Spring), along with accompanying dance workshops following each program.
Principal Kim Goodhope understands the importance of equity frameworks – and was eager to see how this model would deepen the experience for the young people.
We ourselves as artists were in the process of evolving our language, performance and messages to step up as allies and advocates for racial justice. Earlier in 2017, we performed "Change the World," with songs like "Gimme Some Skin" inviting young people to see and validate the diversity of skin colors in the room. We invited the audience to envision how they would change the world to make it more fair for all people.
In our return visit this past October, we were in the process of developing a new concert series for the September released album, Rise Shine #Woke. Our music had changed. We had changed as artists. As a multi-racial group of artists, we had advanced our work from "Gimme Some Skin" into songs that talked about discrimination, and took action to interrupt our biases.
In the assembly, we performed the song "Shine" in this way. We talked about how shocking it was for Tommy when someone said to his face, that "Black lives don't matter" when wearing a BLM shirt. This had happened to his 10 year old son only weeks earlier, and we took the story into our show – outlining how friends stood up for him at a time he didn't have the words. The song throws "shine not shade" on all those facing discrimination. The children joined us in dance, and sang out the words "Shine! On my beautiful skin!"
When we went into the classrooms to unpack further, we knew that as a mixed-race group, we would hold different space. A white woman talking about skin color discrimination and a black man talking about skin color discrimination would hold different language, embodiment and throughlines for these classrooms, where the children were from various backgrounds but were navigating a mostly white school and community. We found that the work needed to root in identifying and celebrating difference, before we could address discrimination and advocacy. It was clear that the work we were aiming to accomplish would need further parallel resources in the classrooms and in the school culture.
This album received a GRAMMY Nomination only a few months later; we returned with that glow to Glenwood in March. We performed our song "Walls" – about how folks who speak another language or come from another place are not always made to feel welcome. How can we be "the people" that we really want to be? How can we uphold those ideals of equality and equity at a time when we knew that even our own kids were feeling the pain of discriminating national policies and actions.
Post concert, we went back into the classrooms, charged with a similar inquiry of unpacking discrimination and bias with our young people. In one class, learning the dance moves to "Shine" empowered the children to feel their voices and bodies connected to bold claims of belonging. In another class, we reverted back to trying to describe our skin color, finding that the work around discrimination was still not quite sinking in. We went on a skin color match game, finding articles in the room that reflected our skin colors, from pages of an old book to a wooden clock. We then turned our skin color matches into unique handshakes, which celebrated the diversity and creativity of the students.
What's interesting to know in this path with arts and creativity is that it is not always linear. We do need to circle back, to revisit, to revise and listen. Just the same with adults – we cannot assume that one moment of learning around systems of oppression will lead us entirely to a path of truth and understanding. We are complex beings, seeped in our systems of bias and understanding. Our kids are as well.
In our work at Glenwood, we are reminded of this openness. The principal brought us in with full understanding of the importance of equity. We will continue to support their work – and the students individual and collective journeys – as it is about true embodiment through the years.
by YIA Mentor Artist Cynthia Pepper
What a wonderful day we had with the Terra Linda Special Day Classes led by Rachel and Abby. We had 9 adults assisting the 12 students on the final sharing day of my residency last week. I thought it would be nice to start our day off with a warm up to Bob Marley. The man! He cuts to the chase with his lyrics of "Is it love?". It must be love because everyone was smiling while we moved all our bodies in unison to get ready for the big dance called KUKU. It is from Guinea West Africa and it involves fishing with nets, sharing our catch, becoming fishes and having a full on party at the end. The African based cultural dance day eased in with our sharing of energy around the room both in clockwise and counter clockwise directions. We cleaned up the day with Keb Mo and Michael Jackson and my all time favorite get funky dance song "Green Onions" by Booker T. and The M.G.'s. It just takes it away. The paras and the aides all danced a solo in the middle of the room which they all accomplished with flair. Each wheelchair got a pirouette opportunity and the students crushed it with smiles. I love sharing with so many students the joy of movement and music. It seems like it keeps getting better the more we do it. Each time feels better than the next.
Thank you Abby and Rachel for always being so ready to rock. And thank you to our very generous supporters: 
Second graders at Cornell Elementary School in Albany had the opportunity to learn about Persian dance, music and culture. Each class learned a different style of dance from Iran. There were four 2nd-grade classes, 92 diverse students who participated in this residency.
These students had nine sessions of Persian dance and culture class with Shahrzad Khorsandi, director of Shahrzad Dance Academy and author of The Art of Persian Dance. The nine-week session included a group choreography, culminating in a student performance.
In addition to the choreography, the students learned about the geography of Iran, the different regional dances, cultural traditions such as the Persian New Year fire-jumping celebration, and even learned how to do the special (and loud) two-handed Persian snap! When asked what their favorite part of the experience was, many said it was when they worked in small groups to create their own movement patterns in the dance style they were learning.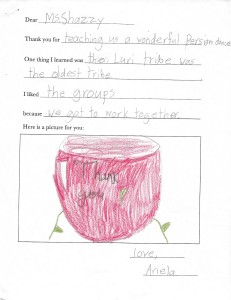 Hula made a return to Sonoma Mountain School in the Fall and we had a blast!
We began our 12 week Hawaiian Dance, Music and Storytelling with a very sweet sense of familiarity from the students.  As we began to dance, their movements and steps all came back and took on a more solidified understanding and knowing of Hula.  From grades 1-6, the kids easily slipped back into moving and connecting their motions and steps which allowed us to enjoy moving together and working on synchronizing our motions and steps.  The school Hula that I chose is from the movie Moana, entitled, We Know The Way.  The song's lyrics speak about the ancient Polynesian Wayfinding principals and practices, and embrace the cultural teaching of, "Know who you are and where you come from, in order to know where you're going on your Life Journey".  The movie's main character is a girl who finds her inner strength and courage through the teachings of her family and culture. This is a powerful message that I wanted to share with the kids via dancing Hula and with their work in learning the choreography and our sharing of cultural stories, I believe it was instilled in them.  In our Hawaiian Culture, we have a practice called, Anoano, meaning, planting of the seeds.  Basically, we plant seeds of positive thoughts and ways of being in the world that aligns to a Higher Good, as we learn our different daily cultural practices, one of them being Hula and Storytelling.
For the youngest/newest students in grades TK & K, I did storytelling that entailed a Hula as well, and used props such as costumes, Hula instruments, and easy Hawaiian language words.  Young minds are SO amazing!  The kids seemed to absorb the stories, names of characters (even with Hawaiian names and words!) and teachings so easily!  They would remember the names weeks after I told a story!
Our school assembly finale was amazing!  We ended the 12 weeks with a culminating performance of all grades, sharing what they learned with each other and many parents in attendance as well.  We began with the TK/K & 1st graders doing their Hula on the stage, which they LOVED dancing on! Then the 2nd & 3rd grades performed their Hula that they learned together, followed by the 4th graders, who danced with short Kala'au or hula sticks as they chanted along with their dance.  The 5th and 6th graders really worked hard on learning their Maori Poi Ball and Haka routine, a new combo than last year, and their hard work showed!  there were 52 girls doing the Maori Poi Balls and about 30 boys doing the Haka.  It was a powerful and beautiful performance from them.  We finished the performance with the whole school dancing to the Moana song, We Know The Way.  That was about 450 students dancing all together!  Such a fabulous sight to experience!  Many parents came up to me afterwards to thank me for teaching their child and that was such a wonderful gift for me.
Sonoma Mountain School rocks! Mahalo to the Staff and especially to Michele Gochberg for bringing me back.  It was such an honor.
Me ke aloha,
Shawna Alapa'i
Artist In Residence
Shahrzad Khorsandi and her troupe of dancers brought two back-to-back Persian Dance assembly/workshop programs to a full house of West Marin County students at the Dance Palace on November 14th.  Shahrzad and her dancers Kim Ganassin, and Sabine Tucker, began by introducing the audience to some basic movements of Persian Dance.  They then asked a few students to join them on stage.  The eager volunteers were visibly enjoying practicing their dance moves, as they followed the performers around the stage.  Once the students were re-seated, the dancers began their beautiful performance of Shahrzad's original piece entitled, Rainbow.  The performance focuses on world peace and is comprised of six short dances connected together through audio narration.  After the show, Shahrzad took questions from the audience.
The workshop portion of the morning, took place immediately following the performance.  Shahrzad gathered the students in a large circle and passed out worksheets with a map of Iran, and a brief history of Persian Dance.  She then guided the students through the different provinces of Iran, by showing a dance move specific to that area.  While she danced she told the students more about the history of the region.  Once she had shown them the various dances, she then invited the entire audience up to "dance around the country." At the conclusion of the event she sat them down for one last lesson in the very complicated, two-handed "Persian Snap."  Though few were able to master the challenging move, the audience was in awe of her ability, and everyone was ready to practice at home.
A special thank you to the California Arts Council for their generous support of this program!
by Mentor Artist Cynthia Pepper
The Terra Linda Special Day Dance Class taught by Rachel Hughes got a full dose of The Sleeping Beauty this week. Well, maybe not a full dose but a tiny dose that was so meaningful.
I decided it was time for the students to learn my favorite section from The Sleeping Beauty by the composer Tchaikovsky to start off the holiday season. Nutcracker will just have to wait in line.
We are doing a dance where the lead sleeps for 100 years, which seems more like teenager style. The dancers learned the swinging shape-oriented choreography of the Garland Dance with full excitement. It's a fun dance and the music says "swing swing swing" throughout each stanza. That is exactly what we did every chance we could find. Side to side, and even more swinging after we created shapes with the hula hoops.
The hoops assist in mimicking the feel of holding flower garlands like a halo above our heads. It really helped students to use their arms in a new and fun way.
The last I heard, the dancers started to do ballet in full force with the guidance of Rachel Hughes who is a fine dancer herself. The dancers went on to YouTube and started to absorb ballet. The new bun-head groupies pirouetted a fresh pathway to ballet bliss. Ballet is worth it–it's fun, historical, challenging and most of all it feels so much like well…dancing!
Thank you to the Buck Family Fund of MCF and to Marin Charitable for supporting this work.
Alphabet Rockers' Kaitlin McGaw and Tommy Shepherd put on a fantastic performance of their show Playground Zone: Diversity for the K–2nd graders at Glenwood Elementary in San Rafael.  They performed several new songs from their recently released album, Rise Shine #Woke, which was created to to "interrupt racial bias inspire families to make change in the world."


Students were encouraged to get up and learn the Hip Hop dances with the Alphabet Rockers.  Everyone was on their feet, and the positive and powerful messages of the songs resonated with the young audience and teachers alike.
As a follow-up to the performance, Kaitlin and Tommy each taught more in-depth workshops in the 2nd grade classrooms.  The students practiced the dances they'd learned in the assembly, and then broke down the songs to get more out of the content.  Students were asked what they thought the songs with titles like Stand Up for You, and Shine meant.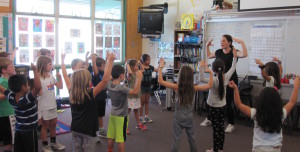 The responses were wonderful and demonstrated how clearly they got the messages.  They said things like: "the song is about being friends with people of all different skin colors," or "the song is about loving everyone no matter what."  Then the kids were asked to define some of the words in the songs, such as injustice.  One student said, "Injustice means you are fighting for love."  Finally, they were asked if they feel we are treated differently based on how we look.  Many of the students said no, but a couple raised their hands to indicate yes, not ready to share more.  One said, "No. We shouldn't be. We love all colors."
Thank you Alphabet Rockers for opening up a very important discussion at Glenwood Elementary.  We look forward to seeing what's next.
by Mentor Artist Stephanie Bastos
My work at Harding Elementary School for this residency focused on two main ideas: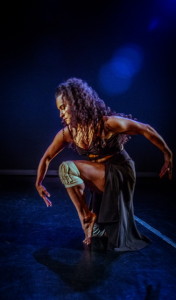 Choreography and Improvisation. I utilize Contemporary and Creative Dance techniques like the Braindance to guide learners through a process of self-discovery, movement exploration and collaboration. This creative process also includes cultural relevance by basic exposure to Samba Reggae, a liberation dance and music from Bahia, Brazil. Samba Reggae comes from a 1970's era political movement in Brazil lead by Afro Brazilians in Bahia claiming their space in an otherwise segregated, racist and classist society. It is a dance of celebration and the choreography is made up of repetitive movements in eight or four count phrases. The constant repetition allows ample space for learners to see, practice, and execute the choreography within a rhythmic pattern while learning about cultural relevance.
Improvisation is guided by creative dance concepts like the Braindance that is used to warm up the body and breath by mapping all movement patterns like upper half and lower half of the body and cross lateral movements. Other creative dance techniques like levels, shaping and use of personal and community space expand learners' awareness of the space their bodies take up and all the possibilities for movement within and around that space.
It is always a pleasure working with Harding because they have a beautiful auditorium, a community of kind and caring staff and learners and a genuine appreciation for quality arts education. After so many years of moving and building relationships with the Harding Community, I can say that I feel a strong connection with the school and am proud of the work we have done together.
I believe all children deserve a safe space to practice quality arts education!
Thank you Harding!
« Newer Entries
Older Entries »