Julia Chigamba and the Chinyakare Ensemble put on an incredibly lively performance at Marin Primary & Middle School's International Day.  They performed three traditional Zimbabwean dances for the student audience of about 200. First, was a welcome dance called Mauya in the Shona language.

The next piece celebrated the vital source of water with the artists vigorously dancing with full jugs on their heads. Students gasped and cheered as Julia Chigamba and Casey Daliyo moved quickly around the stage with the water precariously perched on their heads.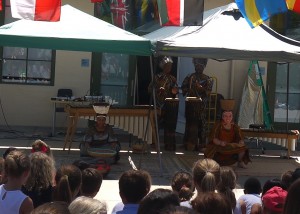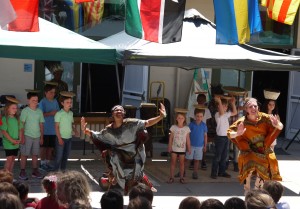 Lastly, was a dance rejoicing for the harvest performed with baskets containing various seeds and beans. Student volunteers were invited up on stage to participate in the harvest dance.  They practiced balancing the baskets on their heads, and shaking the beans and seeds around which added a wonderful sound element.
All of the Chinyakare's dances were accompanied by beautiful music expertly played by Ronnie Daliyo and Augusten Basa, on Zimbabwean instruments such as the mbira, ngoma, marimbas, and chipendani. The troupe answered a few questions from the engaged student audience, before receiving their well deserved standing ovation!
Mentor Artist Eddie Madril reports on his latest residency in San Rafael:

In a beautiful surrounding, the children at Glenwood Elementary School in San Rafael got the opportunity to experience learning, trying, and "honing their craft" at various American Indian dance styles. The teachers encouraged their exploration and learning of Native culture, history, and world views while challenging themselves at Grass Dance, Fancy Dance, Fancy Shawl Dance, and Hoop Dance. These are all dances that can be seen at powwows across the U.S. Of course, the teachers also engaged in trying the dances themselves as any good teacher would do in order to lead by example. They worked so hard at their dancing that one day we had to try a few traditional Native games, and they did great!
Cynthia Pepper is back working with Youth in Arts in the special day classrooms of Edna Macguire in Mill Valley, Terra Linda High School in San Rafael, Olive School in Novato, and the wonderful Willow Creek in Mill Valley. She is also working with typical learners at Rancho School in Novato. 
"I have had the distinct privilege to create dance and movement classes for over 125 children. We are having such a mutual learning experience together. It is unlike anything I have ever done in my life. I have worked with silk scarves (for parent day), hula hoops for being silly, dots on the ground for wheelchairs to behave and many other interesting tools to help the children grow big in the world of movement. My best tool is music. We do Marley, and Farka Touré and as many Carole King and Fleetwood Mac albums I can slip in when it is appropriate. I am loving it!" — Cynthia Pepper
Thank you to the Buck Family Fund of the Marin Community Foundation for supporting this program.
In February students hit the ground and took off with Hula and Teaching Artist Shawna Alapai returning for a second time to every classroom at Sonoma Mountain Elementary School. 
It was wonderful to see many familiar (but more mature) faces, and as we started dancing, I could see and feel the familiarity coming through in the steps and movements of the kids.  We've been very busy learning some Hawaiian language words, meanings, history, myths and cultural practices along with the dances.  I love to have the kids sing along while they dance and they're really using their voices to help express their Hula!
We're delving into a variety of dance styles this year, with an ancient chant (danced with canoe paddles) that tells the story of the migration on double hulled canoes from Tahiti to Hawai'i…anyone see Moana???  Then, we're exploring a bit of the Maori culture as we learn a Hula Noho, or sitting dance to the song Hoe Ana.  I've incorporated the kala'au or hula sticks into this Hula and the kids really like using them to keep rhythm and express their motions at the same time.  The 6th graders have really stepped their Hula up a few notches, as they learn a Maori Haka and Poi Ball piece.
My Accompanist, Stephanie Behasa, made 35 sets of Maori Poi Balls for the girls to use.  At first they were a bit intimidated, thinking it was too difficult, but I assured them that all they had to do was practice.  Well, guess what? They've got it!  It was such a delight to see their eyes light up when they achieved the routine, and to feel their absolute enthusiasm as we continue to progress in the style.  The power of a Maori Haka is so infectious, that I decided to share that piece with all grades, K-6, and it's a HIT!  They all can't wait to run through it when we're working together and when their teachers come in, the surprise on their faces as their students put their all into the dance, is priceless.
Sonoma Mountain School is rockin' it out of the Multi Purpose Room every week, and when we do our school performance on April 28th, the hills surrounding the school will be vibrating to the tunes of Hawaii and Aotearoa (New Zealand)!
Aloha!
Mentor Artist Cynthia Pepper taught dance in Mimi Schalich's Special Day class at Edna McGuire Elementary School. She brought fun, energetic music and tons of cool stuff to her classes.
"We prepared for our performance date by practicing using scarves respectfully, we danced on the dots in all sorts of ways, we did helicopter, we did hand holding dances, we created shapes, we hopped and moved our legs in new ways. We did stretching and sort of a yoga thing! Parents joined us on our final day, and danced with their children. My work with this population has been an experience that I will forever hold dear in my life."
Thank you to the Buck Family Fund of the Marin Community Foundation for supporting this program.
Capoeira Mentor Artist Daniel Mattar and his International Capoeira Angola Foundation (ICAF) troupe have been very busy putting on assemblies for us!
Their first back-to-back performances were last week at Marin Country Day School in Corte Madera.  Daniel brought five Capoeira artists to perform with him.  They played music on their Berimbaus (similar to guitars, made of a gourd and one string) and Pandeiros (tambourines) while demonstrating the beautiful art of Capoeira Angola for two large groups of K-4th grade students.  After their demonstration, they brought several kids up on stage to practice Capoeira while doing call and response songs with the audience in Portuguese.  They were lively and fun performances.
Educator Alina said, "The performers were wonderful!  I loved how they went into the audience as kids were coming in to show them the instruments etc. – nice touch.  I received positive feedback from teachers too!"
Yesterday, they put on two more assemblies at Dance Palace in Point Reyes for a huge group of students from several elementary schools in West Marin.  Daniel brought six Capoeira artists from ICAF and the reviews were outstanding!
Dance Palace Executive Director Margarita raved, "Daniel and his ICAF troupe were absolutely wonderful! The music was great and the kids just LOVED them! Everyone was singing and dancing. They even got a reluctant teacher up and dancing. What a great recommendation from Youth in Arts!"
Book your assembly today!  Visit our website at youthinarts.org to see all the available options, or call Morgan Schauffler to book (415) 457-4878 x160
by YIA Mentor Artist Nydia Algazzali Gonzalez
This year my participation in the Arts Unite Us program was special, as it was the first year in nine years that I am no longer the Program Director.  This year, I had the absolute pleasure of exploring music and movement with four amazing teachers, their supportive staff and wonderful students! Through Arts Unite Us, I led "VSA Arts Connect All" music residencies at both Venetia Valley and Vallecito Elementary schools, as well as teaching percussion and dance at Terra Linda High School.
At Venetia Valley, students from Kate Mansour and Chelsea Smith's Special Day Classes engaged in a variety of song games and movement activities.  Students learned songs that encouraged practice in motor skills, collaboration, making choices, vocalization, working with manipulatives and listening. In Ms. Smith's class, we did lots of fun movement songs like "Down in the Valley", focusing on gross motor movements and coordination; "Little Johnny Brown", developing fine motor with as we folded our little "comforts"; and "La Guacamaya", focusing on rhythm and practicing spreading our wings as we flew around the room.
We also had a lot of fun with our egg shakers, looking for new ways to play them and using vocabulary like shake, roll, tap, pat, etc.  Ms. Mansour's students also utilized their digital devices to make song and movement choices.  We played a rhythm we called "pizza-pie" to accompany the traditional son jarocho, La Bamba.
Students in Ms. Jansen's class at Vallecito Elementary enjoyed the variety of songs, instruments and manipulatives that we used during music time.  With the song "Mary Wore her Red Dress", we would sing about something special that each of us was wearing.  Students loved acting like fishes swimming through the "Deep Blue Sea", as we played the water drum and they took turns swimming under the blue water scarf.  One of our favorites in this class was when I would bring out the high-pitched jarana to play La Bamba – smiles all around!
At Terra Linda High School, sessions with Ms. Hughes's class focused on various Latin Dance genres including cumbia, bachata and reggaetón. Students learned traditional movements, steps and choreography. We developed our collaboration skills as we danced with partners and in groups and each student contributed original movements that were worked into the dances. We also had a blast playing percussion instruments and jamming at the end of class.
Thank you to the YIA staff and to Suzanne Joyal for continuing the work and nurturing the program to which I dedicated so many years.
VSA Arts Connect All residencies at Venetia Valley and Vallecito Elementary schools were provided in 2016 under a contract with the John F. Kennedy Center for the Performing Arts.
And many thanks to the Buck Family Fund of the Marin Community Foundation for their continued support of Arts Unite Us programs.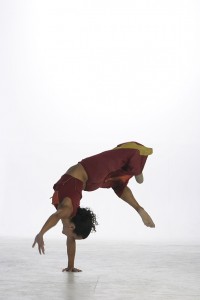 On December 15 Mentor Artist Stephanie Bastos lead six classrooms of energetic K-3rd graders in a holiday Dance Performance at Harding Elementary School. Students showcased their understanding of choreography and improvisation. They showed parts of the Brain Dance emphasizing high, low, mid and cross body movements to stimulate brain activity.
As a culminating event to eight sessions of dance, Stephanie led the entire body of dancers (students and their families) in a big Samba Dance A Long. Check out the video below.
A Question and Answer session followed. One parent asked the students, "How do you feel when you improvise?" Six year old Blake answered, "I go with the flow and have fun."  Another parent asked, "Does anyone want to be a dancer when they grow up?" Some hands went up when Mentor Artist Stephanie stated, "You are ALL already dancers. Look what you just accomplished." to a round of applause from the audience.
Check out the community dance here:  https://youtu.be/IQLxwSL56ss
Families from Harding Elementary School in El Cerrito joined Youth in Arts Mentor Artists in traveling the world last week!  Upon arrival, our travelers received a passport to carry with them as they visited Mexico, Africa, Hawaii, and created a mural.
Outside the multipurpose room, we danced, played and sang traditional songs from various regions of Mexico with YIA Mentor Artists Nydia Gonzalez and Dolores Garcia.  Travelers learned various rhythms to play on panderos (tamborines), quijadas (donkey jaws) and wooden frogs.  Dancers tapped these rhythms out with their feet on tarimas (wooden platforms) and imitated various animals including colorful guacamayas (macaws), ducks, and vultures.  We also learned about many of the traditional stringed instruments from Mexico including the vihuela, jarana huasteca, jarana jarocha, and guitarra de son.
Inspired by African Adinkra symbols and their meanings, YIA Mentor Artist Beth Krebs lea
d families in creating original prints that represent their family's beliefs and values. Travelers also designed their own original symbols. Travelers began by quickly sketching three ideas for stamp designs. Next, they chose their favorite, drew it again on sticky-backed foam. Travelers then considered positive and negative space as they cut out their shapes, and stuck it to squares of cardboard. They used brayers to roll out their ink and spread it on their plates before then stamping their shapes on to a community wall hanging.
We also sailed to the Hawaiian islands with YIA Mentor Artist Shawna Alapa'i, swaying hips to traditional hula dances, chanting and playing instruments.  Boys wore traditional kukui nut leis and everyone learned to play the ipu (gourd percussion instrument) and learn about ancient beliefs and stories of the Hawaiian people.  Travelers learned traditional chants and hand gestures while dancing to the music of the ukelele.
Young artists joined YIA Mentor Artist Julia James in creating a beautiful mural of birds from around the world flying together.  Students looked at birds from around the world and created paper birds using oil pastels, markers and water colors.  All of the birds were added to the collaborative mural to represent the beautiful diversity of Harding Elementary.
Thank you to the Thomas J Long Foundation and the Green Foundation for their continued support and making this program possible.
Check out a few of our newest program offerings–available to book for your school or community site now!
Visual Storytelling with Sophie Cooper (Artist Residency)
Twenty-first century art skills are on tap as students learn how media producers communicate through images, while also becoming creators of their own visual stories. Students de-code familiar visual media and develop a vocabulary for visual communication, and then create their own work on the theme of personal and cultural identity using found images. Looking to help students make more substantive use of your computer lab? This residency with Mentor Artist Sophie Cooper could be for you.
The Amazing Science Whiz Show (Assembly Performance)
Benny Bendini's Magic Circus explores explores laws of physics, earth science, green environmental education and color perception. Students discover curious and amazing scientific phenomena from air pressure and centrifugal force to color perception and optical illusions, plus learn about famous scientists like Archimedes, Isaac Newton and Albert Einstein. Guaranteed to be a fun-filled learning experience with plenty of enthusiastic audience participation.
The Alphabet Rockers (Assembly Performances)
In two new shows, the Alphabet Rockers engage young audiences with contemporary choreography, catchy melodies and beatboxing. Performances are age appropriate and aligned to Common Core Standards in math, literacy, and science.
This bullying prevention "hip hop theater" assembly explores how teasing and being left out makes people feel, and how friends can stand up for themselves and each other.
Alphabet Rockers mix fun with food in their hip hop music and theater show about nutrition. Students brainstorm food choices to help the Alphabet Rockers stay strong and in rockstar shape!
Looking for something else? Check out all our program offerings here and use the checkbox filters on the left of the page to find just the program you want.
« Newer Entries
Older Entries »