Families from Harding Elementary School in El Cerrito joined Youth in Arts Mentor Artists in traveling the world last week!  Upon arrival, our travelers received a passport to carry with them as they visited Mexico, Africa, Hawaii, and created a mural.
Outside the multipurpose room, we danced, played and sang traditional songs from various regions of Mexico with YIA Mentor Artists Nydia Gonzalez and Dolores Garcia.  Travelers learned various rhythms to play on panderos (tamborines), quijadas (donkey jaws) and wooden frogs.  Dancers tapped these rhythms out with their feet on tarimas (wooden platforms) and imitated various animals including colorful guacamayas (macaws), ducks, and vultures.  We also learned about many of the traditional stringed instruments from Mexico including the vihuela, jarana huasteca, jarana jarocha, and guitarra de son.
Inspired by African Adinkra symbols and their meanings, YIA Mentor Artist Beth Krebs lea
d families in creating original prints that represent their family's beliefs and values. Travelers also designed their own original symbols. Travelers began by quickly sketching three ideas for stamp designs. Next, they chose their favorite, drew it again on sticky-backed foam. Travelers then considered positive and negative space as they cut out their shapes, and stuck it to squares of cardboard. They used brayers to roll out their ink and spread it on their plates before then stamping their shapes on to a community wall hanging.
We also sailed to the Hawaiian islands with YIA Mentor Artist Shawna Alapa'i, swaying hips to traditional hula dances, chanting and playing instruments.  Boys wore traditional kukui nut leis and everyone learned to play the ipu (gourd percussion instrument) and learn about ancient beliefs and stories of the Hawaiian people.  Travelers learned traditional chants and hand gestures while dancing to the music of the ukelele.
Young artists joined YIA Mentor Artist Julia James in creating a beautiful mural of birds from around the world flying together.  Students looked at birds from around the world and created paper birds using oil pastels, markers and water colors.  All of the birds were added to the collaborative mural to represent the beautiful diversity of Harding Elementary.
Thank you to the Thomas J Long Foundation and the Green Foundation for their continued support and making this program possible.
Check out a few of our newest program offerings–available to book for your school or community site now!
Visual Storytelling with Sophie Cooper (Artist Residency)
Twenty-first century art skills are on tap as students learn how media producers communicate through images, while also becoming creators of their own visual stories. Students de-code familiar visual media and develop a vocabulary for visual communication, and then create their own work on the theme of personal and cultural identity using found images. Looking to help students make more substantive use of your computer lab? This residency with Mentor Artist Sophie Cooper could be for you.
The Amazing Science Whiz Show (Assembly Performance)
Benny Bendini's Magic Circus explores explores laws of physics, earth science, green environmental education and color perception. Students discover curious and amazing scientific phenomena from air pressure and centrifugal force to color perception and optical illusions, plus learn about famous scientists like Archimedes, Isaac Newton and Albert Einstein. Guaranteed to be a fun-filled learning experience with plenty of enthusiastic audience participation.
The Alphabet Rockers (Assembly Performances)
In two new shows, the Alphabet Rockers engage young audiences with contemporary choreography, catchy melodies and beatboxing. Performances are age appropriate and aligned to Common Core Standards in math, literacy, and science.
This bullying prevention "hip hop theater" assembly explores how teasing and being left out makes people feel, and how friends can stand up for themselves and each other.
Alphabet Rockers mix fun with food in their hip hop music and theater show about nutrition. Students brainstorm food choices to help the Alphabet Rockers stay strong and in rockstar shape!
Looking for something else? Check out all our program offerings here and use the checkbox filters on the left of the page to find just the program you want.
by Mentor Artist Kaitlin McGaw
In my first teaching artist residency with Youth in Arts, I customized a Common Core/Hip Hop series for four kindergarten classes at Bahia Vista Elementary School in San Rafael's Canal area.
Since my songs and curriculum can cross over various topics [shapes, coins, letters, letter sounds, writing, fitness, nutrition, math, etc.], it was a joy to work with our partner educators to focus the workshops on the needs of the students as they closed their first year of school.

As many of the students were learning English as a central part of their school experience, the objectives for the artist residency were to include language proficiency in the ability to retell a story, and a performance of understanding of math terms (less/more). We also wanted to support and augment student opportunities in self-expression.
I used several of the songs from my curriculum to meet these goals, which are outlined at the bottom. In the first week, the students were perhaps a bit shy, learning many new words, formats, and dances with me. By week two, our progress was underway. Our name game "Do Your Thing" gives each student the opportunity to say their name with a dance movement, rhythm or gesture: "I'm Kaitlin… I do my thing!" and hear the class say the name and mirror the movement: "She's Kaitlin… she does her thing!"
For kindergarteners, learning he/she and do/does are elements of language acquisition. But more interestingly was watching some of the students really come out of their shell over the weeks together, saying their name louder each time. We always give students the option to "pass" – but oftentimes the "pass" I found was merely to provide the student just a few more seconds to think about the gesture or dance move they wanted to share with the class.
The Food Calculator is an original song we wrote in my group Alphabet Rockers. The song includes learning the b-boy move "the wave" along with learning less/more and healthy food choices. For the purposes of this residency, I added a story about the rockstar who brings 1 food each day to share with her friends. (Monday is 1 apple, Tuesday is 2 grapes)  The students fill in the blanks for what the foods are. At the end of the story, there is a number sense element played out as they bite 1 apple, pick 2 grapes and retell the order of the foods to the teaching artist. We then use a food calculator to decide which snacks were healthy before going into the actual song as a dance. The kids absolutely adored this song and loved performing it and singing it with me.
At the end of the residency, the students performed for one another, learning terms for "audience" and "performers" as well as expected behavior for both within the arts world. The boys performed "Dynamite" for the girls, and vice versa. They then shared compliments with one another with what they noticed in the performance. It was an opportunity to celebrate the students' strengths while also reinforcing the ability to say a complete sentence, such as "Josue – I like the way you danced."
I look forward to working with additional schools to customize curriculum for music/movement with Common Core goals, including adding in beatboxing and rhythm and making letters with our bodies as a way to reinforce early literacy.
Here are the songs I used for the residency:
Good Morning Song [Listen here: http://www.alphabetrockers.com/music]
Do Your Thing [watch teachers do it here: http://vimeo.com/85632098]
Dynamite [Watch here: https://www.youtube.com/watch?v=jepxZWR3EH0]
Food Calculator [Listen here: http://www.alphabetrockers.com/music]
Shape Rap [Watch here: https://www.youtube.com/watch?v=1zxwLSjCfaI]
Rhythm Games through "Can I Kick It" by A Tribe Called Quest
Mentor Artist Djenane Saint Juste spent the Spring teaching students at Laurel Dell and Short Schools Carnival dances of the Caribbean. Each grade learned a dance, and the story behind the dance, of a special part of the Caribbean.
Students performed for a cheering crowd of family and friends to Laurel Dell's Fiesta Del Sol on June 7th. Students finished their performance with a parade throughout the playground, drawing family and friends in to dance also.
Youth in Arts thanks the California Arts Council, Artists in Schools grant, as well as the Laurel Dell PTA for their very generous contributions which made this program possible.
by YIA Mentor Artist Suraya Keating
As I entered Ms. Peter's class for the first time, I am struck by the friendliness of the staff, the relaxed atmosphere of the classroom, the authenticity of the students.  Each of Ms. Peter's six students at Redwood High has a special need of some sort, as well as many special gifts.  It is my role, as a teaching artist with these students, to bring out their special gifts – to identify and nourish whatever talent, potentials and joys each student possesses.  Whether working in a mainstream classroom or a special need classroom, this is no easy task.  I take this challenge quite seriously , and with hope in my heart that in the time we have allotted to work together, each student will be able recognized for his/her gifts and contributions.
While I have been hired to teach a theater residency, classroom teacher Ms. Peter is very flexible, and gives me space to teach in whatever way most creates a bridge with the students.  As the first few weeks go by, I notice that 4 or the 6 students are mostly non-verbal.  While they seem to enjoy simple theater warm-ups, my repertoire of activities that I often use in special needs classes is not landing in the way I am accustomed to.  Knowing that flexibility is key to effective teaching, I realize it is time to change direction.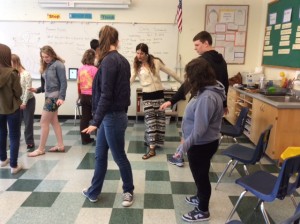 I have noticed that ALL 6 of the 6 students share one thing in common: a love of music and movement.  Whenever I use music in our warm-ups, smiles arise on their faces, and I realize something important has happened: I have found a bridge.  About a month into the residency, with the support of the classroom teacher, I shift from focusing on theater to focusing on dance and movement.   As we explore dance for the next few months, I see each student come alive in different ways.  "Sara" gets her groove on with upbeat music, and adores being the leader in pairs' mirror dances.  "Calvin" loves shouting out and practicing whatever dance principles we are working on during a particular day, such as "big vs. small movements," "sustained vs. staccato movements" or "straight vs. twisted shapes."
As is the case with VSA residencies this year, at some point a group of about 10 mainstream students (this time from Mr. Berkowitz's drama class) join the dance program.  Integrating the mainstream students into class seems to inspire everyone: the students with special needs and the mainstream students get to explore various dance principles in duos, in small groups, and in the large group.  When the music comes on and students are invited to explore moving in straight or zig zag lines, or with slow or fast tempos, and in many other ways, I see smiles come to their faces as they explore how their own bodies move, as well as how they move in connection to others.  Students are mutually supporting one another, acknowledging each others' strengths, and supporting one another when there is a challenge.  I feel grateful to work among students who at a young age seem already so capable of doing with one another what I aspire to do with each of them: to bring out and celebrate each other's gifts.
Short School parents and students celebrated the culmination of their Haitian Music & Dance program with a schoolwide performance, parade and dance party on Tuesday, March 18th. For sixteen weeks, students in grades K-2 have been working with Mentor Artists Djenane St. Juste, Florencia "Fofo" Pierre and Jeff Pierre to learn music and dances associated with the celebration of Kanaval or Carnaval, a major midwinter celebration in the Caribbean. Students have also learned words and expressions in both French and Haitian Kreyòl languages. On this beautiful Tuesday morning, the students were able to share music and dances they had learned with over 70 parents, teachers and siblings!
Djenane introduced a dance game the children had learned in which they dance without touching a line that represents danger or "sobo". As the children danced down the line faster and faster without touching it, parents in the audience helped with a call and response from the song Ti Gason (Little Boy) in which the dancers are told piga'w pile sobo, male va rive'w (roughly: "don't step on danger or you will have trouble").
A few parents and siblings even came up to try the dance on their own!
Next came a grand parade led by Fofo Pierre with students performing steps they have learned in their classes and teachers and some parents following behind as the "back line". The grand finish was a circle dance with each class taking a turn dancing in the middle, followed by dancing parents and all the teachers!
It was a fun event with a great parent turn-out. Thanks to all the students, staff and families of Short School, to Djenane, Fofo and Jeff for their terrific work with the students and to the California Arts Council's Artists in Schools program for its support of this project.
Last Art Walk Downtown Youth in Arts hosted our first Fandango Jarocho. It was fun! We had a bevy of wonderful dancers of all ages led in the traditional rhythms of son jarocho from Veracruz, Mexico. Led by Maestra Nydia Algazzali Gonzalez, a group of 30 students and adults played instruments, danced and sang verses in Spanish.  The celebration was also a cross-cultural exchange as we were joined by the Haitian group Afoutayi with YIA Mentor Artists Jeff Pierre, Djenane Saint Juste and Mama Fofo.
After the community workshops, we were joined by local soneros Catherine John Hudson on violin and Joel Ramirez on the Jarana and Guitarra de Son.  We played a selection of traditonal sones accompanied by children and adults who danced and played along.  If you stuck around until the end, you would have caught a glimpse of Ian Daly and Amiel Gonzalez debuting their performance of the Iguana!
We look forward to the next Art Walk Downtown on December 13, when we will be making artist trading cards to accompany the new gallery exhibit "Imaginary Voyages–Using Art to Understand Science." See you then!
YIA Mentor Artist Hannah Dworkin
Brain Dance at Marindale Early Intervention

"I FEEL my brain getting smarter!  I feel my head getting bigger!" "B" from Meriam Granger's pre-K language immersion class after her third session with "Brain Dance."
Brain Dance was developed by   Anne Green Gilbert,  and it is comprised of eight types of movements based on the developmental stages of a baby goes through during the first year of life. The steps are: Breath, Tactile, Core-Distal, head-tail, upper-lower, body side, cross lateral and vestibular. There has been quite a few encouraging studies  about the use of Brain Dance with students of all ages.  I have been using it in variations in my VSA classes this year. Each of my classes have very different ability levels, and I found myself adjusting it to fit each scenario. Below are ways in which I found it most effective.
Class of autistic students age 3-5:
This group thrives on routine, so the key to having brain dance work with this class was to introduce it early in the 10 week residency and practicing it daily.  I gave the steps to the teacher, and she made sure to reinforce the movement.
Class of students with limited mobility:
This class was challenging because they were not able to move their bodies enough to participate in brain dance, so we all, classroom teacher and aides included,  were very hands on.  We helped them manipulate their limbs and as needed, and listened to gleeful shouts when we spun their wheel chairs at the final stage of the dance.
Class of language delayed preschoolers:
There were two important things to keep in mind with this group. First, they were very young, so keeping the pace up was essential.  I also used high energy, fun music to keep them engaged.  I also needed to be very clear with the language I used.  I needed to keep in mind that they needed me to use simple vocabulary to describe and demonstrate each movement.
YIA Mentor Artist Hannah Dworkin
Thank you to the Marin Community Foundation for their generous support of this and all of our programs serving students of different abilites!
This was my sixth year teaching Music and Movement in Youth in Arts' VSA program, and I was lucky enough to be assigned to work with four amazing teachers, Rockne Beeman, Laura Becker, Meriam Grainer Cox and Jessica Leaper.  We had a wonderful time singing, dancing, playing and learning.
Rockne Beeman's class of upper elementary students were a challenging  joy to teach. He has a class of students with a variety of behaviors and levels of engagement.  Some students would fully participate and sit in the circle and others would listen from different parts of the room.  What was most facinating this year was that the students who had worked with me previously would suddenly focus and fully participate when they heard specific familiar songs.  One such song was A Rig-a-Jig, a song that requires students to dance with a teacher and/or myself.  Their favorite song by far was "Goin on a Bear Hunt," where we would practice phonemes that are difficult for the students while we marched around and dance.
Another discovery was that certain students who had previously been non-verbal are now speaking and even singing.  The photo below shows one of these students singing his favorite "penny game" song.
Laura Becker and Carla Victoria's elementary special day classes were combined for a wonderfully large group every week.  They accomplished a great deal over the course of ten weeks. The biggest challenge with these two groups was the fact that their abilities were so vastly different.  Laura's students need a great deal of assistance physically.  All were in wheel chairs or other supportive devises and were not able to move on their own.  Carla's class was very active and needed to be constantly stimulated or they would lose focus.  The best strategy I found for working with these two classes was to pair Carla's most active students with Laura's most inactive.  They became "helpers" and danced and sang to the students who did not have the ability to participate in that way.
Meriam Grainge-Cox's students were the most high functioning of my groups this year and they were able to perform quite complicated musical phrases despite the fact that they were 3 and 4 year olds.  My focus with this group was to create a class where they could learn to be autonomous and run as much of the class as possible. This was very successful, and the last day of class was almost completely run by the young students
Jessica Leaper's class was incredibly fun.  They absolutely loved singing train songs and their favorite activity was dancing to Greg and Steve's Choo Choo. There are a number of autistic students in this class, so I focused primarily on creating a clear routine over the course of the first couple weeks. As they grew more comfortable with the progression of the class. I was able to add more complex music and movement problems for them to solve.  By the end of the 10 weeks the class was at a point of running most of the activities themselves.
All in all it was a fantastic school year, and each of these classes and their teachers made it an exciting experience.
YIA Mentor Artist Hannah Dworkin
Mentor Artist Djenane Saint Juste worked with children from kindergarten through grade 8 this year:
Dance is a powerful art form that allows the true self to shine and be happy. It is a way of communication that transcends any kind of barriers that our ancestors have used for many generations.  It is a way to bring the community together.
After each residency at a school I discover new artists aware of their body and learning to translate their emotion through movements. I saw happy children and teachers who feel safe and confident to share their new dance moves.  I saw respectful middle school students who learned to enjoy partner dancing with their classmates.  And I spent a year working with the Cascade Canyon community who enjoyed traveling and learning about Haiti and other remarkable Caribbean cultures.
I am very thankful that I had the chance to grow up with a mother who is an amazing artist who taught me the passion for dance. And I am so happy to bring my family with me to each residency. My mother Fofo is a singer and dancer, my brother Jeff is a percussionist and my son Hassen is a dancer.  I think it is very important for children to see four generations of family working together as artists, and to understand that dance is for everyone and is the true language of love.
« Newer Entries
Older Entries »