Master Performer Eddie Madril wowed the students at Davidson Middle School as he performed sacred dances and spoke about the importance of understanding Native American history. Eddie, also a professor at San Francisco State University, talked about the Iroquois Confederacy which had operated since the 16th century and was the basis of the American constitution. He invited students up to the stage to learn some of the dances, and Principal Bob Marcucci was even game to join in learning some of the challenging, Hoop Dance.
In addition, Youth in Arts honored students in the Media and Theatre arts classes taught by Mentor Artists, Sophie Cooper and Margaret Hee, with a series of awards. The following were recognized:
Youth in Arts Awards
Cody Lucich Award for Confidence is given to students who exhibit a willingness to take risks and show confidence in their approach to making art. It is given to students who are undaunted in their approach to art-making and utilize innovative ideas to express themselves. Cody Lucich is a filmmaker who works extensively in community-based 'Native media.'
Luna Correa is a talented visual artist, with excellent drawing skills and unique imagination. She is always engaged and is able to connect what happens in the classroom with the broader community.
Daisy Perez inspires the classroom with her positive attitude, leadership, critical thinking and inquisitive nature.
Bradley Cornett is consistently engaged and is always ready to participate. He brings a positive attitude and maturity to class.
Dayana Calderon is brave! She is always willing to voice her opinions, appreciative of others' opinions, and engages positively and creatively in class.
Carrie Mae Weems Award for Compassion is given to students who are good listeners, who care about other people's perspectives, and who demonstrate the potential to be a positive community-builder. Carrie Mae Weems is a photographer who also works with text, fabric, audio, digital images, and installation video.
Aileen Beltran brings a positive attitude to class and is always willing to help others. She leads by example and has an artistic eye.
Yanira Lucia Gonzalez is consistently dedicated and on task. She puts deep consideration into her work and appreciates the arts. She also helps other students with their work.
Zandy Bautista has an excellent attitude. She always helps others and makes the room shine with her compassionate outlook.
Juana Alicia Award for Creativity is given to students who utilize their imagination to create exciting new ways to showcase their artistic voice. Juana Alicia, is a Bay Area muralist, printmaker, educator, activist and, painter.
Yessica Mazariegos is an insightful visual artist. She is always on track, and has a calm presence in class.
Jasmin Tlachi has a very creative eye for photography and has demonstrated artistic excellence in her work as a photographer.
Harvin Sanchez has excellent drawing skills, which he brings to his storyboarding and storytelling through drawing.
Alexis Alejandre has a very good eye for photography. She comes up with very original and creative ideas and is able to transform her mood by engaging in class work.
Wilibaldo Baten-Rosas & Carina Cabrera are the best artistic collaboration!! Their work demonstrates an excellent, creative team.
Jeffrey Mazariegos is an excellent photographer and demonstrates a creative use of perspective in his work.
Ana Olvera is a highly engaged creative artist. She thinks deeply about her work and has a flare for working with the camera.
Lin-Manuel Miranda Award for Determination is given to students who are hard workers, determined and diligent about learning and making art. Lin-Manuel Miranda is an American composer, lyricist, playwright, and actor best known for creating and starring in the Broadway musicals In the Heights and Hamilton.
Angel Mauricio is an eager participant who is inquisitive and brings a fresh outlook and positive attitude to class.
Jorge Pech is not afraid to stand out as someone who cares and who has ideas and participates. He shines in the classroom with his courage and strength of character.
Andy Romero is a good listener, consistently engaged, and a strong leader. His hard work has made him the most improved student in his class.
Dave Mazariegos demonstrates creativity and positive engagement in class.
Thank you the California Arts Council for supporting this program.
By Mentor Artist Margaret Hee
Attending Davidson Middle was not easy for me. I moved to CA at age twelve after my parent's divorce and became caught up with a rebellious crowd. The summer after my 7th grade year my mother stuck me in theatre camp and it quite literally saved me. This past year (a good 17 years later) when Youth in Arts reached out to me about teaching theatre at Davidson I jumped on the opportunity. I hoped that if theatre helped me in my pre teen years, certainly it could help some other young creative minds at Davidson Middle School.
A lot has changed since I attended Davidson: it is a much safer environment with a plethora of resources. I had the opportunity to teach 180 ELD students across 5 classes 3 days a week and what I came to realize is that students really want to be heard. My initial approach was to teach theatre in the way I know best: with warm up, games, generative theatre exercises and rehearsal. Within a week it became clear that the students were not remotely interested in what I was offering. Given that they did not know me and I did not know them, I began having group conversations focused on their interests and concerns. Many of the students felt a lot of pressure in their academic classes and relished the opportunity to simply "free draw" or voice their opinions about what was happening in the world.
Instead of forcing self conscious students  to act in from of one another, we created stories and utilized shadow puppets as a mode of performance. They all responded to visual art, so with the help of Suzanne Joyal the students created their own individual Italian Street Paintings inspired by the prompt "We Dream of a World". As noted before I led several group discussions and from these I compiled a group narrative monologue and then taught the students how to do voice-over recording to document the piece.
The highlight of the semester was when I brought a group of students from Redwood High School to present a production I had directed them in. Following the performance the Redwood students played games with the Davidson students and taught them movement exercises and stage combat.
This was ultimately the most challenging teaching experience I have had, but rewarding on many levels. Upon reflection at the end of the semester the students commented the following:
What brought us joy
I enjoyed everything we did. Love you Ms. Margaret!
I enjoyed the Italian Street Painting
I enjoyed the Redwood High School students and the teachers
The movies we watched
The theatre games!
Taking pictures with the cameras
Using shadow puppets
Having some freedom!
Making a poster using magazines
Working on projects with friends
Meeting new people
What we learned
Art can make you happy
How to tell stories through creativity
How to not be shy
I learned how to be responsible, respectful and most importantly to laugh!
I learned about foreshadowing
How to take photos and how to edit
How to create shadow puppets. That was fun!
Picture is texture
I learned how to communicate with others
I learned cooperation, friendship and being respectful
How to take pictures from different angles
I learned about balance in pictures
I learned that we should all have equal rights
I learned about different light and shade in pictures
Art!
To be creative
How to play the game BANG
This year I learned that you should treat others the way you want to be treated because it does not feel good when people say bad things to you
by Mentor Artist Katie Issel Pitre
Greetings and welcome to an update
on the exciting partnership between Davidson Middle School in San Rafael and Youth in Arts!
As part of the new Strategic Vision of Youth in Arts to create model arts education programs K-8th grade, Mentor Artists Sophie Cooper and Katie Issel Pitre have been teaching New Media and Theatre Arts to 180 Davidson middle school students daily.
Beginning in late August Sophie and Katie have been working with 10 classes, grades 6th – 8th to provide arts enrichment for a student population that until this year had not received any elective classes. This year, Principal Bob Marcucci wanted to change this, partnering with Youth in Arts these students are half way through the first year of this pilot program and are getting in the swing of art making.
The project that the students have been working on has been cumulative – we've been building skills, teamwork, discussing and activating themes through play writing, college making, reflecting on values, watching many films – critiquing them and learning more about the way to use film to send a message.
In Ms Cooper's New Media class students worked towards a photography project taking portraits of hands and also of eyes.  In Ms. Katie's Theatre Arts class students composed collaborative poetry using the anaphora "With these hands we can…" and " People think that I… But if they really knew me…"
Pairing these two projects we used the photography from Ms. Cooper's class, and recorded the audio from Ms. Katie's classes and created two differently themed collections of films.  One collection pairs the photography of hands with the poetry "With these hands we can…".  The other collection of films pairs photography of the eyes and the poetry "People think that I… but if they really knew me…".
The final for their first semester was a film screening of both of these film collections.  Students observed all of the films, and then reflected on the process, the messages, considered what was missing and then brainstormed about what they want to make their next films about.  Some topics that were mentioned were making films about their lives, about kids who choose to be sober, about their friendships, about their immigrations stories, and more.
For students who have never had an arts residency like this Sophie and I are proud of what they were able to accomplish.  Their artistry has increased, as has their teamwork, self confidence, perspectives, and
Fir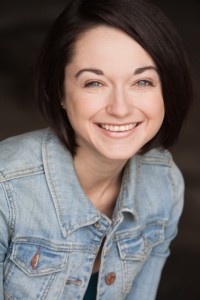 Davidson Middle School students will soon welcome Mentor Artist, Margaret Hee into their classrooms for a semester-long theatre residency. A Marin County native, Margaret brings a unique perspective to her residency, as she was once a Davidson student.  In addition to her numerous acting and directing credits, Margaret has taught theatre all over the country, including recent projects at Redwood High School (Larkspur), Mills College (Oakland) and Olinda Elementary (Richmond).
In order to get to know Margaret a bit better, we asked her to identify a problem in the world today, and to tell us how she would use her art form to solve it.  Here is Margaret's thoughtful response: "Every human being on our planet is made of DNA, skin, bones, organs, brains, and blood. Our physical construct though different on the surface, is made up of the same stuff, but somehow throughout history certain groups of individuals have been forced to the margins, their narratives being pre determined by some intangible set of guidelines. Theatre is a tool that can redefine narratives. Through my art I aim to ignite possibility in others."
BIO: Margaret Grace Hee is a theatre artist and teacher focused on developing new plays and devised work that influence tangible positive change in the world. Margaret received her BFA in Acting from the Santa Fe Institute of Art and Design and her MFA in Directing New School of Performing Arts School of Drama. She is the founding Artistic Director of Baby Crow Productions for which she played the role of Austin in True West and has directed Whore: a kids play (Edinburgh Fringe Festival '17) , Sapien Sapien Sapien, Cowboy Mouth, Cowboys #2, Cast of Characters, "Live" from the Bullet Stopper, and Enter Your Sleep, among others. As a freelance director, Margaret has worked with Ugly Rhino, Wide Eyed Productions, Dream Theatre, The Midtown Int. Play Festival, Colorado Shakespeare Festival and Fringe NYC. Selected assistant directing credits include: Everything You Touch, dir. Jessica Kubzansky (Rattlestick Playwrights Theatre); Henry VI P.I , dir. Vanessa Morocco & The Tempest, dir. Geoffrey Kent (Colorado Shakespeare Festival); Seawife, dir. Liz Carlson (Cape Cod Theatre Project); The Boys Room, dir. Sandy Shinner (Victory Gardens); Naked Radio Live, dir. Laura Savia (Naked Angels); 24 Hour Musicals, dir. Kathy Najimy (24 Hour Plays). As an actress she and has worked with Victory Gardens, Eclipse Theater, Adventure Stage, Berkshire Theatre Festival, Soft Cage Films, The Agency, and New School for Drama.
Every Davidson Middle Schooler began this school year with an assembly performance by Spoken Word artists Gabriel Cortez and Eileen Torrez. The artists performed their own original works, talking about growing up Latinx in the Bay Area.
The assemblies were followed up with questions, and also classroom discussions around self expression to address issues of diversity, cultural understanding, and struggling in a time of great change.

Since Youth in Arts completed our new strategic plan this spring, we wanted to properly introduce our Mentor Artists to our more in-depth model, and to each other.  Our artists work directly in the classrooms, so they rarely have a chance to interact.  We hosted an "all artist meeting" in August, and it was wonderful to see them talk to, listen to, and learn from one another.  Our icebreaker activity was a worksheet that asked the artists to identify a problem in the world today, and how they would use their art form to solve it (using words and/or pictures).  The prompt was WITH MY ART I CAN…
Here is Mentor Artist, Katie Issel Pitre's response and accompanying artwork:
"A problem I see in the world today, is many people being uncomfortable with their own emotions – escaping/avoiding difficult feelings, reactive disempowered people lacking a deep knowledge of self.  With my art I can…create a space to explore the self, face, dimensions of human experience and emotion, and gain confidence and compassion to build community.  I model moving through emotion using all my actor's tools.  I craft experiences that ask students to step into others shoes, as actors for each other (classroom) and for communities (family)."
Katie teaches various forms of theater and creative movement for Youth in Arts, both in our Arts Unite Us and Artist in Schools programs.  She is currently teaching Devised Theater at Davidson Middle School, and at the Canal Alliance's after school program.  
BIO: Katie Issel Pitre is a Berkeley native who recently returned to the Bay Area after 11 years based in Brooklyn.  There she worked as a teaching artist in spoken word, devised theatre, mural arts and playwriting throughout the boroughs of New York and New Jersey for Urban Word, Community Word Project, New Victory Theatre, BAM, and New Jersey Performing Arts Center.  Katie expresses her artistry as a facilitator as she works to bridge the gap between personal and cultural experiences by creating community-building opportunities via the creative process.  Her background in dance, voice, theatre and poetry shape her focus as an artist and educator.
Most recently she starred in two short films written and directed by Christopher Wells of Kaleidoscope Pictures called Cynthia and My Fondest which can be found on YouTube.  She also participated in an online writing course for women facilitated by Caits Meisner where she produced several new works of poetry.  Her writing was featured in a site-specific play series Play/Date, produced by Blake McCarty. As a devising actor she worked with the Trusty Sidekick company, and on two interview theatre pieces, The Class Project, directed by Joe Salvatore, and Layer Cake(actor and writer) performed at the Looking Glass theatre.  As a singer in Shell, she wrote and produced an EP.  Katie has also performed in multidisciplinary projects featuring her dance training.  She designs jewelry for City Seed.  Katie holds a MA in Educational Theatre in Colleges and Communities from NYU Steinhardt.
Since Youth in Arts completed our new strategic plan this spring, we wanted to properly introduce our Mentor Artists to our more in-depth model, and to each other.  Our artists work directly in the classrooms, so they rarely have a chance to interact.  We hosted an "all artist meeting" in August, and it was wonderful to see them talk to, listen to, and learn from one another.  Our icebreaker activity was a worksheet that asked the artists to identify a problem in the world today, and how they would use their art form to solve it (using words and/or pictures).  The prompt was WITH MY ART I CAN…
Here is Mentor Artist Sophie Cooper's thoughtful response and accompanying artwork:

"A problem I see in the world today is xenophobia.  With my art I can…help people see the world through someone else's eyes.  A film can draw you into an experience of understanding that is registered through many senses simultaneously – sight, sound, emotions.  This allows people to get a sense of how another person experiences the world.  So often the fear of the unknown occurs by observing another's experience and not being able to see beyond our own subjective viewpoint."
Sophie Cooper's teaches New Media, Media Literacy, Digital Storytelling, and Visual Art.  She has been working with Youth in Arts since 2010.
BIO: Sophie's undergraduate studies were interrupted in 1999 when she joined her brother working as a volunteer for a small organization in Kosovo called Balkan Sunflowers. Arriving only 3 months after Kosovo's one million refugees returned to their destroyed homes, she began organizing cultural activities with the community's youth.  In 2001, together with a network of artists from Kosovo, she participated in the formation of the Crossing Bridges Collective to organize and annual trans-Balkan music and arts festival. Inspired to document these vibrant cultural events, Sophie began working as a video artist and then went on to refine her skills at the Film Academy of Prague, Czech Republic (FAMU). She then received a dynamic degree at the University of California at Berkeley combining both visual arts and critical social theory. Sophie's work as an artist has developed hand and hand with her work as a community organizer. She has found that her favorite form of activism is that of visually celebrating the beauty of nature and the beauty of culture.
This month, 7th graders at Davidson Middle School had very unusual History class! Professional musicians Shira Kammen, Michelle Levy, and Jim Oakden played an assortment of medieval instruments for them (including vielles, harps, bagpipes, drums, recorders, and voice) as students learned about life and culture in Medieval Europe.
The artists made a special effort to make the 1000-year old music relevant and interesting to Middle School kids. "If you ever want to make music for movies and video games," Levy explained,  "you need to learn an instrument, and you need to know about Medieval Music."
The artists showed a powerpoint presentation which illustrated concept art and music for movies like "The Hobbit" and video games such as "The Legend of Zelda" and "Braid", and described how this media is influenced by Medieval art, music, and mythology. "To create a realistic instruments for an imaginary time that takes place long ago," Levy explained, "artist John Howe drew Medieval and Renaissance instruments for Dwalin & Bofur to play in The Hobbit." Students saw actual medieval illuminations of people playing instruments from important  Medieval manuscripts such as the Codex Manesse (Germany) and the Cantigas de Santa Maria (Galicia), followed by live demonstrations of those
same instruments.
Through this multi-media demonstration, focusing on the main social structures in Europe during the Middle Ages and their impact on music and everyday life, students learned to identify where a piece might have been played in Europe and what role it served in the community, and they developed critical thinking skills and vocabulary while experiencing the music of the time on historical instruments. It was a history class they will never forget!
By Mentor Artist Gabrielle Gamboa
As part of the Travel the World program, I conducted a fun and challenging Renaissance Drawing workshop for the 7th Grade History students of Davidson Middle School in San Rafael. This two day workshop was a hands-on lesson in Renaissance artists and their unique innovations. After a discussion of the apprenticeship system of the era, students chose a Michelangelo or Leonardo da Vinci master drawing to copy on tinted charcoal paper. I talked about how copying a master drawing was an important exercise in an apprentice's studio education!
Each master drawing came with a transparent grid that we then copied on the charcoal paper. Next, we discussed the types of drawing tools used during the Renaissance era, and students practiced using vine and compressed charcoal, and sanguine and umber Conte crayons (soft, earth toned colored pencils.)
I then demonstrated the technique of making a more accurate copy by drawing only one small grid square at a time, copying the contours of shapes and lines, and then adding shading. I demonstrated how turning an image upside-down can sometimes make it easier to copy clearly. Some students chose to start in pencil and then switch to charcoal or conte, others chose to draw entirely in charcoal and/or conte.
This lesson directly connected to their history studies, and the students were impressed at how well the old grid drawing technique worked to make more accurate drawings!
By Mentor Artist Sheila Berotti
It was with a bit of surprise recently that I realized that 7th graders might have an issue with the custom of removing one's shoes.
When I teach workshops in Noh and Kyogen theatre with Theatre of Yugen, we ask students to remove their shoes as a matter of course. We work in tabi, which are a special kind of footwear that is a bit more than a sock, but much less than a shoe. In some recent workshops, the students were instructed to take their shoes off and many were willing, but many were plainly defiant and some flatly refused. The point was not over-labored, but it brought me to make a brief explanation of foreign customs and the graciousness of honoring them. I pointed out that there is a practical reason as well: the space, whether it is someone's home or the sacred arena of the Noh stage, keeps cleaner.
We went on to have great class, wrapping students in beautiful silk kimono and exploring the classic 15th century beauty of the Noh ko-omote mask. We tried on the postures of a few of the Kyogen stock characters – master, servant, priest, woman – and discussed their status in Japanese feudal society. We explored the extreme and fairly silly vocal stylization of the riddle dance, "Usagi," and asked the students if they had ever experienced a kind of beauty they might call Yugen.
Yu: deep, quiet, otherworldly
Gen: subtle, profound, dark
(This was all part of the lesson plan. I did not expect to include a lesson on observing manners and having respect for other cultures, but when it just came up, it presented the ideal opportunity to make the point.)
Older Entries »