The young and talented artists have been working on this project with Mentor Artist, Brooke Toczylowski, since November. For more posts about this project click HERE. 
One of the ways the students transferred images onto the panels was to project their drawings or photos and then trace the shapes.
To the left Sonia and Declan transfer a photo of Sonia painting. This part of the mural  represents the students' own history and connection to the present and future of San Rafael. It was inspired by Diego Rivera's Mural at the San Francisco Art Institute, "Making a Fresco."

Local Master Artist Kalen Meyer came to Youth in Arts to speak with the students and share her artistic process. She showed the evolution of how her painting has changed over the years, including many images from her series, "36 Views of Mt. Tamalpais," which is the local mountain included in the mural.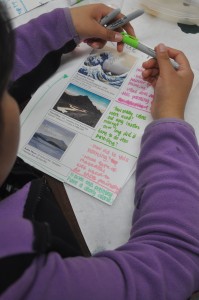 Students had prepared questions the day before after looking at images by Master Artists  Tom Killion and Katsushika Hokusai (who is an inspiration for both Killion and Meyer.)
The young artists asked,
Do you use calm colors on purpose?
Do you ever paint a view or a place from that place, or do you always work from photographs?
How could we work on the background color of our mural?
After looking at Kalen's work and going back to our mural the students found themselves inspired by her paint strokes and some of her techniques directly came out in the style of the mural.
What have you learned about yourself?
On Friday the group reflected on their experiences as a team and as professional muralists:
"I learned that working as a team is better and it's faster and when you work alone it looks all the same but when you work with lots of people it looks [different], like the [paint strokes] are different." – Rosvin 
"When I'm at home when I'm painting I'm alone in my room, but this so much more fun because you know you can be painting and then yell across the room and be like, 'hey!'" – Sonia
"Something that doing this project has brought to me is…I made lots of new friends like Stefania and Jessica, and it made me also much closer to my good friends." – Declan 
"What I learned is that we had a community here. Like when we were [painting] Charles it was Natalie and then Stefania joined in and then Joselyn and me, too. We all did it together." – Jessica 
STAY TUNED! In June the mural will be installed on the Youth in Arts building. A gallery exhibit and community celebration will illustrate the mural process and celebrate the young artists' hard work. 
THANK YOU to all parents, artists, and volunteers that made this project possible.
And THANK YOU to Whole Foods, who provided much of the snacks and lunches for the kids during the week.
Part of the mural team poses in front of the historic Mission bells. Students have decided that the current San Rafael Mission steeples will be depicted in the mural. For more information about the history of the Mission go to the Marin History Museum.
At the Boyd Gate House, home of the Marin History Museum, students pulled out their art journals, in which they sketched and took notes of their discoveries. Students were particularly drawn to the Marin at War! exhibition, in which there were various service uniforms on display. Louise Arner Boyd was an arctic explorer and photographer from San Rafael, who will also be depicted in the historic mural by the students.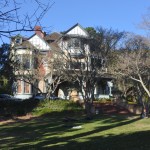 Next students visited the Falkirk Cultural Center, a historical 1888 San Rafael landmark which now presents contemporary art exhibitions. Students found themselves inspired by the prints on display in the galleries and enjoyed walking around the beautiful grounds, filled with sculptures and gardens.
At the corner of 4th Street and C streets students were given photographs or drawings of historical landmarks that still exist or used to exist on each of the four corners. They used visual clues to  figure out which historical image matched each corner.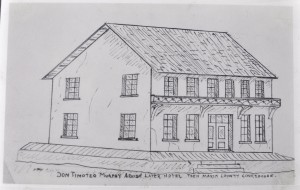 Arguably the most historical piece of real estate in downtown sits at the northwest corner of 4th and C streets, where Timothy Murphy lived, and which was used later as the courthouse.  Murphy, who was named San Rafael's first informal mayor, won a large land grant from the Mexican Government in 1844 and built his adobe house in downtown. He was a boisterous Irishman who reportedly spoke Miwok and Spanish , and who loved to have parties. San Rafael Day was born when church goers would go to Sunday mass at the Mission and walk over to Murphy's house for afternoon drinks, food, and games. The Bank of Italy building now sits in the same location, built in the late 1920s. For more information check out the Early San Rafael History book on Google Books.
The tour ended with us back at Youth in Arts, 917 C Street, where the final mural will be installed. The building was used as a livery and purchased by Neil MacPhail in the 1870s. Horses and carriages, including the famous Tally-ho were rented out to customers. When cars became the prominent mode of transportation the MacPhails ventured into the fuel business and later into appliances. The building is still owned by the MacPhail family and evidence of the passage of time fills the building. Beautiful sturdy wood beams hold up the warehouse in back,  a manual  horse elevator was used to bring the horses to the second floor stables, and elegant antique appliances adorn the attic.
"Paintings are but research and experiment. I never do a painting as a work of art. All of them are researches." (Pablo Picasso)
Can art making be a form of hands-on research? What can we learn from our experiments and explorations?
How can we discover new things about our themes and about ourselves through making art?
Working with Mentor Artist Brooke Toczylowski the Mural Team at Davidson has been researching – both the history of San Rafael and painting.  Toczylowski has studied Arts Based Research with Julia Marshall and Kimberley D'Adamo at San Francisco State University.
As they get ready to create the mural students are digging deep into both content and technique. Students use their art journals as a place to express, experiment, document, and learn.
To start their research the artists learned how to make a mind map in which they focused on what they already know about their chosen theme. For example, a student asks herself, "What do I already know about the Miwoks?" and "What do I want to know?"
Using resources from historical books, the internet, and oral histories from the Marin History Museum, students began their reading and researching. They created pages in their journals in which image and text intertwine and interact. Having such an open format allows them to make the content personal and relevant to their own lives.
In addition to historical research the artists are also experimenting with different paints and techniques. At the end of each session together students share what they've discovered support each other in their next steps.
Students started this three day intro to the mural project by discussing a visual essay about journaling. We looked at multiple ways artists use journals, including writers and poets. Below right is an image of one of Walt Whitman's journals, from 1855.
Artists on the Mural Team started by using collage, watercolors, and colored pencils. Personal thoughts and voices immediately started flowing from the students, who were thrilled to make the covers entirely of their own design.
While working I asked students to describe for me their thinking process:
"This is going to be dark and myseterious and the back is going to be light and colorful." Elena
While looking for collage images: "I'm finding things I find interesting, like the car lights. I like how on one side [of the highway] they're all red and on the other side they're all white." Sonia
"I like making it all colorful and different and random. That's how I always work, with random drawings, and by scribbling." Rosvin
At the end of each session students gather for a reflection and critique in which we discuss what we NOTICE, THINK, and WONDER. In preparation for the mural we talked about color, composition, texture, layering, and more.
On days two and three students were encouraged to use acrylic paints to layer on top of their watercolor paintings or collages they had already created.
Students were extremely proud of their journal covers and wanted to share with everyone their thoughts and ideas. During the third class the kids interviewed each other—even coming up with their own questions. Videos to come! Here's a transcript of one of the interviews.
Sonia: So, why did you join Youth in Arts?
Kathleen: Because I always love art but I don't have a lot of art supplies at home and my mom doesn't like the mess so I came here and it's really fun. I get to hang out with my friends while doing art.
Sonia: What are you painting right now?
Kathleen: I am making the back cover of my art journal right now, using collage and painting.
Sonia: And why are you painting what you're painting?
Kathleen: Because I like having different themes on all my pages. This one is like Hawaii and this one is mainly animals and arctic things, and then here is like the sunset and African animals.
Sonia: Are you excited about painting the mural?
Kathleen: Yes, because I want to be on TV and I want to be famous, because this could be the beginning of my stardom. And we get a plaque with our names on them and so I can say I made that to my grandchildren and it's still there.
For more blog posts on the Davidson Mural Project, click here and here.
To get involved in the project Email Mentor Artist, Brooke Toczylowski, at brooke@youthinarts.org. We are looking for volunteers to help organize, paint, provide snacks, prep boards, and more.
Youth in Arts thanks Jerry Tallman of MinuteMan Press for donating the paper utilized in the journal process here and at many other sites.