Advisory Class By Mentor Artist Jill Hoefgen
The goals of this Canal Alliance University Prep advisory class were to understand various forms of media and its effects on the individual, the community, and the world; to use images to create a visual message; to inspire students to observe the world through the camera lens and to express their unique perspectives through photography. Together, the students motivated each other to photograph shadows, buildings, signs, people, flowers, food, and even discarded objects. I enjoyed observing the tentative students emerging as thoughtful and enthusiastic photographers. Through practice, they began to discover how they could use light, lines, and angles to create interesting and unique compositions.

Back in the classroom, the students compiled their photos into hand-made accordion books. Each creation was a distinct and condensed collection of the work they had accomplished over the many weeks of photography.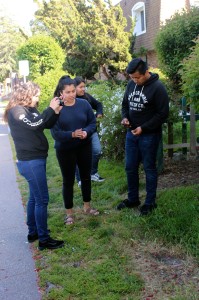 I witnessed many of the students embracing photography, creating something of their own, and expressing how they see the world. I was heartened by the energy and the relative openness as the students shared this experience with each other. I hope these emerging photographers can embrace this visual medium and continue to share their viewpoints through pictures. Ultimately, I hope each of the participating students discovers their own voice and identifies ways they can contribute meaningfully to the wide world of media.
By Youth in Arts Mentor Artist Jill Hoefgen
This semester in the Canal Alliance University Prep (UP!) advisory groups, we've been exploring media literacy and photography. In addition to learning about how to decode advertisement and identify fake news, the students have been practicing photography skills as a way to create and share media from their own perspective.
In April, I introduced the students to Brandon Stanton's Humans of New York photo project and we discussed community, photography, and human connections. Using some of Stanton's images as a jumping off point, the advisory groups of 7th and 11th graders started their final photography project last week.
As we trekked out of the classrooms and into the sunshine, the students expressed trepidations about what they "should" be photographing. I encouraged them to look for color, textures, shadows, lines, and people. Soon they were leading the way through the neighborhood, visiting shops and finding their own subjects to capture with the camera. They often stopped in pairs or individually to take a shot, and I chatted with each student about their photography as we moved along the street. Many of the students used the time to take many pictures, observe the neighborhood homes and businesses, and to explore the different angles to capture the best image.
When we returned to the classroom, they were energized and were ready to begin creating their own unique photo books, which should highlight their perspectives of the neighborhood.
~Jill Hoefgen
Since March we've been working with 5th and 6th graders at Willow Creek Academy and following the Adobe Youth Voices Digital Design curriculum. In this workshop, students have been exploring various key concepts fundamental to digital design and also getting their feet wet learning how to take photos with digital cameras and edit them in  Adobe Photoshop Elements.
To set the stage, we started with media literacy, viewing a variety of visual examples to develop a common language and see, in full vibrancy,  how subject to camera distances (close up, medium shot, long shot), composition, framing, and color play pivotal roles in photography. We leaped from critical analysis to hands on practice with our first exercise — creative portrait.
While taking the portraits, students were encouraged to explore the difference between the close up and long shot, to look what it's in the frame, what's left out and connect how technical choices pair with creative meanings.
After taking photos, we reconvened and had a "crit",  to see as a group how the different technical and creative  choices we made did and did not work in relation to our intended meaning.
Throughout the process we highlighted the importance of intentional choices…of course leaving room to pay attention to what is in the frame when the photo snaps and to be present to see where the artistic process wants to take you!
Stay tuned for more news about our final projects…Visual interpretations from an "I Am" poem we wrote, plus advanced editing in Adobe photoshop!
Mentor Artist Michelle Gutierrez worked closely with the classroom teachers Nathan and Scott at the Lagunitas Public Montessori Program to bring Digital Storytelling to their 3rd through 5th grade students.
THEIR GOALS
• Explore our Montessori identities creating digital images.
• Capture images that show how much we love our school and class.
• Introduce various techniques: scanning, creating digital images, mounting, digital photo editing, and preparing images for IPhoto & IMovie.
MONTESSORI'S HUMAN TENDENCIES
Montessori saw universal, innate characteristics in human psychology which her son and collaborator Mario Montessori identified as 'human tendencies' in 1957. We attempted to capture the following fundamental needs of humans with our cameras. We hope you enjoy our interpretations!