Circles come in all colors and sizes. We can find them everywhere.
Students in Kathleen Haulot's class at San Ramon Elementary School used Mason jar lids, tape rolls, tiny dishes and an empty yogurt container to make circles on black paper. Inspired by the work of Kandinsky, these young artists explored making circles big and small, loose and tight, thick and thin.
The students are working with Mentor Artist Cathy Bowman as part of a 10-week residency at Olive Elementary School in Novato. This is the second year she has worked with Kathleen, whose students range in age from kindergarten to second grade. She taught the same project at Olive Elementary School with Joe Smith.
The artists used thick, creamy tempera crayons that are easy to hold and use for students experiencing disabilities. Instead of working on white paper, they drew on black. The stark contrast created visual interest, and students had to think about what happens when yellow is applied to black paper (more green) than white paper (more yellow).
"I want my students to know the joy of making art with anything, and working on black paper produces exciting, dramatic art," Cathy said. "This is a great way for students to practice fine motor skills because they have to hold the lid with one hand and trace with the other."
Cathy likes Mason jar lids because they are sturdy and easy to hold. Artists had fun using different objects to make different circles. When we finished, we put them together on a table and talked about how each piece connected with the others. Reflection on art making is a key part of our Youth in Arts' programs, and it's wonderful to witness the many ways students share their voices.
Youth in Arts is the only provider of arts classes (visual, dance or music) to nearly 40 self-contained classrooms of students experiencing disabilities in Marin County. You can see art created by these very talented students this summer at our annual "Outside the Lines" art exhibit at the Youth in Arts Gallery.
Dozens of young artists and their families celebrated at the Artists Awards Reception for RISING STARS, the annual Youth in Arts exhibit that showcases the best of public, private and alternative high school art.
Sir Francis Drake High School student Annabelle Sulprizio won Best of Show for her pair of beautifully carved vases. Other award winners included Alessandra Sutton for Best Painting, Helen Kun for Best Photograph, Keira Engler for Best Sculpture, Lily Gates for Best Drawing, and Ina Kim for Best Mixed Media. The full list of winners can be found HERE.
Nearly 300 people turned out in the bright sunshine and rotated through the show at a private reception on Sunday. The show features painting, drawing, sculpture, mixed media, photography, printmaking and digital media.
Annabelle said Geometric/Repeat Pattern Vase Set was inspired by videos she watched showing master carvers from Japan and China. Sulprizio takes honor ceramics with teacher Beth Cederstrom. "I call her my at school mom," Annabelle said. "She make the ceramics room a space where you can feel comfortable and like you are at at home."
"What really stood out about this piece was the intricate detail. It was the only work that the judges unanimously chose as the winner of a category," said Morgan Schauffler, development associate at Youth in Arts who organized the show and manages the gallery.
The group artwork from TeamWorks program at Loma Alta School, an art education program that supports students involved in the juvenile justice system, won the new Rezaian Family Award given by Youth in Arts' board president Naomi Tamura and her family. TeamWorks director Katya McCulloch said the work, titled C.H.O.I.C.E., is a mixed media piece that features many different keys; the "O" holds the keyhole. The title stands for Creating Healthy Choices In Challenging Environments. "I loved it," Katya said. "I feel like we've touched on the soul of what TeamWorks is about. The choice is the key – making healthy choices."
Dylan, an artist at Compass Academy who studies with Youth in Arts' Mentor Artist Marty Meade, won an award from AC Graphics for her untitled digital painting of a saber-toothed cyclops lynx. "I absolutely love cyclops," Dylan shared.
College of Marin also awarded six scholarships to best of show and best in category winners, giving them a semester of tuition-free classes.
The show runs through March 27. The opening reception will be held Feb. 14 from 5 to 8 p.m., which coincides with the 2nd Friday Art Walk in San Rafael. 
The exhibition was blindly adjudicated.This year's judges included painter Kay Carlson from Marin Open Studios; sculptor and fine arts instructor Patricia Hulin from College of Marin; photographer and creative consultant Melissa McArdle; and Lynn Sondag, chair of Dominican University's Department of Art, Art History, Media and Design. Thank you to our sponsors AC Graphics, College of Marin, Il Davide, Marin Open Studios, Perry's Art Supplies & Framing, the Walker Rezaian family, RileyStreet Art Supply and the San Anselmo Arts Commission.
Artist Susan Diglioni founded Rising Stars in 1991, believing that young artists should be recognized for their talents.The exhibit travels to the Marin Center in April, where it will be on display in the Bartolini Gallery April 9 – May 31.
The YIA Gallery is one of the few in the nation devoted to showcasing children's art. Regular gallery hours are Monday to Friday, 11 a.m. to 4 p.m.
How do I make brown? How many different shades of brown can I make? Second graders at Short and Laurel Dell elementary schools practiced mixing colors using only the primaries red, yellow and blue plus white.
We worked with tempera paint, waxy black markers and mat board. First we traced our own hands and the hands of our table mates, overlapping to create interesting shapes. We mixed different browns carefully and painted in each area. It was fun to see how purple and yellow make a brown that is different from the brown that blue and orange makes. We used donated mat board instead of paper to give students a velvety and durable service on which to work. Mat board is especially helpful with children with learning differences as it offers a strong sensory response, and won't crumple with lots of paint.
Working with Youth in Arts Mentor Artist Cathy Bowman, we have been exploring identity and our role in our communities and neighborhoods. The lesson followed a multi-week project in which students created richly detailed murals using collage papers, pastels and glue. In each class, we designed and envisioned our dream neighborhood after looking at artists Romare Bearden, Faith Ringgold and others.
Thank you to Lo Forti Fine Prints in San Anselmo for the generous donation of mat board.
Youth in Arts is excited to announce the opening of our new ART LAB at the YIA Gallery.
Located in the gallery's store, the ART LAB is open during regular Youth in Arts hours  – Monday through Friday, 11 a.m. to 4 p.m., and until 8pm during Downtown San Rafael's 2nd Friday Art Walks. It's free and open to the public for art-making activities linked to YIA exhibitions.
"In keeping with our mission of providing arts access to all learners, Youth in Arts is opening its doors to the community to explore its creativity," said Miko Lee, executive director of Youth in Arts. "We're providing free, hands-on art projects for all ages."
Children will enjoy kid-sized tables where they can make art and explore materials. Each exhibition will also feature the artwork of one of Youth in Arts' Mentor Artists. All artwork on view in the space will be for sale, with a portion of the proceeds benefiting Youth in Arts.
Suzanne Joyal's work is currently featured and coincides with Imagining Friendship the Walker Rezaian Creative HeArts exhibition of self portraits by kindergarteners and first graders from Laurel Dell Elementary School in San Rafael. The colorful paintings were created during their Fall residency with Youth in Arts. As part of the exhibit, Youth in Arts' staff have created a kid-sized interactive cardboard world with doors, tunnels and windows for exploring.
Both children and adults are welcome, but we kindly ask that all children be accompanied and supervised by their grownups.
Please come and visit us soon. Just look for our bright red wall!
Second graders at Laurel  Dell Elementary School made their own murals by studying the great collage artists. We looked at art by Romare Bearden and other well known collage artists, looking at how they used textures, shapes and colors to layer their work. We began with a lively discussion of what a healthy neighborhood contains. What do we need besides a home, a school, a library, a hospital, a fire station and a police station? We divided up into teams to make the buildings, trees and parks that we needed. First we sketched in our sketchbooks. Then we turned the sketches into collages. We glued down the roads to provide a framework. Homes included apartment buildings and houses. One student made a motorcycle airplane; another student created a moon house!  The art will be displayed in the hallway at school and added to throughout the year.  
Students at the Short School in San Rafael experimented with paint, paper and various materials as part of a grant from the Kennedy Center. Using a lesson plan titled "Motivated to Create … HARMONY," Mentor Artist Cathy Bowman helped students translate jazz into paint.
The purpose of the lesson was to give students the experience of drawing on the inspiration of sounds as a foundation for their art. Working individually and in pairs, they listened to excerpts from "West Side Story" by composer and conductor Leonard Bernstein. Key vocabulary artists reviewed included "harmony," "tone" and "abstract."  Using tempera paint, paper and canvas they listened, and painted what they heard. We considered how sound affects our feelings. Students were given an array of materials to use, including toothbrushes, corks, rollers, plastic packing material and forks. They practiced making marks, covering marks and making more marks. Working together was a good lesson in collaboration and respect … Is it ok to cover another artists' marks?
Working in pairs allowed students to create multiple layers of color.
In the final session artists were given an 18 by 24 inch canvas. They tore up their smaller works on paper and reassembled the pieces into a collage on the canvas. They applied more paint and color while listening to music. Working outside for the final painting freed the young artists to move in ways that can't happen in a carpeted classroom. 
The last artist to work on the painting added a tiny touch of black, noting that she was thinking about her favorite fruit – blackberries. Can you find her mark?
This VSA program is provided in 2017-2018 under a contract with the John F. Kennedy Center for the Performing Arts. This program is also supported by the Buck Family Foundation and Marin Charitable.
The 27th annual RISING STARS show opened with a lively Awards Reception for participating artists at the Youth in Arts Gallery in downtown San Rafael on February 4th.  330 students, parents, and teachers visited the gallery throughout the afternoon.  Executive Director, Miko Lee and Student Board Member, Rose Myers presented forty prizes to students from 17 of Marin County's public, private, and alternative high schools full list of winners here.  The show was blindly adjudicated by our panel of professional artists: painter, Kay Carlson; ceramicist, Melissa Woodbury; and photographer, Joy Phoenix.  Additional awards were granted to students selected by Perry's Art Supplies & Framing, RileyStreet Art Supply, Alejandra Tamayo, and Youth in Arts.
The exhibition, which runs through March 28th, highlights paintings, drawings, photography, ceramics, sculptures, digital and mixed media work from up to 12 teacher-nominated students from each school.  Over 130 students submitted 2D and 3D artwork for this years RISING STARS, and the varied works have come together in a beautiful presentation that draws well-deserved attention to the talented visual arts students throughout Marin County.  Though our staff and judges are always thoroughly impressed by level of student ability, the quality of artwork in this year's show is particularly astounding. We were also moved by the eloquence and thoughtfulness of the artist statements produced by this years participants.  Thank you student artists!
RISING STARS will be on view at YIA Gallery, 917 C Street in San Rafael, through March 28th, 2018; 11am–4pm. We are also open for the 2nd Fridays Art Walk Downtown: Friday, February 9, 5-8 p.m; Friday, March 9, 5-8 p.m.
Thank You to Our Sponsors!
• Il Davide Restaurant
• RileyStreet Art Supply
• Marin Open Studios
• Perry's Art Supplies & Framing
and Allan Daly for photography
Teens, please join us for a visual arts workshop, How to Pursue Art as a Passion & Profession, on February 20th.
At Laurel Dell Suzanne Joyal continues with our Visual Arts program reaching the entire school.  Our first graders use their imagination and artistry to create imaginary monsters and practice color mixing.
Creations were so unique, as students answered the same questions: How will it move? Does it need arms, legs, wings? How many? How will it see? How many eyes will it have? (More was pretty common!) Where does it live? What does it eat? Who are its friends?
What colors will you use? How will you make orange, purple, green? Can you make brown also?
We began the lesson by looking at the sky: what happens where the sky meets the land? Filling the white space between them was a big success.
Thank you to the California Arts Council for supporting this work. 
Third graders at Laurel Dell have added some color to their Hero project as they designed logos for their creations.  How does a single picture tell a story? How do you show lightning hands, or super speed, or controlling fire? Students were able to experiment with tracing paper and carbon paper (new to them!) as they refined their logos. Several students decided their super hero would protect us all from fires.
Students culminated their Super Hero project by turning their super heroes into comic book illustrations. In the process students learned a little bit about Pop Art (Roy Lichtenstein) and the offset printing process (Ben Day dots reproduced by printing on bubble wrap).
Every step of this process encouraged students to imagine their creations in a more in-depth, concrete way. They have named their heroes, given them jobs and homes and friends, and are poised to create some wonderful stories with their heroes.
Thank you to the California Arts Council for their generous support of this project. 
YIA Mentor Artist Ernesto Olmos shares his experience with students at University Prep at the Canal Alliance–
We had a very successful visual art program at Canal Alliance.  The students learned about several different art techniques. They learned basic concepts of drawing including: point, line, and composition.  They learned how to draw comics as well.  The students also used hard pastel crayons and oil pastels, to create wonderful landscapes.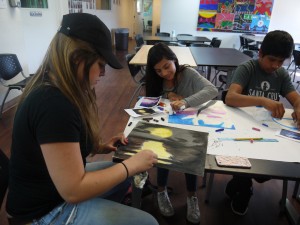 For the painting section of the residency, the students had the opportunity to experiment.  They created ancient prehistoric cave art using natural pigments made from soil, carbon, limestone and hard pastels.
For the last part of the residency, the students learned contemporary acrylic techniques. I shared how to use the acrylic medium to create different textures.  The students used pictures of animals and landscapes for reference.  They created wonderful, imaginative artwork.
I loved working with these talented youth.  It was a pleasure to share my art techniques with them.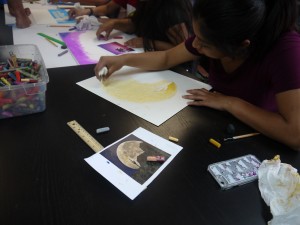 Older Entries »