Youth in Arts is excited to announce the opening of our new ART LAB at the YIA Gallery.
Located in the gallery's store, the ART LAB is open during regular Youth in Arts hours  – Monday through Friday, 11 a.m. to 4 p.m., and until 8pm during Downtown San Rafael's 2nd Friday Art Walks. It's free and open to the public for art-making activities linked to YIA exhibitions.
"In keeping with our mission of providing arts access to all learners, Youth in Arts is opening its doors to the community to explore its creativity," said Miko Lee, executive director of Youth in Arts. "We're providing free, hands-on art projects for all ages."
Children will enjoy kid-sized tables where they can make art and explore materials. Each exhibition will also feature the artwork of one of Youth in Arts' Mentor Artists. All artwork on view in the space will be for sale, with a portion of the proceeds benefiting Youth in Arts.
Suzanne Joyal's work is currently featured and coincides with Imagining Friendship the Walker Rezaian Creative HeArts exhibition of self portraits by kindergarteners and first graders from Laurel Dell Elementary School in San Rafael. The colorful paintings were created during their Fall residency with Youth in Arts. As part of the exhibit, Youth in Arts' staff have created a kid-sized interactive cardboard world with doors, tunnels and windows for exploring.
Both children and adults are welcome, but we kindly ask that all children be accompanied and supervised by their grownups.
Please come and visit us soon. Just look for our bright red wall!
Second graders at Laurel  Dell Elementary School made their own murals by studying the great collage artists. We looked at art by Romare Bearden and other well known collage artists, looking at how they used textures, shapes and colors to layer their work. We began with a lively discussion of what a healthy neighborhood contains. What do we need besides a home, a school, a library, a hospital, a fire station and a police station? We divided up into teams to make the buildings, trees and parks that we needed. First we sketched in our sketchbooks. Then we turned the sketches into collages. We glued down the roads to provide a framework. Homes included apartment buildings and houses. One student made a motorcycle airplane; another student created a moon house!  The art will be displayed in the hallway at school and added to throughout the year.  
Students at the Short School in San Rafael experimented with paint, paper and various materials as part of a grant from the Kennedy Center. Using a lesson plan titled "Motivated to Create … HARMONY," Mentor Artist Cathy Bowman helped students translate jazz into paint.
The purpose of the lesson was to give students the experience of drawing on the inspiration of sounds as a foundation for their art. Working individually and in pairs, they listened to excerpts from "West Side Story" by composer and conductor Leonard Bernstein. Key vocabulary artists reviewed included "harmony," "tone" and "abstract."  Using tempera paint, paper and canvas they listened, and painted what they heard. We considered how sound affects our feelings. Students were given an array of materials to use, including toothbrushes, corks, rollers, plastic packing material and forks. They practiced making marks, covering marks and making more marks. Working together was a good lesson in collaboration and respect … Is it ok to cover another artists' marks?
Working in pairs allowed students to create multiple layers of color.
In the final session artists were given an 18 by 24 inch canvas. They tore up their smaller works on paper and reassembled the pieces into a collage on the canvas. They applied more paint and color while listening to music. Working outside for the final painting freed the young artists to move in ways that can't happen in a carpeted classroom. 
The last artist to work on the painting added a tiny touch of black, noting that she was thinking about her favorite fruit – blackberries. Can you find her mark?
This VSA program is provided in 2017-2018 under a contract with the John F. Kennedy Center for the Performing Arts. This program is also supported by the Buck Family Foundation and Marin Charitable.
The 27th annual RISING STARS show opened with a lively Awards Reception for participating artists at the Youth in Arts Gallery in downtown San Rafael on February 4th.  330 students, parents, and teachers visited the gallery throughout the afternoon.  Executive Director, Miko Lee and Student Board Member, Rose Myers presented forty prizes to students from 17 of Marin County's public, private, and alternative high schools full list of winners here.  The show was blindly adjudicated by our panel of professional artists: painter, Kay Carlson; ceramicist, Melissa Woodbury; and photographer, Joy Phoenix.  Additional awards were granted to students selected by Perry's Art Supplies & Framing, RileyStreet Art Supply, Alejandra Tamayo, and Youth in Arts.
The exhibition, which runs through March 28th, highlights paintings, drawings, photography, ceramics, sculptures, digital and mixed media work from up to 12 teacher-nominated students from each school.  Over 130 students submitted 2D and 3D artwork for this years RISING STARS, and the varied works have come together in a beautiful presentation that draws well-deserved attention to the talented visual arts students throughout Marin County.  Though our staff and judges are always thoroughly impressed by level of student ability, the quality of artwork in this year's show is particularly astounding. We were also moved by the eloquence and thoughtfulness of the artist statements produced by this years participants.  Thank you student artists!
RISING STARS will be on view at YIA Gallery, 917 C Street in San Rafael, through March 28th, 2018; 11am–4pm. We are also open for the 2nd Fridays Art Walk Downtown: Friday, February 9, 5-8 p.m; Friday, March 9, 5-8 p.m.
Thank You to Our Sponsors!
• Il Davide Restaurant
• RileyStreet Art Supply
• Marin Open Studios
• Perry's Art Supplies & Framing
and Allan Daly for photography
Teens, please join us for a visual arts workshop, How to Pursue Art as a Passion & Profession, on February 20th.
At Laurel Dell Suzanne Joyal continues with our Visual Arts program reaching the entire school.  Our first graders use their imagination and artistry to create imaginary monsters and practice color mixing.
Creations were so unique, as students answered the same questions: How will it move? Does it need arms, legs, wings? How many? How will it see? How many eyes will it have? (More was pretty common!) Where does it live? What does it eat? Who are its friends?
What colors will you use? How will you make orange, purple, green? Can you make brown also?
We began the lesson by looking at the sky: what happens where the sky meets the land? Filling the white space between them was a big success.
Thank you to the California Arts Council for supporting this work. 
Third graders at Laurel Dell have added some color to their Hero project as they designed logos for their creations.  How does a single picture tell a story? How do you show lightning hands, or super speed, or controlling fire? Students were able to experiment with tracing paper and carbon paper (new to them!) as they refined their logos. Several students decided their super hero would protect us all from fires.
Students culminated their Super Hero project by turning their super heroes into comic book illustrations. In the process students learned a little bit about Pop Art (Roy Lichtenstein) and the offset printing process (Ben Day dots reproduced by printing on bubble wrap).
Every step of this process encouraged students to imagine their creations in a more in-depth, concrete way. They have named their heroes, given them jobs and homes and friends, and are poised to create some wonderful stories with their heroes.
Thank you to the California Arts Council for their generous support of this project. 
YIA Mentor Artist Ernesto Olmos shares his experience with students at University Prep at the Canal Alliance–
We had a very successful visual art program at Canal Alliance.  The students learned about several different art techniques. They learned basic concepts of drawing including: point, line, and composition.  They learned how to draw comics as well.  The students also used hard pastel crayons and oil pastels, to create wonderful landscapes.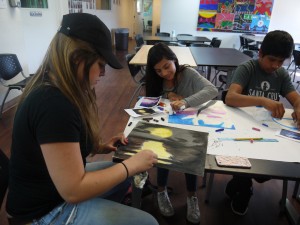 For the painting section of the residency, the students had the opportunity to experiment.  They created ancient prehistoric cave art using natural pigments made from soil, carbon, limestone and hard pastels.
For the last part of the residency, the students learned contemporary acrylic techniques. I shared how to use the acrylic medium to create different textures.  The students used pictures of animals and landscapes for reference.  They created wonderful, imaginative artwork.
I loved working with these talented youth.  It was a pleasure to share my art techniques with them.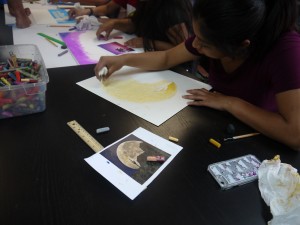 On June 13 and 14th Youth in Arts staff Suzanne Joyal and Miko Lee trained 60 self identified STEM (Science Technology Engineering and Math) teachers from the Marin County Office of Education on how to incorporate the ARTS into their curriculum. Teachers met in hour long grade level groups. They were led through a group brainstorm of their particular topic. They were then shown an example of a finished project and then led through the exercise which was connected to to address a grade level performance expectation. At the end of each session there was a gallery display and discussion utilizing Visual Thinking Strategies which are also employed by the STEM teachers. They were provided with lesson plans that note the links to the Next Generation Science Standard, the National Art Standard and Youth in Arts own Creative Expression standard.
Thank you for contributing your strengths in the arts to make this workshop meaningful and engaging for the participants. The teachers shared how they plan to use these art lessons with their students and how much they appreciated seeing how art can deepen student understanding in science.–Christina Lunde and Eileen Smith, Marin Next Generation Collaborative
For information on how you can book this professional development for your school site click here, where a link to lesson plans can also be found.
Please check out the attached photo gallery to see the work in action. Thanks to Christina Lunde for some of the photos.
This month, Youth in Arts C Street Project artists Christopher Do, Ayame Keane-Lee, Marikit Mayeno and Joselyn De Leon have been working with Mentor Artist Cathy Bowman to create an original comic book for Litquake San Rafael, as well as a giant-sized "walkable" illustrated story in our YIA Gallery in Downtown San Rafael.
On Saturday, October 8, C Street Project artists hand-colored dozens of copies of their finished comic book Floating with purple and yellow colors that are important elements of their story. They delivered the books to Blue Moon Comics, where Litquake visitors could pick up a free copy and follow a trail of footprints to YIA Gallery. At the gallery, visitors were able to illustrate their own ending to the story and participate in a workshop with Mentor Artist Cathy Bowman on comic book drawing and design techniques.
C Street Project artists also used a press to create original printed images, both to decorate the outsides of the comic book, and as bookmarks for YIA Gallery visitors to take home with them.
On Sunday, the young artists worked with Youth in Arts Mentor Artists to hand-enlarge their book pages to panels that now fill YIA Gallery. They hand-colored each panel and drew their own "bubble worlds" (another story element) which will be strategically hung from the ceiling.
On each "bubble world," one side of the bubble shows a world the artist wants to see (i.e. a healthy natural world or engaging schooling for everyone) and the other side shows an aspect of the world they want to change (i.e. factories belching pollution or girls excluded from school).
Come visit C Street Project's "Walkable Comics" exhibit free to the public at YIA Gallery through November 18, Monday through Friday 11 am to 4 pm.
We'll also be open free to the public on Friday, October 14 and Friday, October 11 from 5-8 pm for Art Walk Downtown. If you'd like to bring your school or youth group on a private tour with a guided hands-on art activity, contact Jen Daly at jdaly@youthianrts.org (reservations required).
Or see the show when you join us on Saturday, November 5 to "Paint, Print, Cut & Create" at our art-making studio fundraiser ($30 Teens & Adults and $10 Children–info and tickets at youthinarts.ticketleap.com)
Ms. Vazquez' kindergarteners walked to Youth in Arts today to admire their very own artworks featured in the Walker Rezaian Creative Hearts Fund/Laurel Dell Gallery exhibit. They looked closely at their work and that of their friends'. Working with Jen Daly, groups of students played in the cardboard weather world: the Sun House with bright yellow spots and a rainbow gate, the Rain House with grey clouds, rainsticks and noisemakers, and the Cloud House with its soft squishy floor and whitish sky. They paddled together in the cardboard canoe, and even made leaves for the Seasons Tree.
Students also practiced what we shared at the Family Art Nights and began their very own Guatemalan-styled kite. Working with Suzanne Joyal, Naomi Tamura, Ms. Vazquez, and some very helpful parents, students also made the parts of their very own class Kite, to be flown at Fiesta de Sol in June. Working with mirrors, Sharpies, colored pencils, and oil pastels, students created self portrait diamonds which will be glued together into one beautiful kite.
Older Entries »