At Laurel Dell Suzanne Joyal continues with our Visual Arts program reaching the entire school.  Our first graders use their imagination and artistry to create imaginary monsters and practice color mixing.
Creations were so unique, as students answered the same questions: How will it move? Does it need arms, legs, wings? How many? How will it see? How many eyes will it have? (More was pretty common!) Where does it live? What does it eat? Who are its friends?
What colors will you use? How will you make orange, purple, green? Can you make brown also?
We began the lesson by looking at the sky: what happens where the sky meets the land? Filling the white space between them was a big success.
Thank you to the California Arts Council for supporting this work. 
Third graders at Laurel Dell have added some color to their Hero project as they designed logos for their creations.  How does a single picture tell a story? How do you show lightning hands, or super speed, or controlling fire? Students were able to experiment with tracing paper and carbon paper (new to them!) as they refined their logos. Several students decided their super hero would protect us all from fires.
Students culminated their Super Hero project by turning their super heroes into comic book illustrations. In the process students learned a little bit about Pop Art (Roy Lichtenstein) and the offset printing process (Ben Day dots reproduced by printing on bubble wrap).
Every step of this process encouraged students to imagine their creations in a more in-depth, concrete way. They have named their heroes, given them jobs and homes and friends, and are poised to create some wonderful stories with their heroes.
Thank you to the California Arts Council for their generous support of this project. 
YIA Mentor Artist Ernesto Olmos shares his experience with students at University Prep at the Canal Alliance–
We had a very successful visual art program at Canal Alliance.  The students learned about several different art techniques. They learned basic concepts of drawing including: point, line, and composition.  They learned how to draw comics as well.  The students also used hard pastel crayons and oil pastels, to create wonderful landscapes.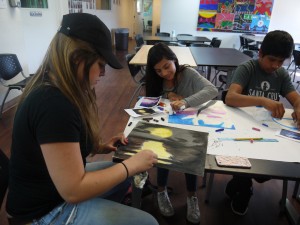 For the painting section of the residency, the students had the opportunity to experiment.  They created ancient prehistoric cave art using natural pigments made from soil, carbon, limestone and hard pastels.
For the last part of the residency, the students learned contemporary acrylic techniques. I shared how to use the acrylic medium to create different textures.  The students used pictures of animals and landscapes for reference.  They created wonderful, imaginative artwork.
I loved working with these talented youth.  It was a pleasure to share my art techniques with them.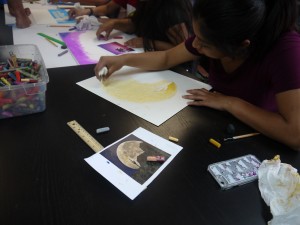 On June 13 and 14th Youth in Arts staff Suzanne Joyal and Miko Lee trained 60 self identified STEM (Science Technology Engineering and Math) teachers from the Marin County Office of Education on how to incorporate the ARTS into their curriculum. Teachers met in hour long grade level groups. They were led through a group brainstorm of their particular topic. They were then shown an example of a finished project and then led through the exercise which was connected to to address a grade level performance expectation. At the end of each session there was a gallery display and discussion utilizing Visual Thinking Strategies which are also employed by the STEM teachers. They were provided with lesson plans that note the links to the Next Generation Science Standard, the National Art Standard and Youth in Arts own Creative Expression standard.
Thank you for contributing your strengths in the arts to make this workshop meaningful and engaging for the participants. The teachers shared how they plan to use these art lessons with their students and how much they appreciated seeing how art can deepen student understanding in science.–Christina Lunde and Eileen Smith, Marin Next Generation Collaborative
For information on how you can book this professional development for your school site click here, where a link to lesson plans can also be found.
Please check out the attached photo gallery to see the work in action. Thanks to Christina Lunde for some of the photos.
This month, Youth in Arts C Street Project artists Christopher Do, Ayame Keane-Lee, Marikit Mayeno and Joselyn De Leon have been working with Mentor Artist Cathy Bowman to create an original comic book for Litquake San Rafael, as well as a giant-sized "walkable" illustrated story in our YIA Gallery in Downtown San Rafael.
On Saturday, October 8, C Street Project artists hand-colored dozens of copies of their finished comic book Floating with purple and yellow colors that are important elements of their story. They delivered the books to Blue Moon Comics, where Litquake visitors could pick up a free copy and follow a trail of footprints to YIA Gallery. At the gallery, visitors were able to illustrate their own ending to the story and participate in a workshop with Mentor Artist Cathy Bowman on comic book drawing and design techniques.
C Street Project artists also used a press to create original printed images, both to decorate the outsides of the comic book, and as bookmarks for YIA Gallery visitors to take home with them.
On Sunday, the young artists worked with Youth in Arts Mentor Artists to hand-enlarge their book pages to panels that now fill YIA Gallery. They hand-colored each panel and drew their own "bubble worlds" (another story element) which will be strategically hung from the ceiling.
On each "bubble world," one side of the bubble shows a world the artist wants to see (i.e. a healthy natural world or engaging schooling for everyone) and the other side shows an aspect of the world they want to change (i.e. factories belching pollution or girls excluded from school).
Come visit C Street Project's "Walkable Comics" exhibit free to the public at YIA Gallery through November 18, Monday through Friday 11 am to 4 pm.
We'll also be open free to the public on Friday, October 14 and Friday, October 11 from 5-8 pm for Art Walk Downtown. If you'd like to bring your school or youth group on a private tour with a guided hands-on art activity, contact Jen Daly at jdaly@youthianrts.org (reservations required).
Or see the show when you join us on Saturday, November 5 to "Paint, Print, Cut & Create" at our art-making studio fundraiser ($30 Teens & Adults and $10 Children–info and tickets at youthinarts.ticketleap.com)
Ms. Vazquez' kindergarteners walked to Youth in Arts today to admire their very own artworks featured in the Walker Rezaian Creative Hearts Fund/Laurel Dell Gallery exhibit. They looked closely at their work and that of their friends'. Working with Jen Daly, groups of students played in the cardboard weather world: the Sun House with bright yellow spots and a rainbow gate, the Rain House with grey clouds, rainsticks and noisemakers, and the Cloud House with its soft squishy floor and whitish sky. They paddled together in the cardboard canoe, and even made leaves for the Seasons Tree.
Students also practiced what we shared at the Family Art Nights and began their very own Guatemalan-styled kite. Working with Suzanne Joyal, Naomi Tamura, Ms. Vazquez, and some very helpful parents, students also made the parts of their very own class Kite, to be flown at Fiesta de Sol in June. Working with mirrors, Sharpies, colored pencils, and oil pastels, students created self portrait diamonds which will be glued together into one beautiful kite.
Laurel Dell Elementary School is the 2015-2016 recipient of the Walker Rezaian Creative Hearts Fund grant. This is providing the youngest members of the Laurel Dell Community with visual arts instruction for most of the school year.
With observational drawing we learn to look closely and notice details. When we observe our own creations or things we love, we see more, and look even more closely. Laurel Dell's youngest students often practice Observational Drawing: either their own artwork, or toy animals and dinosaurs that inspire more stories and more engaging play. Students also practice making many different kinds of lines, and adding lots of details.
Drawing our PLAYGROUNDS:
And then we PAINTED our drawings:
After playgrounds, we practiced observational drawing (and painting) with ANIMALS and DINOSAURS:
Young artists at Laurel Dell School began their line research today. We began by using our eyes, arms, imaginations, and even our whole body to SHOW the lines we could see or imagine.We painted more lines using tempera cakes and thick and thin brushes.
Next we used our black china markers to draw the different lines we could see or imagine.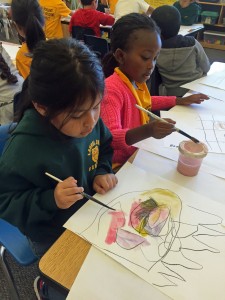 We're off to a strong start in the T-K and Kindergarten classrooms at Laurel Dell Elementary school, 2015-2016 recipients of the Walker Rezaian Creative HeArts Award.
Students have been working with Mentor Artist Suzanne Joyal, learning to use drawing pencils, black china markers, colored pencils, and even Sharpies. They have been working on showing and telling more about themselves through their pictures, and on customizing their Beautiful New Art Journals. Thank you RileyStreet yet again for your help in getting the best supplies to our kids.
By Mentor Artist Gabrielle Gamboa
As part of the Travel the World program, I conducted a fun and challenging Renaissance Drawing workshop for the 7th Grade History students of Davidson Middle School in San Rafael. This two day workshop was a hands-on lesson in Renaissance artists and their unique innovations. After a discussion of the apprenticeship system of the era, students chose a Michelangelo or Leonardo da Vinci master drawing to copy on tinted charcoal paper. I talked about how copying a master drawing was an important exercise in an apprentice's studio education!
Each master drawing came with a transparent grid that we then copied on the charcoal paper. Next, we discussed the types of drawing tools used during the Renaissance era, and students practiced using vine and compressed charcoal, and sanguine and umber Conte crayons (soft, earth toned colored pencils.)
I then demonstrated the technique of making a more accurate copy by drawing only one small grid square at a time, copying the contours of shapes and lines, and then adding shading. I demonstrated how turning an image upside-down can sometimes make it easier to copy clearly. Some students chose to start in pencil and then switch to charcoal or conte, others chose to draw entirely in charcoal and/or conte.
This lesson directly connected to their history studies, and the students were impressed at how well the old grid drawing technique worked to make more accurate drawings!
« Newer Entries
Older Entries »