Mentor Artist Angela Baker worked with Fourth Graders incorporating VAPA standards about proportion and additive and subtractive sculptural techniques to translate 2-dimensional drawings into 3-dimensional forms.
Students invented animals. First drawing them with colored pencil.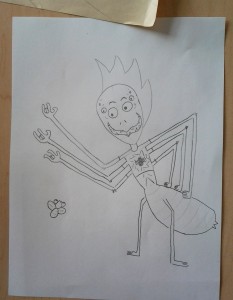 Then learning various clay techniques to create sculptures. For the culminating project students created an accordion book about their invented animals.
Students began by doing Gesture Drawing & then translated their Drawings into Wire Action Figures.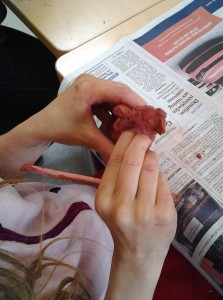 In addition to learning about line, form and color, classes explored themes such as community and being yourself to coincide with themes from of the play Lydia and the Other World, that the students wrote with Mentor Artist Thomas Arndt.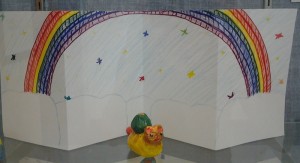 Many thanks to the Thomas J. Long Foundation for their support of "Arts Unite Us" at Harding Elementary.
The 5th Graders at Mary Silveira have spent the past few weeks continuing to work on their exploration journals.They continued creative writing inspired by their observation and perspective drawings, and made revised drawings of their island maps. We practiced color pencil blending techniques, and discussed how artists can make more lively drawings by blending analogous colors instead of using just one. For a warm-up exercise we made mandalas, instinctual circular drawings. These mandalas proved to be very popular!
We also created new island inhabitants by drawing hybrid creatures. To do this, each student drew two different animal models from observation. Then they cut and recombined these animals into a new creature, pasting it into their sketchbook. Cutting up and reassembling their drawings was difficult for some of these artists, and very freeing for others. But the unexpected results were a joyful surprise. After naming this new creature, they then added it into their stories.
For a culminating project, students will be exhibiting their maps and journals at the school art show. It has been great to see how enthusiastic these young artists have been about sharing their creations every step of the way.
"What is a path?"
"A mark you make that other people can follow." –Kindergartener, Ms. Kraft's classroom.
Children continue to explore the idea of friendship as they design their imaginary playgrounds. We looked at the artwork of Indigenous Australian artists, and discussed the idea of paths. If we walked through a puddle of paint, and then played, what kinds of marks would we leave on the ground? What kinds of marks would our friends make?
Our line challenge involved a careful observation of the classroom, and also reflection. What kinds of lines do we see? What kinds of lines do we remember? We used our arms to practice the lines in the air before we began drawing. We practiced vocabulary too: Zig Zag, Squiggly, Swirl, Horizontal, Vertical, Diagonal, Dotted, Long, Short.
Students were asked to draw at least three different types of lines on their foam boards (donated by a very generous local framer!), and then we added color with liquid watercolors in Bingo Bottles.
Journal Question: Where do we PLAY?
Next time, we build UP as we work with strips of paper to build models of our ideal playgrounds.
Third graders at Willow Creek Academy have been working with Mentor Artist Suzanne Joyal to utilize visual arts to make their creative writing richer. We have been learning to look: how can you find every detail, and draw what your eye SEES, not what your mind REMEMBERS. Today we worked on observational drawing, both Gesture and Contour. The drawings of animals made from 3D sculptures were inspiring.
I am working with the 5th Graders of Mary Silveira in San Rafael for an 18-week visual arts project in which our young student artists are creating scientific exploration journals and maps of imaginary islands. Along the way, we will develop our observational drawing skills, learn new drawing and watercolor painting techniques, map making, book binding, and other arts skills. Through this project, we are using visual art to apply the skills and knowledge we learn through the study of science and social studies.
The first three weeks were devoted to warm-up drawing exercises, team planning and sketching ideas, and creating the cover of our explorer sketchbooks with fancy decorating endpapers. Students are working in pairs and trios to develop their island environments. We also completed our first observational drawing, an enlargement of a button, using circular shading.
–Gabrielle Gamboa, Mentor Artist
Gabrielle Gamboa's work with Mary Silveira students will be on exhibit this winter in our YIA Gallery exhibit "Imaginary Voyages" opening December 13 in downtown San Rafael and running through the end of January. For more information on how to book a free gallery visit and art activity for your class or youth group, click here or email us at yia@youthinarts.org
Gabrielle Gamboa finished out a summer of wonderful art-making at Marinwood Camp with four new activities. If you'd like to bring Gabrielle to your classroom this year to teach these and other visual arts activities, contact Suzanne, Director of Artists in Schools!
Read more…
YIA teaching artists Marguerite Etemad & K-Dub lead another great spirited Professional Development workshop. This time Contour drawing was lesson. Teachers from Willow Creek Academy & Bayside Elem. participated by drawing a fun funky still-life. There was great energy all around and teachers were surprised by their creations and the work of their peers.
Contour drawing, is an artistic technique used in the field of art in which the artist sketches the contour of a subject by drawing lines that result in a drawing that is essentially an outline; the French word contour meaning, "outline." The purpose of contour drawing is to emphasize the mass and volume of the subject rather than the detail; the focus is on the outlined shape of the subject and not the minor details. However, because contour can convey a three-dimensional perspective, length and width as well as thickness and depth are important; not all contours exist along the outlines of a subject. This technique is manifested in different styles and practiced in the honor of drawing development.
« Newer Entries