On January 24, the Marin IJ published an article written by fifth graders working with Shirl Buss, YIA Mentor Architect and educator with UC Berkeley's Y-PLAN.
On Thursday night, Laurel Dell hosted a Family Art Night for second and third-graders. Families were able to visit the gallery of works created over the Fall, and to participate in a hands-on art-making experience.
YIA Mentor Artists Cathy Bowman and Suzanne Joyal asked students and families to respond the IJ story: What do YOU want for San Rafael's future? What important words can you read? Circle them. Now, choose the MOST important word, and turn it into a piece of art that fills your whole page.
Each student and family member found a word in the article that was important to them, and turned it into one of the mini-artworks you find here.
Lastly, we glued all of the pieces together into this one cohesive collage.
The students ranged in age from TK (PATHS), to third grade (ELECTRIC from a kid who says he doesn't feel safe walking in his neighborhood at night). We saw parents translating for each other, children reading to their parents, and even tiny little pre-readers able to pick out letters and begin their journey to reading.
Here is a link to a member of the community in Fairfax who wrote a letter to the MarinIJ entitled:  "Inspired by Youngsters ideas on Sea-Level Rise".
Thank you California Arts Council for your generous support!
Youth in Arts hosted our forth Free Family Art Night for the fire impacted, Hidden Valley Elementary in Santa Rosa on February 6th.  Hidden Valley lost their satellite location in the North Bay Fires in October 2017.  In addition 133 students, 1/4 of their school population, were displaced from their homes by the fire.  In spite of surviving this incredible adversity, all of the event's participants were wonderfully positive, enthusiastic, and engaged.  They produced some of the most beautiful Family Flags we have seen thus far – full of color, hope and life.  We loved spending our evening with the Hidden Valley Hawks! #hawkstrong
Thank you to our project partner Riley Street Art Supply for providing all of the art supplies for the Family Art Night.  RileyStreet also generously donated fantastic art kits to all of the students who lost their homes in the fires.
If you are interested in supporting the program, please donate here.
On December 4th, Youth in Arts hosted a Family Art Night at James Monroe Elementary in Santa Rosa, as part of a free program offered to schools impacted by the recent fires.  Riley Street Art Supply [http://www.rileystreet.com] kindly provided the supplies for 50 students and their families to take part in the Family Flag project.  Participants were asked to close their eyes and think of symbols that give them strength and power.  When they opened their eyes they were asked to quickly draw four thumbnail sketches.  They then chose their favorite image from the group and redrew it on a larger scale on the canvas flag.  After all the symbols were sketched, they added lots of vibrant pastel and watercolor to complete the piece.  The finished flags were beautiful and colorful images representing the resilience, diversity and heart of James Monroe Elementary.  Thank you for having us!
Cascade Canyon School families gathered earlier this Fall to make family flags as part of a Youth in Arts visual arts residency. Working with Mentor Artist Cathy Bowman and Program Director Morgan Schauffler, families participated in a lively discussion about the meaning of symbols and what shapes best represented each family. The artists began by tracing their images on scratch paper, then transferring onto recycled canvas panels. They decided which lines and shapes to keep, and traced over those with a black pen. Artists then used black Sharpie pens, oil pastels and watercolors to complete their pieces. Artists were encouraged to think beyond familiar symbols such as a heart or peace sign and consider using shapes that had no name or familiar form. The event was a great chance for parents and their children to collaborate artistically.  Thank you Cascade Canyon!
Youth in Arts organized two wonderful multigenerational art events with the Canal Alliance's University Prep students on March 24th and April 21st.  The students, their parents and siblings worked together on collaging large puzzle pieces that when put together created the letters U and P (University Prep's acronym).  The letters are on a banner that will eventually hang at UP!.
Everyone wrote their goals for the future on the background of the banner in black sharpie, so that the large letters stand out against a black and white background.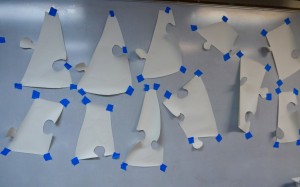 All of the participants worked together at the end of the evening to put the puzzle pieces back together.
We had a great time with the UP! students, their families, the staff, and YIA mentor artists Sophie Cooper and Sofie Siegmann.
Thursday night brought Laurel Dell families from every grade together for an inspired evening of creativity. Fourth and fifth graders began the evening by sharing their visions for their new school with their friends and family. Students worked with architects Shirl Buss and Rich Storek to practice design thinking strategies as they explored ideas and created solutions for their new school.
Kindergarteners showed friends and family just a little of what they have learned as they added creatures and people to their imaginary world. As recipients of the Walker Rezaian Creative Hearts grant, students in TK and K learned about strategies for being a good friend as they also discovered lines and shapes and colors and tools in their three-month visual arts residency with Mentor Artist Suzanne Joyal.
We wish to make a special thank you to the Laurel Dell PTA, the Walker Rezaian Creative Hearts Fund, the California Arts Council and the California Wellness Foundation for their generous contributions to the Arts at Laurel Dell Elementary School.
Youth in Arts thanks the Creative HeArts Fund and the Tamura and Rezaian families for their ongoing support for this program.
This activity is supported in part by the California Arts Council, a state agency.