Cascade Canyon School families gathered earlier this Fall to make family flags as part of a Youth in Arts visual arts residency. Working with Mentor Artist Cathy Bowman and Program Director Morgan Schauffler, families participated in a lively discussion about the meaning of symbols and what shapes best represented each family. The artists began by tracing their images on scratch paper, then transferring onto recycled canvas panels. They decided which lines and shapes to keep, and traced over those with a black pen. Artists then used black Sharpie pens, oil pastels and watercolors to complete their pieces. Artists were encouraged to think beyond familiar symbols such as a heart or peace sign and consider using shapes that had no name or familiar form. The event was a great chance for parents and their children to collaborate artistically.  Thank you Cascade Canyon!
Artists and volunteers with Youth in Arts provided five days of hands-on projects at the Marin County Fair this year. In keeping with the Fair's theme, "Made in Marin" a celebration of our agricultural heritage, all of the projects honored the art and skills of our settler ancestors. We made rag dolls from rags and fabric scraps, wove bracelets using leftover yarn on a loom made from recycled mat board, and hooked a beautiful, soft rug with only feed sacks and old t-shirt scraps.
Every day at the Fair was a beautiful one, thanks to the tremendous help of our 30 volunteers and the creative energy of our thousands of artist visitors!
Read more…
Families are the compass that guide us.
They are the inspiration to reach great heights, and our comfort when we occasionally falter.
– Brad Henry
Last night Ms. Brooke and Tenisha Tate, opened the Parent Center to the families of the Sausalito Marin City School District.
Visitors were welcomed by family member portraits created by the young artists at Bayside School.
The artists had used watercolors, colored pencils, pastels, and Sharpies to create the works of art.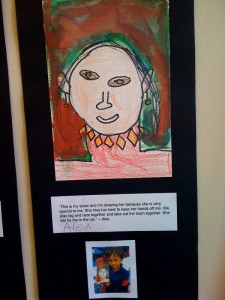 Each artist wrote a description of the loved one, and Ms. Brooke also included a photo of the artist with their art work.
People were also welcomed by an important question:
And the Studio Habits of Mind were also posted as important reminders:
There was a buzz in the Parent Center as people gathered and looked and celebrated being together.
And a photo studio was set up, where Ms. Brooke took family portraits.
Beautiful work!