By Mentor Artist Gabrielle Gamboa
As part of the Travel the World program, I conducted a fun and challenging Renaissance Drawing workshop for the 7th Grade History students of Davidson Middle School in San Rafael. This two day workshop was a hands-on lesson in Renaissance artists and their unique innovations. After a discussion of the apprenticeship system of the era, students chose a Michelangelo or Leonardo da Vinci master drawing to copy on tinted charcoal paper. I talked about how copying a master drawing was an important exercise in an apprentice's studio education!
Each master drawing came with a transparent grid that we then copied on the charcoal paper. Next, we discussed the types of drawing tools used during the Renaissance era, and students practiced using vine and compressed charcoal, and sanguine and umber Conte crayons (soft, earth toned colored pencils.)
I then demonstrated the technique of making a more accurate copy by drawing only one small grid square at a time, copying the contours of shapes and lines, and then adding shading. I demonstrated how turning an image upside-down can sometimes make it easier to copy clearly. Some students chose to start in pencil and then switch to charcoal or conte, others chose to draw entirely in charcoal and/or conte.
This lesson directly connected to their history studies, and the students were impressed at how well the old grid drawing technique worked to make more accurate drawings!
by Mentor Artist Gabrielle Gamboa
The young artists I have been working with at Oak Hill, a school for students with Autism and other learning differences, have been learning weaving and printmaking techniques with our last few sessions of the year.
Each student had a small personal loom. I brought a selection of richly textures yarn for students to chose from to weave bold patterns. We finished the weavings off with tassels we made, and mounted the weavings on sticks gathered on a walk. Weaving was just one option for the older group of students. Some chose to finish previous art projects.
The next group of projects involved printmaking. First we rolled ink on sheets of acrylic to make monotypes. We drew on some of our paper with oil pastel before printing for a layered result. Next, we made simple block prints, drawing on foam scratch sheets to make printing plates. We printed on top of some of our monotypes for more texture. The final project for the younger students was to combine both types of printing into a monoprint. They had developed strong printmaking skills by this time, and made bold color choices! The older students branched out even more for their final project, silkscreen printing. They made abstract designs using tape stencils, and made runs of colorful prints on beautiful Japanese printmaking paper.
I had a great semester at Oak Hill, and I am going to miss these dynamic young artists very much!
Spring is bouncing into summer and hundreds of young artists around the North Bay are finishing class projects and creating exhibits, performances and other artful events for family and friends with Youth in Arts.
Recent posts have highlighted Spring projects by K-Dub Williams' students at Marina Middle School and Angela Baker's students at Harding Elementary, in addition to the amazing work created by Suzanne Joyal's kindergarteners at Loma Verde as part of the Walker Rezaian Creative HeArts program. Youth in Arts also produced a special "Passport Art Event" at Harding, and Nydia Gonzalez and Shawna Alapa'i concluding performing arts residencies at Ocean View Elementary in Albany and Sonoma Mountain Elementary.
In late May, Arts Unite Us "collaborative residency" projects at Harding and at Tam High School in Mill Valley wrapped up with terrific performances by all the students. Collaborative residencies bring together special education and general education students for shared arts experiences. At Harding, students wrote, directed and performed an original play "Lydia and the Land of Gee-Jo" around themes of Pollution, Bullying, Self Acceptance, New Beauty Standards and Taking Care of Each Other.  At Tam High , the original pilot site for the collaborative residency program, students from the Special Day Class and advanced Conservatory Theatre Ensemble worked with Mentor Artists Suraya Keating and Melissa Briggs to write and perform their original play, "By my Side," which opened the school's popular One Acts Festival.
Tommy Shepherd's students at Wade Thomas put an exclamation mark on their rap and beatboxing residency with a performance of their original rap for their peers at school, and Kaitlin McGaw's kindergarteners at Bahia Vista will soon perform a vocal music and hip hop show for their fourth grade buddies.
At Laurel Dell in San Rafael, Djenane Saint-Juste has been teaching students Caribbean dance around the theme of Kanaval (Carnivale), using costume pieces the students created this Fall with visual artist Gabby Gamboa. The students will perform in a grand parade with family and friends at the school's big Fiesta del Sol event this weekend. And at Mary Silveira, Mentor Artist Julia James finished a successful year with a big art show featuring work by all her K-4 students in the program.
Youth in Arts award-winning `Til Dawn a cappella ensemble performed their annual Spring Concert at San
Domenico Hall of the Arts this past weekend–a big congratulations to all the performers for a wonderful show and a special shout out to our graduating seniors. We will miss you!
Also at San Domenico, Youth in Arts workshopped a new performance of "Goodnight Gorilla" on May 23 with music by Dee Spencer performed by a terrific band of Bay Area music educators and musicians who are working with us to develop the work into an educational performance piece for youth jazz bands.
You can see it's been a very busy Spring, full of fabulous art and fabulous young artists. Watch this blog for more detailed reports on many of these projects in the weeks ahead and get ready to celebrate summer with Youth in Arts! Come see `Til Dawn at Youth in Arts night with the Pacifics, visit our Everything Under the Sun YIA Gallery exhibit, sign up for a unique summer camp program, check out the Mountain Play and benefit Youth in Arts with your ticket purchase, or join us for our gala Summer Solstice celebration at Studio 333 on June 21. We'd love to see you in person and share our work with you. Happy summer!
In this project, The Buckeyes, a 6-8th grade class at Oak Hill School, made figurative sculptures. These students have autism and related developmental differences, so the key to a successful project is breaking everything down into small steps.
Session 1: Our young artists modeled human figures out of pipe cleaners, and then covered the wire with aluminum foil. They then posed the figures and attached them to small cardboard boxes.
Session 2&3: The artists covered their figures in two layers of paper mache, letting each layer dry completely before adding another.
Session 4: We practiced mixing several different color combinations to make skin tones. The artists then chose their favorite mix, and painted their figure with that all-over color.
Session 5: The artists "dressed" their figures by tearing decorative and crepe papers, and then gluing the pieces on.
The artists used a variety of skills and new techniques, working their fine motor skills.This fun project resulted in very expressive, unique sculptures!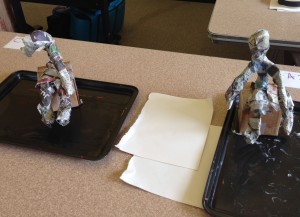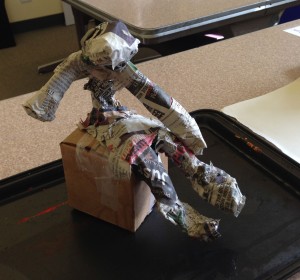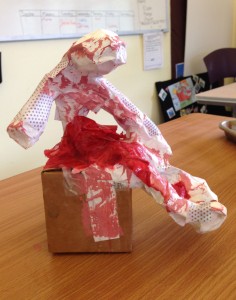 The 5th Graders at Mary Silveira have spent the past few weeks continuing to work on their exploration journals.They continued creative writing inspired by their observation and perspective drawings, and made revised drawings of their island maps. We practiced color pencil blending techniques, and discussed how artists can make more lively drawings by blending analogous colors instead of using just one. For a warm-up exercise we made mandalas, instinctual circular drawings. These mandalas proved to be very popular!
We also created new island inhabitants by drawing hybrid creatures. To do this, each student drew two different animal models from observation. Then they cut and recombined these animals into a new creature, pasting it into their sketchbook. Cutting up and reassembling their drawings was difficult for some of these artists, and very freeing for others. But the unexpected results were a joyful surprise. After naming this new creature, they then added it into their stories.
For a culminating project, students will be exhibiting their maps and journals at the school art show. It has been great to see how enthusiastic these young artists have been about sharing their creations every step of the way.
I have recently started working with two classes at Oak Hill School in San Anselmo, a wonderful program for children with autism and other developmental differences.
The first project with the Buckeye Class of middle-school boys was a sculptural project we called a Sun Column. We used fine motor skills create a vibrant, wild layered assemblage of paper and found materials that had been painted with texture rollers and stamps dipped in gold ink. It was then adorned with texture rubbings and drawings, fringe-cut paper, cut and glued ribbons, and twisted gold pipe cleaners. This project helped me assess each artist's needs and abilities, but most of all, it was fun.
We are now sculpting figures.The first step was making an armature out of pipe cleaners, and covering that with a foil skin. The next step will be paper mache.
The first project with Oak Hill Prep was a collaborative group project to exhibit at their school art show. I gessoed a wood puzzle and gave each student several random puzzle pieces. After discussing and looking at line art patterns, we each drew our own patterns on these pieces. Next, we traded pieces back and both adding our own touches so that most pieces became the creation of multiple artists. We also stamped (and one artist even added his fingerprints) to the pieces. Finally, the artists reassembled the puzzle, and we were able to see our collaborative drawing for the first time, with surprising results. I then glued the puzzle permanently together.
We have now begun looking at the work of M.C. Esher. We discussed how his tessellation images fit together like puzzle pieces, and we colored some of his tessellation designs using complementary colors schemes. Very soon we will be making our very own tessellation designs!
The 5th Graders at Mary Silveira have been very busy! We made imaginary exploration sketchbooks, binding them by sewing. The first thing we did in our new sketchbooks was to make an observation drawing of a key that they found on the beach of their island, studying the object carefully, and drawing larger than life. Then we started learning 2-point linear perspective, and practiced our new skill to draw and shade 3-dimensional objects. Next week we will imagine what the key opens…and draw it in 2-point perspective!
We also had a fabulous art opening at Youth in Arts' YIA Gallery of our colorful and imaginative island maps, drawn in watercolor, pencil, and pen. Some of the 5th Graders expertly served canapés, adding a touch of glamour to this fun event. The show is up through January 31.
I am working with the 5th Graders of Mary Silveira in San Rafael for an 18-week visual arts project in which our young student artists are creating scientific exploration journals and maps of imaginary islands. Along the way, we will develop our observational drawing skills, learn new drawing and watercolor painting techniques, map making, book binding, and other arts skills. Through this project, we are using visual art to apply the skills and knowledge we learn through the study of science and social studies.
The first three weeks were devoted to warm-up drawing exercises, team planning and sketching ideas, and creating the cover of our explorer sketchbooks with fancy decorating endpapers. Students are working in pairs and trios to develop their island environments. We also completed our first observational drawing, an enlargement of a button, using circular shading.
–Gabrielle Gamboa, Mentor Artist
Gabrielle Gamboa's work with Mary Silveira students will be on exhibit this winter in our YIA Gallery exhibit "Imaginary Voyages" opening December 13 in downtown San Rafael and running through the end of January. For more information on how to book a free gallery visit and art activity for your class or youth group, click here or email us at yia@youthinarts.org
Our Carnival costumes are starting to take shape. Some of the crews are making paper headdresses and/or collars or vests, and are starting to draw, paint, and assemble them. Others are making paper mache masks. We are so very busy, and our young artists are so excited to wear their costumes!
–Mentor Artist Gabby Gamboa