Youth in Arts Mentor Artist Cathy Bowman is an award-winning cartoonist and writer who draws for print and online publications. She is the author and illustrator of the mini-comic, "The Old Cat and the Sea." She reports below on her work at Harding Elementary School in El Cerrito.
Teens interested in learning to create their own original comics with Cathy this October should click HERE to check out our C Street Project "Walkable Comics" workshop this October!
This past Spring, Harding Elementary School students learned to write and illustrate their own comics. Comics are part of a rich tradition of storytelling, and Harding's 4th, 5th and 6th grade students were excited to learn about this time honored art form.
Some students wrote short mysteries, starring protagonists that ranged from a talking donut to a n'er-do-well pencil. Others chose familiar storylines–friends on a basketball court, at a park or at school. Some drew their families. One 4th grade girl wrote about the adventures of leukocytes in the human body. Along the way they learned about facial expressions, body positions and how to create drama and action from panel to panel.
One of the biggest challenges was deciding which parts of a story to tell visually and which parts to tell with words. Students learned about speech bubbles, thought bubbles, action words and more. It was exciting to see students learn to draw 3-D objects like couches and chairs while creating images of home or school.
At the end of the session, students learned about lettering and cover art. Using a few colors, they created eye-catching covers.
Mentor Artist Sophie Cooper writes about working with students at Harding Elementary in El Cerrito
From climate change to wildlife protection and the eternal quandary of the cuteness of cats, students at Harding Elementary share their ideas with their classmates as they present these visual stories as short "films."  Developed over the course of an 8-week workshop, students learn the basics of visual storytelling, collect images from the internet and learn to compile the images into short films using highly-accessible computer software. The process walks students through the basics of film editing, introduces them to the workflow of the editing interface and empowers them with the primary tools of animating and adding text. Yet, beyond the technical skills, students lean to look critically at how the prevalence of  images around us are inserting meaning into our lives on a daily basis.  They learn to break down the story behind an images (such as an advertisement) and choose whether or not they agree with this story. Most importantly, the project got the students thinking about what are the stories they would like to be contributing to the conversation and empowered them with the tools to bring those stories to life.
One of the teachers from Harding wrote to me after the workshop and told me that she had overheard some of the students saying that they were going to try this again on their own over the summer. She wrote: "Perhaps you have inspired a new generation?"
Thank you to Harding 5th Grade teachers Karen Fisher and Kimberly Souza for outstanding collaboration!
This year, in the Arts Unite Us After-School Playwriting and Performance Group, we created an immensely powerful show about the need to celebrate diversity.  The story and themes were built over 15-weeks together of 2-hour sessions with a 38 member cast at Harding Elementary.  Once we had picked a topic and a frame (Time Travel and the Future), the students created short skits, which we used as fodder for our playwriting.
Starting in the bleak future, where it's the law that your favorite color is GRAY, "The Futuristas" soon find themselves chased by robot enforcers for admitting that they love BLUE.  They are saved in the nick
of time by "The Time Traveling Triplets," (played, ironically, NOT by the actual triplets who are in the class), and soon find themselves traveling through time (and space?) to learn their forgotten history.   Dinosaurs teach them lessons of bio-diversity, with the Spirits of the Really Past reminding The Futuristas "YOUR survival depends on YOUR diversity."  Then they are swept into an era of Social Justice Heroes, from Martin Luther King Jr. to Rosa Parks to Audre Lorde to I. King Jordan (the first deaf president of Gallaudet University).  For the I. King Jordan piece, we had Paul, our interpreter, work with a hearing student who
has a passion for American Sign Language.  For her piece, Paul switched from interpreting in ASL to speaking out loud, and it was a joy to see some of the non-hearing kids in the front row of the audience light up as the actors began to speak their language.  "DEAF PRESIDENT NOW!"
In the end, by celebrating diversity, the Futuristas were able to get people in the Present to commit to getting off their phones and connecting with each other in more direct ways.  When they finally returned to the future, April 1st (the day of our show) had become an international "Diversity Day!"
The process was one of community building and personal growth.  Many students in the class do not see themselves as actors or performers, but stepped up in big ways and let their voices be loud and proud.  After each performance, we had a "Talk-Back" session with the audience, inviting first the audience to give appreciations and then speak to what they learned from the show.  The actors then responded with how it felt to hear their work celebrated and it was clear that they all felt deeply proud of themselves for the work they had done.
We are excited to keep this program going, as it serves so many purposes from artistic expression to social-emotional skill building to team work.  I'm so proud of the Harding kids and wish them all a fabulous summer!
Thank you to the Thomas J Long Foundation and the Green Foundation for their continued support that makes this program possible!
by Mentor Artist Sophie Cooper
How long does it take for one to become an author, rather than a consumer, of images and stories? For 5th and 6th graders at Harding Elementary, it only took 8 weeks! Students started out learning how images communicate, and recognizing that the images surrounding us on a daily basis are telling us stories and infusing meaning into our lives. We spoke about being aware of how images communicate stories, and that we can choose to agree or disagree with the values embedded within these  stories. Brainstorming as a class, we then created a treasure chest of values: things most precious to the students that they want to protect.
It was very inspiring to observe the students actively declaring what was most important to them and arriving at the jewel that would be the themes of their personal stories! Once they had decided on a theme, students were guided through a process of story development using traditional components of storytelling.
Equipped with their new tools of media literacy (understanding how images communicate) and outlines of stories they wanted to tell, students began searching for images on the Internet and assembling their stories using a basic video editing program. Students did a phenomenal job navigating the editing software, and many students quickly found their own way, adding effects and transitions!! Even students who had not had extensive computer experience prior to the project were able to follow the simple steps and assemble found images into a short video.
As we screened the completed projects for the classes, I observed the excitement dancing in students' eyes while watching the stories their classmates had created. It is the same dancing excitement with which they watch a TV commercial or a video clip on the internet: the innocent curiosity of what is next, the enchantment of flickering light that lures us all to cinemas. The only difference now was that rather than absorbing a message put in place by a large corporation or production studio, they were attentively watching messages created by their peers. They were discovering a new way to communicate, a new way to listen to one another.
Written by YIA Mentor Artist Shawna Alapa'i
From September to November 2014, Harding Elementary 4th and 5th graders learned authentic Hula, including history, cultural practices, arts and crafts and vocalizing–in addition to dancing.  The kids were all so enthusiastic throughout the classrooms, and fully participated in everything.  They asked really thoughtful questions about the history and even taught ME something: lava is called lava only when it's above ground, otherwise it's called magma!  I probably learned this as a young girl, but in Hula, we refer to it all as lava, so I totally forgot! They loved that I told them they taught me this…LOL!
Our program consisted of learning five dance and chant pieces.  Their vocalizing was really impressive, especially from one of the boys, who
knew how to use his diaphragm to belt out the chant.  It was solid!  We danced about Pele, known as the Volcano Goddess, and her migration with family members from Tahiti to Hawai'i, aboard great double-hulled canoes.  I explained the metaphoric aspect of this Pele form, and how it relates to the magma moving throughout the earth, which is a great journey as well!  Then we danced the popular Lilo and Stitch theme song and another ancient chant.  This chant used our bodies as the percussion instrument while we gestured and chanted.  Rounding out our learning, we began and ended with dances specifically used for an entrance and exit in a formal performance.  These two dances depicted journeying in canoes.  It was a great experience working with the Harding Elementary School and I look forward more work in the future.
Aloha!
This Hula residency is part of Youth in Arts "Arts Unite Us" program at Harding Elementary, where we are serving all of the students with visual and performing arts programs focused on inclusion, accessibility and appreciating differences.  Thanks to the Thomas Long Foundation for generously funding this program.
By YIA Mentor Artist Thomas Arndt
For 8 weeks this Spring, I worked with 4 in-school 5th and 6th Grade Classes at Harding Elementary, exploring the basics of theatre and storytelling.  We began small, practicing mirroring and attentiveness to a partner.  I like starting this way because it teaches both awareness of the self and a sensitivity to the others in the room.  By the time we arrived at Improv Day, the kids were totally ready for one of the basic rules of improv: "Make your partner look good!"  With so much focus in the world on being competitive, it's powerful to watch young people work hard to support their partners in "Alien Translator" or "Family Vacation."  I think they really good see the way that, by supporting their partner, they were increasing the overall success of their scenes.
We also spent some fun time on voice and movement.  Vocally, we learned about "resonators," warming up everyday so that we had full access to the different parts of our voices.  We discussed and experimented with the ways that different types of voices can create different kinds of characters.  We also played with the way that physicality can generate fabulous new characters.  Borrowing a lesson from my friend Bryan Quinn, I taught a Laban movement class where the students tried out different styles of movement choices: Heavy/Light, Slow/Quick, and Direct/Indirect.  I then had them form a line and instructed them to each make a choose for each category of movement.  Finally, I gave them a character type (Sneaky Spy!  Librarian!  Alligator!) and had them move across the room to grab a pen, placed on a chair.  (The pen generally transformed into something new each time: you can imagine the "T-Rex" trying aimlessly to pick up its prey!).  There's something about this set up in the lesson that sparks even the most wall-clinging kid to step forward–it's only 20 seconds of stage time–and make HUGE character choices.  This was a memorable day that they students and teachers referred back to often.  We simply had a blast this semester.
One of my big learnings this year came in one of my classes with a group of Deaf/Hard of Hearing students.  If you've ever taken a theatre class, there's a good chance you've played the circle game "What Are You Doing?", where people offer different activities ("Riding a bike!", "Brushing my teeth!", "Chasing a polar bear!") for the next person in line to act out.  I noticed that the interpreter was making a very simple ASL sign for the game's question, which is repeated ad infinitum, "What Are You Doing?"  I learned the sign, and ever since that day, no matter where I'm playing this game, I incorporate that sign into the game.  It's a great reminder that we can always be working on multiple levels at once with our teaching.  Add "(Person's name), What Are You Doing?" and you're also playing a name game!  So, incorporating many levels of learning in a single theatre game, that's "What I'm Doing"!   Happy Summer everyone!
Many thanks to the Thomas J. Long Foundation for their support of "Arts Unite Us" at Harding Elementary.
Spring is bouncing into summer and hundreds of young artists around the North Bay are finishing class projects and creating exhibits, performances and other artful events for family and friends with Youth in Arts.
Recent posts have highlighted Spring projects by K-Dub Williams' students at Marina Middle School and Angela Baker's students at Harding Elementary, in addition to the amazing work created by Suzanne Joyal's kindergarteners at Loma Verde as part of the Walker Rezaian Creative HeArts program. Youth in Arts also produced a special "Passport Art Event" at Harding, and Nydia Gonzalez and Shawna Alapa'i concluding performing arts residencies at Ocean View Elementary in Albany and Sonoma Mountain Elementary.
In late May, Arts Unite Us "collaborative residency" projects at Harding and at Tam High School in Mill Valley wrapped up with terrific performances by all the students. Collaborative residencies bring together special education and general education students for shared arts experiences. At Harding, students wrote, directed and performed an original play "Lydia and the Land of Gee-Jo" around themes of Pollution, Bullying, Self Acceptance, New Beauty Standards and Taking Care of Each Other.  At Tam High , the original pilot site for the collaborative residency program, students from the Special Day Class and advanced Conservatory Theatre Ensemble worked with Mentor Artists Suraya Keating and Melissa Briggs to write and perform their original play, "By my Side," which opened the school's popular One Acts Festival.
Tommy Shepherd's students at Wade Thomas put an exclamation mark on their rap and beatboxing residency with a performance of their original rap for their peers at school, and Kaitlin McGaw's kindergarteners at Bahia Vista will soon perform a vocal music and hip hop show for their fourth grade buddies.
At Laurel Dell in San Rafael, Djenane Saint-Juste has been teaching students Caribbean dance around the theme of Kanaval (Carnivale), using costume pieces the students created this Fall with visual artist Gabby Gamboa. The students will perform in a grand parade with family and friends at the school's big Fiesta del Sol event this weekend. And at Mary Silveira, Mentor Artist Julia James finished a successful year with a big art show featuring work by all her K-4 students in the program.
Youth in Arts award-winning `Til Dawn a cappella ensemble performed their annual Spring Concert at San
Domenico Hall of the Arts this past weekend–a big congratulations to all the performers for a wonderful show and a special shout out to our graduating seniors. We will miss you!
Also at San Domenico, Youth in Arts workshopped a new performance of "Goodnight Gorilla" on May 23 with music by Dee Spencer performed by a terrific band of Bay Area music educators and musicians who are working with us to develop the work into an educational performance piece for youth jazz bands.
You can see it's been a very busy Spring, full of fabulous art and fabulous young artists. Watch this blog for more detailed reports on many of these projects in the weeks ahead and get ready to celebrate summer with Youth in Arts! Come see `Til Dawn at Youth in Arts night with the Pacifics, visit our Everything Under the Sun YIA Gallery exhibit, sign up for a unique summer camp program, check out the Mountain Play and benefit Youth in Arts with your ticket purchase, or join us for our gala Summer Solstice celebration at Studio 333 on June 21. We'd love to see you in person and share our work with you. Happy summer!
Mentor Artist Angela Baker worked with Fourth Graders incorporating VAPA standards about proportion and additive and subtractive sculptural techniques to translate 2-dimensional drawings into 3-dimensional forms.
Students invented animals. First drawing them with colored pencil.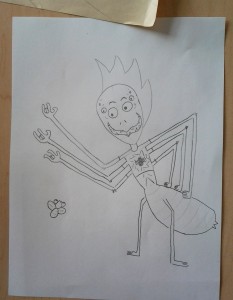 Then learning various clay techniques to create sculptures. For the culminating project students created an accordion book about their invented animals.
Students began by doing Gesture Drawing & then translated their Drawings into Wire Action Figures.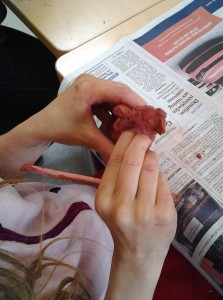 In addition to learning about line, form and color, classes explored themes such as community and being yourself to coincide with themes from of the play Lydia and the Other World, that the students wrote with Mentor Artist Thomas Arndt.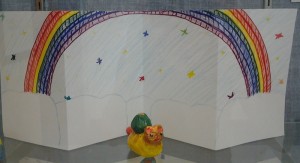 Many thanks to the Thomas J. Long Foundation for their support of "Arts Unite Us" at Harding Elementary.
Recently, families from Harding Elementary School in El Cerrito joined Youth in Arts Mentor Artists in a Passport Art Event.  Participants received a paper "passport" and traveled to various countries and exploring their art forms during this evening event.
Outside the Multipurpose room we danced to the beats of Brazilian Samba Reggae with YIA Mentor Artist Stephanie Bastos.  Stephanie has been teaching dance in the K-3 classrooms throughout the school year and during this event students, parents and siblings got the opportunity to dance together with her.
There were many moments of dance solos that were not to be missed! Inside, we swayed to the melodies and rhythms of Persian Classical Dance with YIA Mentor Artist Shahrzad Khorsandi.  Dancers got to use beautifully decorated scarves to highlight the dance movements.  We also learned about the instrumentation with live music provided by Pourya Khademi.
Utilizing special rice paper and bamboo brushes, YIA Mentor Artists Julia James and Miko Lee led participants in Chinese Brush Painting techniques to create beautiful paintings of bamboo.  Artists also learned how to make their special "chop" or, signature in the corner of their painting.
We also created tin medallions representing our Mayan Nahual or, birth sign.  Using the Mayan Calendar, each person calculates their Nahual, which indicates the "essence" of their spirit according to Mayan beliefs.  We used wooden stylus to etch in the outline of our Nahual and colored them with markers.
Youth in Arts is thankful to all of the families staff and friends who showed up
and traveled the world with us!  We look forward to continuing our day-time programs in K-6th grades which will culminate in sharing events later this month.  YIA Mentor Artist Thomas Arndt is teaching theater classes during school as well as in a special after school group dedicated to writing, producing and performing an original theater piece that addresses issues of acceptance, friendship, appreciating differences and being true to yourself.  Stay tuned for a performance date!
Thank you to the Thomas J. Long Foundation for making this program possible!  With their support, we are able to provide financial aid for year-long arts programming at Harding Elementary and celebrate our diversity and expression in many forms!
To find out how you can bring this to your community, click here.
By Theatre Artist Thomas Arndt
This Fall, I spent a fabulous 8 weeks with 3 classes of 4th and 5th Graders at Harding Elementary in El Cerrito.  We had a great time together exploring many facets of acting technique and storytelling.  One of the main goals we worked with was "Be Understood," which led to a journey through what it means to be "clear" on stage: with our voices, with our movements, and with our story creation.  We spent a good deal of time working with "Space Substance," with activities such as throwing invisible balls against walls and to each other with the instruction "Keep it in the space, not your head!" (instructions from Viola Spolin's great books on theatre activities with kids).  This led to a discussion of "where theatre happens," ending up with the answer that it takes place when the actors and the audience connect with each other and imagine something together.
Debriefing activities throughout the residency, the responses from the kids were compelling and the teachers and I could see their minds lighting up!  I heard one of the best things I've heard from a teacher too, something that really gets to the heart of this work: "It's amazing to see some of these kids who I thought I knew, showing up in a totally different way when on stage!"  Whether these young people go on to become actors or not, the chance to explore an unseen side of themselves, to express something new, and to be witnessed in front of a group of peers and celebrated for their successes has a huge impact.  It was also great to note that, for example, children who had struggled with speaking clearly were the ones asking for additional speaking roles when we performed.
At the end of the residency, we had a small performance, coupled with Stephanie Bastos' dancers.  Each of my 3 classes created a short show, with a rotating cast playing the characters for each piece of the story.  We developed the short plays together, each based on a theme of either bullying or making new friends.  The students of El Cerrito Superhero Highschool banded together to stop Iron Fist from pushing everyone around and always throwing the Principal onto the moon.  A lonely basketball player and a sad football player, after initially coming into conflict, decided to create a new sport, BasketFoot, for which they are now famous.  And, in a small old town, a little boy and a dog, who were archenemies (!) were taught to compromise and play together–now that dog plays catcher for the boy's baseball team!
We had a great time together and I feel lucky to be working with such a great group of young people.  I've begun my after-school Playwriting group, with many of my students from the Fall, and we are creating a wonderful show that will go up in May!
Thank you to the Thomas J. Long Foundation for supporting "Arts Unite Us" at Harding Elementary.
Older Entries »