Concluding an Arts Unite Us residency at Magnolia Park School, Youth in Arts Mentor Artist Julia James and her students used their last day together to finish a collaborative painting they had been working on for over six weeks. The project began early on in the residency as students experimented with various tools and materials. Over the ten-week program, oil pastels, tempera paint, watercolors, rollers and different tools were used to make new textures and colors.
The first few layers of the painting demonstrated some of the early skill-building that students participated in. As we learned more about what materials were available and how to use them, we built upon our initial work using adaptive mark-making tools. Each week we practiced fine a gross-motor movement and built fine arts skills in color mixing, paint application, and decision-making.
On the last day of class, we gathered together to reflect on the artwork and come up with a title based on what we saw in our painting. We discussed the colors we had chosen, and thought collectively about what our artwork made us think about, and how it made us feel. During our conversation and throughout the residency, we worked on building our social emotional core competencies by exercising our sharing, listening, decision-making and collaboration skills.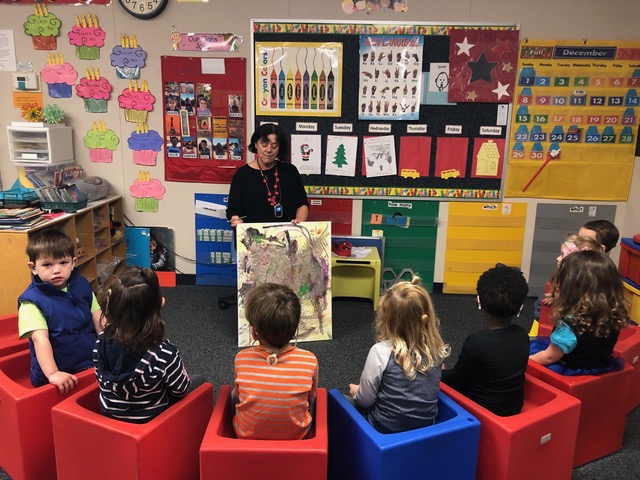 Together, we decided that our classroom painting would be called, "The Story of the Leaf". Can you see it too?
This program was made possible thanks to the generous support of our partners.
Youth in Arts is excited to announce the opening of our new ART LAB at the YIA Gallery.
Located in the gallery's store, the ART LAB is open during regular Youth in Arts hours  – Monday through Friday, 11 a.m. to 4 p.m., and until 8pm during Downtown San Rafael's 2nd Friday Art Walks. It's free and open to the public for art-making activities linked to YIA exhibitions.
"In keeping with our mission of providing arts access to all learners, Youth in Arts is opening its doors to the community to explore its creativity," said Miko Lee, executive director of Youth in Arts. "We're providing free, hands-on art projects for all ages."
Children will enjoy kid-sized tables where they can make art and explore materials. Each exhibition will also feature the artwork of one of Youth in Arts' Mentor Artists. All artwork on view in the space will be for sale, with a portion of the proceeds benefiting Youth in Arts.
Suzanne Joyal's work is currently featured and coincides with Imagining Friendship the Walker Rezaian Creative HeArts exhibition of self portraits by kindergarteners and first graders from Laurel Dell Elementary School in San Rafael. The colorful paintings were created during their Fall residency with Youth in Arts. As part of the exhibit, Youth in Arts' staff have created a kid-sized interactive cardboard world with doors, tunnels and windows for exploring.
Both children and adults are welcome, but we kindly ask that all children be accompanied and supervised by their grownups.
Please come and visit us soon. Just look for our bright red wall!
By Mentor Artist Cathy Bowman
For the past year, Oak Hill students have been exploring painting and sculpture. We ended the year with a student exhibit that featured several exciting projects. The display featured masks, paintings, drawings and two collaborative works based on the number paintings of artist Jasper Johns. It was important for students to get a chance to survey their own work as well as the art made by their friends. It was hard not to touch the art!
One of the projects the students liked best was using tape to separate space on pieces of canvas. The artists applied oil pastels and paint; once dry, they removed the tape. Some students enjoyed pulling off the tape more than painting! There were surprises of color and lines everywhere, and decisions to be made about whether to leave parts of the canvas bare. We finished off the project by using letter stencils. The artists were very creative and used the stencils randomly, rather than spelling out recognizable words or names.
Another popular project was making sculptures based on the work of Alberto Giacometti. Students began by making wire forms and then covering them with foil and clay. Once the clay dried, the sculptures were painted. Some students made human forms while others created animals.
With Youth In Arts Mentor Artist Cathy Bowman, students at Cascade Canyon School in Fairfax studied comic book making, printing and painting this fall.
The 6th, 7th and 8th grade students created mini-comics for their project. The process included character studies on paper, building 3-D models of characters, then bringing them to life in comic book form. Students learned storyboarding techniques, from layout to lettering. They worked in groups before starting individual projects. For their final books, a key part of the process was revising and redrawing before inking. The mini comics were printed and shared in class. Students curated their own work, adding a few sentences describing their experience.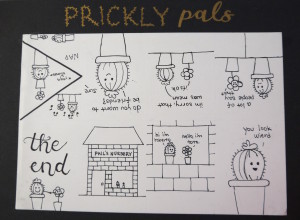 The 2nd/3rd grade class explored composition, drawing and painting through flower studies. They began by deconstructing real flowers and re-arranging them to make imaginary flowers. We studied and discussed various kinds of flowers and what they need to survive and thrive. Students created black and white compositions using graphite, then moved on to acrylic paintings. They were encouraged to approach their compositions thoughtfully, painting only part of the flower and considering the use of negative and positive space.
The 4th and 5th grade class studied printmaking. They practiced various kinds of printing, from making collographs to using ink plates in different ways. They also experimented with printing on different materials, from postcards to special printing paper. Along the way they learned about composition as well as how to curate their own work.
As an art teacher, Observational Drawing has become my favorite project. I have dozens of plastic animals that I have painted black to help artists focus on the lines and textures more than the "creature". Plastic animals are a familiar toy, they are safe and fun to draw. Students learn to look closely, and let their eye tell their hand what to draw. They practice drawing what they see, not what they remember. After several weeks practicing lines in 2D and 3D, that are ready to go.
One class of animals is just not enough, so in our second day with them, we considered habitats, both real and imaginary. Mostly imaginary. Using an old map of the area, we drew more animals, colored them and cut them out, then worked together to create a habitat where everyone can live together in peace and color.
Youth in Arts thanks the Creative HeArts Fund and the Tamura and Rezaian families for their ongoing support for this program.
This activity is supported in part by the California Arts Council, a state agency.
Third graders completed their Fabric Batiks, which will illustrate the fables they wrote featuring an animal of their choice.
This was my sixth year teaching Music and Movement in Youth in Arts' VSA program, and I was lucky enough to be assigned to work with four amazing teachers, Rockne Beeman, Laura Becker, Meriam Grainer Cox and Jessica Leaper.  We had a wonderful time singing, dancing, playing and learning.
Rockne Beeman's class of upper elementary students were a challenging  joy to teach. He has a class of students with a variety of behaviors and levels of engagement.  Some students would fully participate and sit in the circle and others would listen from different parts of the room.  What was most facinating this year was that the students who had worked with me previously would suddenly focus and fully participate when they heard specific familiar songs.  One such song was A Rig-a-Jig, a song that requires students to dance with a teacher and/or myself.  Their favorite song by far was "Goin on a Bear Hunt," where we would practice phonemes that are difficult for the students while we marched around and dance.
Another discovery was that certain students who had previously been non-verbal are now speaking and even singing.  The photo below shows one of these students singing his favorite "penny game" song.
Laura Becker and Carla Victoria's elementary special day classes were combined for a wonderfully large group every week.  They accomplished a great deal over the course of ten weeks. The biggest challenge with these two groups was the fact that their abilities were so vastly different.  Laura's students need a great deal of assistance physically.  All were in wheel chairs or other supportive devises and were not able to move on their own.  Carla's class was very active and needed to be constantly stimulated or they would lose focus.  The best strategy I found for working with these two classes was to pair Carla's most active students with Laura's most inactive.  They became "helpers" and danced and sang to the students who did not have the ability to participate in that way.
Meriam Grainge-Cox's students were the most high functioning of my groups this year and they were able to perform quite complicated musical phrases despite the fact that they were 3 and 4 year olds.  My focus with this group was to create a class where they could learn to be autonomous and run as much of the class as possible. This was very successful, and the last day of class was almost completely run by the young students
Jessica Leaper's class was incredibly fun.  They absolutely loved singing train songs and their favorite activity was dancing to Greg and Steve's Choo Choo. There are a number of autistic students in this class, so I focused primarily on creating a clear routine over the course of the first couple weeks. As they grew more comfortable with the progression of the class. I was able to add more complex music and movement problems for them to solve.  By the end of the 10 weeks the class was at a point of running most of the activities themselves.
All in all it was a fantastic school year, and each of these classes and their teachers made it an exciting experience.
YIA Mentor Artist Hannah Dworkin
This Fall, Youth in Arts Mentor Artist Angela Baker worked with 5 classes of second graders at Bahia Vista Elementary on a very special project called "Mary's Gift" to commemorate a much loved and dearly departed colleague, Mrs. Mary Donovan-Kansora.
Each class focused on one character trait that was important to Mrs. Donovan-Kansora and that she felt were important for second graders: Respect, Responsibility, Compassion, Self-Control and Perseverance. A piece of art reflecting each character trait would then be created and displayed at the school for all to see.
Over the course of six weeks each class developed content around their theme through group discussion, visualization and writing. Through a variety of media, such as marker, crayon and paint children developed skills in the areas of drawing and color mixing. These skills plus some of their writings were combined to create a series of different but connected 44″X30″ mixed media pieces reflecting each of the above character traits.
The work or the students will be featured in a gallery exhibit at 917 C Street in downtown San Rafael, from February 8-April 1. Please join us on Friday, February 8th, 5-8pm for the Opening Reception and Art Walk Downtown.
Mentor Artist Suzanne Joyal joined Marinwood camper artists again for another Thursday full of art-making. This time, we focused on early cave dwellers, and asked the questions: What would an early Cave Dweller Paint? What would they use for tools? and How would they make their own Paint?
We created our own small caves as we searched for the answers to these questions. Artists used paints made from food (tea, coffee, and cherries), and from the earth (ochre, sienne, charcoal, and gold). Our tools were simple: sticks, flowers, feathers, and our hands. And we made pictures of what we SEE and what an early cave dweller would see (animals, plants, friends and family).
Read more…
Seventh Graders at Hall Middle School 
deepened their understanding of Chinese and Japanese culture through an introduction to the art of Asian brush painting.
Tools have remained the same over the centuries: Rice Paper (Shue), Sumi Ink, and soft-bristled bamboo brushes. Students learned the proper technique to hold the brush, how to use pressure and movements to create marks varying from light to dark, fine lines to broad. Students then experimented with brush strokes, practicing strong lines, soft lines, spontaneous marks, and dry brush techniques.
Bamboo is primarily a Chinese subject, a simple shape but complex to paint, with harmony and joyous freedom. Students observed actual bamboo branches, and then learned the techniques to paint the subject in detail: the segments, the strong center stalk, fine thin branches, and graceful foliage.
Students were able to explore the development of Chinese and Japanese landscape painting and its influences through history. They observed how the Eastern ideal of perspective is different from our Western view 
(Flatter and more vertical). Students studied the works of various masters, both Japanese and Chinese, and learned the value of recording your world by painting what you see, and seeing the beauty in our own back yard. Using black watercolors on Japanese mulberry paper, students then created landscapes of Mt. Tamalpais in the style of a Japanese Sumi- e painter. They began by practicing circles, paying careful attention to breathing and thought before the brush touches the paper.
Learning to use a brush in a new way, practicing a variety of lines, practicing control of the brush, the freedom to be found when the brush is moving quickly, practicing spontaneity and celebrating beauty: sometimes it was hard to remain standing and hold our bamboo brushes upright as the masters were taught.
Older Entries »