Concluding an Arts Unite Us residency at Magnolia Park School, Youth in Arts Mentor Artist Julia James and her students used their last day together to finish a collaborative painting they had been working on for over six weeks. The project began early on in the residency as students experimented with various tools and materials. Over the ten-week program, oil pastels, tempera paint, watercolors, rollers and different tools were used to make new textures and colors.
The first few layers of the painting demonstrated some of the early skill-building that students participated in. As we learned more about what materials were available and how to use them, we built upon our initial work using adaptive mark-making tools. Each week we practiced fine a gross-motor movement and built fine arts skills in color mixing, paint application, and decision-making.
On the last day of class, we gathered together to reflect on the artwork and come up with a title based on what we saw in our painting. We discussed the colors we had chosen, and thought collectively about what our artwork made us think about, and how it made us feel. During our conversation and throughout the residency, we worked on building our social emotional core competencies by exercising our sharing, listening, decision-making and collaboration skills.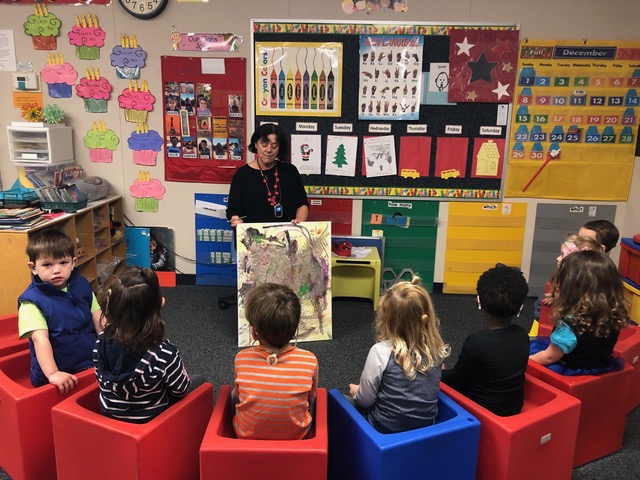 Together, we decided that our classroom painting would be called, "The Story of the Leaf". Can you see it too?
This program was made possible thanks to the generous support of our partners.
As part of this year's  Arts Unite Us residencies, mentor artist Julia James works with TK and Kindergarten students at Magnolia Park School through their early intervention program. Over the course of ten weeks, Julia explains, "we will be using a variety of adaptive art tools, materials and surfaces to explore alternative ways to make marks and actively create artworks." Key goals for the residency include personal expression, developing fine motor skills, and interpersonal communication and collaboration. Students will practice working with primary and secondary colors, using a broad assortment of materials to mix and apply paint.
As a final project for the residency, students will create an abstract collaborative painting that will be including in the Kennedy Center's national online VSA exhibition for 2019-20 representing San Rafael, CA, as well as the annual YIA Gallery exhibition, "Outside the Lines: Collaborative Art in Special Day Classrooms".
Thank you to the Kennedy Center, Marin Community Foundation, and Marin County Office of Education for making this program possible.
Youth in Art's year-long visual arts residency at Coleman Elementary School concluded with a successful campus-wide exhibition as part of the school's Open House event in June, 2019. Mentor Artist Julia James installed artworks from all grade levels in campus windows, doorways, classrooms, and throughout the art room in order to show the impressive breadth and depth of work that students had accomplished throughout the year. Featured projects included explorations in water and ink, fantastical treehouse landscapes, Matisse-inspired silhouettes, hand-sewn sketchbooks, still life observational drawings, and much more!
Students and their friends and families stopped by throughout the night to view the exhibition, locate their artwork, and speak with Ms. Julia to learn more about the types of projects and skills students acquired throughout the year. Over four-hundred people were in attendance, discussing art techniques that were learned and narratives behind the artworks. Students shared what they enjoyed most, what they struggled with, and their intentions behind their artistic choices. At the end of the night, many students were able to bring their artworks home for their families to enjoy.
As part of a year-long residency with Mentor Artist Julia James, Coleman Elementary School hosted its first Family Art Night with Youth in Arts in March! It was a full house with Ms. Julia's students and their families filling up the multipurpose room to create and share together. The fun began with Executive Director Miko Lee leading a collaborative sound-making activity in which everyone worked together to create the sounds of rain. With over 180 people in attendance, it was quite the storm! After warming up, participants engaged in an embodied exploration of shape and line with family and friends. Working together, we practiced making squares, triangles, circles, and quadrilaterals with our arms, legs, and bodies. Some chose to make their shapes big and organic with a large group of people, and others chose to make smaller shapes that could be easily recognized. After practicing and sharing what shapes and lines could look like, we were ready to start working on our visual arts project!
The project of the night was "Birds of the World", a community mural in which we created birds that represented who we are as individuals and added it to a collaborative background. In designing our birds, students and their families and friends were asked to come up with three adjectives to describe themselves. We chose words about our emotional capacities like "kind", or "brave", as well as words about our skills and interests, like "sporty"and "creative". Once we had determined what words described ourselves best, we visually transformed those three words into lines, shapes, and colors.
We then used our new lines, shapes, and colors as creative building blocks to draw a bird. Ms. Julia led families through the wax resist technique, adding watercolor over the oil pastel on our drawings to create interesting effects. Once our birds were complete, we cut them out and added them to a large community mural where they could take flight together! Throughout the night, Coleman fourth and fifth graders who had participated in a docent training activity the day before also helped to lead the activities. From helping facilitators to translate directions from English to Spanish to passing out materials and helping their peers ideate during the creation process, our upper grade-level art assistants made the night a success. Once all of the birds were cut out, the art assistants designed the layout of the mural and helped their families, friends, and fellow Coleman Tigers put it together.
Thank you to Principle Taylor and the wonderful Coleman PTO for making this event possible, and stay tuned for more awesome artwork from Coleman Elementary's talented students!
Mentor Artist Julia James taught second graders at Coleman Elementary School how to create Matisse-inspired insects.
She began by introducing Matisse's art, demonstrating how he often used colors and shapes to make large collages. Some of his work is as big as a wall!
Students worked together with Miss Julia to apply Matisse's collage techniques to bugs. There was a lively discussion about the different parts of an insect and how to make each one. Students practiced their cutting skills as well as learning how to use a glue stick. Using a black background, they cut out the head, thorax and abdomen along with eyes, antennae, wings and legs. This reinforces what young artists are learning in their classrooms this year. It was also great practice in how colors look different depending on what is behind them or next to them.
More than 70 teachers, students, parents, and community members came out to celebrate the opening of the INSPIRE teaching artists exhibition at the YIA gallery on Friday, December 14th. The event, held as part of Downtown San Rafael's Second Fridays Art Walk, celebrated artwork from 25 teaching artists throughout Marin County. The reception offered a rare opportunity for the featured artists to catch-up and share tricks of the trade. Their lively conversation, and vibrant artwork certainly brightened up the rainy evening. Thank you teaching artists for all you do!
FEATURED ARTISTS
Barry Beach, Marin Academy
Deb Bennett, 
Jessica's Haven
Katy Bernheim, 
Terra Linda High School
Cathy Bowman, 
Laurel Dell Elementary 
Beth Cederstrom, 
Sir Francis Drake High School
Martha Cederstrom, 
Sir Francis Drake High School
Gray Douglas, 
Tamalpais High School
Tracy Eastman, 
Cascade Canyon
Zach Gilmour, 
Tamalpais High School
Jill Hoefgen, 
DrawBridge
Julia James, 
Coleman Elementary
 &
 Cascade Canyon
Suzanne Joyal, 
Laurel Dell Elementary
Jackie La Lanne, 
Mill Valley School District
Liz Lauter, 
Redwood High School
Barbara Libby-Steinmann, 
Bacich Elementary
Jennifer Lipson, 
Saint Patrick School
 & 
Saint Anselm School
Taylor Mancini, 
Marin School for the Arts
Katya McCulloch, 
Marin Oaks 
&
 Loma Alta
Marty Meade, 
Compass Academy
Michele Montgomery, 
Kent Middle School
El Moody [Louis Murillo], 
Loma Alta
Cynthia Pepper, 
San Francisco Ballet
Josh Powell, 
James B. Davidson Middle School
Laurie Reemsnyder, 
Marin Catholic High School
Carina Ybarra, 
San Domenico School
Magnolia Park is a small early intervention school site nestled by open space in Lucas Valley. Most of the young students were born without the sense of hearing and are now learning sounds and language with hearing implants. This is our first year working at Magnolia Park, and Mentor Artist Julia James introduced the young artists to a world of color and shapes and textures.
Over the course of ten weeks students used a variety of art tools, materials and surfaces. Highlights were working and collaborating on a large canvas for the Kennedy center. The canvas was created over four weeks using paints, stamped textures, printing with ink on rollers, bubble wrap, sponges and a variety of brushes. The beautiful canvas will become a part of the Kennedy Center's International Art Exhibit.
Students celebrated the residency with work displayed in the classroom along with an according book which illustrated their person art journey.
Thank you to following funders for helping to make this program happen:
This year Youth in Arts received the Children's Visual Art Discovery contract from the Kennedy Center.  Every student participating in the program will be participating in the Kennedy Center's digital art exhibit, with the potential for their art to be chosen to travel to the Kennedy Center and to be exhibited there for an entire year!
Mentor Artist Julia James offered her students in Cindy Evan's middle school class "Motivated to Create…Harmony", a Kennedy Center lesson utilizing music as you create. First, the students listened to music featuring just one instrument as they created a piece of art.
Then they worked in pairs as they listened to music with two instruments. Finally, the entire class worked together as they listened to a full orchestra.
Julia introduced the students to a wide variety of materials and media to create. We can see all of their many techniques in the finished canvas: Stamped textures, paint with tempera cakes, printing with ink on rollers, bubble wrap and other textures. Students made every choice of design and tool and practiced gross and fine motor skills as they rolled, brushed, stenciled, drew and painted to music.
This VSA program is provided in 2017-2018 under a contract with the John F. Kennedy Center for the Performing Arts. This program is also supported by the Buck Family Foundation and Marin Charitable.
Older Entries »