By YIA Mentor Artist – June Li
I mentored students at Marina Middle School in San Francisco in creating a beautiful recycled tree this year.  We collected recycled materials and found objects in nature, such as junk mail, paper plates, and falling branches. Instead of buying products, students turned waste into creative art projects to share with their friends and families.  By completing our recycled tree, students became more aware of our environment and what they throw away on a daily basis, and used their imagination to transform junk into beautiful objects. My goal for this course was to inspire students to buy less, reuse and recreate; own less and live more.  We will live healthier and the planet will be greener.
Thank you to all who helped to celebrate our 45th anniversary at our Travel the World gala on Friday! We hope you had a wonderful time experiencing the opening of Rising Stars–the Marin County High School Art Show–and getting a chance to see Mentor Artists June Li, Joti Singh, Bongo Sidibe, Eliot Fintushel and Nydia Algazzali Gonzalez demonstrate just a few of the world art forms we share with students through our Travel the World program.
We also hope you enjoyed the delicious treats from An Affair to Remember Catering and music from `Til Dawn a cappella, and we thank you for your generous support via our Fund-A-Need and live auction.
If you'd like to see the impact of the Walker Rezaian Creative HeArts Program that your Fund-A-Need giving supports, come to our exhibit opening this Friday, April 8, 5-8 pm!
And once again thanks so much to our Lead Gala Sponsor the Buck Family Fund of the Marin Community Foundation, to our Media Sponsor the Marin Independent Journal, and to all the many supporters who helped make this event possible.
Here are some photos from the night, courtesy of Garrett Low, photographer and `Til Dawn parent (thanks for sharing, Garrett!)
Mentor Artist June Li provides notes on her experience at Marina Middle School in San Francisco teaching traditional Chinese brush painting.
Chinese traditional brush painting has developed continuously over a period of more than 5000 years. It is the most simple and expressive visual art form. Main tools include brush, ink and rice paper. Composition and space are the most important elements for the mindset. Seal and calligraphy are the final touches that express the theme and views on art and life.
I designed this six-session program for middle school students to have a fundamental understanding of this art form.
Through domesticated native figures from China, such as bamboo trees, wild orchid flowers and panda bears, students learned brush techniques and basic strokes.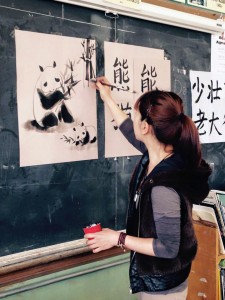 Students had great fun, played with the ink and created their conceptual expressive art.
On October 4, the Ross School community "Traveled the World" with Youth in Arts!
All 376 students at Ross were able to experience one of our unique "Passport Art Events," experiencing visual and performing art forms from multiple continents as they moved class by class through Africa, South America, North America and Asia.
Students sang and stepped to the beat of Africa through Ghanaian dance-drumming classes led by Mentor Artists Joti Singh and Mory Fofana.
Mentor Artists Francy Vidal and Edmund Badoux sang and played music from the Andes region of South America, and students "oohed" and "ahhed" over the array of distinctive instruments. The children were stunned by the long horn that Edmund played and amazed to see reed instruments made out of a feather.
Mentor Artist June Li taught students to paint bamboo stalks and a panda using traditional Chinese rice paper and bamboo brushes. Assistant Artist Justine Delfino was a great help in showing students the proper way to hold their brush.  June was thrilled to take a group photo to send to her family in Taiwan and show how she was passing on the traditions of her homeland.
Mentor Artists Suzanne Joyal and Sophie Cooper led Guatemalan kite making. Sophie spoke of her experiences living in Guatemala, and then students worked in pairs to create individual mosaic paper triangles, which were adhered to white silk and attached to 12-foot long bamboo poles. The final product, "A Community Kite Honoring the Ancestors," is on display at the school.
The entire school community joined together right after lunch for a massive dance party led by Joti Singh's Duniya Dance company.  "This is better then a flash mob," said Superintendent Chi Kim.  One enthusiastic student exclaimed to Superintendent Kim, "Let's do it again next week!"
"Well, we can work on it for next year!" replied the Superintendent.  Youth in Arts is proud to bring the arts of the world to the local schools through our "Passport Events" and all our "Travel the World" programs.