Teachers enjoy a great collaborative painting session.
Teachers enjoy a creative painting project giving them tools and skills for future classroom beautification projects. Teachers were grouped by grade levels asked to come up with a phrase or slogan, brainstorm & sketch ideas, then given materials and a basic banner.sign and painting lesson. Great upful positive energy!
Arts Specialist K-Dub works with students at Martin Luther King Jr Academy on a school beautification project.
In the Sausalito Marin City School District we are flying into our second year of the Arts Demonstration grant, generously funded by the Marin Community Foundation. The SMCSD community recognizes that Professional Development is vital for supporting the arts and developing strong integration practices. Some goals we have are:
Teachers in the SMCSD are provided with consistent professional development sessions that encourage and inspire team building.
Through professional development sessions, teacher leaders will be distinguished, and they will be vital resources and advocates for the arts.
By the end of the 2010-2011 school year, teachers will be implementing aspects of the professional development meetings into their daily teaching practices.
Through the professional development sessions, teachers will be exposed to multiple approaches to teaching and learning art.  Teachers will also learn about different arts education pedagogy, and ways of engaging students in the curriculum through arts integration.
Through the professional development sessions, teachers will begin to recognize the vitality and importance of the arts supporting all areas of the curriculum.
Through the professional development sessions, teachers will build a stronger sense of community; sharing best practices, brainstorming with one another, and developing unified relationships and partnerships.
Last week was the first Middle School PD. These teachers from MLK and Willow Creek meet on the 4th Wednesday of every month to explore, share, collaborate, and develop ideas.
Mr. K-Dub opened up his studio space for us, and the collective looked at an article about the 8 Studio Habits of Mind, the teachers experimented with drawing materials (charcoal, Sharpie, graphite, and colored pencils), and then K-Dub led the teachers through a value lesson that he has been working on with his 6th, 7th, and 8th grade students.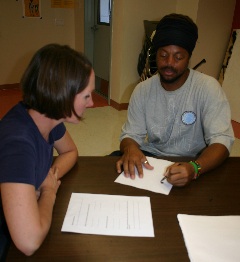 Arts Specialist K-Dub Williams worked with Willow Creek Academy middle school students on "Values" – weaving together color theory and personal beliefs.  Students were rapt as K-Dub demonstrated the use color to show contrast, value and hue. Then through personal explorations students could see the tremendous expressive qualities that color can add to their work.  In the next class, students will chose their own Value to illustrate and bring to life.
« Newer Entries