In response to recent events, we at Youth in Arts recommit to lifting up the voices of the unheard and underrepresented. Access to creativity empowers youth to share their voices and ask difficult questions of themselves and of the world.
Equity is at the center of our work. Starting this week, we are launching YIACr8tes Conversation, looking at race, identity and racism. Teaching artists presenting these free digital lessons include Jessica Recinos of Rising Rhythm SF, Youth in Arts' Program Director Kelsey Rieger and other Mentor Artists from the YIA roster. Each lesson will end with guiding questions for parents and educators to ask children. The lessons will air on Facebook, Instagram and YouTube at 1 p.m. PDT today (June 8), Wednesday, June 10, and Friday, June 12.
"We will continue to facilitate art and put creativity in the hands of those often left out of critical dialogue," said Youth in Arts Executive Director Kristen Jacobson. "We will drive discussion of implicit bias, policies that support equity and unobstructed access with educators, administrators and parents. We will not shy away from pushing the conversation surround privilege and power, especially in our community. We will continue to build a network of advocates that look to arts education as a vehicle for social change."
As many schools look at slashing the arts because of budget shortfalls in light of the pandemic, we urge them to look for free and affordable resources and partners. Along with shifting to online learning, many students are trying to find their paths amid trauma, economic uncertainty, isolation and the chaos of world events. Access to art and creativty is more important than ever for offering ways to support mental and emotional health. Creativity can be also be used as a catalyst for discussions about anti-racist parenting and classrooms.
"Covid-19 pushed educators and parents to find innovative ways to engage creative exploration through digital/virtual means – Youth in Arts was ready and present with online learning.  Now, as the trauma of Covid-19 is compounded by intensity of racial justice protests, Youth in Arts is again ready to join parents, educators and schools to inspire conversation and dialgoue on critical issues," Kristen said. "Youth in Arts' work has long centered on equity and we feel empowered to step forward as a leader and resource for our community."
We urge you to join Create CA's statewide effort to promote the Declaration of the Rights of All Students to Equity in Arts Learning. This resolution outlines students' rights to a high-quality public arts education, regardless of background, culture, language or where they live.  Youth in Arts has already signed on. In the coming weeks, we will be looking at more ways to create digital programs to address racial and social justice.
In the meantime, here are some resources:
From the New York Times, books that help explain racism to kids
From National Public Radio, Raising White Kids: How White Parents Can Talk About Race
Also from The Times: 26 short films for exploring race, bias and identity
For book recommendations: The Conscious Kid and The Brown Bookshelf.
We are grateful to be able to do the work that we do at this important time. Please join us and please reach out with any suggestions or resources for continuing racial justice work through the lens of arts programming.
As schools scramble to find virtual ways to reach their students, Madera Elementary School stands out as a model for continuing to provide its students access to innovative arts programs.
Youth in Arts teaching artists had just started an 11-week music program at the El Cerrito elementary school when the coronavirus pandemic forced Madera to close temporarily.
That didn't discourage Madera leaders. The Madera Elementary Foundation, comprised of school families, met with Youth in Arts staff and teachers via Zoom to work out the details of how to create a virtual program. Thanks to those efforts, music programs in nearly 20 classrooms resumed after Spring Break. Instead of being together in a classroom, students tune in online.
"Madera has really gone the extra mile to ensure their students continue to receive the arts they deserve," said Youth in Arts Visual Arts Director Suzanne Joyal. "We're not giving up and neither are they."
Youth in Arts has three teaching artists at Madera. They are: Brian Dyer, who teaches vocal and beginning percussion in kindergarten and first grade; Aaron Kierbel, who teaches percussion and drum in second grade; and Antwan Davis, who teaches body percussion and rhythm in third through sixth grades.
Youth in Arts Program Director Kelsey Rieger, who coordinated the move to digital teaching, said she hopes more schools will follow Madera's lead.
"This is really the way of the future," Kelsey said. "When schools partner with us, we find innovative ways to provide meaningful programs. It's more important than ever than students have healthy and creative ways to express themselves."
Youth in Arts has another Madera connection as well. Youth in Arts Mentor Artist Cathy Bowman attended the school in second and third grade.
"Madera was a great place to go to school," Cathy said. "It's nice to know that hasn't changed."
By now you're probably wearing grooves in the pavement when you get out for fresh air. We've seen the blocks around our houses plenty of times! Need ideas to get creative? Here are a few: Morning altars. Please check out morningaltars.com with artist Day Schildkret to learn more about the healing power of nature art altars. You can gather fallen petals, twigs and leaves as you walk around. For more inspiration, check out British artist Andy Goldsworthy. When you get home, think of how to make your own design. What are you grateful for? Signs of Beauty. Thankfully, the flowers aren't quarantined. What signs of beauty do you see? What's different from the last time you walked? Look at the colors, shapes and lines to get you started. How is Spring waking up the earth? Sound Walk. How have the sounds changed in your neighborhood since shelter-in-place began? What do you hear now – or not hear? Are there more birds? Less traffic? Nature Rubbings. Watch Youth in Arts' Program Director Kelsey Rieger's Facebook lesson how how to make an amazing landscape using rubbings. Or tear up your rubbings and make a collage of your street. What shapes do you see? Where do you see warm colors like red and yellow, and where do you see cool colors, like blue and green? How do they mix? Fill a Neighborhood Need. Many neighbors are sewing face masks for others. What do you see that you can do? Sweep up a neighbor's leaves by the driveway? Wave hello? Safely reach out to someone who may need checking on. We love to hear from you! Please share your ideas of how to walk creatively.
 With thousands of Bay Area kids at home due to the coronavirus closures, how can you keep them busy?
 By joining Youth in Arts on social media for art projects you can make with supplies from home.
For at least the next two weeks, Youth in Arts is offering free, 8-minute livestream tutorials at 11:08 a.m. PDT (2:08 p.m. EDT) Monday through Friday. At #YIACre8tes, daily tutorials include drawing your toys, movement exploration, building paper playgrounds and making sculptures.
"All of our programs emphasize creativity, confidence and compassion, and we need that now more than ever," said Youth in Arts' Executive Director Kristen Jacobson. "We're excited to support our students, partners and their families during this crisis that is taking them out of their daily routine."
The livestream sessions on Instagram and Facebook will feature Youth in Arts' staff and emphasize art projects that students are able to do with what they have on hand at home. With families trying to create learning schedules at home, these lessons offer a guaranteed creative break during the day.
"Since we can't work with students in classrooms, this is a new and innovative way to reach them," Kristen said. "It's proven that art reduces stress and helps people connect."
Although Youth in Arts' staff had planned to live stream every day, this week's sudden shelter in place order required us to pivot – and quickly. We moved swiftly to pre-record a week's worth of tutorials that could be released a day at a time. Next week, staff members will be live streaming again from their homes.
"Like everyone, we're trying our best to adapt to a rapidly changing situation," Kristen said.
Although Youth in Arts is based in San Rafael, these lessons are free and accessible to students in the Bay Area and beyond. Students and their families are encouraged to share their own ideas at #YIACre8tes or @YouthInArts.
"Since we can't collaborate in person, let's make our community virtual," said Youth in Arts' Visual Arts Director Suzanne Joyal. "Creativity is the glue that holds us together. It's something we all still have, and it's free."
Stay tuned for more in-depth lessons!
We love to connect with students in the Youth in Arts Gallery! The YIA Gallery is one of the few in the nation devoted solely to showcasing art by children.
Olive Elementary School kindergarten and first grade students visited the YIA Gallery recently for a field trip that explored shapes, systems and machines. Their teacher Emma Donovan had participated in this summer's STEAM institute with Youth in Arts, the Marin County Office of Education and other experts. She wanted her students to have an experience connected to what she learned in the STEAM Institute.
"Our free field trips are a wonderful opportunity to tie classroom curriculum to arts learning," said Youth in Arts' Development Director Kelsey Rieger. "This experience was focused on STEAM with embodied learning teaching."
Kelsey was joined by Visual Arts Director Suzanne Joyal and Mentor Artist Cathy Bowman. We took the students on a gallery walk to look at the child-created works in the gallery, followed by the Brain Dance to warm up. We talked about circles we could make sitting down, and circles we could see in the art. We made circles with our elbows and noses. In the YIA Studio, we sat in a big circle and learned about systems and machines, first by pushing a giant purple ball back and forth at different speeds. We noticed that a ball can't move by itself. While holding hands, we also sent energy around the room with a silent squeeze. It took concentration and practice to not lose the squeeze.
The final exercise was a fun way to talk about machines. Students were proud to show what they knew about different kinds of machines, and what those machines could do. Suzanne started the exercise by making a machine motion and sound.  As she continued, the next volunteer joined her to make a sound and motion that connected to hers. More students joined in, each making a different sound and motion. In the end, we had a large human-made machine with noises and motions working together.
We talked about where our machines lived and what they could do. One group made a machine that made snowflakes and lived in the ocean; another imaginary machine  handled climate change in the desert.  We concluded the field trip by creating a machine which included everyone and was made of familiar sounds and motions: a train.
Field trips are 45 minutes and always feature an age-appropriate hands-on arts activity. Children also learn techniques for looking at and talking about art. For more information, contact Youth in Arts' Program Director, Kelsey Rieger: kelsey@youthinarts.org or at (415) 457-4878 x110.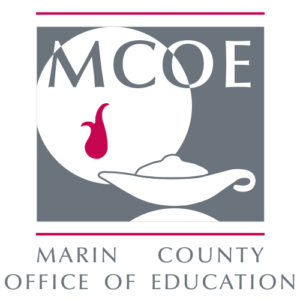 Art has the power to engage and inspire students of all abilities. Whether it is the visual arts, theater, dance, music, or new media, creative exploration has been known to help students reach learning and behavioral objectives in productive and innovative ways. In early October, Youth in Arts Staff Miko Lee and Kelsey Rieger travelled to the Quartz Mountain in Oklahoma to lead a 17-hour professional development with teachers from across the state through the Oklahoma Arts Institute. Together, we explored arts integration strategies and techniques for addressing Social Emotional Learning (SEL) goals with students informed by student-centered frameworks such as Culturally Responsive Teaching and Universal Design. Over the course of three days through visual arts, dance, music, and theatre, educators learned about the five competencies of SEL framed by the following asset-based questions:
Self Awareness: Who Am I?
Social Awareness: Who am I in relation to the world around me?
Self Management: How do I fit in to the world around me?
Relationship Skills: How do I connect, listen and communicate with diverse people?
Responsible Decision-Making: How do I make informed choices while considering how this will affect me and those around me?
Participants began by thinking about our personal identities and how they are informed by our experiences and our chosen and inherited family values. Following our daily warm-up and introduction, we created accordion culture books to give us a baseline for thinking about self awareness, and continued working on these books throughout the workshop. In order to take time to appreciate the process of learning and consider our work so far, we participated in a group gallery walk and reflection.
During our unit on Social Awareness, we performed our oral family histories through storytelling and embroidered mapping. After ruminating on the ways in which our divergent and personal stories gathered together at our point of contact – Oklahoma – teachers choreographed their collective family stories and performed them for the rest of the group. It became clear during reflection that building a culture of community becomes possible through the sharing and receiving of stories, and that we learn how to connect in the process of realizing what makes us different and what makes us similar. Additional theatre and movement-based activities were utilized throughout the workshop in order to offer kinesthetic and embodied ways to reflect on and engage in the core competencies of SEL.
Over the course of our sessions on self management, relationship skills, and responsible decision making, we explored multiple techniques for self portraiture using methods such as recycled collagraph prints, transparency portraits using lines that make our faces unique, and empathy portraits on vellum. To help build our visual arts skills, we practiced observational drawing techniques and considered the ways in which visual signals like lines could be characterized using all of the senses. At the end of the workshop, we layered our portraits in different mediums together to create a cover for our culture books.
On the final day of the workshop, participants reflected once again on the characteristic of storytelling utilizing graphic novels and Visual Thinking Strategies, as well as theatre activities such as The Moment Before. We then participated in a large-group Circle Story, pulling vocabulary from value words and personal characteristics that we had shared previously in the workshop. We added depth and meaning to the story by re-telling our narrative and introducing colors and emotions. We completed the workshop with an experimental painting activity in which participating educators were asked to create abstract, mixed-media artworks by following a series of instructions without knowing the expectations for the project's end result. Following the activity, we reflected on what the process had felt like by discussing how decision-making is impacted by circumstances, and how we can help to empower and prepare our students to make impactful decisions knowing that they will not always know where those decisions may lead.
We closed the activities with a final group performance, utilizing performance-based techniques and strategies learned throughout the institute in order to communicate their closing thoughts and experiences. The process of learning and engaging was captured by facilitators and participants collaboratively through a Learning Wall, Youth in Art's adaptation of the Making Learning Visible (MLV) process. Participants left the institute with access to arts-based resources created to help engage educators in practical skills for developing and fostering communication and collaboration, thereby creating more opportunities to empower student voice and identity in any classroom. 
Resources
Exploring the local creek and designing their own natural playgrounds, creating songs about protecting the world, discovering the details in individual leaves and creating posters, learning vocabulary through dance games, using sculptures to explore science. These are some of the new experiences that teachers led summer school students through at the University Prep Summer School.
Teachers attended the Marin County Office of Education and Youth in Arts' recent STEAM workshop and put their learning into practice to make their own art-infused program at Lu Sutton Elementary School in Novato.
Earlier this month, Youth in Arts joined the Marin County Office of Education and a team of educators and experts to conduct a workshop on STEAM learning.  K-12 teachers were asked to rethink how they could teach the California Environmental Principles and Concepts.
Lisa Heslip, principal of the summer school program at Lu Sutton,  said students were happy, well behaved and engaged. Students made a giant "Making Learning Visible" paper wall documenting their learning that was posted in the courtyard of the school. The 1st through 5th grade students focused on the environment, looking at everything from how animals and people interact to their own carbon footprint.
Among other things, students considered the eyeball of a cow, putting the contents in a plastic bag, labeling the optic nerve, cornea and other parts, and taping the ball to the wall. "I wonder where tears come from?" pondered a student. Lower grade levels looked at creating sustainable playgrounds.
Heslip took photos and posted them on the wall, and students added their own drawings and Post It notes with questions and observations.
"They stop at it all the time," Heslip said. "It represents them. It's not teacher created at all."
Summer schools teachers also had intensive coaching by members of Agency By Design Oakland, who helped them with curriculum planning and were present during classroom teaching, Heslip said.
"When you think of English Language (Learners), it's getting them to talk and express their ideas … giving them the opportunity to use academic language," Heslip said. "What better way to do it than with a hands on activity?"
Preliminary research shows an increase in student summer school attendance (100% this year!) Teachers say they felt "inspired" and "reinvigorated" to go back into the classroom with these new tools.
Thank you to the California Department of Education's Student Support and Academic Enrichment (SSAE) grant, Marin County Office of Education and Marin Community Foundation for helping to make this work possible.

Free field trips are one of the many programs that Youth in Arts offers! Recently, Short School students from Ms. Katie Marek's class visited us to see Architects in Schools: Designing Community, the exhibition on display at the YIA Gallery through July 26. The show features the work of Laurel Dell 4th and 5th graders and their response to climate change, housing shortages and other critical issues San Rafael faces now and in the future.
Short School students studied the towers and models that Laurel Dell students made, paying close attention to the detailed bridges they built. We then built our own towers out of foam core board scraps, starting with three words that describe us. We came up with several words, such as smart, funny, careful and goodness. We wrote each word on a circle and then used special glue and toothpicks to build our towers. It was tricky to get them to balance and stand up but we persevered. One artist made a piece inspired by the San Francisco skyline, and another built a unicorn.
Ms. Marek's class was part of Youth in Arts' Arts Unite Us program. This spring, her students explored visual art through a 10-week residency program with Mentor Artist Cathy Bowman.
Through the California Department of Education's Student Support and Academic Enrichment (SSAE) grant that the Marin County Office of Education received, Youth in Arts was in multiple Special Day Classes this spring.
Youth in Arts staff, Miko Lee, Suzanne Joyal and Kelsey Rieger have been presenting on arts equity as a tool to begin implementation of the Marin Arts Education Plan. On January 29 the team conducted a 3-hour interactive workshop for Marin County educators and administrators at Marin Community Foundation. Participants learned about the recent data released from the California Data Project and reflected on the Race Counts study. They watched "A Student Named Art" student produced film from the California Arts Education Alliance and deconstructed the video using Visual Thinking Strategies. They learned about the latest in arts education research, created a collaborative mural and used theatre to explore language arts and history links.
"Thank you for the amazing presentation you and your team so beautifully engaged us in yesterday.  It was wonderful how you kept everybody engaged while instilling some crucial facts about the powerful impact art can provide students.  Observing the group, I feel confident that each person present will be sharing this information with others and thinking more about how to take the next steps within their district or school."
-Eileen Smith, Marin County Office of Education Director of Education Services
That same night Miko & Kelsey provided similar workshop for the North Bay PTA leads and provided information about CREATE California's Public Will Campaign.  For more info about this workshop, reach out to us: mlee@youthinarts.org