Mentor Artist Sophie Cooper writes about the culmination of the Walker Rezaian Creative HeArts Kindergarten Art Program at Venetia Valley Elementary
As the culmination of a 12-week program, K and TK students at Venetia Valley Elementary integrated their newly acquired techniques as visual artists through the creation of unique and expressive self-portraits. To prepare for this final project, students completed a number of activities exploring line, shape, color and pattern. Then it was time to explore emotion. Students were given mirrors and are asked to draw four quick sketches of their own faces with different emotions: happy, sad, surprised and angry. We discussed how the lines of the mouth, eyes and eyebrows changed with each emotional expression.
Ready to embark upon their final portraits, students began with a pencil drawing using the mirrors and the emotional expression of their choosing. The next step was to trace their lines with oil pastels, then bring their portraits to life using vibrant watercolors. Students were encouraged to use colors to further convey emotions. The final works were astoundingly unique portraits that captured the students' sense of pride, courage and creative identity.
Learning to identify and communicate emotions is no small task, no matter how old we are. In addition, when it comes to emotions, words often fall short.  For children in the early stages of developing an awareness of their emotions and relational skills, creative outlets enable students new ways of understanding and expressing themselves and those around them. We all know that emotions give rise to wonderful art, yet what I learned from the young artists at Venetia Valley, is that the art we create can actually teach us about our emotions.
Thank you to the Walker Rezaian Creative HeArts Fund and to our Youth in Arts donors for supporting this program.
On Thursday, April 27, Laurel Dell teachers, students, staff and families came together at Youth in Arts to celebrate artwork on exhibit created by Laurel Dell kindergarteners in the Walker Rezaian Creative HeArts Kindergarten Art Program.
Created by Youth in Arts and Walker's family to celebrate Walker's life and love for the arts, the Walker Rezaian Creative HeArts Kindergarten Arts Program combines visual arts classes led by professional artist and educators with "Family Art Nights" that bring the school community together.
All Walker Rezaian Creative HeArts activities center on a theme of friendship–this is both a celebration of Walker, who was gregarious and loved making new friends, and a perfect developmental link for kindergarteners who are learning to be a part of a school community.
The culmination of the project is the annual "Imagining Friendship" gallery exhibit of student work on view at YIA Gallery in downtown San Rafael through May.
The exhibit also includes work from kindergarteners at Venetia Valley, who will celebrate together this week on May 4, and hands-on art activities for visitors. We are open to the public weekdays 11-4, as well as this weekend May 6-7 from noon to 4 pm for Marin Open Studios and on Friday, May 12 from 5 to 8 pm for 2nd Fridays Art Walk Downtown.
Colorful self-portraits created by the students are displayed alongside artist-created cardboard play spaces that show children you can create "something from nothing".
Laurel Dell staff, teachers and families created a beautiful tote for Naomi Tamura and Ali Rezaian who started the Creative HeArts Fund to honor their son, Walker, and who helped Youth in Arts design the program to have a lasting impact on children. Naomi has since also become Youth in Arts Board President, leading the organization in reaching more Marin children with our creative programs.
To learn more about Creative HeArts, check out our video below. For more about the gallery exhibit, click here. To donate to support this opportunity for young artists, visit our online donation page.

Youth in Arts thanks the Creative HeArts Fund and the Tamura and Rezaian families for their ongoing support for this program.
This activity is supported in part by the California Arts Council, a state agency.
We're off to a strong start in the T-K and Kindergarten classrooms at Laurel Dell Elementary school, 2015-2016 recipients of the Walker Rezaian Creative HeArts Award.
Students have been working with Mentor Artist Suzanne Joyal, learning to use drawing pencils, black china markers, colored pencils, and even Sharpies. They have been working on showing and telling more about themselves through their pictures, and on customizing their Beautiful New Art Journals. Thank you RileyStreet yet again for your help in getting the best supplies to our kids.
by Mentor Artist Kaitlin McGaw
In my first teaching artist residency with Youth in Arts, I customized a Common Core/Hip Hop series for four kindergarten classes at Bahia Vista Elementary School in San Rafael's Canal area.
Since my songs and curriculum can cross over various topics [shapes, coins, letters, letter sounds, writing, fitness, nutrition, math, etc.], it was a joy to work with our partner educators to focus the workshops on the needs of the students as they closed their first year of school.

As many of the students were learning English as a central part of their school experience, the objectives for the artist residency were to include language proficiency in the ability to retell a story, and a performance of understanding of math terms (less/more). We also wanted to support and augment student opportunities in self-expression.
I used several of the songs from my curriculum to meet these goals, which are outlined at the bottom. In the first week, the students were perhaps a bit shy, learning many new words, formats, and dances with me. By week two, our progress was underway. Our name game "Do Your Thing" gives each student the opportunity to say their name with a dance movement, rhythm or gesture: "I'm Kaitlin… I do my thing!" and hear the class say the name and mirror the movement: "She's Kaitlin… she does her thing!"
For kindergarteners, learning he/she and do/does are elements of language acquisition. But more interestingly was watching some of the students really come out of their shell over the weeks together, saying their name louder each time. We always give students the option to "pass" – but oftentimes the "pass" I found was merely to provide the student just a few more seconds to think about the gesture or dance move they wanted to share with the class.
The Food Calculator is an original song we wrote in my group Alphabet Rockers. The song includes learning the b-boy move "the wave" along with learning less/more and healthy food choices. For the purposes of this residency, I added a story about the rockstar who brings 1 food each day to share with her friends. (Monday is 1 apple, Tuesday is 2 grapes)  The students fill in the blanks for what the foods are. At the end of the story, there is a number sense element played out as they bite 1 apple, pick 2 grapes and retell the order of the foods to the teaching artist. We then use a food calculator to decide which snacks were healthy before going into the actual song as a dance. The kids absolutely adored this song and loved performing it and singing it with me.
At the end of the residency, the students performed for one another, learning terms for "audience" and "performers" as well as expected behavior for both within the arts world. The boys performed "Dynamite" for the girls, and vice versa. They then shared compliments with one another with what they noticed in the performance. It was an opportunity to celebrate the students' strengths while also reinforcing the ability to say a complete sentence, such as "Josue – I like the way you danced."
I look forward to working with additional schools to customize curriculum for music/movement with Common Core goals, including adding in beatboxing and rhythm and making letters with our bodies as a way to reinforce early literacy.
Here are the songs I used for the residency:
Good Morning Song [Listen here: http://www.alphabetrockers.com/music]
Do Your Thing [watch teachers do it here: http://vimeo.com/85632098]
Dynamite [Watch here: https://www.youtube.com/watch?v=jepxZWR3EH0]
Food Calculator [Listen here: http://www.alphabetrockers.com/music]
Shape Rap [Watch here: https://www.youtube.com/watch?v=1zxwLSjCfaI]
Rhythm Games through "Can I Kick It" by A Tribe Called Quest
Kindergarteners at Ocean View Elementary are making music!
As a mother, educator, performer and Program Director at Youth in Arts, I am thrilled to have the opportunity to play with our young students in Albany.  Students in every TK (Transitional Kindergarten), K and K-1 class at Ocean View (and the Albany Children's Center) are playing, singing and dancing during our 10 week music program.
We started out exploring the many different sounds we can make with our bodies: clapping, tapping, snapping, sliding, singing, talking, etc.  Students came up with their "name rhythm", making a percussive sound for every syllable in their name and we put them together to make music!  We have learned to warm up our voices with different sounds and practicing "solfége", learning about pitch and volume.  We have applied this to singing fun songs about friends, movements, emotions.  I have caught more than one parent humming the tune to one of the songs we sing in class because students sing them at home too!
We definitely keep moving, dancing to the funky beat of my "cajón", isolating body parts and moving to different types of beats. Students have learned about keeping a steady beat and playing different rhythms with their bodies and with an assortment of percussion instruments including shaker, rhythm sticks and drums.
Both of my children are students at Ocean View and one of the many beautiful attributes of our school is the wealth of diversity of our families.  In honoring this, we sing our "Hello My Friend" song in as many languages as we can! Students have taught us to sing it in Hebrew, Portuguese, Mandarin, Korean, Arabic, Japanese and Spanish amongst other languages.  We are also in the midst of writing a song about appreciating our differences called "We Are Different in Beautiful Ways".
It has been such an honor to work with every teacher at Ocean View and witness how each one of them incorporates singing and movement into every school day.  Our students are very happy about making music and we are eager to share our love for music with our families and friends during our culminating event in April.
In the meanwhile, keep singing!
Nydia Algazzali Gonzalez
YIA Mentor Artist & Program Director
Next Friday, December 10th, the K and 1st grade classes at Bayside school are heading out on an excursion.
They will ride on the Sausalito Ferry out to Alcatraz and back. While they are on the ferry, they will join many other school children to decorate the interior space with art work.
Kindergardeners in Ms. Banks' K class created paper snowflakes for the project with Ms. Ascha.
Before beginning the project, the students looked at snowflakes and thought about how their art could be inspired by the images that were taken under a microscope!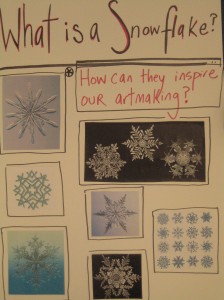 They talked about the structure of snowflakes, and how they are symmetrical and  have patterns.
Recently the students had worked with paper sculpture with Ms. Brooke, so they were familiar with cutting and folding the material.
The students appreciated that each and every snowflake looked different!
And they could imagine how the snowflakes would add to the interior of the ferry.
Beautiful work!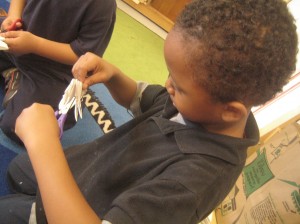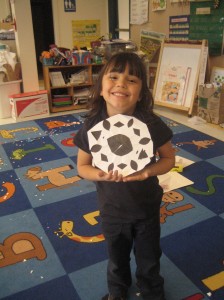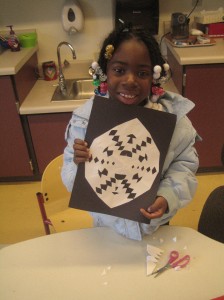 In the reflection, the students, Ms. Banks, and Ms. Ascha talked about the importance of collaboration: working together : to create artwork. Over the next week the K artists will continue to make snowflakes, and mount them on black paper.
It will be exciting for them to see their work on view in a public space for others to see!