Nearly 50 arts lovers stopped by the Youth in Arts' gallery recently to celebrate our current show and meet new Executive Director Kristen Jacobson.
Imagine Our World: In My Neighborhood runs until Dec. 6. The show features second grade art from Laurel Dell and Short elementary schools, including two large collages in which students envisioned their ideal neighborhood. Students connected to the idea that working together builds a stronger community. The show includes work made by young artists in response to the recent power outages and fires.
The show also features collaborative artwork from Youth in Arts' booth at the West End Village Celebration on November 4. Over 100 artists of all ages contributed to two large-scale murals, and a community collage. Participants were encouraged to express their feelings about the Power Safety Shutoff through art making.
Jacobson thanked everyone for their support and said she was looking forward to getting down to work.
"I'm so moved and inspired by the work of the incredible artists and the legacy that is here in Marin," Jacobson said. "I'm excited to focus on access to arts education, and equity for all" she said.
With the continued support of the California Arts Council, Laurel Dell's PTA, UC Berkeley's Y-Plan and RileyStreet Art Supply, Youth in Arts has designed a sequential arts program for students to build their skills over time. Every student receives 12 weeks of visual arts in the Fall and 12 weeks of dance in the Spring.
Youth in Arts has provided Mentor Artists to Laurel Dell Elementary School for almost 20 years. For the past four, however, Laurel Dell has been home to our demonstration project: a sequential, scaffolded arts program focused on the core competencies of Youth in Arts: Creativity, Compassion, and Confidence through arts learning. The program was designed by our Director of Visual Arts Suzanne Joyal. During their 12 weeks of visual arts in the Fall and 12 weeks of dance in the Spring, students learn to express themselves verbally, visually and physically in multiple art forms.
On a warm November afternoon, Youth in Arts welcomed over 120 community members to participate in collaborative artworks at the West End Village Celebration in San Rafael. Artists of all ages created large-scale group paintings using primary colors – red, blue and yellow (plus white). Following the "Power of Sharing" lesson model from our visual art residency at Laurel Dell Elementary, we encouraged participants to share their colors and blend on the canvas to make any secondary colors.
The recent Public Safety Power Shut-off closed San Rafael City Schools for several days, so we felt it important to help community members, especially children, process their feelings through art. We presented the prompt: "Did you lose power in your neighborhood? How did it make you feel?" We then asked the artists to paint their response on the community murals. It was wonderful to see everyone working together to create something so beautiful.
In addition, community members who visited Youth in Arts' booth responded to our prompt: "What makes your neighborhood powerful?" We asked participants to draw or write their response with Sharpie pen on colorful squares of hand-dyed watercolor paper, and later turned them into a community collage.
You can add to our collage, see the collaborative paintings, and more wonderful artwork from our 2nd grade residency at Laurel Dell Elementary in our current exhibition, Kids Imagine Our World: In My Neighborhood. The show will be on view in the YIA Gallery through December 6th!
This summer, Youth in Arts' Director of Visual Arts Suzanne Joyal began her study toward a Master of Arts in Arts Education with a focus on special populations from Moore College of Art and Design in Philadelphia, PA. The only program of its kind in the country, the program was founded by Lynn Horoschak, a pioneer in the field of arts education for special populations. For the students of Moore, and arts educators at Youth in Arts, "special populations" means anyone who does not thrive in the linear, neurotypical classroom. This could mean students experiencing disabilities, newcomer and english language learners, students experiencing the effect of trauma, or anyone with an IEP (Individual Education Plan).
"I decided to pursue the Moore Masters program after attending several workshops led by Lauren Stichter, the graduate program director at Moore. I have been working with students with special needs for 11 years at Youth in Arts, and after listening to Lauren, I knew I could do more. I know that what we are doing at Youth in Arts is necessary and needed and the right thing for all students. We all need to be able to express ourselves with confidence, and for many people (myself included), it's through the arts that this is possible. For students experiencing disabilities, every day can be painful or scary or exhausting, and infusing the arts into learning is what can help them thrive. We want every student to want to come to school and to feel proud of their accomplishments, and I have witnessed how the arts helps many students get there."
Suzanne spent six weeks this summer participating in the intensive program, is working remotely for the school year, and will return to Philadelphia next summer to complete and present her thesis.
Second graders at Short and Laurel Dell elementary schools in San Rafael created vibrant collages showing what a healthy neighborhood needs.
We began by looking at the work of artists like Faith Ringgold and the late Romare Bearden. Working with Youth in Arts' Mentor Artist Cathy Bowman, we used the "wax resist" method to write our names on watercolor paper and mixed blues and greens to paint a "cool" background. We talked about what a neighborhood needs to be strong and healthy, and what we need to be strong a healthy. Both classes included schools, libraries and homes of different sizes and shapes. There were some surprising additions too. At Short, one student suggested a carnival. At Laurel Dell, a student created a community art studio.
We then created collages, using only warm colors for our structures. That made them stand out when they were placed on the cool colored background. This gave us a chance to review what colors are warm, and what colors are cool. Once they were dry, we flipped them over and cut out our shapes. Details were added later with pastel and more paper. We looked at doors and windows from around the world, and noticed they are not always square or rectangle.
"This was a complex project with many layers, and students did an amazing job," Bowman said. "It was wonderful to see them make connections between their own lives and their neighborhood."
Some of the paper that students used was made by rubbing crayons and pastels across textured templates, creating brick patterns and other designs. More connections were made as the textured paper was shared between the two schools.
The projects will be on display as part of the upcoming Youth in Arts' upcoming exhibit: Kids Imagine Our World: In My Neighborhood. The show of 2nd grade work from both schools runs Oct. 28 through Dec. 6. The opening reception, which will be hosted by the Youth in Arts' Board of Directors, will be held on Nov. 8 from 5 to 8 p.m.
Nearly 100 arts supporters turned out to celebrate the importance of art education and to honor Youth in Arts' wonderful Executive Director Miko Lee on Sept. 13 at the YIA Gallery in the Downtown San Rafael Arts District.
Lee has been a tenacious advocate for ensuring that all children – not just those at Marin's wealthier schools – have equal access to the arts. She is leaving Youth in Arts after 13 years at the helm.
"We know we have a big equity gap in Marin, " Lee told the enthusiastic crowd at the State of the Arts event. "We feel that as part of the ARTS NOW Marin (California Alliance for Arts Education) community, arts education makes a difference. "
In reviewing the year's accomplishments, Lee highlighted the passage of Marin's first ever Arts Education Plan a year ago, which was folded into the larger county arts plan. With that strong foundation, Marin County Office of Education and Youth in Arts were able to get $500,000 in additional funding for arts education so that more students of color and students with disabilities were reached.
Youth in Arts also partnered with other experts in the field to train nearly 100 educators at a STEAM workshop this summer.
"One hundred percent of those teachers said they could feel confident integrating arts into their curriculum," Lee said. "They saw that this is a way to reach our students who are not being listened to and not being heard."
Youth in Arts has also produced a Digital Toolkit, six videos on inclusive teaching practices for artists, classroom teachers and parents. In addition, Youth in Arts has developed a free ARTS Bank. The database, believed to be the first of its kind in the nation, allows educators, parents and students to plug in an IEP goal or grade level and get an arts activity that matches.
Youth in Arts' award-wining youth a cappella group, 'Til Dawn, also performed.  This past year, those students received 350 hours of arts learning and performing. The event also coincided with San Rafael's  2nd Friday Art Walk .
Board member Melissa Jones-Briggs served as the MC. Speakers at the event included Mary Jane Burke, Marin County superintendent of schools; Gabriella Calicchio, director of cultural services for Marin County; Pepe Gonzalez, principal of Laurel Dell and Short Elementary schools; Danielle O'Leary, economic development director for San Rafael, Naomi Tamura, Youth in Arts' board president; and Dr. Tom Peters, president and CEO of the Marin Community Foundation.
Gonzalez spoke passionately about the difference Lee has made through her vision, passion and energy. He pointed to photographs in the YIA gallery of young artists with special needs and said he wasn't surprised to see them there.
"If it wasn't for Miko and the programs she's brought in, they wouldn't be up there right now," he said.
Gonzalez also pointed to the photo of a third grader at Laurel Dell who had been through Youth in Arts programs.
The young artist has been in the U.S. only two years. Her academic grades only tell part of her story, he said, noting the joy on her face while making art.
"When you give kids access to something that finds that inner voice, that right there is exactly what we want our kids to be like," Gonzalez said. "Those smiles are real. The programs, the vision, everything that (Miko) believes in … that smile says it all."
Please consider a donation in honor of Miko Lee's incredible legacy, and to support the important work that we do.
Thanks to photographers Kathleen Gaines/MarinArts, Lynn Noyce, Kim Wilson and Youth in Arts staff.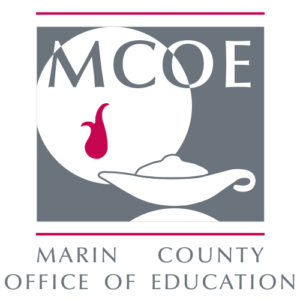 Free field trips are one of the many programs that Youth in Arts offers! Recently, Short School students from Ms. Katie Marek's class visited us to see Architects in Schools: Designing Community, the exhibition on display at the YIA Gallery through July 26. The show features the work of Laurel Dell 4th and 5th graders and their response to climate change, housing shortages and other critical issues San Rafael faces now and in the future.
Short School students studied the towers and models that Laurel Dell students made, paying close attention to the detailed bridges they built. We then built our own towers out of foam core board scraps, starting with three words that describe us. We came up with several words, such as smart, funny, careful and goodness. We wrote each word on a circle and then used special glue and toothpicks to build our towers. It was tricky to get them to balance and stand up but we persevered. One artist made a piece inspired by the San Francisco skyline, and another built a unicorn.
Ms. Marek's class was part of Youth in Arts' Arts Unite Us program. This spring, her students explored visual art through a 10-week residency program with Mentor Artist Cathy Bowman.
Through the California Department of Education's Student Support and Academic Enrichment (SSAE) grant that the Marin County Office of Education received, Youth in Arts was in multiple Special Day Classes this spring.
Laurel Dell 5th graders spent a few days happily painting one of San Rafael's utility boxes as part of the "emPower Utility Art Box" project. If you're heading to the 101 freeway, you'll see the box at Second Street and Lincoln Avenue on the right side.
This spring, the students participated in a 12-week residency program that was a unique collaboration between Youth in Arts and UC Berkeley's Y-PLAN. The program featured local architects Shirl Buss and Janine Lovejoy Wilford and artists working with 4th and 5th grade students teaching design and build concepts. Students created bridges, towers and maps looking at important issues facing San Rafael, such as climate change, affordable housing and access to the Canal community.
"It's great that the students were so engaged in the work, " said Mentor Artist Suzanne Joyal. "They really wanted people to think seriously about San Rafael's 2040 plan and what the city needs for the future."
To paint the utility box, a small group of 5th graders worked with Joyal and Mentor Artist Cathy Bowman. In selecting the design and color, it was important to consider how different colors make us feel. Students practiced writing their important words big so they would be visible. Despite the heat, the painting was fun! We didn't blend colors completely to maintain a painterly effect. We added floating houses, trees, birds and clouds. When we were done painting, we added more detail and pattern using paint markers.  It is an important visual reminder of what we all need to be thinking about.
The grand unveiling of the six boxes that were painted will be held on June 14 in conjunction with the 2nd Fridays Art Walk  from 5 to 8 p.m. The boxes are located in the city's downtown corridor and transit center.
The 2019 San Rafael Leadership Institute started the utility box project as a way to bring more art to downtown San Rafael. The institute is a San Rafael Chamber of Commerce program made up of public and private professionals, nonprofit leaders and business officials.
Youth in Arts is excited to announce the opening of our new ART LAB at the YIA Gallery.
Located in the gallery's store, the ART LAB is open during regular Youth in Arts hours  – Monday through Friday, 11 a.m. to 4 p.m., and until 8pm during Downtown San Rafael's 2nd Friday Art Walks. It's free and open to the public for art-making activities linked to YIA exhibitions.
"In keeping with our mission of providing arts access to all learners, Youth in Arts is opening its doors to the community to explore its creativity," said Miko Lee, executive director of Youth in Arts. "We're providing free, hands-on art projects for all ages."
Children will enjoy kid-sized tables where they can make art and explore materials. Each exhibition will also feature the artwork of one of Youth in Arts' Mentor Artists. All artwork on view in the space will be for sale, with a portion of the proceeds benefiting Youth in Arts.
Suzanne Joyal's work is currently featured and coincides with Imagining Friendship the Walker Rezaian Creative HeArts exhibition of self portraits by kindergarteners and first graders from Laurel Dell Elementary School in San Rafael. The colorful paintings were created during their Fall residency with Youth in Arts. As part of the exhibit, Youth in Arts' staff have created a kid-sized interactive cardboard world with doors, tunnels and windows for exploring.
Both children and adults are welcome, but we kindly ask that all children be accompanied and supervised by their grownups.
Please come and visit us soon. Just look for our bright red wall!
On January 24, the Marin IJ published an article written by fifth graders working with Shirl Buss, YIA Mentor Architect and educator with UC Berkeley's Y-PLAN.
On Thursday night, Laurel Dell hosted a Family Art Night for second and third-graders. Families were able to visit the gallery of works created over the Fall, and to participate in a hands-on art-making experience.
YIA Mentor Artists Cathy Bowman and Suzanne Joyal asked students and families to respond the IJ story: What do YOU want for San Rafael's future? What important words can you read? Circle them. Now, choose the MOST important word, and turn it into a piece of art that fills your whole page.
Each student and family member found a word in the article that was important to them, and turned it into one of the mini-artworks you find here.
Lastly, we glued all of the pieces together into this one cohesive collage.
The students ranged in age from TK (PATHS), to third grade (ELECTRIC from a kid who says he doesn't feel safe walking in his neighborhood at night). We saw parents translating for each other, children reading to their parents, and even tiny little pre-readers able to pick out letters and begin their journey to reading.
Here is a link to a member of the community in Fairfax who wrote a letter to the MarinIJ entitled:  "Inspired by Youngsters ideas on Sea-Level Rise".
Thank you California Arts Council for your generous support!
Fifth graders at Laurel Dell Elementary School have written an opinion piece for the Marin IJ based on their residency with Youth in Arts. Impressed by the students' focus and hard work during a 12-week residency, architect Shirl Buss extended the learning by mentoring the students as they wrote their piece. In the end, it was the students' own words.
Youth in Arts partnered with UC Berkeley's Y- PLAN (Youth – Plan, Learn, Act, Now) to create an innovative program exploring the connection between art and architecture. We worked with fourth and fifth graders at the school.
"We wrote this newspaper column so we could get people's attention, so they can listen to our ideas," the fifth graders wrote. The piece was written by students Kim Mandujano, Gerardo Valencia, Genesis Perez and Janely Mendieta.
The artists described what they think San Rafael should look like in the future. They hope officials working on San Rafael's 2040 General Plan will take their advice seriously for dealing with issues like sea-level rise, flooding, safety, housing and other concerns.
Laurel Dell teacher Marc Belmont said working with Buss and the Youth in Arts residency was a great experience.
"Thank you for working with the students. They love you and enjoyed every second with you," Belmont wrote to Buss. "They were so happy and proud when we read the article in class. Wish you could've seen their pride and smiles on their faces."
Read more about what the students had to say here.
or check it out here:
Thank you to UC Berkeley's Y-PLAN and the California Arts Council for helping to make this possible.
Older Entries »