Nearly 100 arts supporters turned out to celebrate the importance of art education and to honor Youth in Arts' wonderful Executive Director Miko Lee on Sept. 13 at the YIA Gallery in the Downtown San Rafael Arts District.
Lee has been a tenacious advocate for ensuring that all children – not just those at Marin's wealthier schools – have equal access to the arts. She is leaving Youth in Arts after 13 years at the helm.
"We know we have a big equity gap in Marin, " Lee told the enthusiastic crowd at the State of the Arts event. "We feel that as part of the ARTS NOW Marin (California Alliance for Arts Education) community, arts education makes a difference. "
In reviewing the year's accomplishments, Lee highlighted the passage of Marin's first ever Arts Education Plan a year ago, which was folded into the larger county arts plan. With that strong foundation, Marin County Office of Education and Youth in Arts were able to get $500,000 in additional funding for arts education so that more students of color and students with disabilities were reached.
Youth in Arts also partnered with other experts in the field to train nearly 100 educators at a STEAM workshop this summer.
"One hundred percent of those teachers said they could feel confident integrating arts into their curriculum," Lee said. "They saw that this is a way to reach our students who are not being listened to and not being heard."
Youth in Arts has also produced a Digital Toolkit, six videos on inclusive teaching practices for artists, classroom teachers and parents. In addition, Youth in Arts has developed a free ARTS Bank. The database, believed to be the first of its kind in the nation, allows educators, parents and students to plug in an IEP goal or grade level and get an arts activity that matches.
Youth in Arts' award-wining youth a cappella group, 'Til Dawn, also performed.  This past year, those students received 350 hours of arts learning and performing. The event also coincided with San Rafael's  2nd Friday Art Walk .
Board member Melissa Jones-Briggs served as the MC. Speakers at the event included Mary Jane Burke, Marin County superintendent of schools; Gabriella Calicchio, director of cultural services for Marin County; Pepe Gonzalez, principal of Laurel Dell and Short Elementary schools; Danielle O'Leary, economic development director for San Rafael, Naomi Tamura, Youth in Arts' board president; and Dr. Tom Peters, president and CEO of the Marin Community Foundation.
Gonzalez spoke passionately about the difference Lee has made through her vision, passion and energy. He pointed to photographs in the YIA gallery of young artists with special needs and said he wasn't surprised to see them there.
"If it wasn't for Miko and the programs she's brought in, they wouldn't be up there right now," he said.
Gonzalez also pointed to the photo of a third grader at Laurel Dell who had been through Youth in Arts programs.
The young artist has been in the U.S. only two years. Her academic grades only tell part of her story, he said, noting the joy on her face while making art.
"When you give kids access to something that finds that inner voice, that right there is exactly what we want our kids to be like," Gonzalez said. "Those smiles are real. The programs, the vision, everything that (Miko) believes in … that smile says it all."
Please consider a donation in honor of Miko Lee's incredible legacy, and to support the important work that we do.
Thanks to photographers Kathleen Gaines/MarinArts, Lynn Noyce, Kim Wilson and Youth in Arts staff.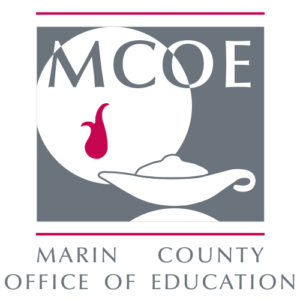 Free field trips are one of the many programs that Youth in Arts offers! Recently, Short School students from Ms. Katie Marek's class visited us to see Architects in Schools: Designing Community, the exhibition on display at the YIA Gallery through July 26. The show features the work of Laurel Dell 4th and 5th graders and their response to climate change, housing shortages and other critical issues San Rafael faces now and in the future.
Short School students studied the towers and models that Laurel Dell students made, paying close attention to the detailed bridges they built. We then built our own towers out of foam core board scraps, starting with three words that describe us. We came up with several words, such as smart, funny, careful and goodness. We wrote each word on a circle and then used special glue and toothpicks to build our towers. It was tricky to get them to balance and stand up but we persevered. One artist made a piece inspired by the San Francisco skyline, and another built a unicorn.
Ms. Marek's class was part of Youth in Arts' Arts Unite Us program. This spring, her students explored visual art through a 10-week residency program with Mentor Artist Cathy Bowman.
Through the California Department of Education's Student Support and Academic Enrichment (SSAE) grant that the Marin County Office of Education received, Youth in Arts was in multiple Special Day Classes this spring.
Laurel Dell 5th graders spent a few days happily painting one of San Rafael's utility boxes as part of the "emPower Utility Art Box" project. If you're heading to the 101 freeway, you'll see the box at Second Street and Lincoln Avenue on the right side.
This spring, the students participated in a 12-week residency program that was a unique collaboration between Youth in Arts and UC Berkeley's Y-PLAN. The program featured local architects Shirl Buss and Janine Lovejoy Wilford and artists working with 4th and 5th grade students teaching design and build concepts. Students created bridges, towers and maps looking at important issues facing San Rafael, such as climate change, affordable housing and access to the Canal community.
"It's great that the students were so engaged in the work, " said Mentor Artist Suzanne Joyal. "They really wanted people to think seriously about San Rafael's 2040 plan and what the city needs for the future."
To paint the utility box, a small group of 5th graders worked with Joyal and Mentor Artist Cathy Bowman. In selecting the design and color, it was important to consider how different colors make us feel. Students practiced writing their important words big so they would be visible. Despite the heat, the painting was fun! We didn't blend colors completely to maintain a painterly effect. We added floating houses, trees, birds and clouds. When we were done painting, we added more detail and pattern using paint markers.  It is an important visual reminder of what we all need to be thinking about.
The grand unveiling of the six boxes that were painted will be held on June 14 in conjunction with the 2nd Fridays Art Walk  from 5 to 8 p.m. The boxes are located in the city's downtown corridor and transit center.
The 2019 San Rafael Leadership Institute started the utility box project as a way to bring more art to downtown San Rafael. The institute is a San Rafael Chamber of Commerce program made up of public and private professionals, nonprofit leaders and business officials.
Youth in Arts is excited to announce the opening of our new ART LAB at the YIA Gallery.
Located in the gallery's store, the ART LAB is open during regular Youth in Arts hours  – Monday through Friday, 11 a.m. to 4 p.m., and until 8pm during Downtown San Rafael's 2nd Friday Art Walks. It's free and open to the public for art-making activities linked to YIA exhibitions.
"In keeping with our mission of providing arts access to all learners, Youth in Arts is opening its doors to the community to explore its creativity," said Miko Lee, executive director of Youth in Arts. "We're providing free, hands-on art projects for all ages."
Children will enjoy kid-sized tables where they can make art and explore materials. Each exhibition will also feature the artwork of one of Youth in Arts' Mentor Artists. All artwork on view in the space will be for sale, with a portion of the proceeds benefiting Youth in Arts.
Suzanne Joyal's work is currently featured and coincides with Imagining Friendship the Walker Rezaian Creative HeArts exhibition of self portraits by kindergarteners and first graders from Laurel Dell Elementary School in San Rafael. The colorful paintings were created during their Fall residency with Youth in Arts. As part of the exhibit, Youth in Arts' staff have created a kid-sized interactive cardboard world with doors, tunnels and windows for exploring.
Both children and adults are welcome, but we kindly ask that all children be accompanied and supervised by their grownups.
Please come and visit us soon. Just look for our bright red wall!
On January 24, the Marin IJ published an article written by fifth graders working with Shirl Buss, YIA Mentor Architect and educator with UC Berkeley's Y-PLAN.
On Thursday night, Laurel Dell hosted a Family Art Night for second and third-graders. Families were able to visit the gallery of works created over the Fall, and to participate in a hands-on art-making experience.
YIA Mentor Artists Cathy Bowman and Suzanne Joyal asked students and families to respond the IJ story: What do YOU want for San Rafael's future? What important words can you read? Circle them. Now, choose the MOST important word, and turn it into a piece of art that fills your whole page.
Each student and family member found a word in the article that was important to them, and turned it into one of the mini-artworks you find here.
Lastly, we glued all of the pieces together into this one cohesive collage.
The students ranged in age from TK (PATHS), to third grade (ELECTRIC from a kid who says he doesn't feel safe walking in his neighborhood at night). We saw parents translating for each other, children reading to their parents, and even tiny little pre-readers able to pick out letters and begin their journey to reading.
Here is a link to a member of the community in Fairfax who wrote a letter to the MarinIJ entitled:  "Inspired by Youngsters ideas on Sea-Level Rise".
Thank you California Arts Council for your generous support!
Fifth graders at Laurel Dell Elementary School have written an opinion piece for the Marin IJ based on their residency with Youth in Arts. Impressed by the students' focus and hard work during a 12-week residency, architect Shirl Buss extended the learning by mentoring the students as they wrote their piece. In the end, it was the students' own words.
Youth in Arts partnered with UC Berkeley's Y- PLAN (Youth – Plan, Learn, Act, Now) to create an innovative program exploring the connection between art and architecture. We worked with fourth and fifth graders at the school.
"We wrote this newspaper column so we could get people's attention, so they can listen to our ideas," the fifth graders wrote. The piece was written by students Kim Mandujano, Gerardo Valencia, Genesis Perez and Janely Mendieta.
The artists described what they think San Rafael should look like in the future. They hope officials working on San Rafael's 2040 General Plan will take their advice seriously for dealing with issues like sea-level rise, flooding, safety, housing and other concerns.
Laurel Dell teacher Marc Belmont said working with Buss and the Youth in Arts residency was a great experience.
"Thank you for working with the students. They love you and enjoyed every second with you," Belmont wrote to Buss. "They were so happy and proud when we read the article in class. Wish you could've seen their pride and smiles on their faces."
Read more about what the students had to say here.
or check it out here:
Thank you to UC Berkeley's Y-PLAN and the California Arts Council for helping to make this possible.
For our final project at Laurel Dell Elementary School, kindergarteners and first graders played with clay. Working with Sculpey builds strong fine motor skills, since the hard clay has to be softened by warm hands. Students used a maquette, a small model made of pipe cleaners as a structure, then built their clay creatures around it. We then tested beads for size, choosing the ones that fit to slide onto arms and legs. It was a challenge to squeeze the clay tightly around the form. Many students got quite creative with their people! We baked the clay to make it hard and more permanent.
Third Graders at Laurel Dell Elementary School spent three afternoons making comics!  They based their stories on super heroes they designed and created. Each superhero had a special power they used to address a problem in their community. One wolf character breathed fire to light up dark places; another had special hands to help pick up trash. They learned about making speech bubbles, thought bubbles, and background, foreground and middle ground. They also practiced drawing characters in profile so they faced each other while talking. One challenge was drawing characters in profile instead of facing forward. This was a great exercise in practicing that a story has a beginning, middle and end. And something exciting happens! We used a worksheet with question prompt to help the process along.
After making their rough sketches, students copied their best lines onto Bristol board – popular for its smooth, shiny, durable surface. They used special cartooning pens for the final inking. Finally those who had time and interest added color using colored pencils.
Students began thinking about Super Heroes several weeks ago working with Ms. Bowman. They talked about what makes a super hero, what is a problem in our community that a super hero could help solve, and what would that look like? They made beautiful pop up images of their heroes.
Now we are getting ready to create 3D sculptures of our super heroes! We need to know a little more about the human body, and how to show bodies in motion or performing their power. What does running look like? Swimming? Flying? Each student had a turn at showing their super hero pose, while the rest of the class artists practiced using their entire arm to draw FAST (30 seconds per pose).
Next we created a wire "skeleton" or armature. We practiced winding wire, then wrapping our armatures in foil. Students ended the day by drawing their works-in-progress in their art journals. Next week will be Papier Mache!
Thank you for your continued support: Laurel Dell PTA teachers, parents and students and the California Arts Council
By Architect and Educator Janine Lovejoy Wilford
When we meet in the architecture class, Ms. McCarthy's fifth-grade students become an amazingly creative "office of architects" as we call ourselves.  The last two weeks, they worked on building models showing the connection between inside and out, and the importance of entrance.  Building on their geosphere studies, we discussed different door types and how the climate can affect the decision of placement and form.
First, they shaped "the client" using a pipe-cleaner.  This way they had a scale for their project and entrance.  From a flat piece of paper, they designed the door, cut it out so it would swing in the direction they designed, and added windows and other details on the façade using pens and white pencils.  Then, they folded their flat sheet and using glue, create a 3D model of a partial house, adding interiors and exterior details using recycled caps and other materials.   Afterwards, they measuredand drew a floor plan, to scale, of the walls and door of their model.  The focus on this part of the project was the process of seeing and drawing (observational drawing), a skill that is valuable to all (not just artists and architects!), in my opinion.  This drawing task was challenging for some students, but in the end they all completed thoughtful projects with determination and pride.
With all the models and plans in a row, we discussed the designs, and what are good attributes of a neighborhood.  This will lead us into the next week's section; mapping and community assets of San Rafael, as we prepare for the "Real World" challenge of envisioning the future growth for San Rafael in 2040.
Thank you so much for your support: Laurel Dell PTA, teachers and students, UC Berkeley's Y-PLAN, Janine Lovejoy Wilford, and the California Arts Council
« Newer Entries
Older Entries »