Before we can build our playgrounds, we must design the ground. How do we move on a playground? How do we play? We looked at examples of playgrounds and paths, and then created our own. We used foam core for the base, drew our designs with colored pencils.
We used small plastic animals, with their feet dipped in paint, to create the paths that we make as we play.
Young artists at Laurel Dell School began their line research today. We began by using our eyes, arms, imaginations, and even our whole body to SHOW the lines we could see or imagine.We painted more lines using tempera cakes and thick and thin brushes.
Next we used our black china markers to draw the different lines we could see or imagine.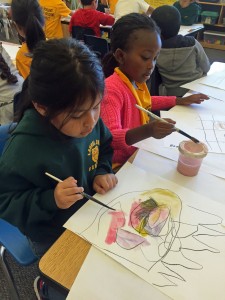 We're off to a strong start in the T-K and Kindergarten classrooms at Laurel Dell Elementary school, 2015-2016 recipients of the Walker Rezaian Creative HeArts Award.
Students have been working with Mentor Artist Suzanne Joyal, learning to use drawing pencils, black china markers, colored pencils, and even Sharpies. They have been working on showing and telling more about themselves through their pictures, and on customizing their Beautiful New Art Journals. Thank you RileyStreet yet again for your help in getting the best supplies to our kids.
By Mentor Artist Gabrielle Gamboa
Note: Carnivale costume pieces created by Mentor Artist Gabrielle Gamboa's students at Laurel Dell will be part of a special exhibit on Carnivale traditions around the world at YIA Gallery from February 14 through the end of March. The pieces will then be used back at the school in a dance festival celebration students are preparing with Mentor Artist Djenane St. Juste. Visit in February and March to see all this vivid and creative student work in person!
The last few weeks of my residency at Laurel Dell have been a whirlwind of activity. Each class' costume is built around their crew theme: suns & moons, garden bugs, cats & dogs, candy, birds, ocean fish, or the rainforest. We used a variety of techniques to complete our headdresses, capes, vests, and masks, such as cut or torn paper, paper mache, paint, layered colored pencil, and mixed media assemblage using recycled materials.
We have started our 8-week visual arts unit at Laurel Dell Elementary, during which we are making Carnival costumes and learning about Carnival traditions around the world. Each class is a "crew" or a "band," and the students chose their own crew themes. All the costumes will be made from some form of paper, and include found and recycled materials. Some crews are making masks of various kinds, and others are making headdresses, and also paper capes or vests.
Kindergarten and 1st grade students at Short School worked with Mentor Artist Angela Baker and assistant Gracie Von Glasenapp to create a mixed media mural. Over the course of 10 weeks students worked with a variety of art media such as sharpie markers, tempera paints, watercolor and collage to explore ideas of family and neighborhood. They also developed art making skills that would contribute to the creation of a 4'X8′ collage and watercolor mural of the neighborhood surrounding Short School.
Students began by sketching family portraits which were painted in tempera paint.
Read more…