Welcome to the`Til Dawn 2019-20 company.
The new singers attend schools throughout Marin, from Larkspur to Novato and bring a variety of expertise and interests.
"I sing when I wake up and I sing until I go to sleep," said new member Leah Nemerovski. "I don't find passion in anything else."
Current 'Til Dawn members are already practicing and putting their musical experience to use. Nemerovski plays the trombone, piano, drums, ukelele and enjoys musical theater. She became interested in 'Til Dawn when she saw them perform  at her middle school. She was surprised how easily she connected with other members of the group.
Nemerovski, and Alisa Costello, both 14, attend San Marin High School in Novato. One of the things they enjoy is the closeness of the group.
"It's like a family," Costello said.
For the newest members, music runs in the family. Costello's uncle was an opera singer who performed at Carnegie Hall; Nemerovski is learning how to play the drums from her dad. Will Ferris's mom is a singer, and Jacquie Kizer has two uncles who are musicians. Emma Orrick's father is a music producer.
Kizer, 15, goes to Redwood High School. Kizer moved to Marin from New York last year and previously sung in a similar group. Being in the group, she said, provides a safe space and an environment in which to have fun.
"It's honestly been amazing," she said.
Orrick, 14, is also at Redwood. and plays the piano and does theater. She was surprised by how quickly the group learns the songs.
"It's always my highlight of the week," she said. "It doesn't feel like a chore."
Ferris, 15, is a sophomore at Drake High School. He didn't think he'd get into the group, he said, because he couldn't figure out what to sing. He chose his winning song –"Fly Me To The Moon" – on the day of the audition.
Ferris said he enjoys performing all of the songs, although some are difficult because they are beyond his tenor range. The songs that are performed are chosen by the ensemble.
"I think it's great," he said. "I think it's really healthy for the group."
`Til Dawn is an advanced vocal music program that celebrates the value of the arts, encourages positive messages about meaningful social issues and inspires children of all ages. The 15-member ensemble is part of Youth in Arts' I AM mentorship program and the longest-running, year-round teen a cappella ensemble in the Bay Area. It's directed by Austin Willacy, who performs as a solo artist and also with his own a cappella group, The House Jacks. While Willacy is on sabbatical this fall,  the group has been taught by singer Lilan Kane. a 'Til Dawn alumnus, and others.
A cappella music filled the Osher Marin JCC on December 27th as 17 current 'Til Dawn members and more than 40 alumni (Still Dawn) took the stage to perform for 140 guests at this year's SING OUT! Alums Matt Herrero and Lilan Kane headlined this year's concert, which raised over $6,000 for 'Til Dawn Scholarships, our biggest most successful SING OUT to date! The event started at 8pm, and 'Til Dawn & Still Dawn were still singing songs from their repertoire at 10:30. What a fun evening!
We were also excited that our generous audience helped us "make to to 2019″ by donating or pledging $2019 in honor of the new year–thank you so much to all who made this possible.
This year, 'Til Dawn alum James Barton designed a "Fillmore-style" concert poster to sell at the event. Thanks to our generous poster sponsors, The Herrero Family and Black Cat Studio for helping us raise more scholarship funds.
Drinks, dessert and raffle proceeds also went to support scholarships. Thank you to our wonderful food and beverage sponsors:
Sophie James Winery
Lagunitas Brewery
YIA Board Treasurer, Tim Distler
Montagne Russe Wines
Marin Kombucha
Trader Joe's
Johnny's Doughnuts
Arizmendi Bakery
United Market
Youth in Arts is able to offer up to 100% scholarship aid to any student who passes the audition process, thanks to generous donors like these. You can still DONATE to support the scholarship fund or text SING to 41444.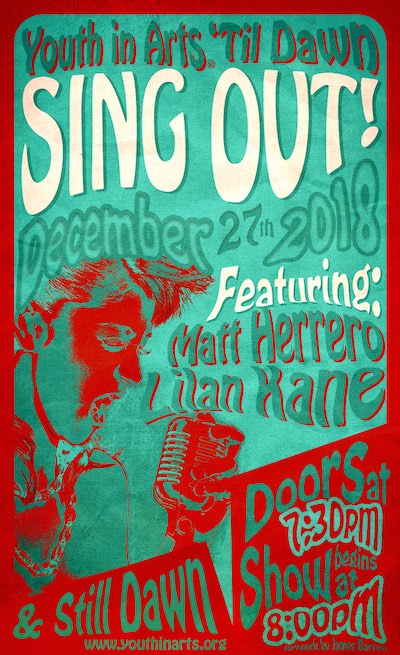 'Til Dawn alum James Barton designed this year's Sing Out! Poster, which will is still available for sale at Youth in Arts! It was unveiled at the 'Til Dawn performance Thursday at the Osher Marin JCC.
Barton, 21, is now a junior at UCLA. He said he created the poster, in shades of turquoise and reds, in the Fillmore style of art, using Photoshop.
"I sort of just went with that style," he said.
Barton was in 'Til Dawn for three years while a high school student at Marin Catholic High School. He now studies molecular biology.
Art "really provides an outlet for creative expression," he said. "Graphic design is definitely one of my passions."
Barton has fond memories of being a part of 'Til Dawn and was happy to help out. The poster was sponsored by the Herrero family and Black Cat Studio.
"I don't think I would have had the high school experience that I had without 'Til Dawn," he said. "It was such a support system."
Current and former 'Til Dawn members performed Thursday at Youth In Arts' Sing Out! at the Osher Marin JCC in San Rafael.
'Til Dawn alumni Matt Herrero is one of the featured performers at Youth In Arts' spectacular Sing Out! event on Thursday — and he's busy polishing several original songs.
Herrero, 23, a multi-instrumentalist composer, creator and performer who spent four years with Youth In Arts' wonderful 'Til Dawn a cappella troupe, now performs professionally. He credits 'Til Dawn with helping to get it all started.
"It was the most musically rigorous group I'd ever been a part of," he said. "It gave me a family outside of high school that I bonded to way more than with anyone else. They taught me how to make music with people."
Herrero, who attended Marin Academy and graduated from Stanford University last year, is a storyteller who is amazing on the acoustic guitar. He said a friend described his music "as if Justin Timberlake wrote campfire songs."
Joining Herrero on stage will be fellow alum Lilan Kane. She'll be playing with her guitarist, James Harman.
Kane, 33, is looking forward to singing jazz and R & B influenced pop tunes.  Kane, a graduate of Novato High and the Berklee College of Music in Boston, credits 'Til Dawn with helping to set her on the path to performing.
"The community that it gave me … came at a time in my life that really saved me," she said.
Being in the troupe also made her want to teach. Many of her former students, she said, are now 'Til Dawn members.
'Til Dawn made up of local high school students in Marin County. They are led by renowned director Austin Willacy. Both current `Til Dawn high school troupe members and alum called "Still Dawn" will perform Thursday.
The show starts at 8 p.m. at the Osher Marin JCC in San Rafael. Tables are $250; Adults are $35 and youth are $25. Tickets can be purchased here.
`Til Dawn Alum Lilan Kane's has been passing on the musical traditions in both her  Own the Mic program and in a Palo Alto based summer camp for budding musicians.
Check out the video from this past summer. I Feel Good
This was featured at Palo Alto Summer Rock Camp 2011.  Lilan has been teaching there the past three summers and this summer served as Assistant Director.  There were about 30 kids each week through the month of July.  The camp runs weekly and culminates with a concert on Friday night.  They work in  ensembles and prepare 3-4 songs to perform on Friday.  Lilan taught all the parts (horns, guitar, keys, drums, vocals).  They also hold rhythm class, ear training, theory, as well as instrument classes where students can focus on their specific instrument outside of their band.
As Lilan says, "It's really an awesome experience and has become extremely popular with kids returning every summer, some for 5 or 6 years now. "