How can you develop a classroom that inspires students to be confident, compassionate, and creative? Special Day Classroom teachers from across the county spent the day with Youth in Arts exploring adaptive painting tools, learning to make accordion books from recycled file folders,  practicing the Brain Dance in countless ways, looking at learning styles through the lens of strength, and Making Learning Visible and more.
Of course we moved, as we explored the brain dance, embodying vocabulary words, strategies for engaging reluctant participants, and even engaging the brain through doodling.
Making Learning Visible (from Harvard's Project Zero) is a great way to visualize learning, understanding, and next steps.
Gallery Walks (on any subject or body of work) encourage thoughtfulness, deeper thinking, reflection, and patience.
Through the California Department of Education's Student Support and Academic Enrichment (SSAE) grant that the Marin County Office of Education received, Youth in Arts was in multiple Special Day Classes this spring.
Exploring the local creek and designing their own natural playgrounds, creating songs about protecting the world, discovering the details in individual leaves and creating posters, learning vocabulary through dance games, using sculptures to explore science. These are some of the new experiences that teachers led summer school students through at the University Prep Summer School.
Teachers attended the Marin County Office of Education and Youth in Arts' recent STEAM workshop and put their learning into practice to make their own art-infused program at Lu Sutton Elementary School in Novato.
Earlier this month, Youth in Arts joined the Marin County Office of Education and a team of educators and experts to conduct a workshop on STEAM learning.  K-12 teachers were asked to rethink how they could teach the California Environmental Principles and Concepts.
Lisa Heslip, principal of the summer school program at Lu Sutton,  said students were happy, well behaved and engaged. Students made a giant "Making Learning Visible" paper wall documenting their learning that was posted in the courtyard of the school. The 1st through 5th grade students focused on the environment, looking at everything from how animals and people interact to their own carbon footprint.
Among other things, students considered the eyeball of a cow, putting the contents in a plastic bag, labeling the optic nerve, cornea and other parts, and taping the ball to the wall. "I wonder where tears come from?" pondered a student. Lower grade levels looked at creating sustainable playgrounds.
Heslip took photos and posted them on the wall, and students added their own drawings and Post It notes with questions and observations.
"They stop at it all the time," Heslip said. "It represents them. It's not teacher created at all."
Summer schools teachers also had intensive coaching by members of Agency By Design Oakland, who helped them with curriculum planning and were present during classroom teaching, Heslip said.
"When you think of English Language (Learners), it's getting them to talk and express their ideas … giving them the opportunity to use academic language," Heslip said. "What better way to do it than with a hands on activity?"
Preliminary research shows an increase in student summer school attendance (100% this year!) Teachers say they felt "inspired" and "reinvigorated" to go back into the classroom with these new tools.
Thank you to the California Department of Education's Student Support and Academic Enrichment (SSAE) grant, Marin County Office of Education and Marin Community Foundation for helping to make this work possible.

(By Paris Dowd, intern. This was her first attempt at designing an art lesson for the classrooms. It was a huge success!)
"This week we introduced the TK and kindergarteners at Laurel Dell to oil pastels. The kids worked together in groups, sharing the paper and the materials (including the pastels, baby oil and sponges for blending and sticks for scratching a drawing on the surface of the color). The goal was to color the large pieces of paper covering the tables while learning to blend and experiment using the new medium. Students were given shades of green, yellow, blue and white pastels to work with and asked to create as many new colors as possible.
After working in this way with the pastels, I observed a few of the kids switching to using colored pencils to draw and scribble with overlapping lines in their personal art journals.  It seemed that the kids were excited to continue exploring blending techniques across a range of mediums."
(Paris is an intern working with the students at Laurel Dell to create process books using the Making Learning Visible (MLV) technique out of Harvard School of Education's Project Zero. Each week Paris shows students pictures of themselves at work, and asks them to reflect on their art: what they learned, how they helped others, what was challenging, and more. MLV makes reflecting, writing, speaking, and collaborating so easy for even the youngest learners.)
In the sphere of arts education, Making Learning Visible is a "buzz" phrase.
What kind of organization is needed to make it manageable?
How can I take the ideas behind MLV and make them my own?
All of these questions came up earlier this week at the Wednesday Arts PD for the middle school teachers in the SMCSD.
Visual documentation of a chosen unit is a vital way for the students to recognize how they traveled from one end of a project to another.
Documentation is a terrific form of assessment for a teacher; allowing him/her to step back and reflect on what really happened.
Visual documentation is also a catalyst to inspire excitement about learning within the school community.
Ascha Drake and Arlene Shmaeff showed the teachers several possible ways to visually show a unit unfolding.
What was the essential question?
What were some curricular goals? What were some artistic goals?
Get into the rhythm of photographing students working and exploring and experimenting.
Archive written reflections and save any process work.
Making Learning Visible is essentially telling a story, and leading the viewer along the footprints of thinking and learning.
In our PD sessions, teachers shared work and ideas.
They visited one another's classrooms, and explored ways to make the process of documenting manageable.
And they continue to reinforce a sense of community and respect as colleagues and educators.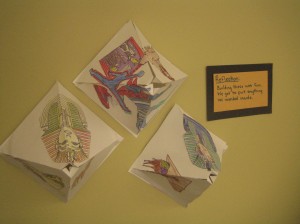 As the year continues we will continue the conversation, and teachers have talked about being inspired to make the learning in the classrooms come alive through documentation panels.