Exploring the local creek and designing their own natural playgrounds, creating songs about protecting the world, discovering the details in individual leaves and creating posters, learning vocabulary through dance games, using sculptures to explore science. These are some of the new experiences that teachers led summer school students through at the University Prep Summer School.
Teachers attended the Marin County Office of Education and Youth in Arts' recent STEAM workshop and put their learning into practice to make their own art-infused program at Lu Sutton Elementary School in Novato.
Earlier this month, Youth in Arts joined the Marin County Office of Education and a team of educators and experts to conduct a workshop on STEAM learning.  K-12 teachers were asked to rethink how they could teach the California Environmental Principles and Concepts.
Lisa Heslip, principal of the summer school program at Lu Sutton,  said students were happy, well behaved and engaged. Students made a giant "Making Learning Visible" paper wall documenting their learning that was posted in the courtyard of the school. The 1st through 5th grade students focused on the environment, looking at everything from how animals and people interact to their own carbon footprint.
Among other things, students considered the eyeball of a cow, putting the contents in a plastic bag, labeling the optic nerve, cornea and other parts, and taping the ball to the wall. "I wonder where tears come from?" pondered a student. Lower grade levels looked at creating sustainable playgrounds.
Heslip took photos and posted them on the wall, and students added their own drawings and Post It notes with questions and observations.
"They stop at it all the time," Heslip said. "It represents them. It's not teacher created at all."
Summer schools teachers also had intensive coaching by members of Agency By Design Oakland, who helped them with curriculum planning and were present during classroom teaching, Heslip said.
"When you think of English Language (Learners), it's getting them to talk and express their ideas … giving them the opportunity to use academic language," Heslip said. "What better way to do it than with a hands on activity?"
Preliminary research shows an increase in student summer school attendance (100% this year!) Teachers say they felt "inspired" and "reinvigorated" to go back into the classroom with these new tools.
Thank you to the California Department of Education's Student Support and Academic Enrichment (SSAE) grant, Marin County Office of Education and Marin Community Foundation for helping to make this work possible.

More than eighty community leaders, educators, students, and Youth in Arts supporters came out to celebrate Arts in Education Month at the YIA Gallery last Friday, March 8th. Youth in Arts and the Marin County Office of Education co-hosted the event, which was centered around introducing attendees to the 2018-2019 Marin Arts Education Plan. There was lots of positive feedback, and seemed to be buzz building around the movement in Marin to improve arts access for ALL learners.
Visitors were also able to enjoy the wonderful artwork from our RISING STARS High School art exhibition, on view through March 29th. The "Best Of" show and category winners (drawing, mixed media, painting, photography, and sculpture), were also encouraged to attend the event to receive another amazing prize to commemorate their accomplishment. College of Marin kindly awarded each of the 6 students a full semester scholarship! The lovely Lauren Smart was on hand to receive her award letter, and was photographed alongside her beautiful charcoal, pen and graphite drawing of her grandfather, entitled Evolution of Life. Lauren, a senior at Redwood High School, plans to attend San Jose State in the fall, and is excited to take some summer art classes at College of Marin. Thank you College of Marin for supporting our young artists!
Youth in Arts has been working with the Marin County Office of Education to design a series of integrated arts lesson plans to help elementary school teachers implement their NGSS science standards. Miko Lee, Suzanne Joyal and Julia James have worked with more than 100 of elementary school teachers to introduce them to the lessons. Now, we are taking them into more classrooms. Please contact Suzanne Joyal at suzanne@youthinarts.org for more information on the lessons.
After 10 weeks of art with Mentor Artist Suzanne Joyal, Mindy Green's second graders at Laurel Dell Elementary applied their newly-acquired drawing and observation skills to the investigation of tulips to connect to their science unit. Students used magnifying glasses to observe their flower and then draw it, then very carefully took their flowers apart and illustrated every piece of the flower as they explored.
Students saved their discoveries inside of envelopes, and added diagrams of their finds to each envelope. They then combined all of the parts to make a study book of flower parts.
Next week students will demonstrate their knowledge as they design their own flowers–making sure that each flower has the right parts, and thinking about where their flower will grow, who will be attracted to its pollen and nectar.
Thank you very much to the California Arts Council, and the Laurel Dell PTA for their very generous support of the arts in Laurel Dell.
On June 13 and 14th Youth in Arts staff Suzanne Joyal and Miko Lee trained 60 self identified STEM (Science Technology Engineering and Math) teachers from the Marin County Office of Education on how to incorporate the ARTS into their curriculum. Teachers met in hour long grade level groups. They were led through a group brainstorm of their particular topic. They were then shown an example of a finished project and then led through the exercise which was connected to to address a grade level performance expectation. At the end of each session there was a gallery display and discussion utilizing Visual Thinking Strategies which are also employed by the STEM teachers. They were provided with lesson plans that note the links to the Next Generation Science Standard, the National Art Standard and Youth in Arts own Creative Expression standard.
Thank you for contributing your strengths in the arts to make this workshop meaningful and engaging for the participants. The teachers shared how they plan to use these art lessons with their students and how much they appreciated seeing how art can deepen student understanding in science.–Christina Lunde and Eileen Smith, Marin Next Generation Collaborative
For information on how you can book this professional development for your school site click here, where a link to lesson plans can also be found.
Please check out the attached photo gallery to see the work in action. Thanks to Christina Lunde for some of the photos.
YIA Mentor Artist Hannah Dworkin
Brain Dance at Marindale Early Intervention

"I FEEL my brain getting smarter!  I feel my head getting bigger!" "B" from Meriam Granger's pre-K language immersion class after her third session with "Brain Dance."
Brain Dance was developed by   Anne Green Gilbert,  and it is comprised of eight types of movements based on the developmental stages of a baby goes through during the first year of life. The steps are: Breath, Tactile, Core-Distal, head-tail, upper-lower, body side, cross lateral and vestibular. There has been quite a few encouraging studies  about the use of Brain Dance with students of all ages.  I have been using it in variations in my VSA classes this year. Each of my classes have very different ability levels, and I found myself adjusting it to fit each scenario. Below are ways in which I found it most effective.
Class of autistic students age 3-5:
This group thrives on routine, so the key to having brain dance work with this class was to introduce it early in the 10 week residency and practicing it daily.  I gave the steps to the teacher, and she made sure to reinforce the movement.
Class of students with limited mobility:
This class was challenging because they were not able to move their bodies enough to participate in brain dance, so we all, classroom teacher and aides included,  were very hands on.  We helped them manipulate their limbs and as needed, and listened to gleeful shouts when we spun their wheel chairs at the final stage of the dance.
Class of language delayed preschoolers:
There were two important things to keep in mind with this group. First, they were very young, so keeping the pace up was essential.  I also used high energy, fun music to keep them engaged.  I also needed to be very clear with the language I used.  I needed to keep in mind that they needed me to use simple vocabulary to describe and demonstrate each movement.
YIA Mentor Artist Hannah Dworkin
Thank you to the Marin Community Foundation for their generous support of this and all of our programs serving students of different abilites!
This was my sixth year teaching Music and Movement in Youth in Arts' VSA program, and I was lucky enough to be assigned to work with four amazing teachers, Rockne Beeman, Laura Becker, Meriam Grainer Cox and Jessica Leaper.  We had a wonderful time singing, dancing, playing and learning.
Rockne Beeman's class of upper elementary students were a challenging  joy to teach. He has a class of students with a variety of behaviors and levels of engagement.  Some students would fully participate and sit in the circle and others would listen from different parts of the room.  What was most facinating this year was that the students who had worked with me previously would suddenly focus and fully participate when they heard specific familiar songs.  One such song was A Rig-a-Jig, a song that requires students to dance with a teacher and/or myself.  Their favorite song by far was "Goin on a Bear Hunt," where we would practice phonemes that are difficult for the students while we marched around and dance.
Another discovery was that certain students who had previously been non-verbal are now speaking and even singing.  The photo below shows one of these students singing his favorite "penny game" song.
Laura Becker and Carla Victoria's elementary special day classes were combined for a wonderfully large group every week.  They accomplished a great deal over the course of ten weeks. The biggest challenge with these two groups was the fact that their abilities were so vastly different.  Laura's students need a great deal of assistance physically.  All were in wheel chairs or other supportive devises and were not able to move on their own.  Carla's class was very active and needed to be constantly stimulated or they would lose focus.  The best strategy I found for working with these two classes was to pair Carla's most active students with Laura's most inactive.  They became "helpers" and danced and sang to the students who did not have the ability to participate in that way.
Meriam Grainge-Cox's students were the most high functioning of my groups this year and they were able to perform quite complicated musical phrases despite the fact that they were 3 and 4 year olds.  My focus with this group was to create a class where they could learn to be autonomous and run as much of the class as possible. This was very successful, and the last day of class was almost completely run by the young students
Jessica Leaper's class was incredibly fun.  They absolutely loved singing train songs and their favorite activity was dancing to Greg and Steve's Choo Choo. There are a number of autistic students in this class, so I focused primarily on creating a clear routine over the course of the first couple weeks. As they grew more comfortable with the progression of the class. I was able to add more complex music and movement problems for them to solve.  By the end of the 10 weeks the class was at a point of running most of the activities themselves.
All in all it was a fantastic school year, and each of these classes and their teachers made it an exciting experience.
YIA Mentor Artist Hannah Dworkin
As the school year approaches, we are getting ready to provide amazing arts opportunities for students of varied abilities through our VSA arts program (Vision, Strength, Accessibility!). Once again, as for the past 30 years, Youth in Arts is working with the Marin County Office of Education to provide arts classes in 30 Special Day Classrooms around Marin. Mentor Artist Rachael Bouch-Dimondstein's work at Vallecito Elementary is an outstanding example of the beauty created in a classroom when arts are incorporated: Read more…
If you walk down the halls of Terra Linda High school on a Tuesday morning, you may just hear the sounds of a Tabla, Doumbek, shakers and tamborines playing joyful beats accompanied by the gleeful cheers of students in Rachel Hughes Special Day Class.  YIA Mentor Artists William Rossel and Nydia Gonzalez have been working with students for 10 weeks, practicing a variety of basic rhythms and swaying movements which they will present for attending family and friends in a few weeks.
Every student in this class has enjoyed the activities, finding the one that brings them the most joy:
Gihea rocks out to the beat with her upbeat movements, waving her scarves and showing off her moves.
Brian loves to dance with the "friend of the day" (usually a soft stuffy that Nydia brings in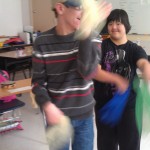 to assist with engagement and focus), and his twin brother Neil loves to play percussion instruments on the peripheral of the classroom.
Maria eagerly awaits the moment in which she can sway her hips to the rhythms in a fluid movement while waving the scarves and smiling.
Demelza always insists she is too shy to do her "solo", but ends up breaking out her special choreography that usually includes some serious hip shaking and the "genie" move, named by a classmate from last year.
Savannah loves to play along to the beat and when she does her solo dance, she smiles and giggles with contagious joy.
Graham, has limited fine motor skills, but always waves his arms in rhythm and shares the biggest smile when it is his turn to shine.
Alessandra absolutely LOVES to help us keep count of the rhythms and her signature dance move is a spin.
Needless to say, we have a blast playing music and dancing with this talented and enthusiastic group of students.  Thank you to the teacher Rachel Hughes and all of the para-educators and aides who are so loving, supportive and willing to get down with our groves at Terra Linda High School!!
[nggallery id=19]