Students at Oak Hill students explored themselves by making different lines.
Working with Mentor Artist Cathy Bowman, they used black and white pastels on a beautiful brown paper. We looked at thick lines and thin lines, curvy lines and bumpy lines. Some artists worked precisely and methodically and made only straight lines; others used only curves and made spontaneous marks everywhere.
When we finished, we laid the work on a table and talked about connections.
At the next session, we looked at the portraits and then made different portraits using water soluble Lyra graphic crayons and white pastels. Students made more lines and shapes, then activated the pencil lines by tracing them with a paintbrush dipped in water. It was fun to look at the two portraits together.
"This is another example of how we scaffold," Cathy said. "It builds confidence in artists when they can practice a familiar subject with new materials."
Cathy is at Oak Hill as part of Youth in Arts' Arts Unite Us program, which supports students experiencing disabilities.
Students at Olive Elementary School found an interesting way to make prints. They used their hands.
Working with Youth in Arts Mentor Artist Cathy Bowman, students in Joe Smith's class began by creating small collages using at least five torn pieces of colorful paper. They arranged the composition first, then glued them flat onto mat board.
That's when the real the fun began. Using black printer's ink, students took turns rolling out the ink, listening for the "sticky" or "tacky" sound that indicated it was ready. Using the sides of their palms, their fingertips and other parts, they created self portraits.
Cathy likes to show students that a self portrait doesn't have to be a realistic image of your face. Just as Van Gogh painted his shoes, young artists can show themselves through a painting of an object or image – or choosing what part of their hands to use for a print tool.
Cathy taught the same class at San Ramon Elementary School with Kelsey Olson. This project engaged many important skills, from rolling out the paint to tearing the collage papers into manageable pieces. For young artists in our Arts Unite Us program, which supports artists experiencing disabilities, these can be crucial skills to master.
While rolling out the thick black ink, one student sighed happily.
"I could do this all day," she said.
How can you turn a colorful collage into a painting of blacks, whites and grays?
Students in Kelsey Olson's class at San Ramon Elementary School used their collages from a previous class as inspiration for paintings that explored tints and shades.
Working with Mentor Artist Cathy Bowman, the young artists started with a plastic slide (view finder) to choose a tiny detail of their collage that they wanted to enlarge and turn into another painting.
After making a quick sketch, they worked with white and black paints on mat board. Some students made sure to keep the light areas light by using a little bit of white pastel, too.
In making the paintings, we had to look carefully. Which part is the darkest? Which part is the lightest? How do we mix white and black together to show a range of tints and shades?
"I wasn't sure if they would find black and white paint boring, but they all liked it," Cathy said. "It's amazing what a variety of tints and shades students created."
Class ended with students looking at the ways their own work connected to that of their classmates. It was good practice to talk about what we "see" instead of what we "like" and the value of giving precise, neutral feedback to each other.
How do you learn how to mix color? By dipping your brush in different paints over and over. Why should we teach students to mix colors? This is the beginning of STEAM for students: they practice the Engineering Design Cycle when they learn to mix colors: Ask, Imagine, Plan, Create, Improve (which means repeat).
Students in Katie Kelly's class at Olive Elementary School in Novato practiced color mixing while making paintings of sculptures they had already created. The students are working with Mentor Artist Cathy Bowman through our Arts Unite Us (AUU) program. Through AUU, YIA is the only provider of arts education programming to many students experiencing disabilities in Marin County.
It was fun to look at the black and white sculptures and transform them into vibrant, colorful paintings. We made beautiful secondary colors and learned that if we mixed everything together, we ended up with a muddy brown!
Color mixing is something you can only learn by doing. We practiced the basics –  red and yellow make orange, blue and yellow make green, and red and blue make purple. But through experimentation we learned that we could make myriad shades of oranges, greens and purples by adjusting how much red, yellow, or blue we used.
Students looked carefully at the shapes they had used in their sculptures and repeated them in their paintings. On some, the shapes were quite clear, while on others, the shapes were hiding under more freeform lines.
At the end of class we put our work together and talked about what connections we could see in the shapes, colors and lines that we used. It was interesting to see that even though we used the same paint, the way we made our marks was unique.
Art making can happen many ways. Whenever possible, Youth in Arts visual art teachers like to work in small groups to give young artists more time and attention. Sometimes the rest of the class is doing academic work, on worksheets or an iPad. Occasionally we run an informal art center, where students can freely explore materials they will be using later in class with their Youth in Arts teaching artist.
Mentor Artist Cathy Bowman worked recently with several students at Oak Hill School in San Anselmo through our Arts Unite Us program, which supports students experiencing disabilities. As she started with a few students, teacher Nicole Albert asked if the rest of the class could make some collaborative art. Nicole covered the table with white butcher paper, and Cathy set out some of the pastels she would be using for her lesson a few minutes later.
Students were encouraged to explore making all kinds of marks, and each picture told a story. Some students got to practice their fine motor skills by cutting out cats, human-like figures and other shapes they had drawn.
After a quick hand wash, students visited Cathy at a different table. They made textured quilts on mat boards, pressing different colored shapes and textures onto a sheet of sticky shelf paper. They used the pastels to trace around each shape, practicing hand-eye coordination. Finally they applied magic gold foil they left a shiny imprint on their art when they pulled it off. All the pressing, rubbing, scratching and lifting helps strengthen the hand muscles that are needed for writing, cutting and other duties. And using pastels twice made the artists more confident. Scaffolding lessons is built into our lessons so students can build on skills learned from week to week. Even an art center can be linked to a lesson so that it supports the lesson being taught that day.
You can see art created by these very talented students this summer at our annual "Outside the Lines" art exhibit at the Youth in Arts Gallery.
Students at Olive Elementary School explored shapes recently in a sculpture project that involved using common geometric forms: a sphere or circle, a square, a rectangle, a diamond and a triangle.
The young artists are part of Katie Kelly's class receiving a 10-week Youth in Arts' residency with Mentor Artist Cathy Bowman. The residency is part of Youth in Arts' Arts Unite Us program, which works with young artists experiencing disabilities.
The children named the shapes made of foam core scraps and selected at least one of each for their sculptures. While the sculptures were drying, students looked at them all together on a table. We talked about the connection between the different sculptures and which ones fit together most easily.
"Working with shapes to make sculptures is one of my favorite projects to teach," Cathy said. "I love that students are making connections between their own art and the work of their classmates. It really reinforces critical thinking and observational skills."
To encourage sharing, Cathy provided one plate of glue for every two students. Building social-emotional skills through art making is a key part of what Youth in Arts teaching artists do. When students wanted more shapes, instead of saying "I need more shapes!" they were encouraged to transform that into a question, such as "May I please have more shapes?"
After making their sculptures, children will paint them and then create a painting of  their sculpture. This supports hand-eye coordination and observational drawing skills. The sculpture lesson is an important foundation for lessons to come.
At this month's Arts Education Alliance of the Bay Area (AEABA) education policy roundtable Youth in Arts Executive Director Kristen Jacobson, who serves on the Board of Directors for the alliance, joined other arts leaders from the Bay Area to present on and discuss strategies for bringing more arts education to students throughout the Bay Area.
The convening was an opportunity for arts leaders from Marin, San Mateo, San Francisco, Contra Costa and Alameda counties to share their work on developing arts education master plans to improve accessibility for arts learning. Youth in Arts has been a leader in the development of Marin County's Arts Education Plan. Its purpose is to provide a road map to ensure that every student in the county has access to a quality arts program. Other partners involved in the development of the plan include public schools, the county Office of Education, the Marin Community Foundation and community based organizations.
"After my long history as an arts educator and as well as recent experience as part of San Francisco Unified School District's Arts Education Master Plan Advisory Committee, it's been exciting as a Novato parent to join the team at Youth in Arts and dig into the momentum behind Marin County's arts education plan, initiatives and partnerships, " Kristen said. "An opportunity to have arts leaders from across the Bay Area in the same room to discuss successes, challenges and questions is an immense gift in my new leadership role."
Kristen said the perception of Marin is that it is a place filled with resources and progressive policies. In reality, she said, there is a great inequality among its 18 school districts. Although she is glad the county has an arts plan, it does not include a timeline for implementation or accountability.
The Arts Education Alliance, which meets bimonthly to collectively address issues in arts education, is important because educators can discuss the challenges they face in light of budget cuts and changing policies. In discussing her work with the alliance, Kristen also stressed the importance that all arts advocates have a seat at the table.  She adds, "Asking tough questions and pushing difficult discussions are both important to the process. Though I'm new in my role I am thankful for my seat at the table; a fresh perspective can often bring to light new solutions and ideas," she said." I am looking forward to working in collaboration with the Marin Arts Education Plan team to continue to move the needle on arts provision for ALL of Marin's students."
By Mentor Artist Cathy Bowman
This year, I decided to start all of my art classes with a Brain Dance, a series of movements developed by dance educator and author Anne Green Gilbert to wake up the brain and improve focus. Often I see students at the end or beginning of the day, when they are restless or tired.  My five-minute version of the Brain Dance helps reinvigorate them while focusing on re-mapping of brain-body connections.
Inevitably it's the wiggly students, the ones who need it the most, who are the most resistant. As an introduction activity, the Brain Dance acts as a daily assessment tool for my students. Who is having trouble calming their body or mind? Who has trouble with cross lateral movements? Who confuses left and right? Even, how is their sense of self today? Watching them move gives me valuable information about what skills they may find challenging when it comes to art making or the level of engagement I may need to address.
The dance includes eight patterns of movement, starting and ending with the breath. Deep breathing is essential for all healthy bodies. When children are stressed, it's no coincidence that they take short, shallow breaths. Starting and ending with belly breaths means more oxygen for young brains. From breath, the Brain Dance moves through the developmental patterns of movement (the movements we take in our first year after birth) to the most integrated pattern, cross-lateral connectivity. Cross-lateral is the pattern that crosses the four quadrants of the body (upper, lower, right, left) which supports higher thinking and even eye tracking used for reading and reading-readiness.
Recently I had a kindergartener who always wore a serious expression. Adrian solemnly watched his classmates do the Brain Dance, week after week, without joining in. On the seventh week, he spontaneously started participating in the warm up with a big smile on his face. Instead of saying "good job" or "well done" (vague) I looked for something specific in Adrian's movements that I could point out, and others could follow.  He found confidence in his kinesthetic learning that day; and my acknowledgement of his effort (by name) reinforced his effort and ability. He became a positive role model for the rest of the class.
When I started doing the Brain Dance it felt uncomfortable for me, since I see myself as a visual artist rather than a dancer. But as we learn more about how children learn and absorb information in multiple ways, integrating different art forms makes sense. When Laurel Dell 2nd graders visited the YIA Gallery recently, they learned an extended version of the Brain Dance from Youth in Arts' Executive Director Kristen Jacobson. I picked up some tips as well.
The Brain Dance also helps teachers stay centered and focused.  Who doesn't need a belly breath during the day? You can learn more about the Brain Dance by viewing this video, Brain Dance, which is a part of Youth in Arts Digital Tool Kit.
Thank you to our very generous donors, sponsors and partners:
We love to connect with students in the Youth in Arts Gallery! The YIA Gallery is one of the few in the nation devoted solely to showcasing art by children.
Olive Elementary School kindergarten and first grade students visited the YIA Gallery recently for a field trip that explored shapes, systems and machines. Their teacher Emma Donovan had participated in this summer's STEAM institute with Youth in Arts, the Marin County Office of Education and other experts. She wanted her students to have an experience connected to what she learned in the STEAM Institute.
"Our free field trips are a wonderful opportunity to tie classroom curriculum to arts learning," said Youth in Arts' Development Director Kelsey Rieger. "This experience was focused on STEAM with embodied learning teaching."
Kelsey was joined by Visual Arts Director Suzanne Joyal and Mentor Artist Cathy Bowman. We took the students on a gallery walk to look at the child-created works in the gallery, followed by the Brain Dance to warm up. We talked about circles we could make sitting down, and circles we could see in the art. We made circles with our elbows and noses. In the YIA Studio, we sat in a big circle and learned about systems and machines, first by pushing a giant purple ball back and forth at different speeds. We noticed that a ball can't move by itself. While holding hands, we also sent energy around the room with a silent squeeze. It took concentration and practice to not lose the squeeze.
The final exercise was a fun way to talk about machines. Students were proud to show what they knew about different kinds of machines, and what those machines could do. Suzanne started the exercise by making a machine motion and sound.  As she continued, the next volunteer joined her to make a sound and motion that connected to hers. More students joined in, each making a different sound and motion. In the end, we had a large human-made machine with noises and motions working together.
We talked about where our machines lived and what they could do. One group made a machine that made snowflakes and lived in the ocean; another imaginary machine  handled climate change in the desert.  We concluded the field trip by creating a machine which included everyone and was made of familiar sounds and motions: a train.
Field trips are 45 minutes and always feature an age-appropriate hands-on arts activity. Children also learn techniques for looking at and talking about art. For more information, contact Youth in Arts' Program Director, Kelsey Rieger: kelsey@youthinarts.org or at (415) 457-4878 x110.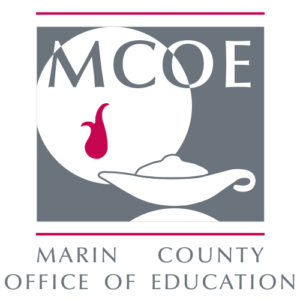 As part of this year's  Arts Unite Us residencies, mentor artist Julia James works with TK and Kindergarten students at Magnolia Park School through their early intervention program. Over the course of ten weeks, Julia explains, "we will be using a variety of adaptive art tools, materials and surfaces to explore alternative ways to make marks and actively create artworks." Key goals for the residency include personal expression, developing fine motor skills, and interpersonal communication and collaboration. Students will practice working with primary and secondary colors, using a broad assortment of materials to mix and apply paint.
As a final project for the residency, students will create an abstract collaborative painting that will be including in the Kennedy Center's national online VSA exhibition for 2019-20 representing San Rafael, CA, as well as the annual YIA Gallery exhibition, "Outside the Lines: Collaborative Art in Special Day Classrooms".
Thank you to the Kennedy Center, Marin Community Foundation, and Marin County Office of Education for making this program possible.
Older Entries »