By YIA Mentor Artist – June Li
I mentored students at Marina Middle School in San Francisco in creating a beautiful recycled tree this year.  We collected recycled materials and found objects in nature, such as junk mail, paper plates, and falling branches. Instead of buying products, students turned waste into creative art projects to share with their friends and families.  By completing our recycled tree, students became more aware of our environment and what they throw away on a daily basis, and used their imagination to transform junk into beautiful objects. My goal for this course was to inspire students to buy less, reuse and recreate; own less and live more.  We will live healthier and the planet will be greener.
Mentor Artist June Li provides notes on her experience at Marina Middle School in San Francisco teaching traditional Chinese brush painting.
Chinese traditional brush painting has developed continuously over a period of more than 5000 years. It is the most simple and expressive visual art form. Main tools include brush, ink and rice paper. Composition and space are the most important elements for the mindset. Seal and calligraphy are the final touches that express the theme and views on art and life.
I designed this six-session program for middle school students to have a fundamental understanding of this art form.
Through domesticated native figures from China, such as bamboo trees, wild orchid flowers and panda bears, students learned brush techniques and basic strokes.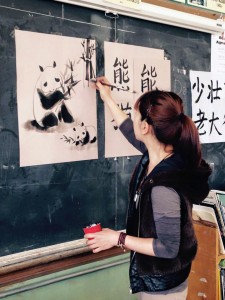 Students had great fun, played with the ink and created their conceptual expressive art.
Spring is bouncing into summer and hundreds of young artists around the North Bay are finishing class projects and creating exhibits, performances and other artful events for family and friends with Youth in Arts.
Recent posts have highlighted Spring projects by K-Dub Williams' students at Marina Middle School and Angela Baker's students at Harding Elementary, in addition to the amazing work created by Suzanne Joyal's kindergarteners at Loma Verde as part of the Walker Rezaian Creative HeArts program. Youth in Arts also produced a special "Passport Art Event" at Harding, and Nydia Gonzalez and Shawna Alapa'i concluding performing arts residencies at Ocean View Elementary in Albany and Sonoma Mountain Elementary.
In late May, Arts Unite Us "collaborative residency" projects at Harding and at Tam High School in Mill Valley wrapped up with terrific performances by all the students. Collaborative residencies bring together special education and general education students for shared arts experiences. At Harding, students wrote, directed and performed an original play "Lydia and the Land of Gee-Jo" around themes of Pollution, Bullying, Self Acceptance, New Beauty Standards and Taking Care of Each Other.  At Tam High , the original pilot site for the collaborative residency program, students from the Special Day Class and advanced Conservatory Theatre Ensemble worked with Mentor Artists Suraya Keating and Melissa Briggs to write and perform their original play, "By my Side," which opened the school's popular One Acts Festival.
Tommy Shepherd's students at Wade Thomas put an exclamation mark on their rap and beatboxing residency with a performance of their original rap for their peers at school, and Kaitlin McGaw's kindergarteners at Bahia Vista will soon perform a vocal music and hip hop show for their fourth grade buddies.
At Laurel Dell in San Rafael, Djenane Saint-Juste has been teaching students Caribbean dance around the theme of Kanaval (Carnivale), using costume pieces the students created this Fall with visual artist Gabby Gamboa. The students will perform in a grand parade with family and friends at the school's big Fiesta del Sol event this weekend. And at Mary Silveira, Mentor Artist Julia James finished a successful year with a big art show featuring work by all her K-4 students in the program.
Youth in Arts award-winning `Til Dawn a cappella ensemble performed their annual Spring Concert at San
Domenico Hall of the Arts this past weekend–a big congratulations to all the performers for a wonderful show and a special shout out to our graduating seniors. We will miss you!
Also at San Domenico, Youth in Arts workshopped a new performance of "Goodnight Gorilla" on May 23 with music by Dee Spencer performed by a terrific band of Bay Area music educators and musicians who are working with us to develop the work into an educational performance piece for youth jazz bands.
You can see it's been a very busy Spring, full of fabulous art and fabulous young artists. Watch this blog for more detailed reports on many of these projects in the weeks ahead and get ready to celebrate summer with Youth in Arts! Come see `Til Dawn at Youth in Arts night with the Pacifics, visit our Everything Under the Sun YIA Gallery exhibit, sign up for a unique summer camp program, check out the Mountain Play and benefit Youth in Arts with your ticket purchase, or join us for our gala Summer Solstice celebration at Studio 333 on June 21. We'd love to see you in person and share our work with you. Happy summer!
Mentor Artist Keith "K-Dub" Williams worked with young artists in Ms. Mankus's art classes at Marina Middle School in San Francisco to create unique, personal Snap-backs. Students learned to design, prep, and paint their custom hats in this six-week project.
"I like the whole hat because I created it myself. It is not the best hat at all, but I am quite proud." – Jennifer, grade 7
Students were asked: What is important to you? What do you want people to know about you?
"My design makes me feel calm and peaceful. It doesn't show any signs of sadness or anger. I guess it all screams HAPPY." – Valentin, grade 7

"What I like best about my work is that it says I love music." – Kelly, grade 8
Next, Students chose a hat color and primed it with gesso to create a "canvas" for their message.
"I was thoughtful and careful when I painted the hat, keeping constantly in mind that my hands had to be very stable while holding the brush and cap." – Malia, grade 8
And then students added COLOR: Lots and Lots of COLOR!
"Creating this hat was very fun. I think that this project was the best one yet. I felt that the hat was talking to me in colors." – Jonas, grade 7
"While I was painting, I kept thinking , will this hat come out as good as I planned? I was feeling determined because everyone was finishing their hats. What I like best about my hat is the mouth, because it too so long (to finish)." – Kai, grade 8
"I think we are really lucky because we get to create this artwork, because most people don't have the chance to." – Melissa, grade 8
"(This project) took a long time, and I liked how if you mess up you can paint over (the mistake). I had a feeling I would fail, but then in the end it looked awesome." – Aidin, grade 6
The finished pieces are spectacular!