On Friday night, fans, friends, alumni and family celebrated ´Til Dawn's 25th anniversary with an incredible virtual concert, raising nearly $9,000 for its scholarship fund.
The virtual SING OUT! was a beautiful commemoration of 25 years of ´Til Dawn. TD alums Delta Rae and Drew Gasparini were the event's headliners.  Delta Rae's uplifting four-song performance showcased their "gospel-tinged country-rock, sensual blue-eyed soul and harmony-laden Americana" roots. Drew's  playful, intimate three-song performance was pop/rock perfection, and Lily Elise, Jessie Land, Matt Herrero, and Harmela Beyene each contributed jaw-dropping one-song features that demonstrated the vitality and talent of Still Dawn, ´Til Dawn's alumni. Happnstance, which includes TD alums Sean Simerly and Maria Pougiales-Posey, warmed up the audience with a pre-show performance.
The event also featured five wonderful videos ´Til Dawn recorded while sheltering in place, a stirring retrospective for the pre-COVID 2019 group, and heartwarming collaboration between ´Til Dawn and Still Dawn on John Legend's If You're Out There.  
"Under normal circumstances, at the SING OUT! we're singing together in person.  It's part celebration, part concert, part community event," said longtime director Austin Willacy. "Though we couldn't be together in place this year, we knew we had to find a way to celebrate 25 years of 'Til Dawn, and with the collaboration of a killer team, we created something so good I'm still coming down from the high of it."
Besides the excellent music, several current group members and alumni spoke about the impact of ´Til Dawn on their lives in high school, and as adults.Some spoke about the value of learning to speak and perform in public, as well as learning to give and receive feedback. Nearly everyone said they had made lifelong friends.
They also spoke about what they had learned from their mentor and director Austin. Austin, a singer/songwriter who records as a solo artist and with The House Jacks, has led the group for more than 20 years.
"I am who I am today because of this group and Austin," said ´Til Dawn singer Anna McShea. "He has encouraged me to be my most authentic self."
Another ´Til Dawn singer, Ian Sotnick, said the experience has taught him "more than any school can teach in a lifetime."
Photo credits: Delta Rae photo, Shervin Lainez; Austin Willacy photo, Tim Porter
A cappella music filled the Osher Marin JCC on December 27th as 17 current 'Til Dawn members and more than 40 alumni (Still Dawn) took the stage to perform for 140 guests at this year's SING OUT! Alums Matt Herrero and Lilan Kane headlined this year's concert, which raised over $6,000 for 'Til Dawn Scholarships, our biggest most successful SING OUT to date! The event started at 8pm, and 'Til Dawn & Still Dawn were still singing songs from their repertoire at 10:30. What a fun evening!
We were also excited that our generous audience helped us "make to to 2019″ by donating or pledging $2019 in honor of the new year–thank you so much to all who made this possible.
This year, 'Til Dawn alum James Barton designed a "Fillmore-style" concert poster to sell at the event. Thanks to our generous poster sponsors, The Herrero Family and Black Cat Studio for helping us raise more scholarship funds.
Drinks, dessert and raffle proceeds also went to support scholarships. Thank you to our wonderful food and beverage sponsors:
Sophie James Winery
Lagunitas Brewery
YIA Board Treasurer, Tim Distler
Montagne Russe Wines
Marin Kombucha
Trader Joe's
Johnny's Doughnuts
Arizmendi Bakery
United Market
Youth in Arts is able to offer up to 100% scholarship aid to any student who passes the audition process, thanks to generous donors like these. You can still DONATE to support the scholarship fund or text SING to 41444.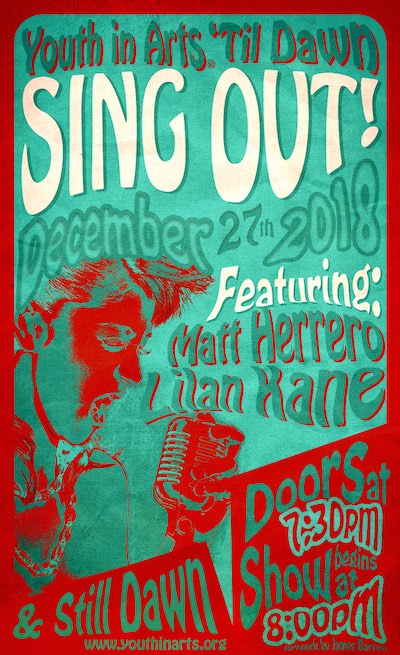 'Til Dawn alum James Barton designed this year's Sing Out! Poster, which will is still available for sale at Youth in Arts! It was unveiled at the 'Til Dawn performance Thursday at the Osher Marin JCC.
Barton, 21, is now a junior at UCLA. He said he created the poster, in shades of turquoise and reds, in the Fillmore style of art, using Photoshop.
"I sort of just went with that style," he said.
Barton was in 'Til Dawn for three years while a high school student at Marin Catholic High School. He now studies molecular biology.
Art "really provides an outlet for creative expression," he said. "Graphic design is definitely one of my passions."
Barton has fond memories of being a part of 'Til Dawn and was happy to help out. The poster was sponsored by the Herrero family and Black Cat Studio.
"I don't think I would have had the high school experience that I had without 'Til Dawn," he said. "It was such a support system."
Current and former 'Til Dawn members performed Thursday at Youth In Arts' Sing Out! at the Osher Marin JCC in San Rafael.
'Til Dawn alumni Matt Herrero is one of the featured performers at Youth In Arts' spectacular Sing Out! event on Thursday — and he's busy polishing several original songs.
Herrero, 23, a multi-instrumentalist composer, creator and performer who spent four years with Youth In Arts' wonderful 'Til Dawn a cappella troupe, now performs professionally. He credits 'Til Dawn with helping to get it all started.
"It was the most musically rigorous group I'd ever been a part of," he said. "It gave me a family outside of high school that I bonded to way more than with anyone else. They taught me how to make music with people."
Herrero, who attended Marin Academy and graduated from Stanford University last year, is a storyteller who is amazing on the acoustic guitar. He said a friend described his music "as if Justin Timberlake wrote campfire songs."
Joining Herrero on stage will be fellow alum Lilan Kane. She'll be playing with her guitarist, James Harman.
Kane, 33, is looking forward to singing jazz and R & B influenced pop tunes.  Kane, a graduate of Novato High and the Berklee College of Music in Boston, credits 'Til Dawn with helping to set her on the path to performing.
"The community that it gave me … came at a time in my life that really saved me," she said.
Being in the troupe also made her want to teach. Many of her former students, she said, are now 'Til Dawn members.
'Til Dawn made up of local high school students in Marin County. They are led by renowned director Austin Willacy. Both current `Til Dawn high school troupe members and alum called "Still Dawn" will perform Thursday.
The show starts at 8 p.m. at the Osher Marin JCC in San Rafael. Tables are $250; Adults are $35 and youth are $25. Tickets can be purchased here.