Which visual arts lessons will help you communicate with a student who is on the autism spectrum? How can dance include someone using a wheelchair? How do you teach collaboration in your 5th grade classroom?
Youth in Arts' new ARTS Bank (Art Resources for Teachers and Students) offers answers. The ARTS Bank is a first of its kind free database to find and contribute arts activities to reach all types of learners.  
Visual Arts Director Suzanne Joyal and former Executive Director Miko Lee presented a beta version of the online resource recently at VSA Intersections: Arts and Special Education Conference in Irvine, CA. VSA is an international organization on arts, education and disability that was founded in 1974 by former U.S. Ambassador Jean Kennedy Smith and is headquartered in Washington, D.C.
"The ARTS bank is an exciting tool," Joyal said. "With a click of a button, teachers, parents or caregivers can plug in an Individualized Education Program (IEP) goal or grade level or a key word and find an arts lesson designed to strengthen those specific skills."
Lee said the goal is to provide a tool so people can build on each other's work.
"We have intentionally made it a free resource to encourage people to use it, contribute and collaborate," Lee said. "You get the best solutions for the communities you are working with from those communities themselves. Those are the practitioners that best understand what works."
The ARTS Bank is part of Youth in Arts' Digital Toolkit, which includes six videos on inclusive teaching practices for artists, classroom teachers and parents. The ARTS Bank was developed pro bono through Salesforce under the leadership of Derek Schauffler. Funding for the video portion was provided through the state Department of Education's Student Support and Academic Enrichment grant that the Marin County Office of Education received.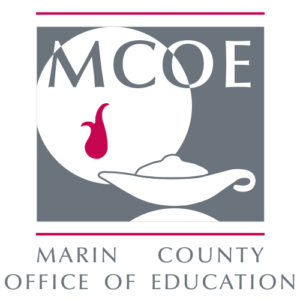 More than eighty community leaders, educators, students, and Youth in Arts supporters came out to celebrate Arts in Education Month at the YIA Gallery last Friday, March 8th. Youth in Arts and the Marin County Office of Education co-hosted the event, which was centered around introducing attendees to the 2018-2019 Marin Arts Education Plan. There was lots of positive feedback, and seemed to be buzz building around the movement in Marin to improve arts access for ALL learners.
Visitors were also able to enjoy the wonderful artwork from our RISING STARS High School art exhibition, on view through March 29th. The "Best Of" show and category winners (drawing, mixed media, painting, photography, and sculpture), were also encouraged to attend the event to receive another amazing prize to commemorate their accomplishment. College of Marin kindly awarded each of the 6 students a full semester scholarship! The lovely Lauren Smart was on hand to receive her award letter, and was photographed alongside her beautiful charcoal, pen and graphite drawing of her grandfather, entitled Evolution of Life. Lauren, a senior at Redwood High School, plans to attend San Jose State in the fall, and is excited to take some summer art classes at College of Marin. Thank you College of Marin for supporting our young artists!
Graphing Garbage
A STEAM workshop: Science, Technology, Engineering, ARTS, Math
Youth in Arts staff Suzanne Joyal and Miko Lee in collaboration with the Marin County Office of Education  led a cohort of classroom teachers through a workshop teaching about the environmental pollution and ways to transform garbage into art while also teaching about graphing.
Teachers watched this video about the Pacific Trash "Island" and learned about the immense amount of plastic that has been impacting the planet. They watched the presentation (available below) about the impact of pollution on animals and saw how professional adult artists and kid artists could make powerful art from trash to tell a story.
Suzanne described the Graphing Garbage arts integration project that she created at Willow Creek Academy. Lesson plan (available below). She showed how graphing can be showed in a various artistic formats. Teachers then went through trash collected by YIA. They sorted the trash by items that had the most dangerous impact on animals. Working in teams they showcased this by featuring three sizes of fish and a jellyfish on an ocean backdrop. After reflecting on this process, teachers discussed potential math and literacy extensions.
Teachers then created individualized animals that they could bring back to their classrooms to replicate the process.
For help with sorting and weighing garbage in all Marin Schools (except Novato), contact Casey Poldino at CPoldino@marincounty.org and check out this website http://zerowastemarin.org/schools/.  For Novato schools, contact Dee Johnson at Novato Sanitary or Recology https://www.recology.com/recology-sonoma-marin/community-education-programs/
To make the recycled art more successful, Suzanne suggested purchasing Extra Tacky Glue and Tempera Cakes from RileyStreet Art Supply.
PaperSeed Foundation currently has a Recycled Art contest. Teachers and students win prizes. Click here for more info.
A Graphing Garbage Integration Lesson and Graphing GarbagePPT was provided for the teachers to share in their classrooms.
Thank you to Christina Lunde for making the dinner and helping with logistics and to Eileen Smith for her assistance. Thank you PaperSeed Foundation and the California Arts Council for making this evening possible.
Mentor Artist Cynthia Pepper taught dance in Mimi Schalich's Special Day class at Edna McGuire Elementary School. She brought fun, energetic music and tons of cool stuff to her classes.
"We prepared for our performance date by practicing using scarves respectfully, we danced on the dots in all sorts of ways, we did helicopter, we did hand holding dances, we created shapes, we hopped and moved our legs in new ways. We did stretching and sort of a yoga thing! Parents joined us on our final day, and danced with their children. My work with this population has been an experience that I will forever hold dear in my life."
Thank you to the Buck Family Fund of the Marin Community Foundation for supporting this program.
By Mentor Artist Hannah Dworkin
I loved my opportunity to visit Lara Becker's Marindale preschool class again after a few years away, and it was extremely rewarding to watch the growth of these students over the 10 weeks.  There were several students who were less engaged the first few weeks, and we were all extremely impressed with their level of participation by the culmination of the residency.
I engaged these students through the use of puppets and songs.  The level of engagement and calm throughout the class was evident immediately once they saw my "magic puppets" emerge from their bags.  Some songs that worked well with puppets were: "ThreeLittle Monkeys" with an alligator puppet and three monkey puppets, "Buzz Buzz" with Bee finger puppets for each child, and "We are the dinosaurs" with various dinosaur puppets.
I also used frog percussion instruments for the section of the class that was devoted to rhythm.  They loved hearing the croaking sound they could make with them, and they were listening so closely that I heard distinct rhythmic phrases, something that I had never heard when I asked them to clap.
It was a fantastic time, and I am incredibly grateful for discovering the magic of puppets!
"All Together Now" can be heard outside of the door of the classroom at Venetia Valley along with a host of other songs led by Mentor Artist William Rossell. Here are some of his thoughts on the process:
Written by Mentor Artist William Rossell
I have been leading music workshops in three Special Day Classrooms at Venetia Valley this year. I have students who have autism, Down's syndrome, cerebral palsy, traumatic brain injury, and seizure susceptibility. Many of my students are nonverbal and have limited motor control.
I am a firm believer in the therapeutic power of music. Music is a powerful learning tool for any population and helps develop a huge range of skills that aid in cognitive development such as Concentration, Long and Short Term Memory, Pattern Recognition, Improvisation, Critical Thinking, Abstract Reasoning, and Communication. Music can also be used to reinforce common core academic subjects like mathematics and language arts. I have seen all of my students make amazing progress in these and other areas and I am very proud of all of them.
Some of the goals that we've been working towards are simple, such as being able to reach and touch musical icons on a schedule, or to hold onto mallets for drum-play.
Other goals include being able to verbalize wants, or when that's not possible to communicate through other means. For example, I ask each student to help me come up with a rhythm by choosing long or short notes and they have to annunciate which notes they'd like. We've made huge progress on both of these fronts (fine motor and verbal communication) with all of the students. It's been really exciting to see.
I have been using song in several of my classes to share the joys of singing. I accompany my students on guitar. Some of the songs that I have taught include "Down by the Bay," "What a Wonderful World," "All together Now," and "Sunny Side of the Street." Learning the words to these songs helps reinforce memorization and collaboration skills.
In my classes we also use many kinds of percussion instruments (frame drums, bongos, bass drums, tambourines, shakers, woodblocks, etc.) to make beautiful music. We usually start by playing a simple beat and we follow along as the beat speeds up and slows down and as it gets louder and softer.
Our typical musical exercises include beat counting/playing, call-and-response (which we call taking turns), making/playing basic long-short patterns, jamming, and playing to recorded music. This last exercise is one of the most fun. Each week, I ask one student to share with us a musical artist that they like and we play their music and accompany it with our drums. It is super fun and it gives the students a chance to try to verbalize their wants and to participate in making music with their favorite artists.
We also incorporate numbers and counting into our playing to show how numbers and math are an integral part of music.
In addition to these tools, I dedicate a portion of each lesson to "Question and Answer" or "Call and Response" in which I play short rhythmic patterns which the class carefully listens to and then plays back to me. This tool is especially useful in developing listening, memory and concentration skills.
Finally, because we want to have fun, we end our workshops with a free-form jam session which always leaves us with smiles!
Written by Mentor Artist Hannah Dworkin
I look forward to working with Jessica Leaper's Marindale preschool class of students with language delays every year because her kids have so much enthusiasm for music.  Every visit begins with the students yelling, "Hannah!!!!" as I enter the room.
They memorized my daily agenda by the second week, and they cheered at each transition.  One area that was especially successful was the teaching of musicianship.  About half the students could read basic rhythm by the end of the residency, quite a feat for preschoolers!
Their favorite song by far was "Goin' on a Bear Hunt" where we marched around the room looking for a bear to take a picture of, and then we ran yelling back to our seats when we finally found him.  They also really enjoyed playing with a parachute.  We started every week sitting on the parachute identifying colors and singing about them in English and Spanish. Then all the children would jump under it while the adults pretended we could not find them.
I feel so fortunate to have had the opportunity to work with such a great group of kids and teaching team!
Once again our fabulous cast of Youth in Arts Mentor Artists created art, community and opportunities for students in the Bay Area.  Students in 25 Special Day Classes, Pre-K to Post-Secondary, explored techniques in Visual Art, Music, Dance and Theater and shared their talents with the community through culminating events.
The Arts Unite Us program aims to make high quality arts opportunities accessible to students of all abilities and to build understanding and acceptance in our communities.  This year students from Redwood High School, Harding Elementary and Mount Tamalpais High School participated in collaborative residencies in which students from Special Day Classes and General Education classes worked together to create art.
Teachers in the Special Day Classes we serve value the program and what YIA Mentor Artists bring to their classroom:
"I am always so blown away and impressed with all the skills learned by our students during the YIA sessions, but am especially impressed with the leadership skills, creative thinking, self-expression and artistic expression that our students learn. The YIA artists and lessons bring out skills in my students that I don't always have the opportunity to bring out. Without the professional artists coming into our classes, we do not have the access to adults with these skills at our schools. Mainstream classes can be too impacted, and general education teachers are not always equipped to handle the needs of students with special needs in their classes. Having art activities that are tailored to meet our students needs enables all students to access curriculum and experiences that their general education peers receive." SDC Teacher Rachel Hughes, Terra Linda High School
Under the guidance of YIA Mentor Artist William Rossel, students from Katie Peter's Special Day class worked with students from the Band program and opened the music concert at Redwood High School with a percussion piece.  YIA Mentor Artist Melissa Briggs worked with Tam High's Julianna Rees to lead students from Michael Lovejoy's Special Day Class and Advanced Theater students in writing and performing an original play.  At Harding Elementary, YIA Mentor Artist Thomas Arndt lead a group of 40 students in writing, directing and performing a play that incorporated American Sign Language and featured students from Harding's HOH (Hard of Hearing) program.
ASL Translator Paul says this about the program at Harding:
"I have truly enjoyed being a part of The Arts Unite Us program and watching HOH students as well as other students in the classroom where I work grow in confidence in their class room participation. Maya, the primary HOH student I work with rarely spoke up in class. This changed dramatically after she started participating in the program and after taking on a significant speaking part in the play. It is amazing to see how her and other students confidence begin to soar so quickly!"
Each of these experiences have left a lasting impact on the students involved.  Many students from Special Day Classes and HOH programs performed in front of their peers for the first time.  Many of the General Education students had their first experience interacting with their peers who have abilities that are different than their own, gaining understanding and empathy.
This is what a few General Education students had to say about that experience:
"I loved participating in this project.  I thought it was a great way for me to learn about people who have different abilities.  I learned that they have the ability to create great things."

"It was really fun to meet and interact with the Special Ed class. They were so sweet and friendly. I learned that some things that are easy to me are difficult to other people."

"I had fun! I really enjoyed spending time with the [Special Ed] kids and would do it again.  I learned they often have interesting ways of thinking about things. It was interesting to hear their perspectives."

"I learned that everyone is unique in their own way. Not everyone does the same moves or talks frequently.  I feel like I've learned so much about interacting with other people."
As the creator and director of the Arts Unite Us program, I am so proud of the work we have done over the years and I have witnessed first hand the impacts that this program has had on students, teachers, artists and families.  This program has served as a catalyst for progress, acceptance, understanding and art making that will last a lifetime.
This year, as I step down as Program Director, I pass the torch over to my colleagues at Youth in Arts so that they may continue to promote accessible programming for everyone in our community.  I would like to thank every artist, teacher, administrator and student who has participated in this program.  And, thank you to those who have provided much needed funding for this program, including Thomas J Long Foundation, The Green Foundation, Marin Community Foundation, Green Foundation, Marin Charitable, and Italian Street Painting Marin.
by YIA Mentor Artist Suraya Keating
As I entered Ms. Peter's class for the first time, I am struck by the friendliness of the staff, the relaxed atmosphere of the classroom, the authenticity of the students.  Each of Ms. Peter's six students at Redwood High has a special need of some sort, as well as many special gifts.  It is my role, as a teaching artist with these students, to bring out their special gifts – to identify and nourish whatever talent, potentials and joys each student possesses.  Whether working in a mainstream classroom or a special need classroom, this is no easy task.  I take this challenge quite seriously , and with hope in my heart that in the time we have allotted to work together, each student will be able recognized for his/her gifts and contributions.
While I have been hired to teach a theater residency, classroom teacher Ms. Peter is very flexible, and gives me space to teach in whatever way most creates a bridge with the students.  As the first few weeks go by, I notice that 4 or the 6 students are mostly non-verbal.  While they seem to enjoy simple theater warm-ups, my repertoire of activities that I often use in special needs classes is not landing in the way I am accustomed to.  Knowing that flexibility is key to effective teaching, I realize it is time to change direction.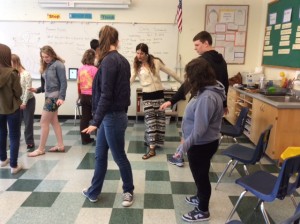 I have noticed that ALL 6 of the 6 students share one thing in common: a love of music and movement.  Whenever I use music in our warm-ups, smiles arise on their faces, and I realize something important has happened: I have found a bridge.  About a month into the residency, with the support of the classroom teacher, I shift from focusing on theater to focusing on dance and movement.   As we explore dance for the next few months, I see each student come alive in different ways.  "Sara" gets her groove on with upbeat music, and adores being the leader in pairs' mirror dances.  "Calvin" loves shouting out and practicing whatever dance principles we are working on during a particular day, such as "big vs. small movements," "sustained vs. staccato movements" or "straight vs. twisted shapes."
As is the case with VSA residencies this year, at some point a group of about 10 mainstream students (this time from Mr. Berkowitz's drama class) join the dance program.  Integrating the mainstream students into class seems to inspire everyone: the students with special needs and the mainstream students get to explore various dance principles in duos, in small groups, and in the large group.  When the music comes on and students are invited to explore moving in straight or zig zag lines, or with slow or fast tempos, and in many other ways, I see smiles come to their faces as they explore how their own bodies move, as well as how they move in connection to others.  Students are mutually supporting one another, acknowledging each others' strengths, and supporting one another when there is a challenge.  I feel grateful to work among students who at a young age seem already so capable of doing with one another what I aspire to do with each of them: to bring out and celebrate each other's gifts.
by YIA Mentor Artist Suraya Keating
"By My Side." The original show created by students in Mr. Lovejoy's class at Tam High feels appropriately titled.  The show is about several characters taking a journey – a journey that is taken both alone and together.    I am reminded that the creation of this show itself has been a journey – a journey that has been unique to each individual in our group, and at the same time a shared experience.  Who we have had "by our sides" in this journey has fundamentally shaped our experience the journey itself.  If you have ever gone on a road trip with someone whom you didn't know very well, then you may know what I am talking about when I say that who you have by your side can completely change your experience!
In working as one of the drama facilitators, along with Melissa Briggs, at Tam High this year, I am grateful to share that the amount of support and encouragement given to each of the students in Mr. Lovejoy's Special Day Class has been outstanding, AND the students themselves have consistently showed up for each other in a way that has supported each other's experience.  It is no small task – the act of creating a show from nothing – with students of varying special needs as well as mainstream students working together – while co-facilitating the drama program with another instructor.  And yet, the atmosphere of support, trust and absolute belief in one another made the experience at Tam High one which flowed almost effortlessly.
The lesson that I take from this is an important one:  when we surround ourselves with people who believe in us, who positively support and encourage us – when we choose to have those people "by our side" – anything is possible.  My wish is that all young children, teens and people of all ages receive this kind of support in their lives!
Older Entries »