Once again our fabulous cast of Youth in Arts Mentor Artists created art, community and opportunities for students in the Bay Area.  Students in 25 Special Day Classes, Pre-K to Post-Secondary, explored techniques in Visual Art, Music, Dance and Theater and shared their talents with the community through culminating events.
The Arts Unite Us program aims to make high quality arts opportunities accessible to students of all abilities and to build understanding and acceptance in our communities.  This year students from Redwood High School, Harding Elementary and Mount Tamalpais High School participated in collaborative residencies in which students from Special Day Classes and General Education classes worked together to create art.
Teachers in the Special Day Classes we serve value the program and what YIA Mentor Artists bring to their classroom:
"I am always so blown away and impressed with all the skills learned by our students during the YIA sessions, but am especially impressed with the leadership skills, creative thinking, self-expression and artistic expression that our students learn. The YIA artists and lessons bring out skills in my students that I don't always have the opportunity to bring out. Without the professional artists coming into our classes, we do not have the access to adults with these skills at our schools. Mainstream classes can be too impacted, and general education teachers are not always equipped to handle the needs of students with special needs in their classes. Having art activities that are tailored to meet our students needs enables all students to access curriculum and experiences that their general education peers receive." SDC Teacher Rachel Hughes, Terra Linda High School
Under the guidance of YIA Mentor Artist William Rossel, students from Katie Peter's Special Day class worked with students from the Band program and opened the music concert at Redwood High School with a percussion piece.  YIA Mentor Artist Melissa Briggs worked with Tam High's Julianna Rees to lead students from Michael Lovejoy's Special Day Class and Advanced Theater students in writing and performing an original play.  At Harding Elementary, YIA Mentor Artist Thomas Arndt lead a group of 40 students in writing, directing and performing a play that incorporated American Sign Language and featured students from Harding's HOH (Hard of Hearing) program.
ASL Translator Paul says this about the program at Harding:
"I have truly enjoyed being a part of The Arts Unite Us program and watching HOH students as well as other students in the classroom where I work grow in confidence in their class room participation. Maya, the primary HOH student I work with rarely spoke up in class. This changed dramatically after she started participating in the program and after taking on a significant speaking part in the play. It is amazing to see how her and other students confidence begin to soar so quickly!"
Each of these experiences have left a lasting impact on the students involved.  Many students from Special Day Classes and HOH programs performed in front of their peers for the first time.  Many of the General Education students had their first experience interacting with their peers who have abilities that are different than their own, gaining understanding and empathy.
This is what a few General Education students had to say about that experience:
"I loved participating in this project.  I thought it was a great way for me to learn about people who have different abilities.  I learned that they have the ability to create great things."

"It was really fun to meet and interact with the Special Ed class. They were so sweet and friendly. I learned that some things that are easy to me are difficult to other people."

"I had fun! I really enjoyed spending time with the [Special Ed] kids and would do it again.  I learned they often have interesting ways of thinking about things. It was interesting to hear their perspectives."

"I learned that everyone is unique in their own way. Not everyone does the same moves or talks frequently.  I feel like I've learned so much about interacting with other people."
As the creator and director of the Arts Unite Us program, I am so proud of the work we have done over the years and I have witnessed first hand the impacts that this program has had on students, teachers, artists and families.  This program has served as a catalyst for progress, acceptance, understanding and art making that will last a lifetime.
This year, as I step down as Program Director, I pass the torch over to my colleagues at Youth in Arts so that they may continue to promote accessible programming for everyone in our community.  I would like to thank every artist, teacher, administrator and student who has participated in this program.  And, thank you to those who have provided much needed funding for this program, including Thomas J Long Foundation, The Green Foundation, Marin Community Foundation, Green Foundation, Marin Charitable, and Italian Street Painting Marin.
Author Isabel Allende visited with C Street Project at Youth in Arts last week to see visual art created by the students, inspired by her words as part of the Creative San Rafael project, and to talk with the youth. Ms. Allende was so gracious and generous with her time, wit and advice–and all our C Street Project students asked great, insightful questions on topics ranging from how an artist finds inspiration to the experience of writing in a second language.
Students shared their original art work inspired by the quote "Today's girls are tomorrow's women–and leaders." Ms. Allende was kind enough to sign students' works, which will be on exhibit and available for purchase via silent auction starting June 12 at YIA Gallery at 917 C Street. Join us for our June 12 opening celebration or visit Monday-Friday 10 am to 4 pm through the run of the exhibit.
Youth in Arts C Street Project provides training in writing for performance, acting and visual arts techniques, along with unique opportunities to participate in community engagement and public art projects and site-specific performances. This year, students have been working on a series of murals for the Creative San Rafael project soon to appear as public art banners along Third Street in Downtown San Rafael! Next year will bring more public art and performance opportunities for our newest after school program for teen artists–contact Suzanne Joyal for more information about becoming a C Street Project member.
And check out more great photos below by Peter Rodgers from our visit with Ms. Allende!
The group of teens in the C Street Project have been meeting every Thursday night since October developing their craft in visual and performing arts; led by Theatre  Artist Melissa Briggs and Visual Artist Suzanne Joyal. Connecting to the Creative San Rafael project, students decided to use the quote by Isabel Allende "Today's girls are tomorrow's women—and leaders" to inspire their work in both visual arts and in performance.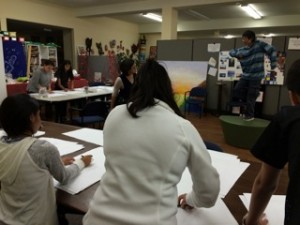 Each student is developing a very personal monologue inspired by their own life and where tomorrow will take them inspired by Isabel's quote. They are learning theater skills to devise & perform their monologues for an audience, and using the monologue to inspire their visual art. Students are learning a variety of drawing and painting techniques that they can use as they develop their murals for the A Street Garage. (Their murals will wrap the 8 pillars facing C Street!)
Last night in rehearsals students worked especially carefully on "the moment before": How do you begin a performance on stage? Who are you speaking to? What do you want people to know? What is your objective? What is in your way? What actions do you take to overcome those obstacles? How do you capture an audiences attention and hold it. Students spent the evening rehearsing how to begin their monologues, where to look, how to breathe, they even incorporated stage combat technique in a pratfall that kicks off one student's piece. With targeted directing, personal attention and a few months of solid 'elements of theatre' instruction even the most timid members of the group rocked the stage in rehearsal.


Quotes from the evening:
"It's like you found a treasure box with a key and unlocked it"; "Go away food, but not too far"(a life from the comedic monologue by the picky eater), "I don't need permission to live my life"; "Stop being racist" (for the quiet girl who showed her rage to the racist PE teacher); "Give me answers" (for the quiet girl facing many issues in her early teen years)
Student's reflection vocabulary: Transformation, Sweat, Deep, Intense, Gestures, Empowered, Growing in Confidence, Conscience, WHY?
For information about the audition/portfolio review to become a part of C Street Project. CLICK HERE.
by YIA Mentor Artist Suraya Keating
"By My Side." The original show created by students in Mr. Lovejoy's class at Tam High feels appropriately titled.  The show is about several characters taking a journey – a journey that is taken both alone and together.    I am reminded that the creation of this show itself has been a journey – a journey that has been unique to each individual in our group, and at the same time a shared experience.  Who we have had "by our sides" in this journey has fundamentally shaped our experience the journey itself.  If you have ever gone on a road trip with someone whom you didn't know very well, then you may know what I am talking about when I say that who you have by your side can completely change your experience!
In working as one of the drama facilitators, along with Melissa Briggs, at Tam High this year, I am grateful to share that the amount of support and encouragement given to each of the students in Mr. Lovejoy's Special Day Class has been outstanding, AND the students themselves have consistently showed up for each other in a way that has supported each other's experience.  It is no small task – the act of creating a show from nothing – with students of varying special needs as well as mainstream students working together – while co-facilitating the drama program with another instructor.  And yet, the atmosphere of support, trust and absolute belief in one another made the experience at Tam High one which flowed almost effortlessly.
The lesson that I take from this is an important one:  when we surround ourselves with people who believe in us, who positively support and encourage us – when we choose to have those people "by our side" – anything is possible.  My wish is that all young children, teens and people of all ages receive this kind of support in their lives!
Spring is bouncing into summer and hundreds of young artists around the North Bay are finishing class projects and creating exhibits, performances and other artful events for family and friends with Youth in Arts.
Recent posts have highlighted Spring projects by K-Dub Williams' students at Marina Middle School and Angela Baker's students at Harding Elementary, in addition to the amazing work created by Suzanne Joyal's kindergarteners at Loma Verde as part of the Walker Rezaian Creative HeArts program. Youth in Arts also produced a special "Passport Art Event" at Harding, and Nydia Gonzalez and Shawna Alapa'i concluding performing arts residencies at Ocean View Elementary in Albany and Sonoma Mountain Elementary.
In late May, Arts Unite Us "collaborative residency" projects at Harding and at Tam High School in Mill Valley wrapped up with terrific performances by all the students. Collaborative residencies bring together special education and general education students for shared arts experiences. At Harding, students wrote, directed and performed an original play "Lydia and the Land of Gee-Jo" around themes of Pollution, Bullying, Self Acceptance, New Beauty Standards and Taking Care of Each Other.  At Tam High , the original pilot site for the collaborative residency program, students from the Special Day Class and advanced Conservatory Theatre Ensemble worked with Mentor Artists Suraya Keating and Melissa Briggs to write and perform their original play, "By my Side," which opened the school's popular One Acts Festival.
Tommy Shepherd's students at Wade Thomas put an exclamation mark on their rap and beatboxing residency with a performance of their original rap for their peers at school, and Kaitlin McGaw's kindergarteners at Bahia Vista will soon perform a vocal music and hip hop show for their fourth grade buddies.
At Laurel Dell in San Rafael, Djenane Saint-Juste has been teaching students Caribbean dance around the theme of Kanaval (Carnivale), using costume pieces the students created this Fall with visual artist Gabby Gamboa. The students will perform in a grand parade with family and friends at the school's big Fiesta del Sol event this weekend. And at Mary Silveira, Mentor Artist Julia James finished a successful year with a big art show featuring work by all her K-4 students in the program.
Youth in Arts award-winning `Til Dawn a cappella ensemble performed their annual Spring Concert at San
Domenico Hall of the Arts this past weekend–a big congratulations to all the performers for a wonderful show and a special shout out to our graduating seniors. We will miss you!
Also at San Domenico, Youth in Arts workshopped a new performance of "Goodnight Gorilla" on May 23 with music by Dee Spencer performed by a terrific band of Bay Area music educators and musicians who are working with us to develop the work into an educational performance piece for youth jazz bands.
You can see it's been a very busy Spring, full of fabulous art and fabulous young artists. Watch this blog for more detailed reports on many of these projects in the weeks ahead and get ready to celebrate summer with Youth in Arts! Come see `Til Dawn at Youth in Arts night with the Pacifics, visit our Everything Under the Sun YIA Gallery exhibit, sign up for a unique summer camp program, check out the Mountain Play and benefit Youth in Arts with your ticket purchase, or join us for our gala Summer Solstice celebration at Studio 333 on June 21. We'd love to see you in person and share our work with you. Happy summer!
This past weekend May 17 & 18 Arts Unite Us premiered an original production which combined educator Ben Cleaveland's advanced theatre students and students from educator Michael Lovejoy's Special Day Classroom.  Students engaged in a collaborative theatre program, written, created, designed and performed by the youth under the leadership of Youth in Arts Mentor Artist Melissa Briggs.  The packed performances received standing ovations and praise from all involved.
Tam High student creators Victor, Glyn, Julia, Jake, Cate, James, Maribel have some words to share with you about their experience writing, directing, producing and performing as an integrated ensemble of young artists from Conservatory Theatre Ensemble and Marin County Office of Education!
"We took two of the most atypical programs in the county, and mashed them together, and it was extraordinary."
At the beginning, "I was a little afraid of making new friends. I wasn't sure we would get a long but by week two I felt so welcomed into the process."
"I liked rehearsing, all the exercises and breaking up the scenes." Working hard together in rehearsal was "one of the reasons the performance went so well. But even when things on stage didn't go so well we were there for each other."
"It went perfectly! I wasn't nervous. For this one I wasn't nervous coming into the process knowing whatever happened would happen and it will be great. Something different will happen and you have to react accordingly."
"It was more about the process more than the product. That is something I've learned to value the most."
My feeling in performance "its good!"  I felt "happy".  But "the writing part.  I like it cause the writing part was hard, the best."
"I liked the acting part cause I like to dress up."
"It was a different experience. I felt really accomplished afterwards."
One student was scared to go on stage for his cue with the packed audience. He finally worked up the courage and exited the stage whoop!ing it up! He said afterwards "I felt great!  And happy!  And I did my line!"  He was also quick to praise his classmate's funny delivery of his lines.
Another student praised her castmate too, "Maribel inspired me.  I know she was always there for me on stage and as a writer."
"I want to keep doing my lines!"
One of the co-directors had an interesting insight; before seeing the play some Tam High peers seemed to plan on "seeing it as if it was a kids show. It was like they didn't really want to see or really think about it. I don't know what to do to change that."  You want to know what to do to change that?  You are doing it!
Other people would say our collaboration is going to be "so cute or sweet."  When people talked about the play preparation in a patronizing way "I got angry and stopped talking. It was discouraging."  Another said "you just have to see us working in rehearsal to know our work is just as hard, just as good!" But "The people who saw it and really thought about it, they loved it. They felt something. One guy said he had a horrible day and our play made him happy!  They saw we worked so hard for so long together. We made people think and feel something!  And I think that's like the whole point of theatre."
Feedback on campus was super positive all around. "A lot of people say they heard it was good even if they didn't see it. People were really talking about it, like, everywhere. Everyone said it was really entertaining to watch." The audience "liked the ensemble aspect of it. How we were there for each other."
"Everyone was so generous with themselves. Everyone put their peers before themselves but still worked hard on their work, their part of the pie. I think the world could use a little more of that. We put so much of ourselves and risked so much and the audience got to see that."
"I know what we should do for our next play…"
Well… this project may be over, but high school students of all abilities from across the Bay Area are invited to apply for admission to a groundbreaking new integrated Dramatic Art Project (iDAP). This two-week intensive will be led by a professional artist and will culminate in a live multi-media performance. This is the beginning of the Youth in Arts Performance Company.
Your world isn't typical.
Your art shouldn't be either.
Exceptional young people with diverse experiences and abilities collaborate to produce an original piece of dramatic art. Explore elements of playmaking and filmmaking in this exclusive intensive at Youth in Arts in San Rafael this summer. Create an impactful live performance using forms of theatre and digital filmmaking.
Mentor Artist Melissa Jones Briggs will guide a small ensemble of students as they explore their collective authentic dramatic voice. Young artists will also work with professional guest artists to create, design, produce and perform an original piece of dramatic art. The Project meets at Youth in Arts Studio in San Rafael July 22nd – August 2nd, M-F, 10AM-3PM.

Many voices, one story: come share yours!
Apply @ youthinarts.org/idap
"Arts Unite Us" is a special initiative at Youth in Arts t
hat brings students from Special Day classrooms and their General Ed peers to learn and create art together.  "Arts Unite Us" was first envisioned in 2008 by VSA Director Nydia Gonzalez, as a way to bridge gaps in understanding and interaction between students of different abilities and combat the isolation that many of them feel on their school campuses.  Youth in Arts has been developing the idea ever since, creating pilot projects that provide amazing opportunities for young people to learn about each other and work together like never before!
This year, "Arts Unite Us" classes are in full gear at Tam High, Terra Linda High,
Redwood High and San Ramon Elementary.  Students from Special Day Classrooms are working together with their peers from General Education classrooms, learning art and performing together.  The first culminating event from this year's classes will be held at Tam High School, where students from Mr. Lovejoy's Special Day Class and Ben Cleaveland's Conservatory Theater Ensemble have been working with YIA Mentor Artist Melissa Briggs in Theater. They will be performing their original play "Camping Out in Nature with Friends and Family and Animals" on Friday, May 17th and Saturday, May 18th as part of the Spring One Act Festival.
Students at Terra Linda High have been learning Samba Reggae with Mentor Artists Stephanie Bastos and Nydia Gonzalez and will hold a celebratory presentation dance/party during lunch time on June 4th.  At Redwood High School, students working with YIA Mentor Artist William Rossell will perform their original percussive composition, opening for the Advanced Performance Workshop Concert on May 29th at 7PM.  At San Ramon Elementary, students from Gen Ed and SDC classrooms have been working together with YIA Mentor Artist Suraya Keating, working on their interpretation of a folktale, "The Laughing River", focusing on Community and Inclusion.
Youth in Arts has raised the funds to provide these programs in our community from a mix of institutional and individual donors.  We thank the Green Foundation, Marin Community Foundation, Kenneth A. Lester Family Foundation, Macy's and Target for their generous support of this program, as well as our many individual community supporters. If you have any questions about this program, or would would like to support programs such as this one, please contact Nydia Gonzalez at ngonzalez@youthinarts.org
Students at Tam High are preparing to perform this weekend, Friday May 17th and Saturday May 18th at 7PM at the Caldwell Theatre on campus.  Following a rigorous playwriting course and extensive rehearsals, this group of rad kids of all abilities let loose and created their own set piece under the mentorship of visual artist Suzanne Joyal.  This piece of stagecraft is central to the dramatic action of their student-written one act play, and is functional as well as beautiful.
Students of all abilities are deep into rehearsals at Tam High!  After a successful pilot program in 2012, Youth in Arts is continuing development of an integrated playmaking project at Tam High.   This year students of all abilities are collaborating to write, produce and perform a one act play for their school's Spring One Act Play Festival. Arts Unite Us, indeed!
Mentor Teaching Artist Melissa Jones Briggs began the AUU Playmaking Project in Mr. Lovejoy's MCOE Special Education class with a beginning drama lesson for the whole group. This "Elements of Theatre and Playmaking" mini-class served as an introduction and lay the groundwork for later participation in rehearsals and performance. In breakout sessions a playwright team (formed based on experience) collaborated to write a one-act play. Jones Briggs continually looped Mr. Lovejoy's class into theatre exercises, read thru's, etc. to involve them in the playwriting process.
Once the play was written, rehearsals began!  The student written play rehearses and performs as part of the Tam High Conservatory Theatre Ensemble's Spring One Act Play Festival. Other mainstream CTE students joined in at this point and the program opened up to all special needs students interested in participating.
Because the Festival is student-produced, the play is being co-directed by two CTE students. Collaboration between the CTE, MCOE educators and YIA's teaching artist continues throughout the rehearsal process and also includes at times a YIA visual artist Suzanne Joyal, MCOE Speech Pathologist Sophie Miles, department chairs, among others.
Please join us for the performance!  Friday May 17th and Saturday May 18th @ 7PM!  Caldwell Theatre 700 Miller Ave. (Near the back parking lot) Mill Valley, CA. Tickets available at the door only.
Seventh grade students at Davidson Middle School enjoyed a fun theatre workshop with Mentor Artist Melissa Briggs.
During the Renaissance curriculum, history teachers Mr. Snow and Mr. Cosgriff invited Melissa to reinforce their lessons with an emphasis on the role of William Shakespeare in the cultural 'rebirth' that reinvented Europe and England in the 14th-17th centuries.  Students explored the Bard's role in the Renaissance.  They discussed how the timing was perfect for Will because of the growing popularization of theatre as wealthy merchants became patrons of the arts at the same time that the feudal order broke down allowing peasants leisure time to spend as they pleased – watching plays!  Kids examined the vernacular language of the era and made many connections to their own generation's commonly spoken language.  Up on their feet, the young actors played an exciting games that mined the rich material of Shakespeare's many plays.
Lessons highlighted Shakespeare's history plays and reviewed curriculum key words and dates.  Melissa demystified the "weird and old fashioned" language of the late 1500 and early 1600's by encouraging thoughtful group analysis that drew thematic parallels to the students appreciation of their own contemporary lyric artists, from Lauren Hill to Kanye West.  Finally, students performed a key scene from each act of Shakespeare's Romeo and Juliet; the young actors and directors staged the whole play in tableaux, a dramatic technique (popular in the Renaissance) that tells an action story through a still (or frozen) picture.
As you can tell by these images, it was a joy to work with the students and teachers and Davidson!
Older Entries »