On Friday night, teaching artists gathered together at Youth in Arts and created recycled insects. Visual Arts Director Suzanne Joyal and Executive Director Miko Lee led a hands on experience in utilizing recycled materials to teach about insects and create original works of arts.
Lesson plans were provided for teachers to replicate at their school sites. Ten different schools were represented at this evening of creation and learning.
A table of recycled materials including corks, wire, plastic bottles, candy wrappers, buttons, straws and records were arrayed for the teaching artists to sort through. Through laughter and even bug songs, each teacher made a creature to bring back as a sample to their classroom.
Teaching artists were encouraged to link science curriculum with recycled materials to create art pieces with students to enter into Spring's PaperSeed Recycled Art Competition.  YIA Teaching Artist Nao Kobayashi created an amazing lifecycle on an album with a puppet caterpillar. Check out the video here.
An Insect World PDF/Powerpoint and Insect Adapation lesson plan was provided for the teachers to share in their classrooms.  Thank you to PaperSeed Foundation and California Arts Council for making this evening possible.
On June 13 and 14th Youth in Arts staff Suzanne Joyal and Miko Lee trained 60 self identified STEM (Science Technology Engineering and Math) teachers from the Marin County Office of Education on how to incorporate the ARTS into their curriculum. Teachers met in hour long grade level groups. They were led through a group brainstorm of their particular topic. They were then shown an example of a finished project and then led through the exercise which was connected to to address a grade level performance expectation. At the end of each session there was a gallery display and discussion utilizing Visual Thinking Strategies which are also employed by the STEM teachers. They were provided with lesson plans that note the links to the Next Generation Science Standard, the National Art Standard and Youth in Arts own Creative Expression standard.
Thank you for contributing your strengths in the arts to make this workshop meaningful and engaging for the participants. The teachers shared how they plan to use these art lessons with their students and how much they appreciated seeing how art can deepen student understanding in science.–Christina Lunde and Eileen Smith, Marin Next Generation Collaborative
For information on how you can book this professional development for your school site click here, where a link to lesson plans can also be found.
Please check out the attached photo gallery to see the work in action. Thanks to Christina Lunde for some of the photos.
Ms. Vazquez' kindergarteners walked to Youth in Arts today to admire their very own artworks featured in the Walker Rezaian Creative Hearts Fund/Laurel Dell Gallery exhibit. They looked closely at their work and that of their friends'. Working with Jen Daly, groups of students played in the cardboard weather world: the Sun House with bright yellow spots and a rainbow gate, the Rain House with grey clouds, rainsticks and noisemakers, and the Cloud House with its soft squishy floor and whitish sky. They paddled together in the cardboard canoe, and even made leaves for the Seasons Tree.
Students also practiced what we shared at the Family Art Nights and began their very own Guatemalan-styled kite. Working with Suzanne Joyal, Naomi Tamura, Ms. Vazquez, and some very helpful parents, students also made the parts of their very own class Kite, to be flown at Fiesta de Sol in June. Working with mirrors, Sharpies, colored pencils, and oil pastels, students created self portrait diamonds which will be glued together into one beautiful kite.
On June 12, an enthusiastic crowd celebrated the series of murals going up throughout downtown San Rafael as part of the Creative San Rafael project. The C Street garage was unveiled with a series of 12 murals entitled, "Travel the World with Youth in Arts" illustrating explorer and photographer Louise Arner Boyd's observation, "You're an explorer even when you are at home." The murals were created by 700 children at the Marin County Fair.  Additional murals will continue to go up all throughout downtown San Rafael and will be announced on the Creative San Rafael website and facebook.
The mission to beautify Downtown San Rafael is part of a collaboration involving local government, businesses and nonprofits. Youth in Arts has brought PreK-high school creators to  the project, while Dominican College has showcased work from  college students with members of the Downtown Street Team.  ArtWorks Downtown has featured professional artists Lauren Bartone and Ernesto Hernandez Olmos.
The crowded event was highlighted by performances from Youth in Arts teen companies including`Til Dawn a capella and an ensemble
performance of C Street Project's spoken word poem "Today's Tomorrow." The poem and accompanying murals were inspired by Isabelle Allende's quote "Today's girls are tomorrow's women and leaders."  All original artworks created by youth are available via silent auction at the YIA Gallery through July 30.
Distinguished community leaders helped to give C Street Project's work its first performance,  including Tom Peters, President/CEO of Marin Community Foundation; San Rafael Mayor Gary Phillips; District 1 Supervisor Damon Connolly; Gabriella Callicchio, Director of Cultural and Visitor Services for the Marin Center; Cecilia Zamora, President of the Hispanic Chamber of Commerce of Marin; Nikki Wood, Editor of Marin Magazine; Pepe Gonzalez, Principal Laurel Dell School; Merl Saunders, Jr., Executive Director, Fenix Entertainment; Donn K. Harris, Chairman California Arts Council; Joanne Dunn, Co-Founder of Youth in Arts,  Comedian/Writer Geoff Bolt and Thomas Roedoc, Art Walk Downtown.
Youth in Arts transforms young lives. With your help we can make sure each of our young artists learn to share their vision and voice through the arts.
This program was supported by the following generous donors:
Mentor Artists Suzanne Joyal and Miko Lee hosted the Butterfly group from Miss Nicky's Preschool for a gallery visit today.  Inspired by the exhibit "Without Words" students observed the colorful artwork and then were led through a series of theatre exercises around using their bodies and their imaginations to express their feelings. Students used their imaginary multicolored wings to fly from the YIA Gallery into the Studio.
Suzanne then introduced the 3-4 year old artists to the Creative San Rafael project by creating art inspired by the
quote by Writer Bret Harte
"A bird in hand is a certainty.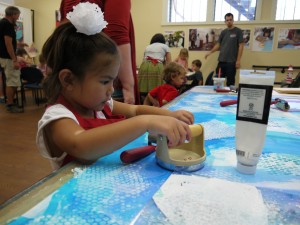 But a bird in the bush may sing."
Students learned how to mix the color brown and utilize print making skills to add to the sky blue. The team was so engaged and excited by their creations!
They learned that "Public Art" means their work will be shared with the community in a mural that they will all be a part of. A fun day for all!
UPDATE: Click here to read about our second group from Miss Nicky's who visited on Friday, August 1.
To schedule a Free Gallery Visit with hands on for your school group get more info here. Please note that summer time hours are variable and visitors must arrange an appointment.
Thanks to the California Arts Council for supporting this work.
Recently, families from Harding Elementary School in El Cerrito joined Youth in Arts Mentor Artists in a Passport Art Event.  Participants received a paper "passport" and traveled to various countries and exploring their art forms during this evening event.
Outside the Multipurpose room we danced to the beats of Brazilian Samba Reggae with YIA Mentor Artist Stephanie Bastos.  Stephanie has been teaching dance in the K-3 classrooms throughout the school year and during this event students, parents and siblings got the opportunity to dance together with her.
There were many moments of dance solos that were not to be missed! Inside, we swayed to the melodies and rhythms of Persian Classical Dance with YIA Mentor Artist Shahrzad Khorsandi.  Dancers got to use beautifully decorated scarves to highlight the dance movements.  We also learned about the instrumentation with live music provided by Pourya Khademi.
Utilizing special rice paper and bamboo brushes, YIA Mentor Artists Julia James and Miko Lee led participants in Chinese Brush Painting techniques to create beautiful paintings of bamboo.  Artists also learned how to make their special "chop" or, signature in the corner of their painting.
We also created tin medallions representing our Mayan Nahual or, birth sign.  Using the Mayan Calendar, each person calculates their Nahual, which indicates the "essence" of their spirit according to Mayan beliefs.  We used wooden stylus to etch in the outline of our Nahual and colored them with markers.
Youth in Arts is thankful to all of the families staff and friends who showed up
and traveled the world with us!  We look forward to continuing our day-time programs in K-6th grades which will culminate in sharing events later this month.  YIA Mentor Artist Thomas Arndt is teaching theater classes during school as well as in a special after school group dedicated to writing, producing and performing an original theater piece that addresses issues of acceptance, friendship, appreciating differences and being true to yourself.  Stay tuned for a performance date!
Thank you to the Thomas J. Long Foundation for making this program possible!  With their support, we are able to provide financial aid for year-long arts programming at Harding Elementary and celebrate our diversity and expression in many forms!
To find out how you can bring this to your community, click here.

Youth in Arts artists and staff have been at Barnes & Noble Corte Madera this week, celebrating the holiday season with storytelling and song.
This is Youth in Arts "Bookfair" week through December 8 at Barnes & Noble. Support our programs for kids with your purchases at the Corte Madera store (click here (PDF) for coupons to take to the store, or just mention "Youth in Arts" at the Corte Madera store register).
You can also order Cheesecake Factory cakes in the Corte Madera Barnes & Noble Café–as long as you order and pay now, you can pick up any time for your holiday party! Click to download cheesecake order form (PDF)
OR shop online at barnesandnoble.com from ANYWHERE through December 8 and use our Bookfair ID 11187911
Yesterday, Wednesday, Miko Lee and Nydia Gonzalez read Molly Bang & Penny Chisholm's book "Living Sunlight: How Plants Bring the Earth to Life"  for tots and their parents in the children's section of the store and sang songs from Youth in Arts 2012 original musical based on the book. On Saturday, Nydia was back in the shop with original cast members from the show for more singing and storytelling.
Thank you!
Youth in Arts unveiled the World's Largest Pop-Up Book at the Marin County Fair on July 7, at the Marin County Fair. The book measures 48 feet long by 6 feet high when fully opened, giving it a larger area than the current official record-holding book, created in Belgium in June 2010. Youth in Arts worked with hundreds of visitors during the run of the Fair, especially children and their families, to create the book. Entitled "Travel the World," it celebrates the Fair's 2013 educational theme and Youth in Arts work bringing art from around the world to North Bay students.   We will be compiling the entire video story soon. These are some highlight photos from this engaging endeavor.
UPDATE 11/29/2012: Our storytelling event has concluded (thanks so much to all who came!) But you can still support Youth in Arts with your Barnes & Noble purchases through Friday, November 30.
Download and print a coupon to take to the store, or tell your cashier you want to support Youth in Arts. And don't forget you can shop online and enter the "Book Fair ID" 10921872 at check out!
—
Youth in Arts will be holding a special Storytime with Music at Barnes & Noble Corte Madera on Wednesday, November 28 at 11am. The free storytime will include interactive storytelling and songs from past Youth in Arts musicals including Paper Princess & the Pinata and Photosynthesis In Living Sunlight and will be led by Nydia Gonzalez and Miko Lee from Youth in Arts. The storytime is appropriate for children up to age 6.
Support Youth in Arts by shopping at Barnes & Noble in Corte Madera, CA. In an effort to raise funds for arts education and opportunities for children in the Bay Area, Youth in Arts is working together with Barnes & Noble Booksellers by hosting a Bookfair at the Barnes & Noble Corte Madera store.
From Monday, November 26 to Friday, November 30, Barnes & Noble will donate a percentage of every sale made with a special Bookfair voucher to Youth in Arts! Vouchers are downloadable here and in hard copy at the Youth in Arts Gallery.  If you can't make it to the store from November 26-30 you can also shop online and enter the following Bookfair ID at checkout: 10921872
Please help support Youth in Arts by shopping at Barnes & Noble, 313 Corte Madera Town Center, Corte Madera, CA 94925, November 26-30, with a Bookfair voucher. Please download here:
YIA Bookfair 11.2012 – 6 Vouchers
Youth in Arts and Arts Education International are teaming up for an innovative new take on pen-palling.  The 27 eighth-graders at Willow Creek Academy in Sausalito are participating in a "hat exchange" with 27 students of Arts Education International in Sierra Leone, West Africa. With the help of artist Keith "K-Dub" Williams, the students are designing and painting their own trucker hats to send to Sierra Leone, in exchange for a hat designed and painted by their pen-pal abroad.  The hats are accompanied by digital story-telling projects that feature the voice and picture of each student displaying their design and describing what it means to them.
"The purpose of the exchange is to connect the kids YIA serves in Marin County with the children we serve in Africa through the arts," says Sarah Geller, Executive Director of Arts Education International.  "We hope that this project will help the kids on both sides to articulate their own identity in a way that is fun and creative, and to consider that identity in a larger context of global awareness."
"We want youth to have a broader sense of the world around them and what better way to do that then through an art exchange." says Miko Lee, Executive Director of Youth in Arts.  "We view this as just the beginning of a strong partnership with Arts Education International."
Frankie, a 13-year-old from San Rafael wrote "Latino" on the brim of his hat.  Frankie suggested that, perhaps, a student in Africa might not know what it means to be Latino in America.  "Latino means that I speak Spanish," he explains to his pen-pal in his voice recording, "I'm Hispanic, and I'm from Guatemala."
Jennifer wants her pen-pal to know about her life as a 14-year old from Marin City.  "Living in America is not easy," she explains in her spoken letter, "You have to earn your way through life.  If you want something, or have to buy something, you have to earn your way to get it."  Painting stars on her hat she explains, "I designed it this way because no matter where you are or if people can see you, you're always shining."
The eighth-graders at Willow Creek will receive the hats and stories from the children in Sierra Leone in January 2012.  For now, it seems that the experience is already a powerful one for the students involved.  As Adreaizana, age 12, records her letter to her pen-pal in Sierra Leone, she squints and focuses hard while looking out into the bay, as if imagining the distance her words and work will travel. "No matter where we are or how far apart, no matter how rich or poor," she says, "we are all equal."
« Newer Entries
Older Entries »