The second Sunday in September has been designated by Congress since 2010 as the beginning of National Arts in Education Week. During this time, the field of arts education joins together in communities across the country to tell the story of the impact of the transformative power of the arts in education.
This year, Youth in Arts worked with colleagues to plan a dynamic and multifaceted celebration of National Arts in Education Week spanning the county and offering activities for students, teachers, parents and the general public. Educators and invested community members were invited to celebrate the launch of National Arts Education Week by attending the Kickoff Breakfast for Arts Now Marin with Youth In Arts, Marin County Office of Education, California Alliance for the Arts, Marin Community Foundation, Marin Center, and the rich Arts Community of Marin. Together we celebrated the accomplishments of our young artists and considered new ways to share the arts with more students in our communities. A special thanks goes out to everyone who made this event possible, and to all those who took time away from their important work to come together to consider the future of the arts in Marin County!
By YIA Sachiko Moran, UCLA World Arts & Culture intern
Staff Miko Lee and Suzanne Joyal recently presented at the Kennedy Center VSA Intersections International conference in Atlanta on the upcoming IEP Arts Lesson Exchange. They introduced the concept to teachers and asked for their feedback and ideas on how to make it meaningful and useful to them and their students.
For years YIA has seen the impact that arts has on all students and particularly students with disabilities. For students with special needs, teachers must make the time to fill out Individualized Evaluation Plans (IEPs). Often times, when creating these plans, arts are left out of the picture.
YIA began working with a small group to create the beginning of an IEP Arts Lesson Exchange. This will be a free searchable database of arts activities for teachers and teaching artists to access in order to reach all types of learners. Through this exchange, YIA hopes that teachers and artists alike can contribute and benefit from one another's knowledge and skills, making arts education more accessible. YIA knows that there are countless motivated educators that are keen on sharing and learning. The IEP Arts Lesson Exchange will be a platform on which they can do so.
To add your own activities and learn more go here.
Shout out to UCLA World Arts & Culture intern Sachiko Moran who created the rainbow and tested out the online forms.
Youth in Arts hosted community leaders, educators and arts organizations in a guided discussion to plan a celebration for National Arts in Education Week.
Executive Director of Marin Cultural Association and Marin Center Gabriella Calicchio provided an overview of the Marin County Arts Plan that is currently in process. Marin County Office of Education's Eileen Smith described the Arts Education planning process and Youth in Arts Executive Director Miko Lee spoke about the San Rafael Cultural Arts District that is underway.
Presentations included:
An overview of statewide arts data being collected around Arts Education in California.
A localized version that is used in LA County Arts Data
The preliminary work in process in Marin that includes elementary and community based organizations Marin Arts Ed Data project
Since these multiple arts planning are underway it was stressed how critical it is to build the case for arts education. Youth in Arts has created an Advocacy page  so that schools/organizations that are ready to develop an arts plan can forge right ahead.
As an arts community in Marin we will begin to focus on celebrating youth artists and sharing the power and story of arts education during National Arts Education Week – September 12-18, 2018
Marin County Office of Education will host a series of professional development workshops both at the county office and then at specific school and community sites. If you are interested in providing a workshops reach out to Eileen Smith.
Samples of how other counties celebrate arts education (month/week)
Alameda with county declaration:
For more information about how you can become involved. Please reach out to Miko Lee.
National Arts in Education Week
Passed by Congress in 2010, House Resolution 275 designates the week beginning with the second Sunday in September as National Arts in Education Week. During this week, the field of arts education joins together in communities across the country to tell the story of the impact of the transformative power of the arts in education. Watch the video and join us in the celebration!
Celebrate. Host a celebration in your community, whether big or small, an existing event, or a new one. Download and use the shared logo and be sure to register your event on ArtsMeet, a national arts event calendar.
Advocate. Work with your elected officials and decision-makers to share the value of the arts in education. Whether a mayor, principal, or U.S. Congressman, check out sample resolutions and videos, send an op-ed to your local newspaper, and use the Arts Education Navigator—an online tool with six action steps to crafting a personal advocacy plan. Be sure to sign the petition encouraging Secretary of Education Betsy DeVos to support the arts!
Participate. Share your story in the social media campaign, #BecauseOfArtsEd, to bring national visibility to the issue of arts education. See below for more information and download the How To Guide. Also, be sure to attend and invite friends to the Facebook Event.
Graphing Garbage
A STEAM workshop: Science, Technology, Engineering, ARTS, Math
Youth in Arts staff Suzanne Joyal and Miko Lee in collaboration with the Marin County Office of Education  led a cohort of classroom teachers through a workshop teaching about the environmental pollution and ways to transform garbage into art while also teaching about graphing.
Teachers watched this video about the Pacific Trash "Island" and learned about the immense amount of plastic that has been impacting the planet. They watched the presentation (available below) about the impact of pollution on animals and saw how professional adult artists and kid artists could make powerful art from trash to tell a story.
Suzanne described the Graphing Garbage arts integration project that she created at Willow Creek Academy. Lesson plan (available below). She showed how graphing can be showed in a various artistic formats. Teachers then went through trash collected by YIA. They sorted the trash by items that had the most dangerous impact on animals. Working in teams they showcased this by featuring three sizes of fish and a jellyfish on an ocean backdrop. After reflecting on this process, teachers discussed potential math and literacy extensions.
Teachers then created individualized animals that they could bring back to their classrooms to replicate the process.
For help with sorting and weighing garbage in all Marin Schools (except Novato), contact Casey Poldino at CPoldino@marincounty.org and check out this website http://zerowastemarin.org/schools/.  For Novato schools, contact Dee Johnson at Novato Sanitary or Recology https://www.recology.com/recology-sonoma-marin/community-education-programs/
To make the recycled art more successful, Suzanne suggested purchasing Extra Tacky Glue and Tempera Cakes from RileyStreet Art Supply.
PaperSeed Foundation currently has a Recycled Art contest. Teachers and students win prizes. Click here for more info.
A Graphing Garbage Integration Lesson and Graphing GarbagePPT was provided for the teachers to share in their classrooms.
Thank you to Christina Lunde for making the dinner and helping with logistics and to Eileen Smith for her assistance. Thank you PaperSeed Foundation and the California Arts Council for making this evening possible.
On Friday night, teaching artists gathered together at Youth in Arts and created recycled insects. Visual Arts Director Suzanne Joyal and Executive Director Miko Lee led a hands on experience in utilizing recycled materials to teach about insects and create original works of arts.
Lesson plans were provided for teachers to replicate at their school sites. Ten different schools were represented at this evening of creation and learning.
A table of recycled materials including corks, wire, plastic bottles, candy wrappers, buttons, straws and records were arrayed for the teaching artists to sort through. Through laughter and even bug songs, each teacher made a creature to bring back as a sample to their classroom.
Teaching artists were encouraged to link science curriculum with recycled materials to create art pieces with students to enter into Spring's PaperSeed Recycled Art Competition.  YIA Teaching Artist Nao Kobayashi created an amazing lifecycle on an album with a puppet caterpillar. Check out the video here.
An Insect World PDF/Powerpoint and Insect Adapation lesson plan was provided for the teachers to share in their classrooms.  Thank you to PaperSeed Foundation and California Arts Council for making this evening possible.
On June 13 and 14th Youth in Arts staff Suzanne Joyal and Miko Lee trained 60 self identified STEM (Science Technology Engineering and Math) teachers from the Marin County Office of Education on how to incorporate the ARTS into their curriculum. Teachers met in hour long grade level groups. They were led through a group brainstorm of their particular topic. They were then shown an example of a finished project and then led through the exercise which was connected to to address a grade level performance expectation. At the end of each session there was a gallery display and discussion utilizing Visual Thinking Strategies which are also employed by the STEM teachers. They were provided with lesson plans that note the links to the Next Generation Science Standard, the National Art Standard and Youth in Arts own Creative Expression standard.
Thank you for contributing your strengths in the arts to make this workshop meaningful and engaging for the participants. The teachers shared how they plan to use these art lessons with their students and how much they appreciated seeing how art can deepen student understanding in science.–Christina Lunde and Eileen Smith, Marin Next Generation Collaborative
For information on how you can book this professional development for your school site click here, where a link to lesson plans can also be found.
Please check out the attached photo gallery to see the work in action. Thanks to Christina Lunde for some of the photos.
Ms. Vazquez' kindergarteners walked to Youth in Arts today to admire their very own artworks featured in the Walker Rezaian Creative Hearts Fund/Laurel Dell Gallery exhibit. They looked closely at their work and that of their friends'. Working with Jen Daly, groups of students played in the cardboard weather world: the Sun House with bright yellow spots and a rainbow gate, the Rain House with grey clouds, rainsticks and noisemakers, and the Cloud House with its soft squishy floor and whitish sky. They paddled together in the cardboard canoe, and even made leaves for the Seasons Tree.
Students also practiced what we shared at the Family Art Nights and began their very own Guatemalan-styled kite. Working with Suzanne Joyal, Naomi Tamura, Ms. Vazquez, and some very helpful parents, students also made the parts of their very own class Kite, to be flown at Fiesta de Sol in June. Working with mirrors, Sharpies, colored pencils, and oil pastels, students created self portrait diamonds which will be glued together into one beautiful kite.
On June 12, an enthusiastic crowd celebrated the series of murals going up throughout downtown San Rafael as part of the Creative San Rafael project. The C Street garage was unveiled with a series of 12 murals entitled, "Travel the World with Youth in Arts" illustrating explorer and photographer Louise Arner Boyd's observation, "You're an explorer even when you are at home." The murals were created by 700 children at the Marin County Fair.  Additional murals will continue to go up all throughout downtown San Rafael and will be announced on the Creative San Rafael website and facebook.
The mission to beautify Downtown San Rafael is part of a collaboration involving local government, businesses and nonprofits. Youth in Arts has brought PreK-high school creators to  the project, while Dominican College has showcased work from  college students with members of the Downtown Street Team.  ArtWorks Downtown has featured professional artists Lauren Bartone and Ernesto Hernandez Olmos.
The crowded event was highlighted by performances from Youth in Arts teen companies including`Til Dawn a capella and an ensemble
performance of C Street Project's spoken word poem "Today's Tomorrow." The poem and accompanying murals were inspired by Isabelle Allende's quote "Today's girls are tomorrow's women and leaders."  All original artworks created by youth are available via silent auction at the YIA Gallery through July 30.
Distinguished community leaders helped to give C Street Project's work its first performance,  including Tom Peters, President/CEO of Marin Community Foundation; San Rafael Mayor Gary Phillips; District 1 Supervisor Damon Connolly; Gabriella Callicchio, Director of Cultural and Visitor Services for the Marin Center; Cecilia Zamora, President of the Hispanic Chamber of Commerce of Marin; Nikki Wood, Editor of Marin Magazine; Pepe Gonzalez, Principal Laurel Dell School; Merl Saunders, Jr., Executive Director, Fenix Entertainment; Donn K. Harris, Chairman California Arts Council; Joanne Dunn, Co-Founder of Youth in Arts,  Comedian/Writer Geoff Bolt and Thomas Roedoc, Art Walk Downtown.
Youth in Arts transforms young lives. With your help we can make sure each of our young artists learn to share their vision and voice through the arts.
This program was supported by the following generous donors:
Mentor Artists Suzanne Joyal and Miko Lee hosted the Butterfly group from Miss Nicky's Preschool for a gallery visit today.  Inspired by the exhibit "Without Words" students observed the colorful artwork and then were led through a series of theatre exercises around using their bodies and their imaginations to express their feelings. Students used their imaginary multicolored wings to fly from the YIA Gallery into the Studio.
Suzanne then introduced the 3-4 year old artists to the Creative San Rafael project by creating art inspired by the
quote by Writer Bret Harte
"A bird in hand is a certainty.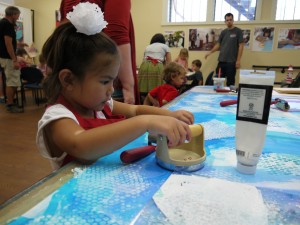 But a bird in the bush may sing."
Students learned how to mix the color brown and utilize print making skills to add to the sky blue. The team was so engaged and excited by their creations!
They learned that "Public Art" means their work will be shared with the community in a mural that they will all be a part of. A fun day for all!
UPDATE: Click here to read about our second group from Miss Nicky's who visited on Friday, August 1.
To schedule a Free Gallery Visit with hands on for your school group get more info here. Please note that summer time hours are variable and visitors must arrange an appointment.
Thanks to the California Arts Council for supporting this work.
Recently, families from Harding Elementary School in El Cerrito joined Youth in Arts Mentor Artists in a Passport Art Event.  Participants received a paper "passport" and traveled to various countries and exploring their art forms during this evening event.
Outside the Multipurpose room we danced to the beats of Brazilian Samba Reggae with YIA Mentor Artist Stephanie Bastos.  Stephanie has been teaching dance in the K-3 classrooms throughout the school year and during this event students, parents and siblings got the opportunity to dance together with her.
There were many moments of dance solos that were not to be missed! Inside, we swayed to the melodies and rhythms of Persian Classical Dance with YIA Mentor Artist Shahrzad Khorsandi.  Dancers got to use beautifully decorated scarves to highlight the dance movements.  We also learned about the instrumentation with live music provided by Pourya Khademi.
Utilizing special rice paper and bamboo brushes, YIA Mentor Artists Julia James and Miko Lee led participants in Chinese Brush Painting techniques to create beautiful paintings of bamboo.  Artists also learned how to make their special "chop" or, signature in the corner of their painting.
We also created tin medallions representing our Mayan Nahual or, birth sign.  Using the Mayan Calendar, each person calculates their Nahual, which indicates the "essence" of their spirit according to Mayan beliefs.  We used wooden stylus to etch in the outline of our Nahual and colored them with markers.
Youth in Arts is thankful to all of the families staff and friends who showed up
and traveled the world with us!  We look forward to continuing our day-time programs in K-6th grades which will culminate in sharing events later this month.  YIA Mentor Artist Thomas Arndt is teaching theater classes during school as well as in a special after school group dedicated to writing, producing and performing an original theater piece that addresses issues of acceptance, friendship, appreciating differences and being true to yourself.  Stay tuned for a performance date!
Thank you to the Thomas J. Long Foundation for making this program possible!  With their support, we are able to provide financial aid for year-long arts programming at Harding Elementary and celebrate our diversity and expression in many forms!
To find out how you can bring this to your community, click here.
« Newer Entries
Older Entries »